For a franchise to have been active for 22 years and still garner so much hype prior to its release is incredible. To then blow that hype out of the water with such an astounding final product is pure magic.
I can't help but think 2018 as a whole has fallen considerably short of expectations in the cinema department. Deadpool 2 wasn't half bad in parts and some could say Sicario's sequel was a commendable effort also. But hell, the Han Solo spinoff barely got a look-in. I still haven't even seen it, and why, as a lifelong Star Wars fan, does that not bother me in the slightest? You could say, then, that my hopes for this weren't the highest they could have been either – a concern that was clearly justified after such a poor start to the year.
Mission: Impossible Fallout is a textbook blockbuster. It has a huge budget (like $328 million USD for production and distribution huge), an even bigger save-the-world plotline, near implausible stunts, and at first glance is just another money making scheme from a studio that's joined the bandwagon of sucking the life out of yet another franchise. It should, like the rest of the aforementioned continuations, be shit. Mediocre at best. How, then, being the sixth instalment of said series, can this film be such a fucking banger?
---
---
I won't drag you out to the final sentence of this article for a verdict – I'll straight up admit that Fallout is the pick of the whole Mission: Impossible franchise and possibly one of the grandest and most extraordinary action films ever made. I'm not fishing for a clickbait title here, I genuinely mean that this film is a blockbuster in every sense of the definition.
And I haven't lost you there. I know you'll continue reading because the key to this film's success was in its title all along. Making this movie was truly an impossible mission. It is for that reason I enjoyed watching it so much and why I'm writing this now, so you can appreciate the effort that went into 2 hours and 20 minutes of your Saturday night.
Fallout was the first in the franchise to welcome a returning director – Chris McQuarrie – who slots into Tom Cruises' determined creative process like two peas in a pod. His previous mission was at the helm of Rogue Nation, a film that honestly wasn't my favourite of the series thus far. Perhaps it was for this reason, among others, that when McQuarrie was asked to return he did so on one condition – to go against the grain.
It's because of this that Fallout is an instant classic of its genre. Cruise and McQuarrie's liquid filmmaking process relies on straightforward, no bullshit visual storytelling that is classic in every sense of the term; it's an embodiment of what big-screen entertainment is all about. It is why people still go to the cinema to see a film.
Fallout doesn't play on the naivety of the viewer. There's no turbulent shaky cam to hide fake punches, no dramatic music used to force emotion unnecessarily, no confusing quick cuts in the editing suite. Despite a bit of cringe dry humour from Henry Cavill especially – which is expected from an American script – Fallout is very hard to fault.
Bathroom fight sequences are a hallmark of cinema that have been done time and time again. In comparison to the rest of the film's stunts, however, the bathroom fight early on in this movie was a walk in the park for the Mission: Impossible crew. Just four days were put aside to film this scene in the original schedule – a scene which ended up taking them four weeks. They just weren't satisfied they'd given 110%, so they kept shooting it until they were. The final product is raw and powerful; it's as if you can actually feel the air displaced by Cavill's punches breeze past your face. There's no music, dialogue is sparse, and the pacing is perfect.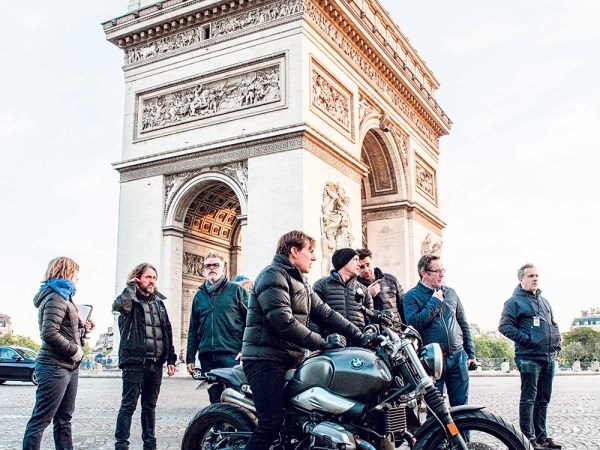 You guessed it, the entire film revolves around the stunts. Any other movie and you've got yourself a recipe for disaster, but not if Cruise has anything to say about it. Every stunt in this movie saw a rewrite of the script, a change in location and a reflection on how this would consequently influence character development. No narrative was lost in the making of this film, I can assure you.
---
---
You should also keep in mind that Tom Cruise is 53-years-old. By no means an easy feat for an old-time superstar like him. The man spent a year and a half learning how to fly a helicopter for God's sake. And not just for a joy flight, but for what is probably one of the most dangerous stunts ever executed in cinematic history. He rode a motorcycle through Paris against traffic around the Arc De Triomphe for a scene that he had planned to do with a helmet on. His helmet rig failed just minutes before the cameras rolled and with only a 45-minute timeslot to get the shot, Cruise did it anyway. Sans helmet.
While filming Fallout, Cruise also (just casually) became the first actor to ever perform a HALO jump (High-Altitude Low-Opening). There was no question of using a green screen and in a chat with Variety McQuarrie said it never even came up for discussion. Cruise was going to do it for real. Over 100 rehearsal jumps later and he was hurtling towards Earth from 25,000 feet out of the back of a C17 Globemaster.
The precision behind not only this scene but the film as a whole surely has to make it the most logistically technical action film ever made. Interestingly, to stay consistent with the film's plotline, the crew had just three minutes every day and therefore only one take to shoot the HALO jump they were after, right before sunset. The camera had to pull Ethan Hunt out of the plane, rather than push him out, so the audience could see Cruise's face on screen rushing towards them.
Despite the risks of hypoxia and mid-air collisions, the lighting from that time of day meant that the 10-kilogram camera strapped to the skydiver's head needed to be exactly three feet away from Cruise to stay in focus. If the distance between the jumpers was even slightly off, the whole shot would be ruined and they'd have to wait another day to try it again.
And again, the whole thing could have been done with a green screen, and for a lot less coin (not to mention considerably less of a headache), but then it wouldn't have been a Mission: Impossible film. It definitely wouldn't have been one starring Tom Cruise.
Watching Fallout with some of this knowledge in mind made me enjoy it tenfold. It's probably why the majority of promotional material focused on these batshit crazy stunts. Blurring the lines between movie magic and surreal reality makes you feel like you're watching more of a really intense documentary than a CGI-heavy Jason Statham film.
Stunts aside, the full cast deserves their credit, not to mention the impeccable third act which draws on experiences, relationships and emotions from all Mission: Impossible films. It had me guessing right up until well after the 00:01 second mark on the clock if the world was going to end or not. There aren't many big budget save-the-day films that can keep you on the edge of your seat for that long.
---
---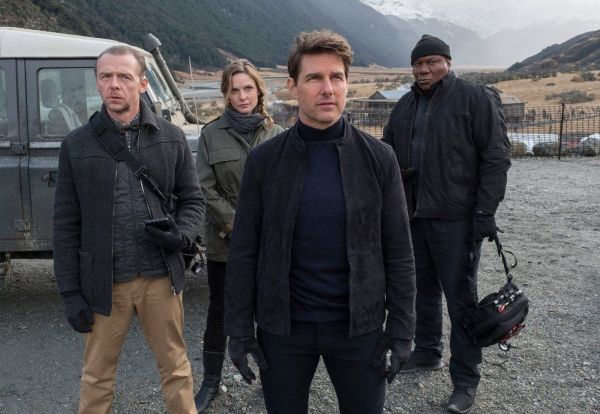 I couldn't help but think throughout, alright, but where to from here? McQuarrie himself admitted to Variety that "You can't go on that sort of ride and not have the pendulum swing the other way. There's no more room for the pendulum to swing."
If the franchise did end with Fallout, I wouldn't even mind. The line between the possible and impossible, in my opinion, has been drawn. Could they do it again? I really can't conceptualise a world where that even seems possible. But then again, it's not called Mission: Possible now, is it?
Mission: Impossible Fallout is currently in cinemas. When you do see it, don't forget to ask yourself "How the actual fuck did they get that shot?" You'll be doing it more than once, I can assure you. Catch the full trailer below.
RELATED: How Is Jason Statham Such A Don Despite Making Consistently Shit Films?