A24's forthcoming wrestling drama The Iron Claw has a trailer. And it showcases the remarkable, totally natty physiques of leading man Zac Efron, alongside The Bear star Jeremy Allen White and Kingsman franchise's Harris Dickinson.
Efron has once again modelled himself after some sort of Grecian god for the gig. This time around, he's tacked on considerable mass to portray the real-life pro wrestler, Kevin Von Erich (AKA The Golden Warrior).
Prior to the trailer's release, Von Erich himself praised the High School Musical alum for his dedication to looking the part.
RELATED: The Workout You'll Need To Get Zac Efron's 'Baywatch' Rig
"I saw a picture of the guy and he looked great," said Kevin Von Erich, who was inducted into the WWE Hall of Fame circa 2009.
"I don't think I ever looked that good, so I think they're going to do great. I'll bet they do."
"I'll tell ya… for the picture that they showed me at first and the picture they showed me the other day, he must really be working out hard, because you're right. He does have a good body."
A24's The Iron Claw is centred upon the famed Von Erich family — a dynasty of wrestlers who made their mark from the 1960s onwards and popularised the titular iron claw professional wrestling hold. But their battles we're just inside the ring. They also had to fight against something known as the "Von Erich curse" outside of it.
Zac Efron, Jeremy Allen White, and Harris Dickinson are joined by Holt McCallany as Fritz Von Erich, Maura Tierney as Doris Von Erich, Stanley Simons as Mike Von Erick, Maxwell Jacob Friedman as Lance Von Erick, with Lily James as Kevin's wife Pam Adkisson, Aaron Dean Eisenberg as Ric Flair, and Chavo Guerrero Jr as The Sheik.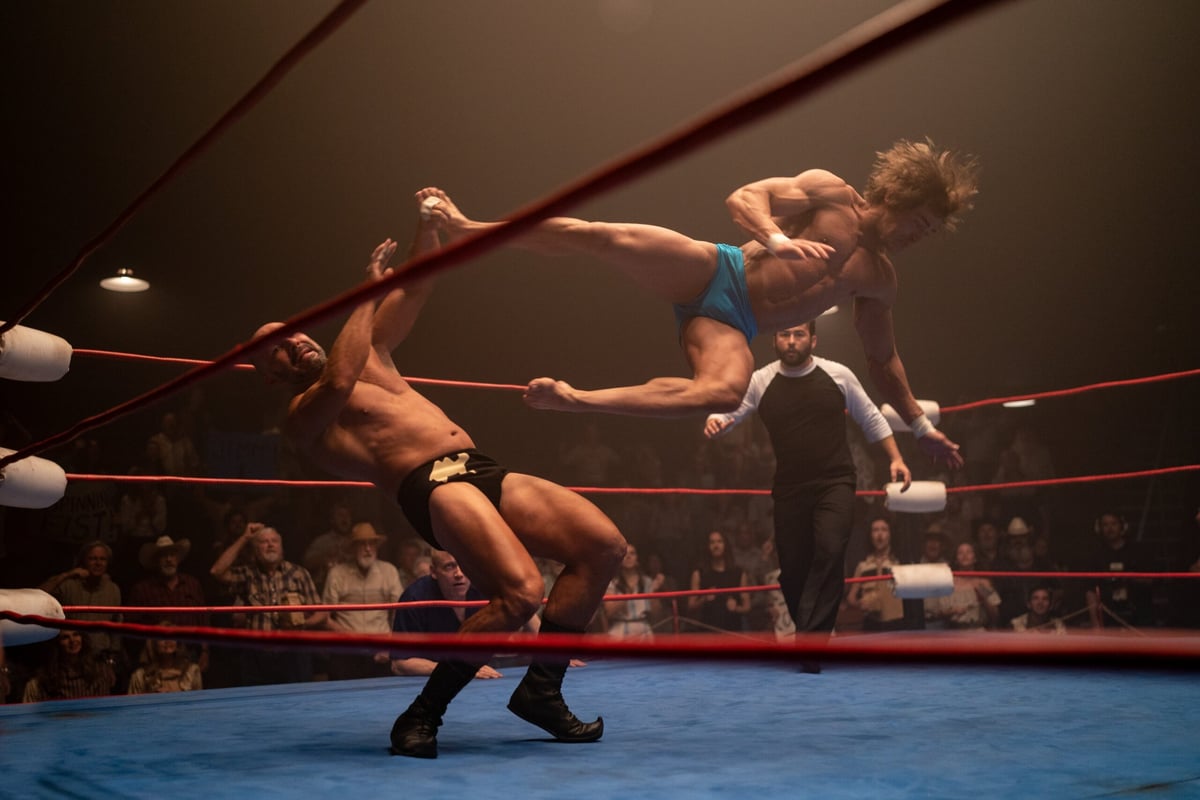 The Iron Claw has been written and directed by Sean Durkin, who you may be familiar with through Marcy Martha May Marlene starring Elizabeth Olsen and Sarah Paulson; as well as The Nest starring Jude Law and Carrie Coon.
A24 and Access Industries have co-financed the production along with Tessa Ross, Derrin Schlesinger, and Harrison Huffman representing the former. The film has been developed by House Productions with support from both Access Entertainment and BBC Films.
As for a release date, The Iron Claw is expected to hit theatres by the end of the year: December 22nd, 2023 — check out the trailer above.