Over a decade in development hell, seven directors, and six release dates later, it would appear Sony's live-action adaptation of Uncharted is finally hitting theatres with the feature-length trailer to prove it.
Tom Holland takes centre stage in the signature Nathan Drake combo of henley shirt, cargo pants, and obligatory shoulder holsters – i.e. the uniform for international treasure hunting – accompanied by Mark Wahlberg as mentor/companion Victor "Sully" Sulivan, who sports a disturbing lack of facial hair. Incidentally, Wahlberg was once attached to portray Nathan Drake back in 2010 when David O. Russell was still signed on to direct. Marky Mark has, however, since aged out of the role.
On the topic of age, while the internet has criticised Holland for appearing "too young" from the moment the first look images surfaced online, it's worth keeping in mind that the story will serve as a prequel to the games – reportedly drawing inspiration from the early parts of the fourth instalment, Uncharted 4: A Thief's End, hence the allusions to Nate's missing brother Sam; and direct references to Uncharted 3: Drake's Deception like the plane sequence. Meaning we should probably cut the Spider-Man star some slack.
---
---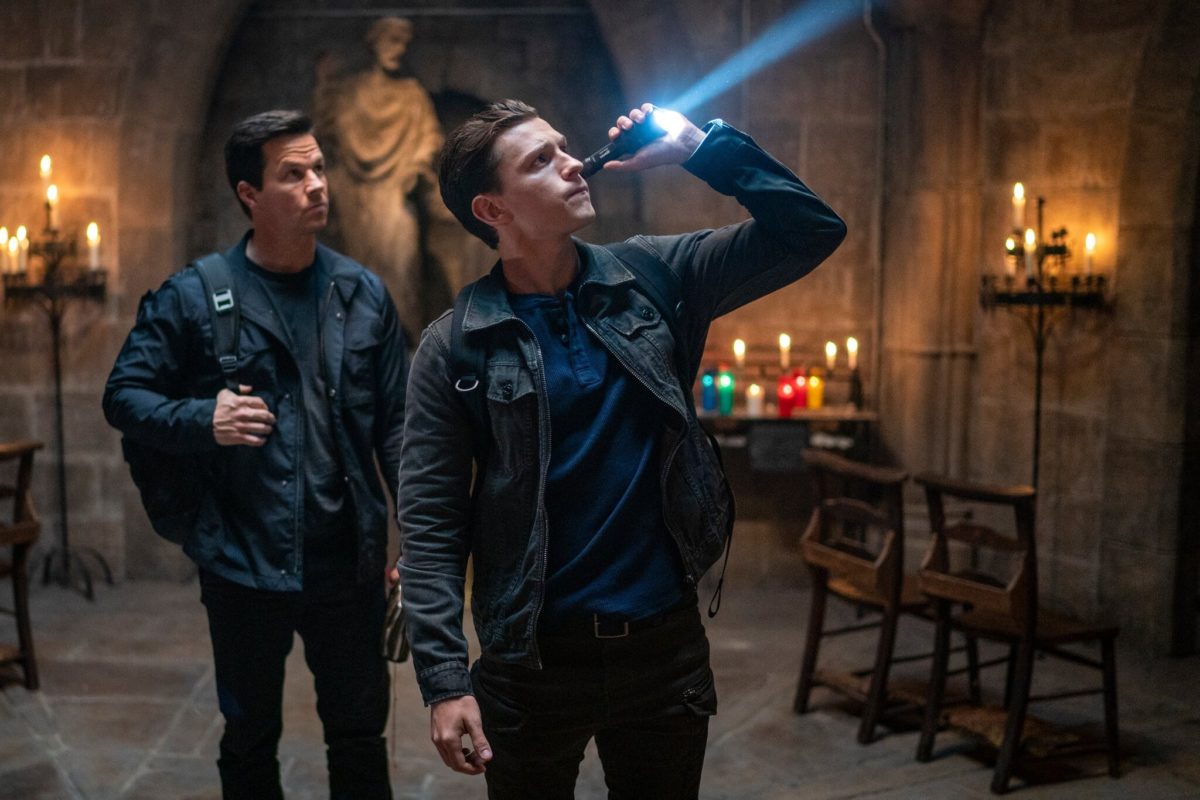 RELATED: 'Ghost Of Tsushima' Movie Officially In Development With 'John Wick' Director
"Based on one of the best-selling and most critically acclaimed video game series of all time, Uncharted tells the story of Nathan Drake and his first adventure with rival-turned-partner Victor "Sully" Sullivan," outlines Sony Pictures Publicity.
"Starring Tom Holland as Nathan Drake and Mark Wahlberg as quick-witted, wise-cracking Sully, Uncharted will introduce audiences to how Nathan Drake becomes the treasure hunter as he unravels one of history's greatest mysteries and treasures in an action-adventure epic that spans the globe."
Holland and Wahlberg will be joined by Sophia Taylor Ali as Chloe Fraser, a fellow fortune hunter and Nate's love interest; Tati Gabrielle as Braddock; and Antonio Banderas as the film's villain, a ruthless treasure hunter that's giving us massive Rafe Adler vibes.
With Zombieland franchise and Venom director Ruben Fleischer at the helm, the current iteration of Uncharted's screenplay has been accomplished by Art Marcum and Matt Holloway – who penned Marvel's first Iron Man film starring Robert Downey Jr. (AKA the best Marvel film and a masterclass in origin stories); alongside Rafe Judkins of Chuck and Amazon's upcoming The Wheel of Time adaptation fame. Let's just hope the story has been Frankensteined to fuck. Or, you know, continue the video game movie curse by just sucking the regular way.
Uncharted starring Tom Holland and Mark Wahlberg will be released to Aussie cinemas on February 17th of 2022 – watch the trailer above.