Anyone that remembers Adam Sandler before 2007 will have witnessed his dramatic talents in films like Punch-Drunk Love. The very same talents that have, to his credit, since appeared in glimpses with Funny People and The Meyerowitz Stories.
Now, it seems that Sandler has made a brilliant return to form with the release of Uncut Gems – and there are even talks of him landing an Oscar win for his performance. Given the fact that Sandler was named Best Actor at the National Board of Review just recently, there's definitely a chance. Especially when you consider the following statistic…
8 of the last 10 National Board of Review Winners for Best Actor have gone on to earn Oscar nominations.

---

---

Adam Sandler just won for #UncutGems. Odds are in his favor to land his first Oscar nom: https://t.co/EXK2F4EATi pic.twitter.com/NOvuaq7zMO

— Zack Sharf (@ZSharf) December 3, 2019
This was not an accident but rather the perfect formula. You have the creative powerhouse that is A24 Studio giving the proven filmmaking Safdie Brothers free rein to make whatever the hell they want. On top of all that, we have a financially secure Adam Sandler with all the time in the world to do whatever the hell he feels like. Long story short, we're pretty fucking excited to witness Sandler's career renaissance.
Uncut Gems will follow a charismatic New York City jeweller and compulsive gambler, Howard Ratner (Sandler), looking for his "next big score." His method of choice involves a series of high stakes bets and owing a lot of dangerous people money. It all culminates into an anxiety-ridden balancing act between family, business, and staying alive as he pursues that ultimate lifechanging win.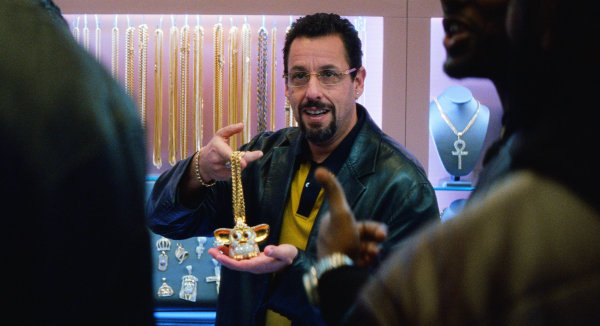 Joining Adam Sandler is the award-winning Idina Menzel, Lakeith Stanfield, Judd Hirsch, and even NBA star, Kevin Garnett, who will be making his screen debut. The Weeknd is also set to appear in the film, reportedly to play a fictitious past version of himself.
Behind the camera, both Josh and Benny Safdie find themselves in good company. The legendary Martin Scorcese and Scott Rudin will serve in a producer capacity, with cinematography from the seasoned Darius Khondji who you may know from Se7en, Midnight in Paris, and The Lost City of Z.
---
---
Uncut Gems will have a cinematic release date of December 13th and an Australian Netflix release date of January 31st.
RELATED: '1917' Is Being Called "The Best War Film Since 'Saving Private Ryan'"