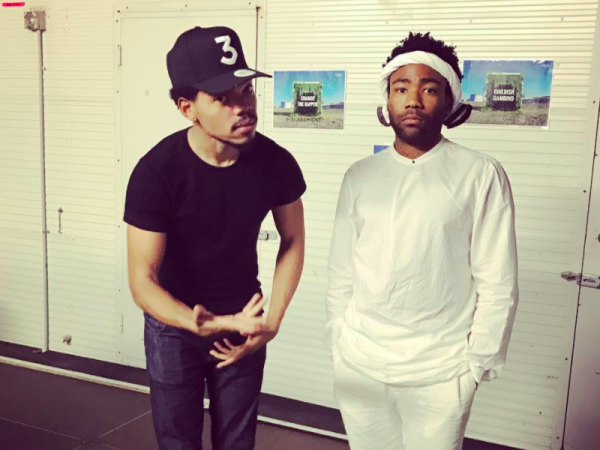 For years now Chance the Rapper and Donald Glover have been teasing us with the existence of a collaborative project. The excitement all started back in June 2014, when Donald (a.k.a. Childish Gambino) tweeted, "Now that Chance finally released his verse on "Worst Guys," maybe he can hurry up and finish the rest of our EP. #hinthint." This not so subtle hint from Glover sent the internet into a frenzy.
However, as the years passed without the release of the EP and with no word on the project, the initial anticipation from this tweet resided. That was until May last year, when during a Reddit discussion in support of Chance's mixtape ColoringBook, a Reddit user asked the Chicago rapper if the Chance and Childish Gambino collab album/mixtape still existed. Chance's reply was a simple "Yes." This "yes" was enough to send the internet into a frenzy all over again.
Fan anticipation was reinforced again in February this year, when Chance posted a photo of he and old pal Donald to Instagram (see above). He captioned the image: "Hawaii then LA, back to work. #roscoeswetsuit." – "Roscoe's wetsuit" being a reference to Childish's Because the Internet screenplay, co-starring Chance. Many believed this cryptic caption was a sign the pair had been working together.
---
---
Then, just a month later, Glover confirmed suspicions that the two artists had been linking up again to at least to discuss working on some new music. Speaking to US radio show Big Boy's Neighborhood earlier this year, Glover said: "We actually, like, sat down in the studio and were talking for a little bit. When he has a moment, we've been sitting down and working together."
Now, during a livestream on Instagram yesterday, Chance got our hopes up once again. The primary purpose of the livestream (which you can watch in full below) was to announce ticket sales for his tour, but beforehand Chance acknowledged that there were a lot of other questions people wanted answered. He then went on to confirm that not only was he recently in the studio with Glover, but that the pair has unreleased material, stating "Me and Donald have more songs together".
The fact that the songs exist really comes as no surprise, it is Chance's decision to address their existance that is a possible cause for excitement. If it is indeed an indication that they may be released in the near future, then it is big news. Following their previous collaborations, fans have been desperate for the two artists to work together again. Chance and Glover's musical relationship dates back to 2012, with Chance featuring on Gambino tracks 'They Don't Like Me' and 'The Worst Guys' while Glover featured on Chance's 'Acid Rap' track 'Favourite Song'. The pair have also previously toured with each other in the US.
Despite Chance's revelation though, fans would be forgiven if they were still a bit skeptical; after all its been three years since Gambino first tweeted about the collaboration. With Chance not mentioning a release date, who is to say it won't be another three years until we finally get to hear their collaboration, or if we will ever get to hear it at all.
In saying that, there is a slight reason to believe that the "songs" may be released sooner rather than later. The reason being that during his performance at Governors Ball earlier this year, Glover announced that he plans to retire his Childish Gambino alias. It would make sense then that whatever the pair has created would be released before Childish Gambino is no more…..
We hope.
---
---