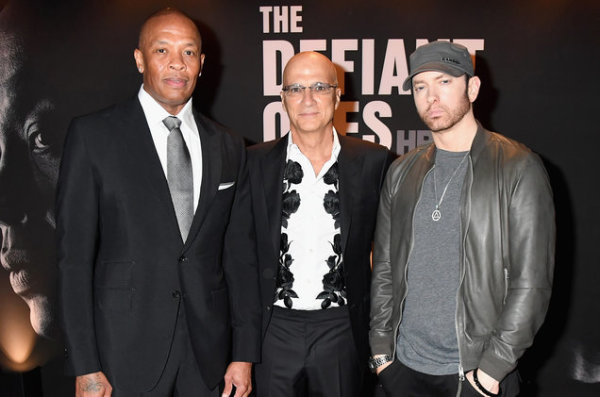 The director for Dr. Dre andJimmy Iovine's HBO documentary, Allen Hughes, may have just let slip that Eminem's ninth studio album is on its way.
Ahead of the premiere of The Defiant Ones (a docu-series based on the relationship between Dr. Dre and record executive Jimmy Iovine) Hughes said the following in an interview with Uproxx:
"Dre still records. People don't know this: Dre records every day. Literally, he's in there recording songs every day. He's like Picasso in that way. He's always painting. Right now he's producing, in the 11th hour, a track for Eminem's latest album."
---
---
On top of this, in a recent interview with DJ Drama, rapper 2 Chainz also spoke about laying down a verse for a new project Eminem has "coming up". This follows an Instagram posted by 2 Chainz last month featuring Em, which sent the internet into a frenzy. I guess now we know what they were up to.
It would appear that something is definitely stirring in Detroit. In recent years Eminem has been somewhat of a recluse, especially when it comes to social media. Over the past few months however, the rapper has been making the rounds. In addition to the Instagram post with 2 Chainz, Em also uploaded a birthday message to old pal 50 cent (see below). Then of course there was 'The Beard".
---
---
If this isn't enough to convince you a new Eminem album will be with us soon, it should also be noted that Eminem has locked in two live dates for 2017, headlining the Reading and Leeds festivals in the UK this August. Usually for an artist to make a booking like this means new music is on the way in the lead up.
Eminem's last studio album was 2013's The Marshall Mathers LP 2. Since then things have been quite for Eminem on the music front. Last October, he released the seven-minute track "Campaign Speech", along with his first message to fans that he was working on an album. "Campaign Speech" was followed by a verse on Big Sean's "No Favors", released earlier this year.
If all is as it seems, we should be graced with some new music from Eminem in the very near future. In the meantime, The Defiant Ones just premiered on HBO. You can watch the trailer for the four-part series here: