Music makes the world go round. The individuals on this list, funnily enough, also enjoy their fair share of responsibility to keep the earth spinning. It makes sense then, to delve into the minds of these prominent house-hold names and find out what tunes make them tick.
The universality of music gives it the special ability to bring every human down to a common denominator. No matter who you are, music has been proven to have a blissful and enjoyable effect on your state of being. So do you share the tastes of an ex-U.S. President? Or do you fancy yourself a visionary of the future? What you'll quickly deduct from this is that music taste by no means dictates a perceived level of intellectual ability.
Elon Musk
Favourite Artists: "Weird Al" Yankovic, Frank Sinatra & Andrea Bocelli
---
---
Tesla owners can trust their vehicles are in good hands when it comes to music. Okay, perhaps not music taste exactly but CEO & Founder Elon Musk has been very vocal about the importance of music integration in his technologies. Currently, customers enjoy free Spotify streaming via 3G integration (the bill of which is fronted by Tesla), and there's been talks of an in-house service for a while now. A 2011 interview with a California college radio revealed that Musk was digging some of Sinatra's "Fly Me To The Moon," Team America's "America, Fuck Yeah!" and Andrea Bocelli's "Con Te Partiro."
Mark Zuckerberg
Favourite Artists: Lady Gaga, Eminem & Daft Punk
In 2016 Zuckerberg built an artificial intelligence system called Jarvis (Iron Man reference surely?) for his home that could recommend music for him and his wife based on their previous preferences. Not much is actually known about the social media mogul's actual tastes, although he once revealed his favourite musicians included Lady Gaga & Daft Punk, and once tweeted "had a dream I was king. I woke up, still king" – a lyric rapped by Eminem in "Lighters" featuring Bruno Mars.
Barack Obama
Favourite Artists: Marvin Gaye, Kendrick Lamar, Jay-Z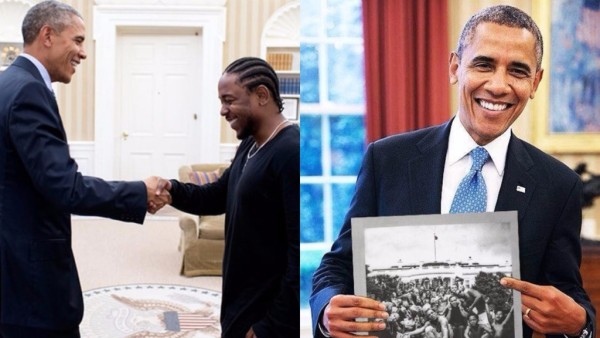 The former Mr. Prez of the United States definitely hasn't kept his music cards too close to his chest over the years. Obama has been vocal since day one in the White House on his tunes of choice, known for making countless playlists for everything from Inurguration parties to Christmas dinners featuring Otis Redding, The Rolling Stones and everyone in between. The man has even gone one step further in openly identifying his five favourite rappers – JAY-Z, Kanye West, Drake, Kendrick Lamar and Chance the Rapper.
---
---
Jack Ma
Favourite Artists: Michael Jackson, 'The Lion King'
Founder of the Alibaba Group and China's richest man by day ($52.2 million AUD net worth), Jack Ma is the corporate world's most prolific and enthusiastic performer by night. Ma attended his company's 18th birthday bash dressed as Michael Jackson, rode onstage in a black and gold outfit on a motorcycle and proceeded to pull off his best impersonation of the King of Pop's signature moves. If this wasn't good enough for you, in 2014 he sang songs from Disney's The Lion King to a stadium of 16,000 employees.
Stephen Hawking
Favourite Artists: Rod Stewart, The Beatles, Francis Poulenc
Hawking has shared his long-time love affair with music to the world for decades. "Have I Told You Lately" by Rod Stewart was confirmed as his favourite song, and the man once picked eight records he would most like to be cast away with on BBC's Desert Island Discs. These included a selection from The Beatles, Francis Poulenc & Richard Wagner.
Hans Zimmer
Favourite Artists: Ennio Morricone, Kraftwerk, Giorgio Moroder
---
---
This is interesting because as of yet, none of the individuals on this list have been affiliated with the music industry themselves, so we thought we'd leave it until last. Music mastermind Hans Zimmer has composed some of the most recognisable film scores this century including The Dark Knight, Inception, and Gladiator. In an interview with IGN, Zimmer revealed his favourite pieces of all time included Ennio Morricone's Once Upon A Time in America, Giorgio Moroder's Midnight Express and Vangelis' Blade Runner. He also admires Beethoven's 5th Symphony for its simplicity and looked up to Mozart and The Rolling Stones growing up.
Article premise credited to Hypebeast