Jay-Z has always claimed he's a "businessman, not a business, man," and that's hard to argue with now that he's a billionaire (personally). According to Forbes, Jay-Z "conservatively totals $1 billion, making him one of only a handful of entertainers to become a billionaire—and the first hip-hop artist to do so." As a couple, he and Beyonce eclipsed the billion-dollar mark back in 2017.
This piece of news is one we imagine Dr. Dre may have a thing or two to say about, five years after announcing that he'd become 'the first billionaire in hip-hop' from his slice of an estimated $3.2-billion deal with Apple for Beats Electronics in 2014. Forbes, however, estimated his wealth at the time to be $550 million. Surely some savvy investments would have him sitting close to the billion-dollar mark today.
The man born Shawn Carter might have started his career as a rapper, but quickly realised if he wanted to make bank he'd have to diversify his interests. For over two decades Jay-Z has invested in a wide-ranging portfolio that includes real estate, art and liquor, helping the 49-year-old amass a fortune now worth an incredible one billion dollars.
---
---
Below is a breakdown of Jay's wealth illustrating how savvy a businessman he actually is.
Armand de Brignac – $310 Million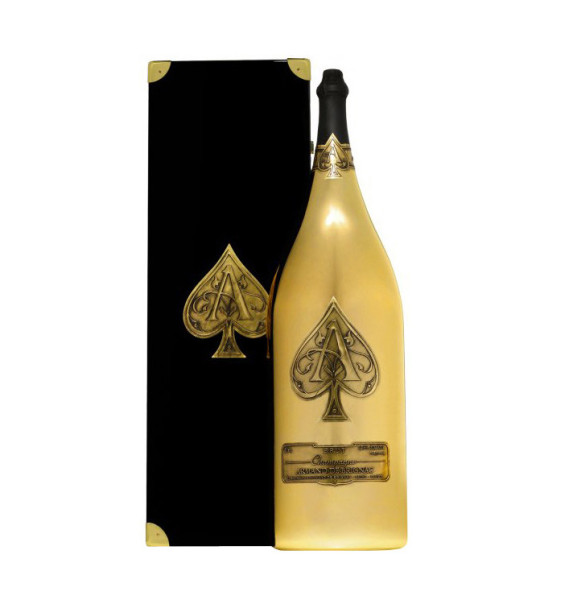 The Armand de Brignac Ace Of Spades Gold Champagne retails for AU$599 a bottle and his stake in the Maison has been Jay's wisest investment, netting him over $300 million since he got involved in 2014.
RELATED: Size Matters – An Easy Guide To Champagne Bottle Sizes
Cash and Investments – $220 Million
Jay-Z has his fingers in many pots, owning a number of restaurants and clubs as well as having a stake in the Brooklyn Nets. His most successful investment might be Uber, with his shares in the company estimated to be around $70 million.
D'Ussé – $100 Million
---
---
As soon as Jay got involved with this luxurious cognac brand sales went through the roof, with profits growing in excess of 80% annually according to Forbes.
Tidal – $100 Million
Jay took over the streaming service in 2015 in hopes of creating a music platform that would give more back to the artists. Although suffering a few teething problems in the early days, Tidal is now a profitable alternative to Spotify and the only place fans can stream Jay's music.
Roc Nation – $75 Million
An entertainment company founded by Hov in conjunction with Live Nation, Roc Nation is a touring company, sports management agency (clients include NBA star Kevin Durant and Premier League star Kevin De Bruyne) and record label (roster includes Rihanna, Big Sean and Lil Uzi Vert).
Music Catalog – $75 Million
Despite releasing 13 albums and selling out concerts around the world, Jay's fortune from his music is due to the fact he owns all his originals. The skilfull negotiator managed to secure the master tapes from Def Jam and his publishing rights from EMI, meaning he earns every dollar from every stream or album sold.
Art Collection – $70 Million
---
---
A lover of the fine things in life, Jay has an impressive art collection that he regularly raps about. He's a big fan of influential artist Jean-Michel Basquiat and reportedly paid $4.5 million for his Mecca piece.
Real Estate – $40 Million
Jay's property portfolio was given a boost in 2017 when he and Beyonce purchased a $26 million East Hampton mansion along with a tasty $88 million Bel Air estate. The mogul also owns a Tribeca penthouse he used during his single days that cost him $6.85 million.
Watch Collection – $5 Million+
While there's no confirmed value of Jay's timepieces, he's regarded as one of the most prolific collectors in the world and earlier this year picked up the most expensive Richard Mille ever made for AU$3.5 million. He also owns a Patek Philippe Sky Moon Tourbillion with an estimated value of AU$1 million among countless others.
RELATED: Sydney hospitality king Justin Hemmes is now a legit billionaire