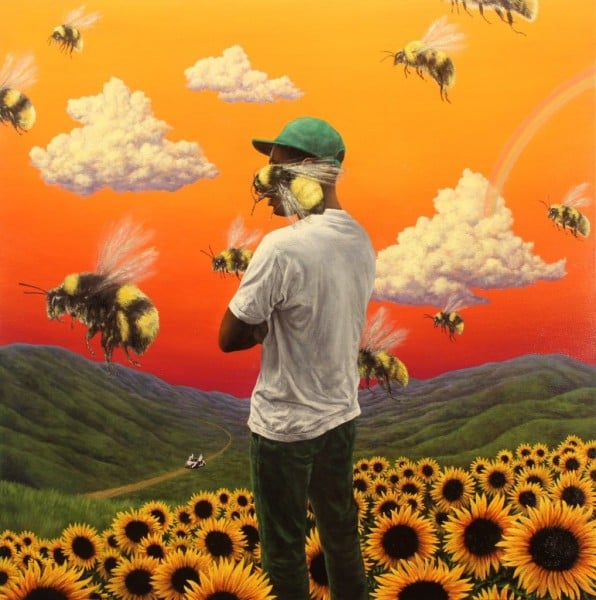 Tyler, The Creator has announced on Twitter that his new album, titled Scum Fuck Flower Boy, will drop July 21. Along with the announcement, Tyler has also released the tracklist (which you can check out below) and two album covers, one of which was designed by the rapper himself (below).
This comes off the back of Tyler dropping two new songs last week — "Who Dat Boy", featuring ASAP Rocky and "911/Mr. Lonely", featuring Frank Ocean.
It's seem like we may be heading into Tyler season, as the multi-talented rapper also has two shows to debut later this year: Viceland's Nuts and Bolts, which premieres on August 3, and an animated show The Jellies on Adult Swim.
---
---
Scum Fuck Flower Boy is Tyler's fifth full length and fourth studio album, it follows Cherry Bomb in 2015.
Scum Fuck Flower Boy Tracklist
Side 1:
1. "Foreword"
2. "Where This Flower Blooms"
3. "Sometimes…"
4. "See You Again"
5. "Who Dat Boy?"
6. "Pothole"
7. "Garden Shed"
Side 2:
8. "Boredom"
9. "I Ain't Got Time!"
10. "911/Mr. Lonely"
11. "Dropping Seeds"
12. "November"
13. "Glitter"
14. "Enjoy Right Now Today"
You can pre-order the album on iTunes now.