Smash-hit television series Money Heist (or La Casa De Papel in Spain) blew up on the international stage after being picked up by Netflix in 2017. Few people realise that the first two seasons, while popular, failed to deliver viewership numbers domestically. So much so that the series, created by Spanish television channel Antena 3, was effectively binned. Shelved. No more. Then the phenomenon started to snowball with a wider audience and the cast and crew were called back by the streaming giant to fuel the fire for another two explosive seasons. Ever since the release of Money Heist season 4, we've been waiting for Money Heist season 5, and now it's finally (almost) here.
On May 25th, Netflix confirmed a release date with a dramatic teaser trailer. Volume 1 premiered on September 3rd, with Volume 2 following this week on Friday, December 3.
Money Heist Season 5 Volume 2 Worldwide Release Times
Hawaii: 9:01 p.m. HST on Thursday, Sept. 2
Alaska: 11:01 p.m. AKDT on Thursday, Sept. 2
West Coast of the US: 12:01 a.m PT
Mountain timezone: 1:01 a.m. MT
Midwest of the US: 2:01 a.m. C
East Coast of the US: 3:01 a.m. ET
England: 8:01 am BST
France, Germany, and Italy: 9:01 a.m. CEST
Spain: 9:01 a.m. CEST
Israel: 10:01 a.m. IDT
India: 12:30 p.m. IST
South Korea and Japan: 4:01 p.m. KST
Sydney, Australia: 5:01 p.m. AEST Friday, September 3rd.
It's going to be an all-out war to the last man standing. So what else do we know so far about the final chapter of this epic saga? Read on.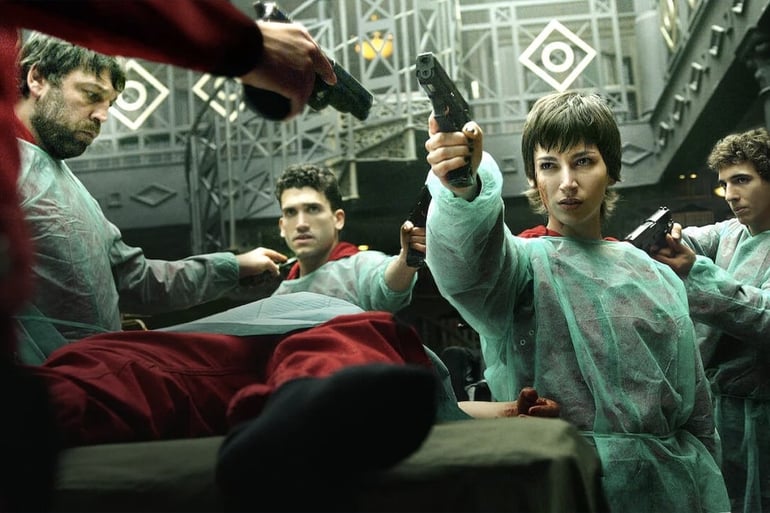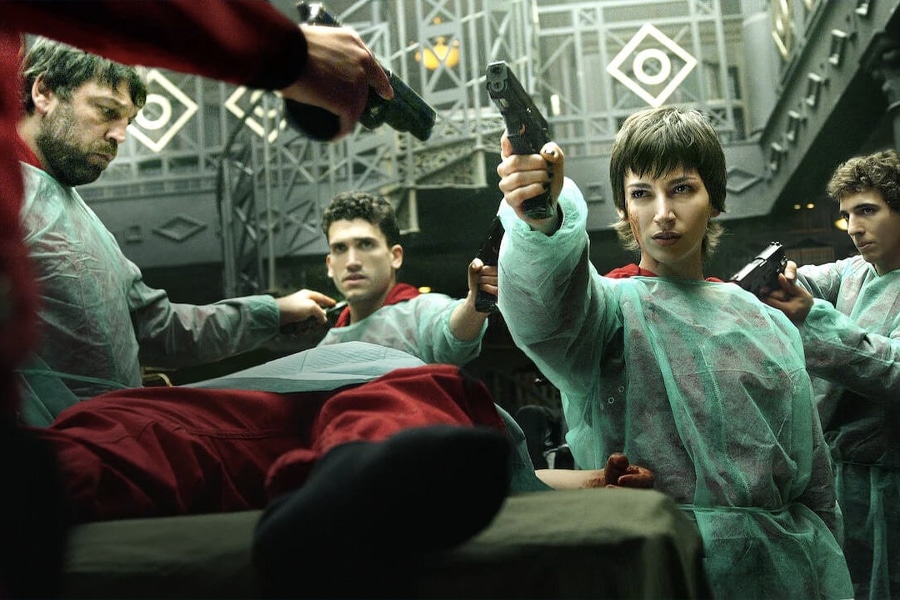 Will Money Heist Season 5 be its last?
Last year Money Heist pipped cult-hit Tiger King in a quarantine streaming tug-of-war during the month of April, copping 65 million viewers to Tiger King's 64 million over the same period of time.
"It's pure rock'n'roll," said Álvaro Morte, who plays the Professor, speaking of the binge-worthy popularity of Money Heist to The Guardian. "Once you see the first chapter of the show, you are lost in it."
Despite its worldwide success and cult-like fandom, in August 2020, Netflix confirmed that Money Heist season 5 would be its last.
What will the fifth season of Money Heist be about?
[Spoilers Ahead]
Due to the nature of the show's production, viewers have now seen two separate heists, each spanning across two seasons for a total of four parts. While the first heist more or less went to plan, the same can't be said for how we left things inside the Bank of Spain at the end of season 4.
Nairobi's (Alba Flores) execution was a major riff in the closing episodes, shattering the core team and exacerbating the chaos inside the bank even further. Then came the extraction of Raquel from the authorities which saw her dramatically re-enter the bank, while the Professor was simultaneously discovered by rogue police officer Alicia Sierra.
Given we've seen two heists for each pair of seasons, the upcoming Money Heist season 5 will share the same format spread across two parts. Despite the presumed ending being one dramatic point of tension, the show also loves to dabble in a non-linear approach to story-telling, so we could see this grand finale dragged out right to the end, and maybe even witness Nairobi's return (much like Berlin's character did in the later seasons) after all.
Showrunner Álex Pina expanded on his struggles pulling together a final season of Money Heist.
"We've spent almost a year thinking about how to break up the band. How to put the Professor on the ropes. How to get into situations that are irreversible for many characters. The result is the fifth part of La Casa de Papel. The war reaches its most extreme and savage levels, but it is also the most epic and exciting season."
Viewers also probably didn't notice the unexpected easter egg waiting for them just seconds after the credits rolled on season 4 – a unique rendition of 'Bella Ciao' by Money Heist actress herself, Najwa Nimri (who plays the aforementioned police officer that outed the Professor in the final scene). Given that it was previously only sung on-screen by those loyal to the cause, could this be a sign that the Sierra will be joining the Professor and his gang for season 5? Only time will tell, but if so, that'd really shake up the dynamics of the next season.
Showrunner Alex Piña also floated the idea of 'spinoffs' with Oprah Magazine, which would be a likely outcome with season 5 of Money Heist aiming to wrap up the storyline in one succinct and dramatic send-off.
"We do have many possibilities for some spinoffs, yes, and I think that's thanks to the strong and powerful identities of the characters. We've always looked for characters to have a very complex, layered design. So I think almost every character of Money Heist has a duality that we would like to see in a spinoff. We could watch any of them in other contexts."
How many episodes will be in Money Heist season 5?
The fifth season will be two episodes longer than previous Money Heist seasons, as confirmed by Netflix's Media Centre, wrapping up the series with 10 episodes across the aforementioned two parts.
What is Money Heist Season 5's release date?
On March 15, 2020, Netflix hit pause on the production of all its original series due to the global pandemic. Similar setbacks were felt across the entertainment industry, with the likes of Netflix's other binge-worthy crime series Bodyguard also suffering delays.
Currently, there are a total of 31 episodes of La Casa de Papel on Netflix across four seasons. And if you really can't get enough, we'd recommend watching Money Heist: The Phenomenon, a behind the scenes look at how the show was saved from a domestic-bound fate and revived to international fame.
Unlike other recent reports of the Money Heist season 5 release date being April 2021, it's since been confirmed that we'll see the finale air on Netflix on September 3rd & December 3rd respectively.
Now, read about everything we know so far about Bodyguard season 2, and the possibilities of a Money Heist season 6…