Adult entertainment company Pornhub has just released the official Pornhub coronavirus report. Setting out to paint a picture of how "working from home" is going for everyone so far, the numbers have unsurprisingly seen an increase.
As you'd expect, there has been a considerable uptick in overall traffic. Australia itself only recently hit a peak around March the 17th with a +5.2% bump of daily traffic. But the most eyeopening statistical feature has to be the increase of on-site users during certain hours – specifically around the lunchtime/post-lunchtime bracket of 11 PM to 3 PM.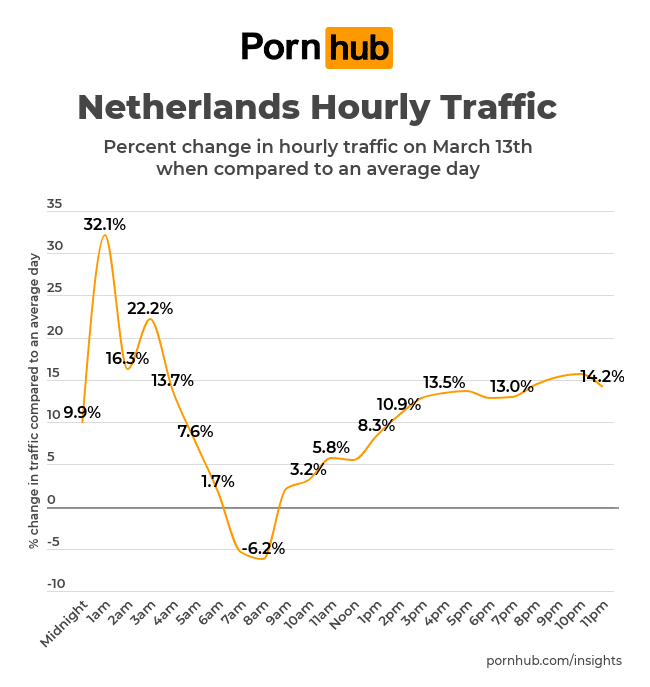 At this point in time, I'd like to direct your attention to the hilarious case of the Netherlands. With a national upward trend starting at around 9 AM, their traffic hits a peak at midnight to 1 AM, and doesn't really drop until 2 AM. Not to sound judgey, by y'all are unproductive as hell.
---
---
Pornhub famously offered Italian citizens free premium accounts in the wake of their lockdown. For that little gift, the site was rewarded with a whopping traffic increase of +57.0% around March the 12th, which is only starting to slowly adjust to normalcy now. Interestingly enough, Italy isn't even the biggest grower on camera in this case – with Spain gaining a massive +61.3% around March the 12th.
Yet another noteworthy insight includes how many "coronavirus" or "covid" queries the site has received in the past month. Around March the 5th, these queries hit an all-time high of 1,544,654 searches that day – totalling at approximately 9,127,482 searches in the last thirty days. Slovakia apparently lead the charge on this COVID-19 related porn raid, with a proportional percentage of +119%.
Check out the stats below and head on over to pornhub.com for the full report complete with commentary.
Overall Traffic
Hourly Traffic
Once you've finally managed to get your hand off it, and decide to kill the time another way while we're in COVID-19 induced lockdown, here's a list of 101 things as prescribed by BH.