Once celebrated as Australia's most brilliant legal mind, Charles Waterstreet now finds himself on trial in the court of public opinion.
It seems almost fitting that I agree to meet Charles Waterstreet in a depressing Kings Cross cafe. Thirty years ago this place would've been heaving, standing room only, packed with colourful characters. You may have even spied Charles in the corner, wig in one hand, wine in the other.
Now it's just another coffee shop in a suburb full of coffee shops. Kings Cross, where flashing lights have given way to For Lease signs: it's a strip that remains relevant only in the context of its past, a feeling Charles can relate to. The downfall of Charles Waterstreet has been swift, public and polarising.
---
---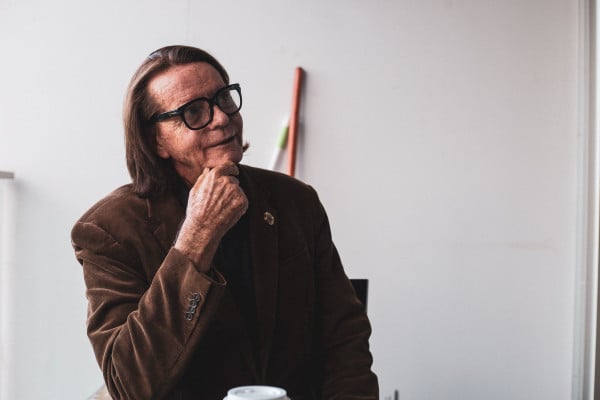 For much of his career, Charles was held up as the 'lovable bad boy' of the Australian legal fraternity. Juggling high profile girlfriends and even higher profile criminal cases, the myth of Charles Waterstreet grew. He was the inspiration for the ABC show, Rake, had a weekly column in the country's largest newspaper, and in 2015 a haunting portrait of the lawyer won the Archibald Prize. Here was a man people knew, pretended to know, or desperately wanted to know.
And then it all came undone.
In 2017 complaints about his conduct surfaced, with several female paralegals and potential employees claiming Charles sexually harassed them during their interactions. Reports detailed Charles screening sexually explicit videos, showing and discussing his fondness for sex parties, having many girlfriends and enjoying threesomes. He denied all the allegations.
Following the claims, Charles Waterstreet was banned from advertising on the University of Sydney's CareerHub website.
Last year he declared bankruptcy after being ordered by the NSW District Court to repay a reported six-figure debt to the Australian Taxation Office. And then, finally, the Bar Council cancelled his practising certificate in June this year, citing his inability to prove he was a "fit and proper person."
Case closed.
Following his tumultuous few years, I was interested in talking to Charles, though hesitant to reach out, wary that in the #MeToo era any approach might be misconstrued as an endorsement.
---
---
But while he may have been officially deemed unfit and improper, he is still a person. Somewhat bizarrely, I make contact with Charles via Instagram, and he responds instantly.
Yes, I'll meet for breakfast, will you shout?
I agree to shout, and off we go.
****************
Charles is forty-five minutes late by the time his frame comes into view. At seventy years old, he's still got the hurried gait of a younger man. He takes a seat opposite me, laying out several notepads, each drowning in scribble. Despite being disbarred, it appears he's keeping busy.
"I am not able to practice at the moment, but I'm doing a bit of advising," he tells me, gesturing to the pads while hinting at his recent troubles.
We both know that his career has been forcibly put on pause, but before I can bring it up, Charles launches into a passionate defence.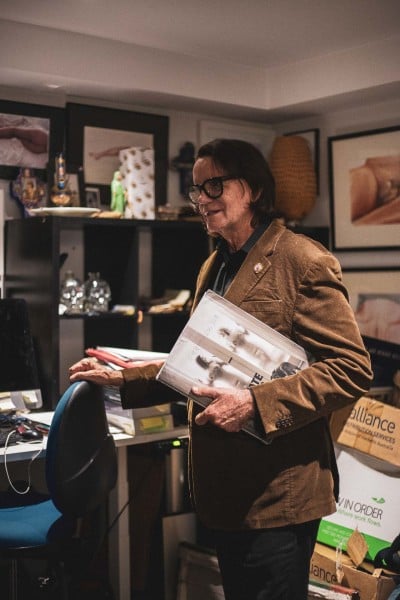 "It's very funny for me to read that I am a sexual harasser, these allegations are false and I look forward to defending myself in due time."
---
---
"What I mean is, I have to be careful with what I say, but it's all untrue. I once watched the Beijing Olympics in bed with Germaine Greer!"
It quickly becomes apparent that this is how Charles operates. Every sliver of information is delivered with an interesting-yet-unrelated fact that leaves you confused about what conversation you were having in the first place. It also becomes clear that this will be less of a back and forth, and more of a back, forth, sideways, up, down and back again.
I can barely keep up with Charles, who can barely keep up with himself. Eventually, I lead him towards the law, and his eyes light up.
"I hated the law growing up; I was first in the state in physics and chemistry, that's where I was headed – law was not a passion," he says.
"I hated it, I was a hippy, and so I wasn't really interested in law."
Despite harbouring dreams of riding the free love train full time, Charles was admitted to the bar in 1974 and began practising.
"I discovered the creative side of the law, at that time I was living at [Nobel Prize-winning author]
Patrick White's house for six months, while he was on holidays."
"He put two girls in the house, and they lured me in, it was a magical place – drugs, bikie gangs, orgies, it was incredible, though Patrick was less than impressed when he returned home."
---
---
Just as we start to get a roll-on, Charles changes lanes again. "I shouldn't be telling you my best stories, giving them away for free," he says. "You know someone is doing a documentary on me."
This too happens often; Charles hinting at a mysterious project that is about to come to fruition. He mentions books, television series and films, but delivered with such flippancy it's difficult to tell what's real.
While somewhere inside his instinct may be to protect his best anecdotes, another part of him, the part that wows juries and judges, can't help but share the war stories.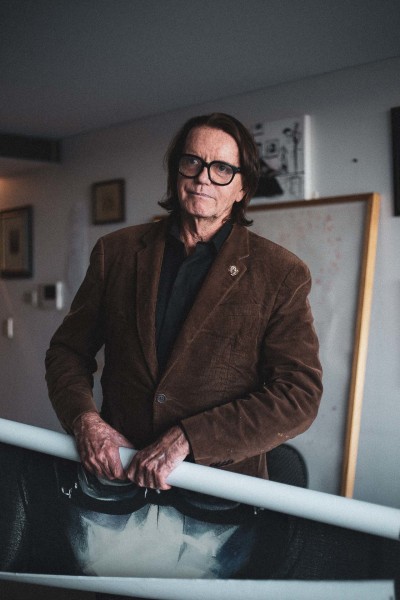 "You know I lived next door to Hunter S. Thompson in Aspen, he shot my cat," he mentions casually. Charles did indeed live in Aspen during the 1980s. He and ex-wife, Fiona, were part of a glamorous snow set that included the Fear And Loathing author.
"My cat was stalking his peacocks, so it copped twelve pellets in the head from Hunter's gun. But he was a very generous man; he was very funny. We spent a lot of time together."
Thompson wasn't the only famous friend Charles rolled with during his time abroad.
"Aspen was the capital of coke then there were parties every night. We were going to parties with The Eagles, Jimmy Buffet, Lorne Michaels, Jack Nicholson. Jack was the first person I ever met that I was in awe of."
This megastar-laden stroll down memory lane is interrupted by a call from Charles' accountant, which jolts him back into the present day and all the associated problems.
---
---
"We're in a weird time now, a time where overly politically correct feminists are hellbent on ensuring the end of human interaction and humour," he says.
"People have to walk on eggshells to have a conversation. I am myself a victim of it."
Following the allegations, Charles penned a lengthy denial, published in the Sydney Morning Herald. In part, he argued that sex had always been linked with his career. He was a regular writer for Penthouse and at the time of the allegations, had been preparing to speak at Sydney Contemporary on a panel entitled Post Porn: Art, Feminism and Sex in the Age of the Internet.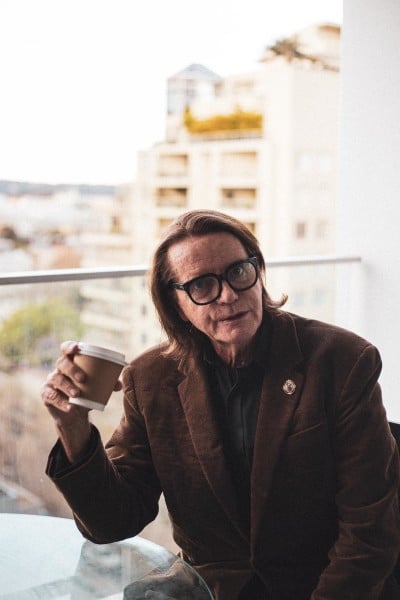 On the surface, this seems to be a convenient cop-out, straight from the 'if you're offended that's your problem' playbook. At the same time, he shows a remarkable ability to appear switched on.
"I fought hard for the sexual revolution in the 1960s and 1970s, women have had their sexuality repressed, and they have so much more potential than men do," he says.
"It's of little surprise now that women are walking out of marriages at age thirty because they know what they want and why they want it. The husbands are still sitting on the lounge, watching TV and only asking why before it's too late."
But is it too late for Charles Waterstreet?
It's no secret that we're living in an age where these kinds of accusations, whether true, false or up for debate, will linger. Speaking of lingering, our breakfast had bled into the lunch hour, and now we both have to go.
---
---
Charles agrees to meet back up in a few weeks to get some photos for the story; I remain unsure of whether or not I'll ever see him again.
*************
Three weeks later.
Waiting outside his King's Cross apartment building, Charles is late, again.
"He's just gone to get his haircut," says a man fiddling with a video camera.
He introduces himself as Ricardo Skaff, a documentary maker who has been shadowing Charles for the better part of two years. Not for the first time in this rollercoaster, the truth is the most surprising element of the story.
"I first met Charles through a mutual friend and fellow barrister," explains Ricardo.
"It was a dizzying and dense whirlwind, but before we knew it, we were lugging around a camera and chasing Charlie around Sydney hoping to recapture that magic."
Ten minutes pass and no sign of Charles.
"If he says he'll be ten, he'll be twenty at least. I've done a lot of waiting over the past two years," says Ricardo.
Charles aversion to punctuality drags on as Ricardo explains what it's been like to orbit the imploding world of Waterstreet.
"It has been interesting to watch the impact of the accusations and their consequences, both professionally and personally. In spite of his seemingly unquenchable obsession with matters of sex, I do believe that with Charlie, what you see is what you get."
The only problem now is deciding out precisely what we do see: a powerful lawyer abusing his position, an anachronistic fringe figure guilty of misreading the mood. In my time with Charles, I remain unsure.
"I think it is fair to say that Charles has invited and probably chased controversy in ways both harmless and also ultimately self-destructive to his image," says Ricardo.
"He thrives on complication and humour-driven social awkwardness in ways that are often highly confusing to everyone other than him."
Another ten minutes pass before Charles, and his new hair arrive, at which point we're whisked upstairs.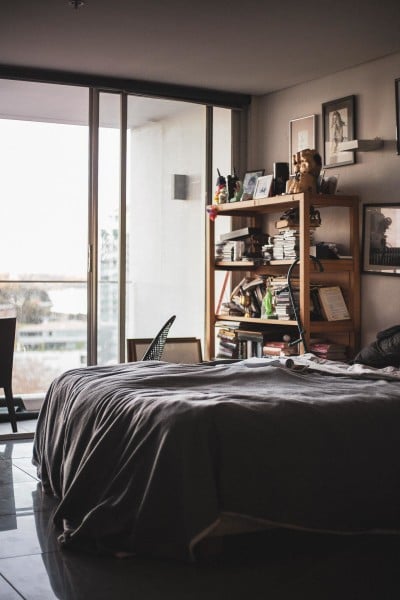 Adorning the hallway entrance to his studio apartment are close up sketches of male and female genitalia.
"A female friend of mine drew them, she was sketching the two of us," offers Charles.
On closer inspection, there are several different penises visible.
"Well yes, I thought she was sketching just the two of us. I got quite a surprise when someone else entered the mix."
The tour doesn't take long, but what Charles' apartment lacks in size it makes up for in art. From the kitchen to the bedroom, every inch is covered. Original works by street artist, Anthony Lister, double as coasters, Peter Kennedy etchings hang from the wall.
"This is another one Lister made just for me,' Charles says, reaching for a cast bronze penis. "He even signed it."
Much of this place is a homage to times that have passed. The bookshelf is full of Charles memoirs, a poster of his Archibald portrait rolled up in the corner. But what of the future, what next for the banished barrister?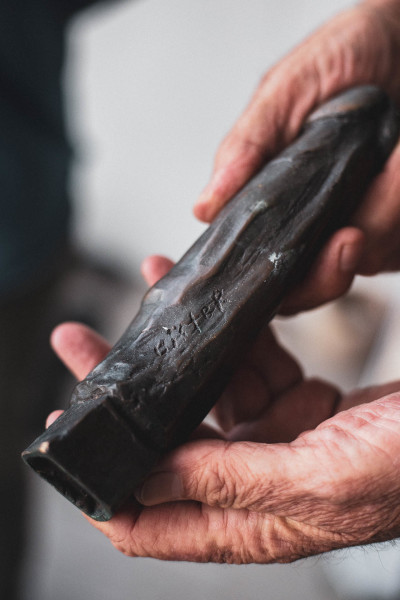 "Survival is my main goal, money is my biggest stress right now, money to survive, money to pay rent," says Charles, pausing to pose for a photo.
"I used to be wealthy, but I was bad at being wealthy, I would spend it all, I am bad with money, born that way. I had it, I spent it, then earned it again, but now it's not so easy."
The photographer indicates we have everything we need and so begins the universal language of 'it's time to go.' I clap my hands together, start collecting my belongings, but it's clear Charles would prefer we stay. While he might not have much in the way of money, Charles is the master of buying more time. Another anecdote dashes each attempt at an exit – here is a man accustomed to an audience.
As we inch towards the front door, Charles is dusting off a story about his deceased pal, Brett Whiteley. I manage to get a word in, rush our goodbyes and try to collect my thoughts while waiting for the elevator.
After time spent together, it's obvious Charles Waterstreet has lived a full life, but now it appears too full. It spills and overflows so that he no longer fits into the world that exists around him.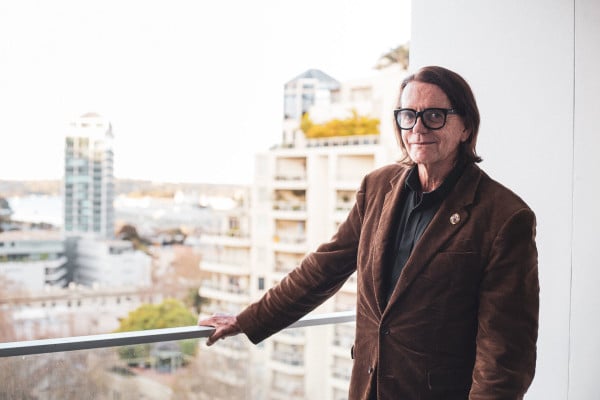 The elevator spits us back into the lobby, and I am reminded of something Charles said during our first meeting. "If you want the truth, look in the opposite direction."
But just what that truth is saying remains unclear.