The Pickup is a rolling series that profiles extraordinary individuals from all walks of life. From athletes to artists, fashionistas to entrepreneurs, and everyone else in between – these are the pioneers of their field. The ones who do it large and do it best. In this series, we rapid-fire interview these extraordinary individuals. How rapid-fire? We only give ourselves the time it takes for an Uber to be ordered to when it arrives.
Sydney native, Dominic Di Tommaso, makes a living as a professional freerunning athlete. As part of an elite team, Tommaso has traversed the globe for adrenaline-fuelled urban air time.
Tommaso – or 'Domtomato' as he is commonly referred to – started from humble beginnings. Having first getting acquainted with freerunning (otherwise known as 'parkour') back in 2007, he was working as a full-time garbage man. Though his background in ballet and figure skating meant Tommaso was no stranger to some considerable athletic challenges.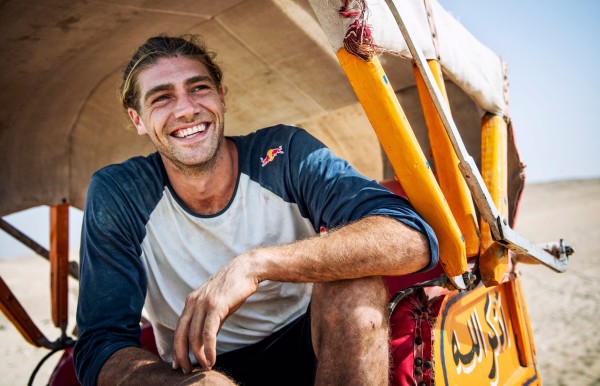 Tommaso currently trains with Crew 42 and joined the internationally renowned Team Farang in 2016. He's been a regular at Red Bull Art of Motion ever since, making some proverbial noise and turning all the right heads along the way. By the time of this write-up, his Instagram account has just ticked over the 1,000,000 followers mark, and to no surprise, as his feed is a never-ending source of hair-raising stunts.
"I love freerunning, it gives me an outlet for my passion in movement without the restrictions or guidelines I found in other organised sports," says Tommaso.
---
---
"It's something that can really teach people to overcome obstacles mentally or physically and to be more confident in themselves."
Somewhere between running from A to B, we caught Dom for a candid quick-fire chat about everything from his gnarliest tricks to the most famous person in his contact list.
This article is proudly presented in partnership with Uber. Thank you for supporting the sponsors who help make Boss Hunting possible.