It may be the most on schedule Adult Swim's hit animated series has ever been, but after a lengthy wait nonetheless, Rick And Morty season 5 is finally dropping June 20th at 11 PM in the US (ET) / 1 PM today here in Australia (AEST).

UPDATE [21/06/21 – 6:55 PM]: Adult Swim truly are the real MVPs… watch the first episode for free via YouTube above and below.
Helmed by Dan Harmon and Justin Roiland, the forthcoming instalment promises a borderline uncomfortable showdown between Rick and a "strange horny ocean man" at teased in the scene above – the latter being the former's "once and eternal foe" Mr Nimbus; as usual, Rick will be his own worst enemy in both a literal and metaphorical sense, Morty will get more facetime with high school crush Jessica, Jerry will be the tragic butt of every joke, with plenty more shenanigans ranging from the entire family engaging in a Voltron-style battle to militant turkeys.
The first three episodes of Rick And Morty season 5 is as follows:
---
---
'Mort Dinner Rick Andre' – June 20th 11 PM (ET) in the US, June 21st 1 PM (AEST) in Australia
'Mortyplicity' – June 27th 11 PM (ET) in the US, June 28th 1 PM (AEST) in Australia
'A Rickconvenient Mort' – July 4th 11 PM (ET) in the US, July 5th 1 PM (AEST) in Australia
RELATED: 'Rick & Morty' Season 7 Is Already Being Written
How to watch Rick And Morty season 5 in Australia
UPDATE [21/06/21 – 6:55 PM]: Here it is, folks. Full length. Completely free of charge.
UPDATE [21/06/21 – 3:55 PM]: Netflix Australia's Rick And Morty page has indicated season 5 is arriving Monday. Whether it's referring to this Monday – as in today – or the coming Monday – as in next week – is currently unclear.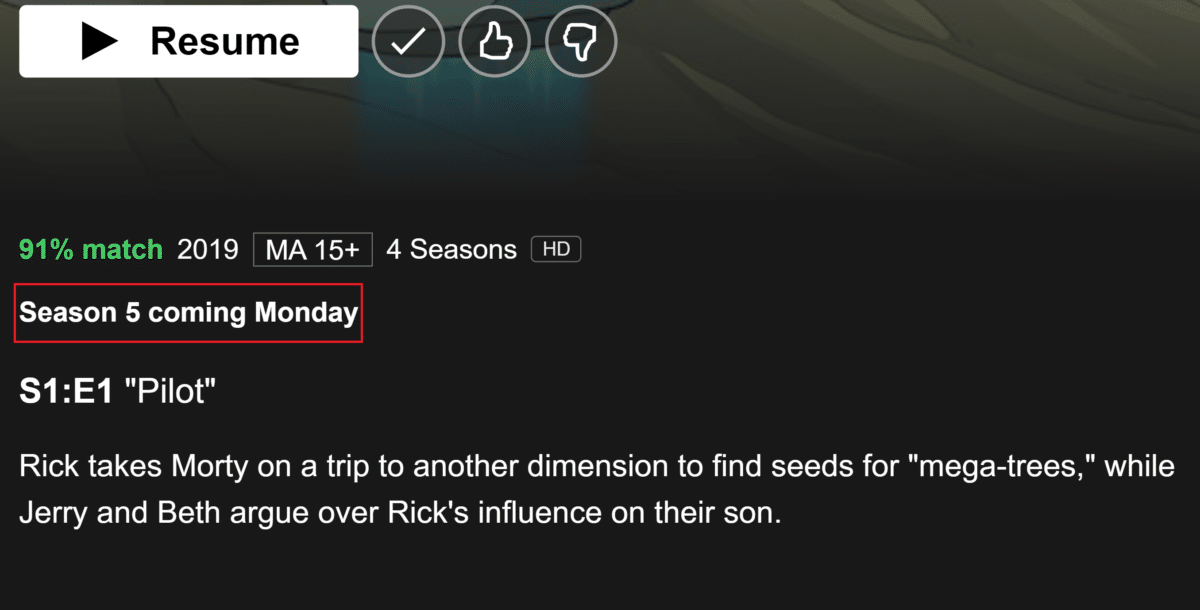 The bad news? Netflix retains the exclusive streaming rights to Rick And Morty season 5 in Australia. Given the tragic case study that was the domestic release of season 4 which came far too late, unless the eggheads in the local boardroom have had some sense knocked into them, Aussie fans are in for some considerable lag behind the Adult Swim release schedule – especially considering how Netflix Australia has been completely silent on the matter (unless there's a killer surprise coming later today).
The good news? The internet is a vast playground where you – the everyday punter – can reach beyond your geographical limits. And while (officially) we don't condone acquiring your R + M fix via illicit means such a pirating, we will note that some people do so. Furthermore, copping a cheap VPN to stream via US services such as the Sling TV packages and so forth will provide easy access all the same… which is the method we do condone. Officially speaking.
Enjoy.