Korean electronics giant LG has always been known for its absurdly thin "Signature" series of TVs. As of 2019, however, the ante has been upped with its latest release: a "rollable" TV that rolls itself down into a soundbar box with the push of a button.
The LG Signature OLED TV R, as its formally known, was unveiled on Monday during the opening day of the Consumer Electronics Show in Las Vegas. Though we're currently three days into the five-day annual trade show famous for being the place of reveal for some of the upcoming year's craziest, most obscure gadgets, motors and tech, LG's rolling TV has already stolen the show.
It's pretty clear why.
---
---
Though there hasn't been a guaranteed price or release date just yet, LG has stated that their latest TV will be rolling into stores sometime this year. They currently have a 65-inch ultra-thin TV dubbed the "Wallpaper" that retails starting around US$7,000 so we can only assume the OLED TV R will sell for a good bit more than that.
All TVs in LG's "Signature" line boast stunning 4K Ultra HD / HDR capability on an OLED screen less than a quarter-inch thick. With the LG Signature OLED TV R, that same capability is presented on a 65-inch screen that can efficiently roll into a relatively slim, attractive piece of furniture.
Furthermore, it can roll to different heights depending upon its use. When in "Line" mode, it rolls up partially for music playback or to display information like time and weather. It also has a built-in Amazon Alexa assistant for easy voice command. What more could you want?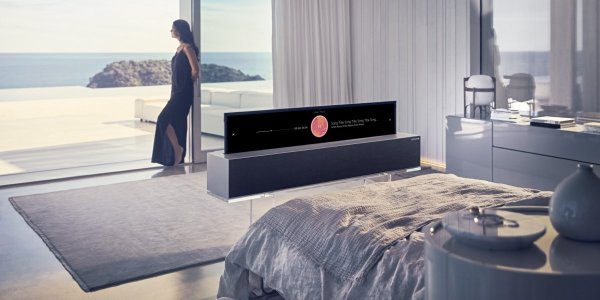 You can watch an 8 minute summary of LG's 2019 CES press conference here, courtesy of The Verge.
RELATED: Samsung's Foldable Smartphone Tablet