While all eyes were on an array of micro-investing and trading platforms roll outs this past year, a young, agile financial platform from New Zealand quietly became available on Aussie shores.
In the same spirit as its counterparts, the platform in question was established to challenge the investing world's old guard with a groundbreaking investing platform. A platform that offers those with $5 the same investment opportunities as those with $5 million by removing barriers to investing like education, access, and motivation.
This is the Sharesies platform.
---
---
"We believe we're the only investing business that's solely here for wealth development," says Co-Founder and Director of Sharesies, Leighton Roberts.
"That's our key focus. There are wealth managers, there are trading platforms, there's micro-investing… But we're here to help develop wealth."
The very inception of the Sharesies platform can be traced back to the same questions we've all asked ourselves: "Where do I even begin with investing?", "Am I using the best platform out there", "How far can I get with the money in my pocket?"
"99.99% of the people we surveyed said they wanted to be an investor. It was this real ambitious thing, something to aspire to."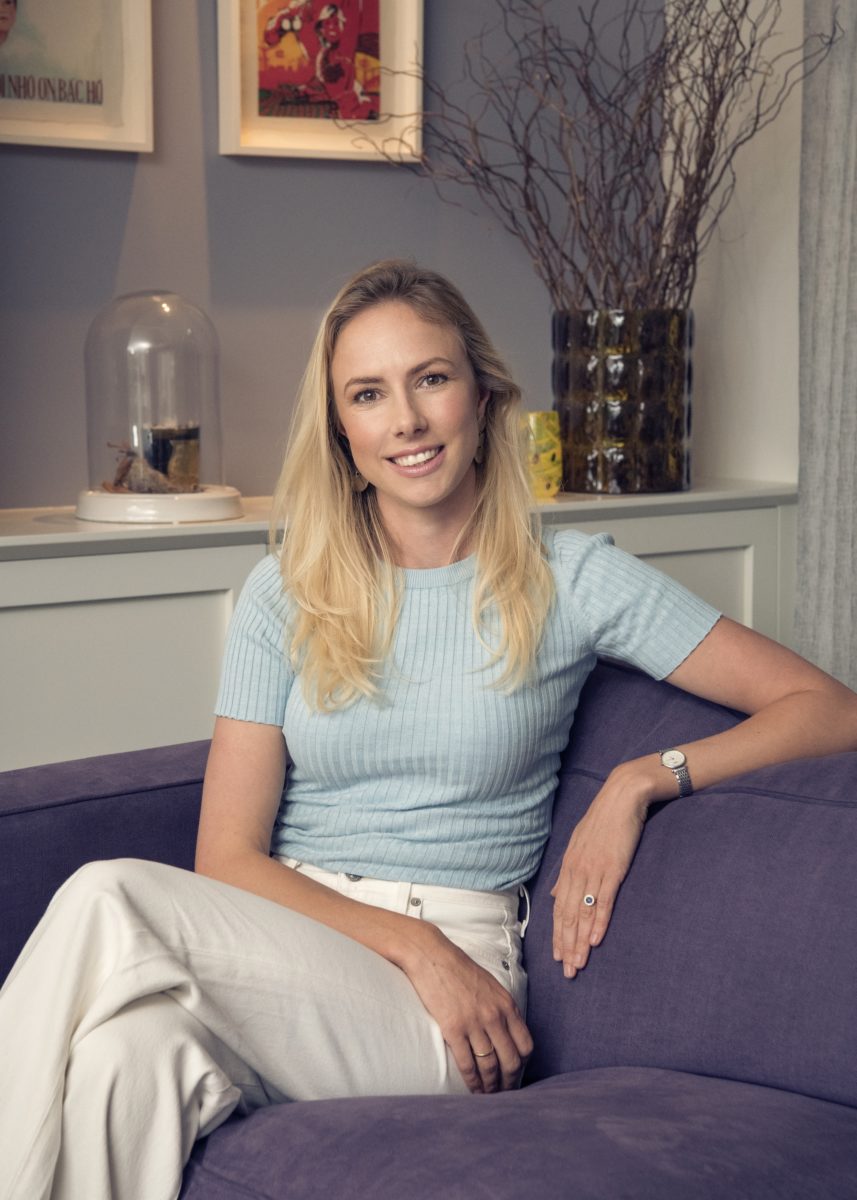 The heart of Sharesies' mission is to make investing accessible, breaking down barriers including the financial jargon and requiring no minimum investment to get started. The Sharesies platform was founded in New Zealand in 2017 by a group of six who identified a need in the market to democratise investing.
Since then, remarkable progress has been seen. After four years of growth and success in the New Zealand market, and like every good Kiwi export, Sharesies expanded, becoming available to Aussie investors in April of this year.
Now, the Sharesies platform has achieved:
---
---
Over 420,000 ANZ customers who can invest in companies and ETFs across Aussie, Kiwi, & US markets
Over $1.5 billion in funds under management
B Corp status – Sharesies is committed to delivering positive impact for its customers, suppliers, workers community and the environment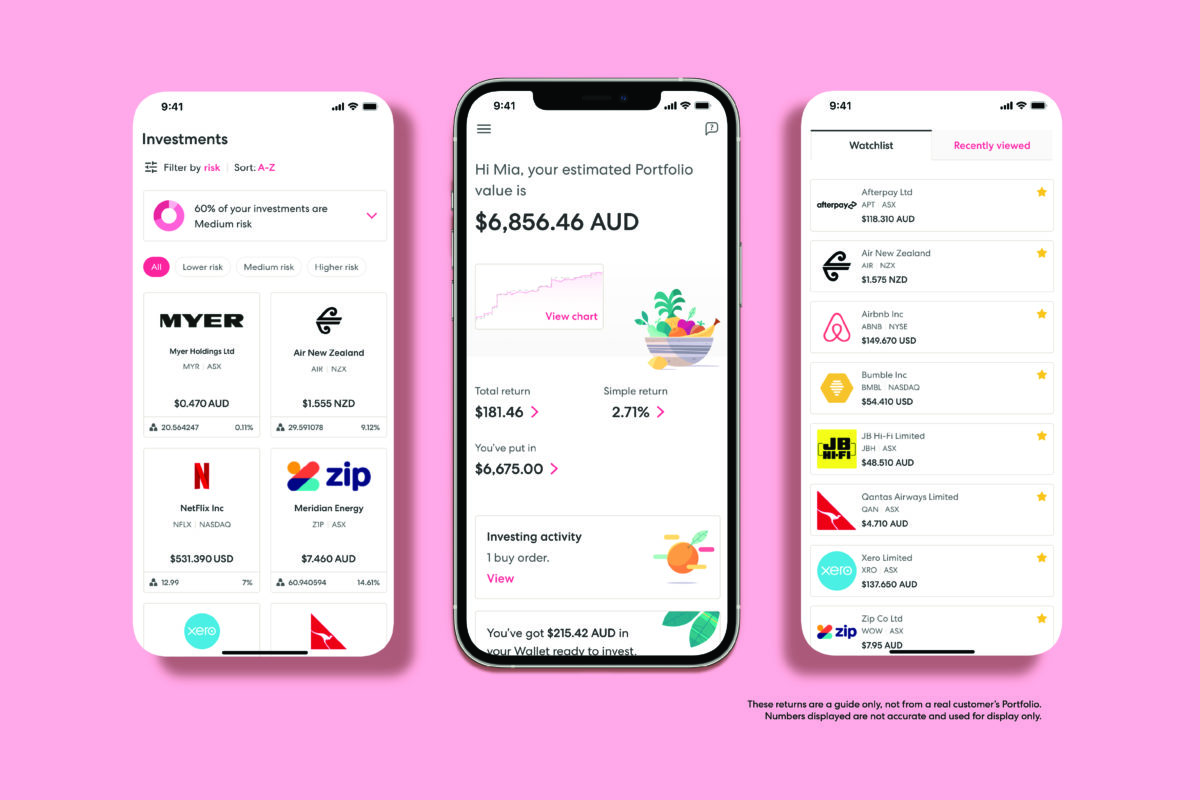 "Right now, you can access the Sharesies platform with any amount of money, but that's not the objective – the objective is to develop wealth over time," says Leighton.
He adds, "The vision is to provide the same money opportunities for someone with $5 as someone with $5 million. That's not to say someone should just put $5 in, either. It's to say investing lots of $5 can add up to be a whole lot of money. We just really want to be there for people's development journey."
"I suppose we're all classic millennials, but why can't you have your house and your smashed avocado? At least have a chance to develop your wealth."
So how does it all work on the Sharesies platform?
Essentially, it's retail investing without any of the usual sacrifices. This isn't some finance lite app that simply rounds up your dollars and throws it at some pre-packaged option named something vague like "steady growth", "aggressive – high risk", out of sight and out of mind.
This is an opportunity with no minimum investment required meaning users can start investing with as little as 1c (or whatever you can reasonably afford), in a way that best motivates you.
This is a chance to build a real portfolio from 7,500+ companies and exchange-traded funds (ETFs) listed on exchanges across Australia, New Zealand, and the US – sans all the jargon and underpinned by a genuine philosophy of long-term value.
Most of all, this is the everyday punter's potential ticket to financial freedom at their own pace.

"Our strategy is three-fold," explains Leighton.
---
---
"We work on access, confidence, and motivation. Sharesies believes in financial empowerment and giving people control and choice over their investments. It's a conscious decision that the Sharesies platform allows investors to choose how they invest, rather than pre-selected and created portfolios."
"In our experience, people tend to make very good decisions. Of course, you have outliers, but that's the same for everything. So it's really a choice-first approach for investors on the Sharesies platform."
"The Sharesies platform is not a dumbed-down platform. It's not supposed to feel like a savings habit, it's not supposed to make it feel like you're not doing anything – if you take a hands off approach, that is because you have chosen to."
At this stage, many of you will have pushed the sceptic goggles right up against the bridge of your noses. Surely there's a catch with a platform like the Sharesies platform, right? A hidden charge somewhere that'll make them an absolute killing. Some Faustian pact to exchange your soul for potential returns, perhaps? Actually, no. What you see is really what you get.
Transactions for amounts up to $3,000 incur a brokerage fee of just 0.5%, while transactions over $3,000 incur a brokerage fee of 0.1%, charged in the currency of your order. Currency exchanges, on the other hand, will only set you back 0.4% (calculated on the amount to exchange and deducted from the amount you enter). And that's all it'll ever ask of you; aside from patience and steady temperament, to paraphrase Warren Buffett himself. There are other fees for investing in ETFs and American Depository Receipts, to find out more see the pricing page.
"The retail investor base in Australia has been underestimated forever, basically," says Leighton.
"A lot of people say uninformed, uneducated, all these things. That's just not true."
"People are very good at learning and deciding what they want to do for themselves."
---
---
Which begs the question… What do you want out of tomorrow?
Promotion T&Cs apply. $10 applies to new accounts only. T&Cs and fees apply for use of the platform provided by Sharesies Limited. This article is sponsored by and promotion is provided by Sharesies AU Pty Limited, as an authorised representative of Sanlam Private Wealth Pty Limited (AFSL No. 337927). Image shown does not represent a real portfolio. All investing involves risk.