Luxury advent calendars have been increasing in popularity over the last few years, with offerings from the likes of Diptyque and Liberty of London regularly selling out within minutes. This year iconic jeweller Tiffany & Co. have taken things to the next level with the launch of their US$120,000 (~AU$163,000) first-ever advent calendar.
Released as part of their 'Very, Very Tiffany' holiday line, the imposing calendar is a four foot tall replica of Tiffany's 5th Avenue flagship store, and contains 24 of Tiffany's most popular pieces – ranging in price from US$250 to US$15,000.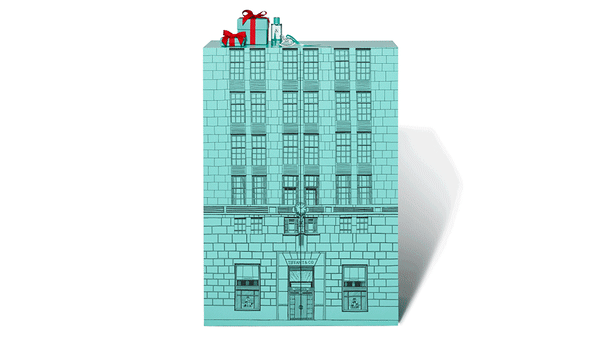 It's outrageous, outlandish, and completely over the top – but for those of you deeply entrenched in the dog house – you can pick one up by emailing [email protected], and check out the full list of advent surprises below (all prices listed in USD).
---
---
For more information, visit tiffany.com.au
Tiffany T Extra Large Smile Pendant in 18k Rose Gold with Diamonds ($7,000)
Tiffany T True Narrow Bracelet in 18k Gold ($4,800)
Tiffany HardWear Link Bracelet in 18k Rose Gold with Diamonds ($14,000)
Tiffany HardWear Triple Drop Earrings in 18k Gold ($2,800)
Tiffany Paper Flowers™ Diamond and Tanzanite Flower Drop Earrings in Platinum ($9,000)
Tiffany Paper Flowers™ Pavé Diamond Flower Pendant in Platinum ($8,000)
Tiffany Keys Fleur de Lis Key Pendant in Platinum with Diamonds on a Platinum Chain ($4,925)
Tiffany T Two Hinged Bangle in 18k Rose Gold with Pavé Diamonds ($15,000)
Tiffany Victoria® Earrings in Platinum with Diamonds ($5,800)
Tiffany T Square Bracelet in 18k Rose Gold with Pavé Diamonds ($12,000)
Return to Tiffany® Love Bugs Daisy Drop Earrings in Sterling Silver and 18k Gold ($1,800)
Return to Tiffany® Love Bugs Bird Brooch in Sterling Silver and 18k Gold ($1,500)
Return to Tiffany® Medium Heart Tag Bracelet in 18k Gold ($3,700)
Color Block Pen and Pencil Set in Brass with Lacquer Finish and Sterling Silver ($410)
Tiffany & Love Eau de Parfum for Her, 3.0 Ounces ($135)
Tiffany Ampersand Sterling Silver Key Ring ($250)
Everyday Objects Sterling Silver Tiffany Box ($650)
Rocking Horse Ornament in Sterling Silver ($250)
Everyday Objects Sterling Silver Paper Cup ($625)
Everyday Objects Sterling Silver Clothespin ($515)
Jasmine Candle in a Bone China Color Block Vessel
Everyday Objects Sterling Silver Marker with Tiffany Blue® Enamel ($760)
Everyday Objects Sterling Silver Harmonica ($395)
Tiffany 1837 Makers 22 mm Square Watch in Stainless Steel with Diamonds ($3,400)
RELATED: 23 Awesome Presents For Your Girlfriend That She'll Actually Like