Yeah. Alright. Rotating buildings are cool. Buildings with a lean? I wouldn't get out of bed for one, but sure. How about a building that oscillates? They really do like to do things more elaborately in Dubai, and the plans for this tower that will literally shape-shifts just goes to prove it.
The Dynamic Tower will be the world's first rotating skyscraper, with layers moving almost independent of one another to create a ripple effect. Conceived by architect, David Fisher, of Dynamic Architecture, this concept was originally proposed in 2008. Some couple hundred million USD later, and a decade on, it will soon breathe steel and glass life.
---
---
"I noticed that from a certain spot you could see the East River and the Hudson River, both sides of Manhattan," says Fisher.
"That is when I thought to myself: 'Why don't we rotate the entire floor? That way, everybody can see both the East River and the Hudson River, as well as Saint Patrick's Cathedral!'"
The tower is meant to reach heights of 420 metres, with an 80 level floor count. Each floor will rotate a maximum of 6 metres per minute, with a full rotation taking 3 hours. So you really get to soak in the views. Residents will also apparently be able to moderate the rotation of their apartment via voice-activated technology.
And to add a bit of environmentally friendly appeal to the mix, up to 79 wind turbines will be placed horizontally between the floors with solar panels on the roof. A little something something to reduce the carbon footprint of this epic monstrosity. There have also been rumours of a special built-in elevator that transports residents' cars to their level. Everything at your fingertips, as they say.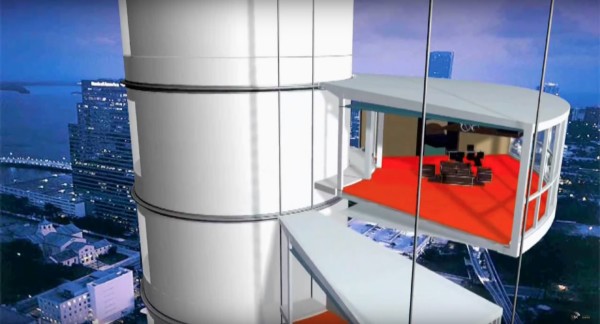 "An architect should design buildings that adjust to life," says Fisher.
"They should adapt to our space, our functionalities and our needs that change continuously… and even to our sense of beauty, itself in continuous motion."
A place here will, of course, not come cheap. While a definite price-tag has not been settled on yet, Dynamic Architecture has given a single apartment unit a range between $4 million to $40 million USD.
---
---
The project is set to be completed in 2020.