As the saying goes, boy and their toys. And this US$17.5 million mansion in Florida truly lives up to the sentiment – featuring its very own private race track and an eighty-car storage warehouse spanning 11,000 square feet to stash away your motors.
So I'll hear absolutely no complaints about having "nothing to do" from anyone that bunks here.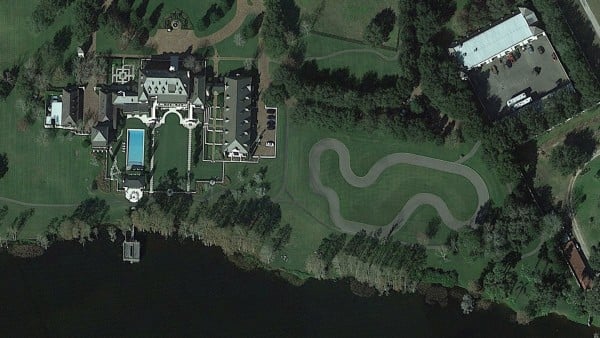 Originally built for an "RV sales mogul", the entirety of this provincial-style property is laid before the heavens across a whopping 36 acres. The eight-turn private race track itself sits adjacent to the main dwelling, paved, and right on the waterfront. You read that right, fellas. We really can have it all.
---
---
In addition to the race track and storage warehouse, those fortunate enough to call this not-so-humble abode their home will also be able to enjoy:
eight bedrooms
26 bathrooms
a bowling alley
a horse stable (sure, why not?)
a boathouse
and two pools (because single pool properties are for fucking plebs)
There's also a two-storey guest house just in case the original room count wasn't enough for you. At this point in time, we'll just go ahead and say it… nothing screams "lads' weekend" more on God's gracious Earth.
Forward all your bids over to smithandassociates.com. Best of luck snagging it.
RELATED: Lewis Hamilton Slashes US$5 Million Off The Asking Price For His NYC Penthouse.