The idea of communicating through art dates back to the stone age – notions that evolved to produce intricate, highly technical pieces that inspired and nourished, just as much as they abstracted one idea to another. No one really knows how, when, and why an idea will resonate deeply with another, which is why the observation of art is so highly prized as a cultural practice, perhaps even more so than creating it. It then shouldn't be a surprise that curating a personal art collection can bring a dimension to your home – and your life – like nothing else can.
Whether you're looking to build a personal art collection as a means to genuinely bring life and individuality to your living spaces, or just to curate a certain aesthetic – or, as a smart investment – exploring this seemingly endless world invariably yields results. But it'd foolish to dive in unequipped, picking art at random without any knowledge of just how to wade your way through the wide swell of creative expression that's waved into existence each day.
So how do you choose art for your home? First, decide why you want to in the first place, and what purpose that art will serve. Do you want it all to fit into a certain theme? Is mismatched more your vibe? Are you strictly going for art as decoration, with a preference towards vibrant colours? Answer these, and then read on, there's a lot to discuss.
---
---
Tips For Building Your Personal Art Collection
Consider Longevity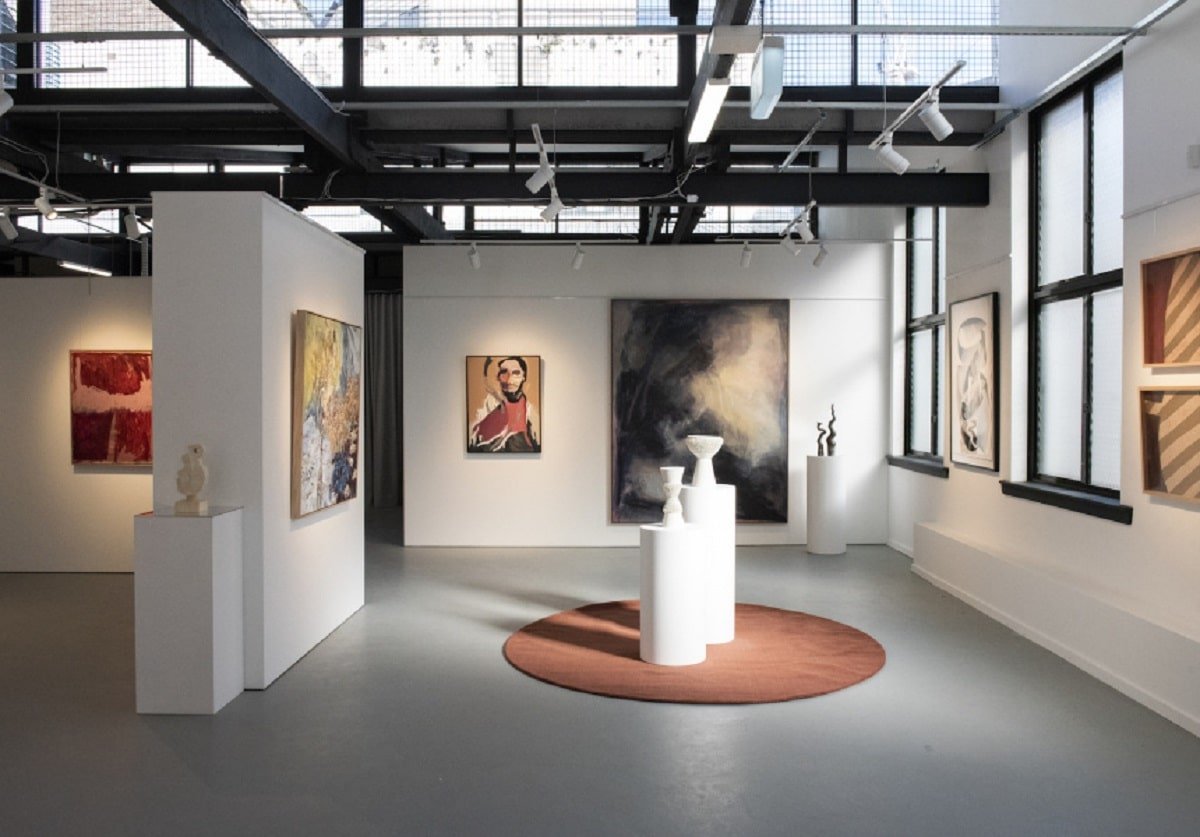 The primary focus of your art buying spree should be longevity. According to Sophie Vander of online and physical gallery Curatorial+Co., "it will always go with you – as you move home, move cities – so first and foremost, you have to buy what you genuinely love".
There's no use buying something that you aren't legitimately enthusiastic about, just because it may pop with a certain colour or pair with some furniture. It needs to be able to outlive that furniture. Although if you did want to play the pairing game, go for it.
"People say don't match the painting to the rug", says Vander. "But it's fine; as long as you'd love the painting after you've gotten rid of the rug".
This also means you shouldn't be looking at art prints, but originals. Not only are prints bad investments – an exception being silkscreen prints – but people tend to get sick of them very quickly. And, that's still quite a bit of money you could instead put towards an original. You've also got the fact that art prints don't grow in value, and so make lousy investments.
Play With Scale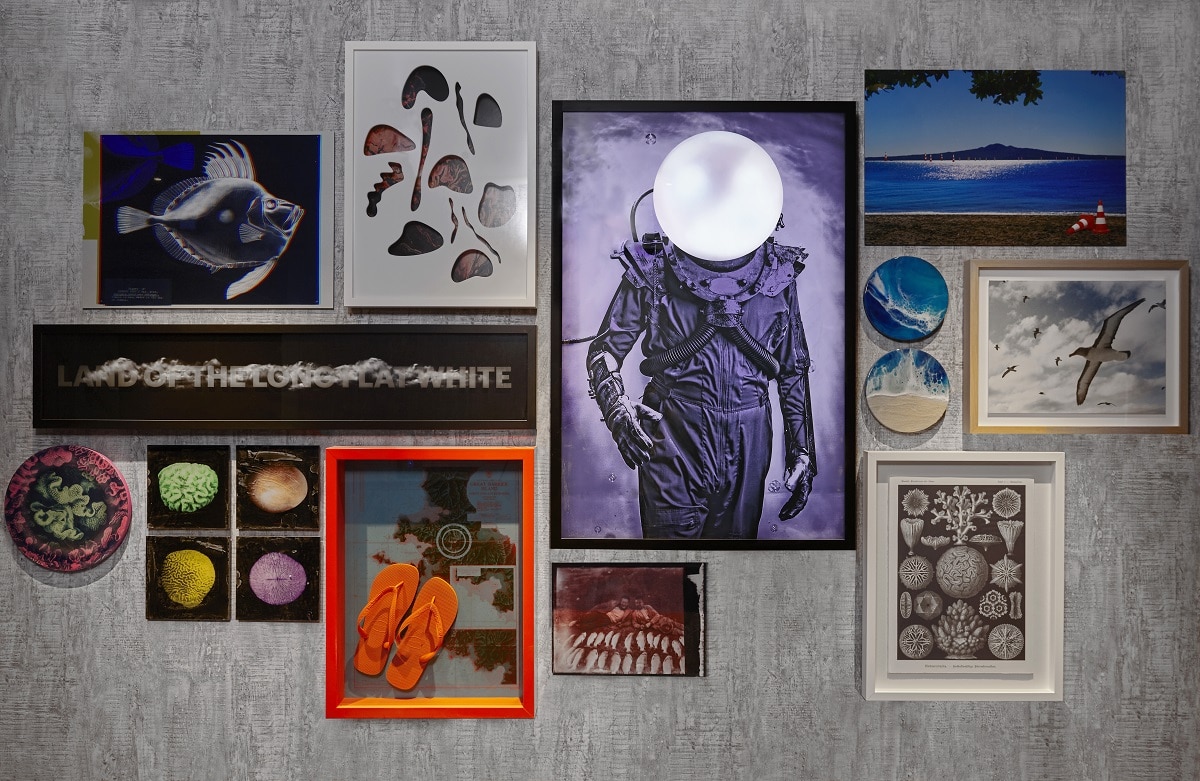 This is a big one, but you need to carefully consider the individual scale of your home and how pieces of art are going to fit into that. On that note, I tend to look at design-led boutique hotels, as they typically have largely varied spaces to play around with.
Nic Graham, Creative Collaborator of QT Hotels & Resorts public spaces and style, and Founder of Nic Graham & Associates was the first person I thought of when it came to this topic. He has helped finesse the very specific art collections and themed designs of hotels like QT Sydney and QT Perth, so playing around with a sense of scale obviously comes easy.to him.
"I find a lot of people try to fill a wall with a large canvas they think they should own – whether it be via recommendation from a friend, or something they've seen in a magazine or on Instagram", says Graham. "I call that a wall filler".
---
---
As he puts it, art isn't like buying a new pair of shoes. "It's something that should be collected, exchanged, and added to".
His advice is to start small and always opt for quality, because a small piece that can be added to a collection and moved around the house is almost always better than a large piece that you could feel stuck with.
Along those lines, it's also worth looking at the trend of the 'art salon hang', which is a collection of mismatched artwork, where each has meaning. For example, you could place your mother's old oil painting next to some black-and-white baby photos, sitting next to your child's finger painting. A salon hang is almost always better when it tells a contained narrative.
Graham also recommends that you pair the art with a variety of frames, whether they are from IKEA or your local gallery.
"If you can fill a wall with a beautiful collection of mismatched family items that make you smile, for me that's a much better approach to art in the home".
An example of a salon hang can be seen in the photo above, which Graham curated for the fresh-faced QT Auckland.
Another thing about scale is that you should be making full use of local or online gallery spaces, particularly after you've bought your furniture first. It's better to work the art around existing decor, so after you've set the room up, take some pictures and measurements and head to your local gallery.
As Vander tells me, many modern art galleries not only have curators that can help you pair each and every detail of your home with the right artwork, but many can digitally mock up art for your wall so you have that sense of scale. Just send them a photo of your home and ask them to work their magic. Of course, visiting the gallery itself armed with your own measurements (bed, shelf, lounge, room etc.) is another effective way to get the scale right.
---
---
Look Beyond The Painting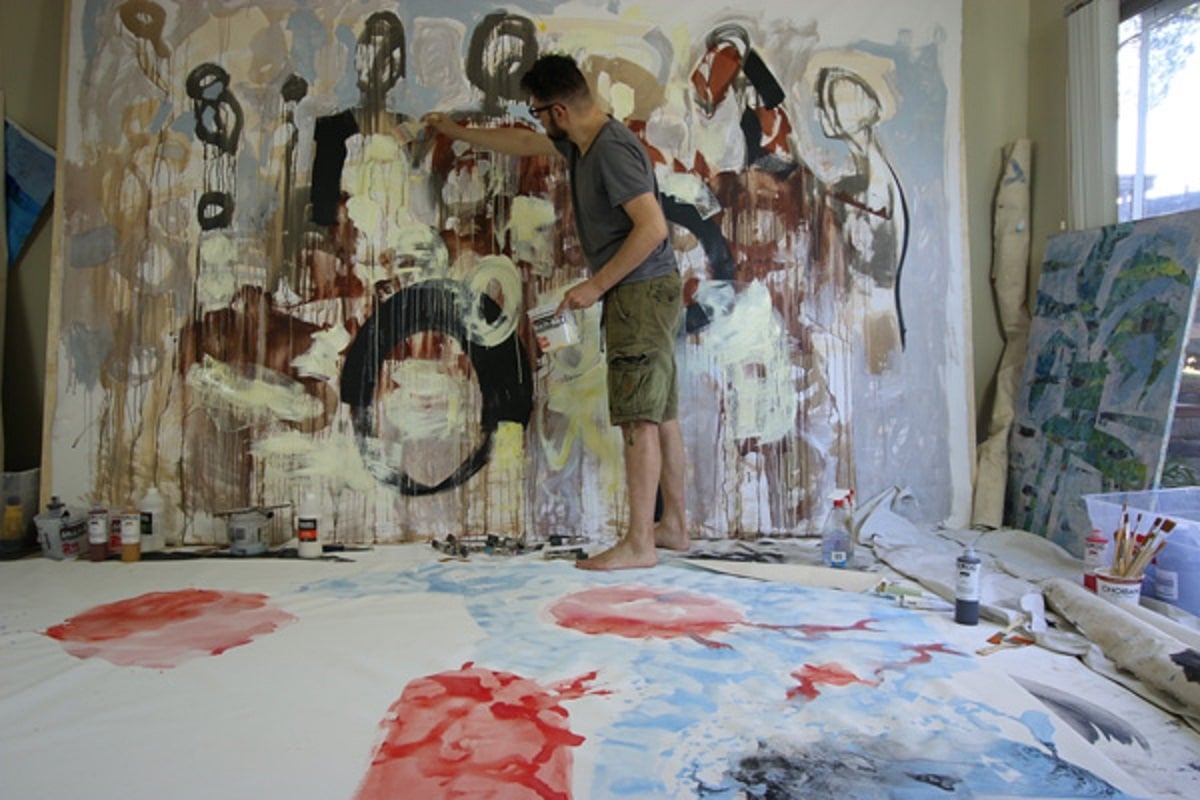 Of course meaning needs to be found within the art. Both Graham and Vander have emphasised that to me, in pretty much the same words. The ability that art has to sublimate our emotional states is profound, and so being able to tattoo your home with meaning, not just colour and texture, makes your personal space feel more lived-in and immersive. It's then an extension of you, your ideas and values, and gives guests a way to understand you on a deeper level.
Beyond the painting, Vander thinks you should look for emerging artists who are doing interesting things with materials and pay close attention to them. Even if you're taking a purely financial approach, getting in on the ground-floor of an artist's career is a smart move, doubly so if they are looking outside the box of brushstrokes.
"When you think of art you traditionally think of paintings in museums or marble sculptures", says Vander, who tells me about a multimedia artist named Daniel O'Toole, who was originally a street artist and musician. As she describes, what O'Toole does is start with a soundscape, which he then digitises into a video of colour movement – kind of like what someone with synesthesia would see. He then takes still shots of that screen and paints it, after which he places the painting in a metal aluminum box with an opaque screen and diffuses it so it looks like the screen from the video, but is still just acrylic on canvas.
Paying attention to the process behind the art not only gives you a fascinating story to tell any houseguests, but can add more meaning to a piece, and create a stronger connection with viewers.
"Do your research and talk to the gallerists to find out who is that person that's going to grow their practice and get it off the ground", says Vander. "If the foundations are there, you can see growth, and there's already support surrounding them, then it's a good thing to back".
Don't Forget Lighting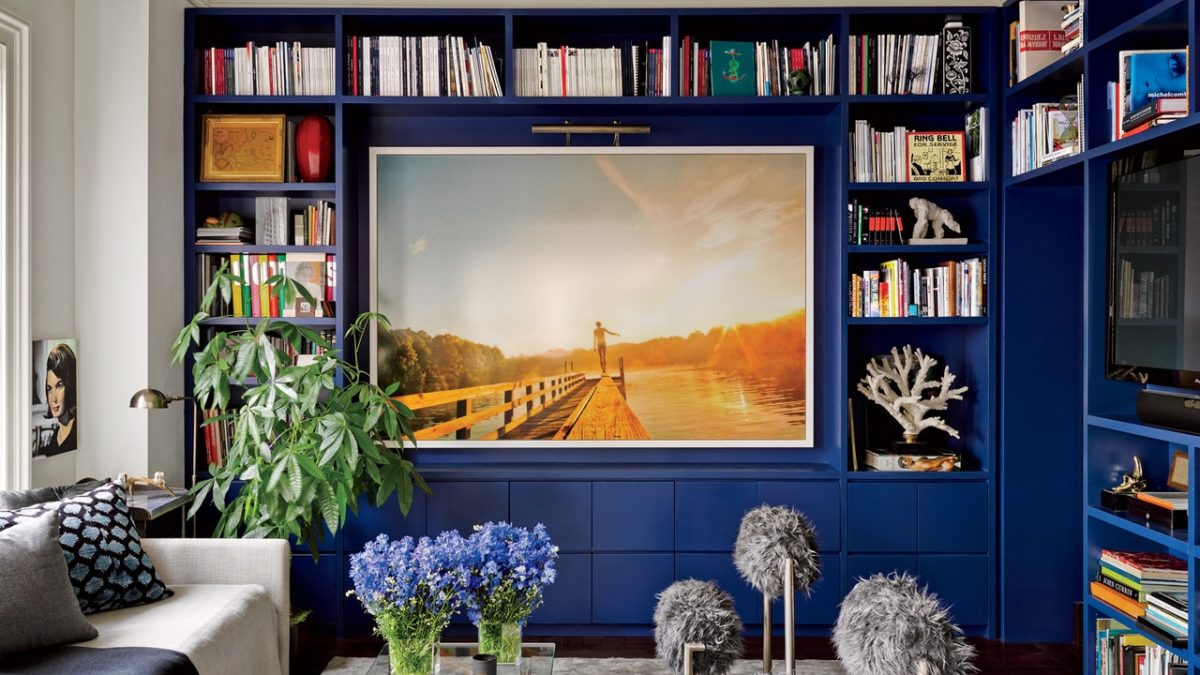 Lighting is ridiculously important, and can make a huge difference to how the painting looks in your home. Especially when you're viewing a winner in a physical gallery space, you have to consider that spotlights are typically being used, so the lighting in your home will be different (unless you are using those same gallery spotlights, of course).
Maybe you're by the beach and the light that trickles in through the windows is more blue-tinted, as opposed to the light in a gallery which may be more yellow under the spotlight.
"Think about how you're going to light the work and how it might be viewed within your home", says Vander.
---
---
"Lighting is very important; it changes artwork. Certain blues and greens in artwork change depending on the light, so it's important to know the lighting in your home before you go looking for artwork – or you can get an electrician to put spotlights in".
Maximalist Or Minimalist?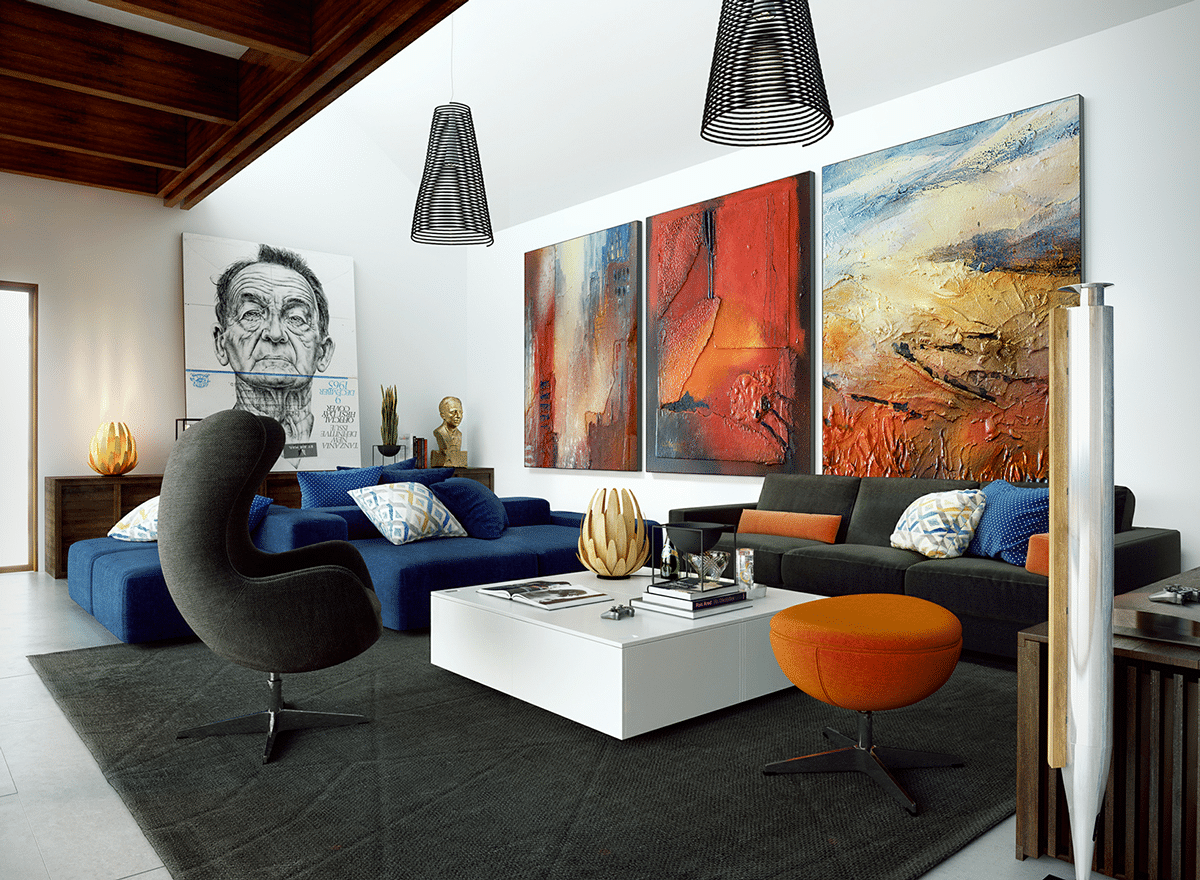 You need to decide whether you're going to have a large personal art collection, or one that's just full of enough pieces to permanently place around your home. Usually it's the bank account that decides that for you, but having a significant collection is certainly the better aspiration.
As Vander tells me, most cities have professional art storing facilities, with climate and lighting control. If you've built up a sizable personal art collection then you can quite easily store work there and switch things out every couple of months, so you can still collect without necessarily using the artwork straight away.
Minimalism has its place too. As Graham said above, it's often better to have small mobile pieces rather than a larger wall canvas. You could even pay attention to rooms that aren't necessarily built for art, like the kitchen.
"Often the kitchen is overlooked as an opportunity to house art because the walls are tiled and cupboards are full", said Graham. "And when there is an empty wall, people feel obligated to put something on it, rather than select something with meaning".
By meaning he of course isn't suggesting you put an oil work above a stove – that's a fast way towards bitter disappointment. Graham suggests taking something like an old baby spoon or grandmother's tea towel and framing it onto a splash back or adjacent wall.
Framing Matters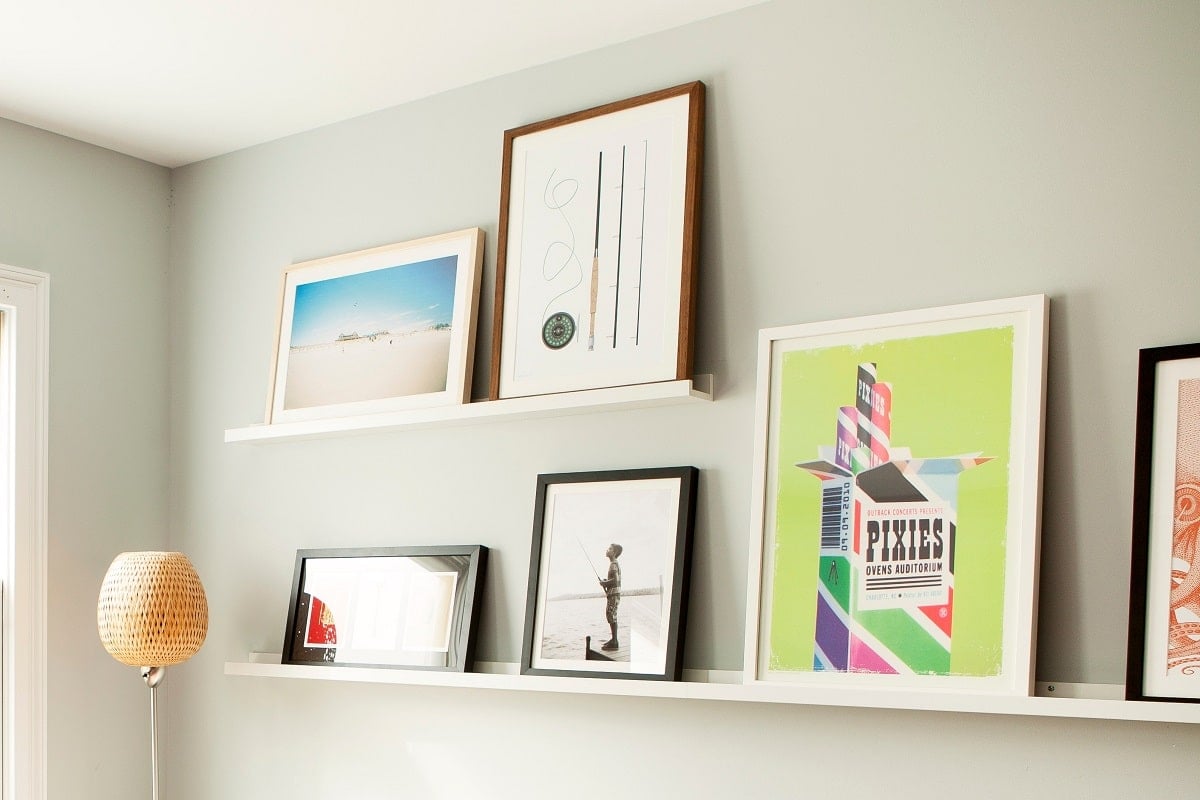 If you've picked up a nice paperwork or photograph, then framing is essential. But it doesn't have to be the typical raw Tasmanian frame running around your new prize. There are people out there now making a large variety of frames that can be just as eye-catching and meaningful as the work themselves.
But you also have to consider what type of artwork it is before framing. Work on canvas doesn't necessarily need framing, because the work is already stretched on its own frame. A lot of First Nations art is also not traditionally framed.
---
---
Think about aesthetics, but also think about practicality. Photographs must be framed well, and like paperworks should be ideally kept behind UV protector glass that's going to help with longevity. Still, don't hang them in direct sunlight or over a working fireplace.
"Framing can also totally change a work", says Vander. "We often go into homes where they have inherited old collections, so they often have aging frames. We take them to our framing guru and we'd put it in a more contemporary frame; it changes the work dramatically".
If you don't necessarily want to mix up forms of artworks and decorate the house with just as many sculptures as paintings, simply switching up the frames also helps with making the house feel more dynamic.
"Go speak to your local framing", says Vander. "If something is feeling tired, framing is a really good way to bring it back to life".
Do You Need The 'Wow' Factor?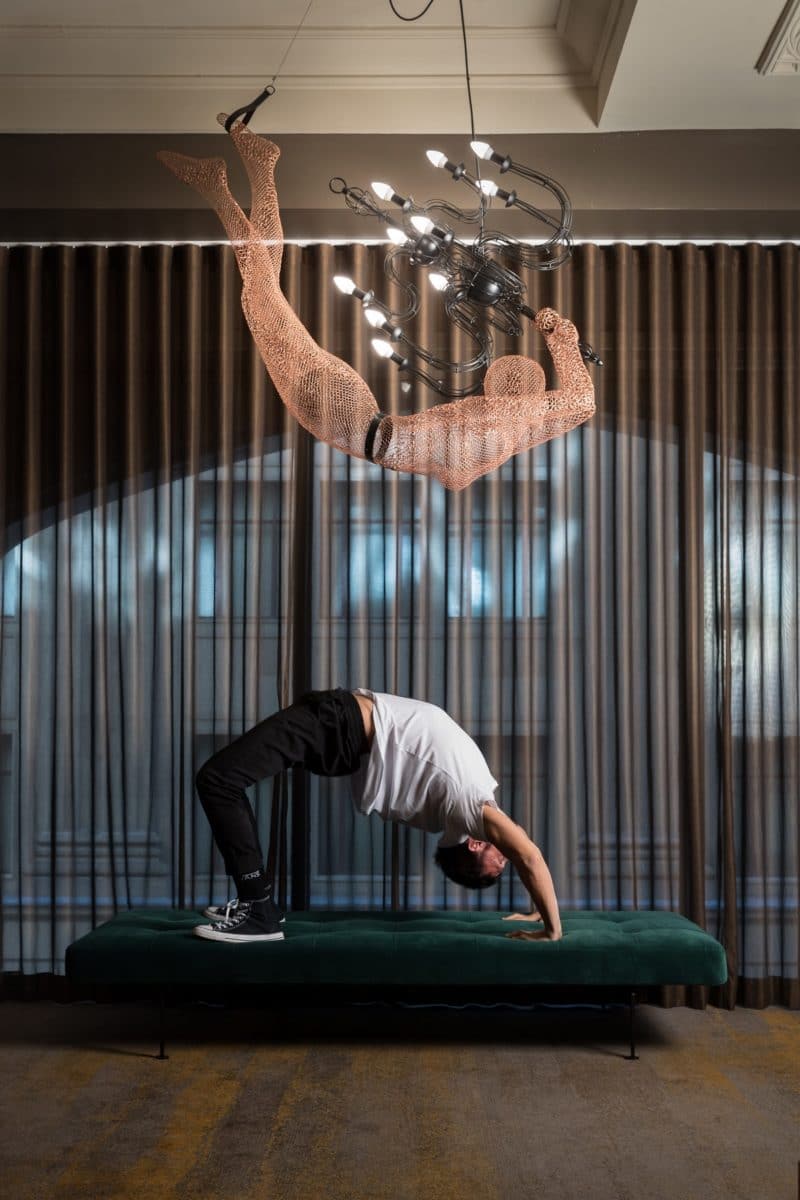 If you've got a house big and varied enough to justify it, it's well worth taking notes from the more ostentatious and showy pieces in a boutique hotel and having at least one piece that has the 'wow' factor. Or, if we're being frank – an "Instagram moment".
Over the years working with QT Hotels & Resorts, Graham has become more conscious of creating pieces like this – one or two that people want to be seen near and photographed in front of. For this, he looks at avenues and sightlines where guests would exit a door, or corridors at the end of which he can place a surprise.
Take QT Sydney's state corridors for example. Each floor has an end-of-hallway statement piece, like the above photograph which depicts possibly my favourite chandelier in any hotel I've stayed in.
Where To Start Your Personal Art Collection
While there are endless options online for art buyers, not to mention the multitude of physical galleries dotted around major cities, these are some of the best places to start.
---
---
Saatchi Art – The collection of original paintings, photography and fine art you'll find here is vast. There's also scope for a greater range of budgets here, so you can start small and go large.
Artsy – A New York-based online marketplace for discovering, buying and selling fine art. The database at Artsy is extensive, and has offers the ability to dive in deeper to individual works of art, with a wide knowledge base and an excellent interface.
Curatorial+Co. – The online gallery Sophie Vander has built, which ships worldwide and regularly showcases interesting Australian artists. As it's a curated collection there's also a stronger sense of customer service, so you can better individualise your needs and get access to advice. They also just opened a physical gallery space in Redfern, Sydney.
For more ideas on where to buy art and start building your personal art collection check out this list of affordable art websites.