There's luxe, and then there's Noosa luxe. At least in the case of this insane thirteen bedroom estate that's decked out with an almost excessive amount of amenities. Just how insane are we talking? Let's just say, this is one of those "if you have to ask how much, you can't afford it" type situations.
Spread across almost 2,000 square metres and standing several levels high, this property resembles something closer to a hotel than a place to call home. Every detail has reportedly been crafted to perfection, as it underwent "… construction where budget was not a limitation…". Appropriately, this masterpiece is known as 'Hayven'. Now, onto the niceties…
Sitting right on the waterfront, those residing in 'Hayven' can enjoy 60 metres of Northern aspect water frontage with two private jetties (boat sheds and boat lifts included). There's also a 25-metre lap pool with a depth gradient that ranges from 3 metres deep to kiddy pool shallow.
If water isn't your thing, you can practice your backhand returns on a full-sized tennis court deep into the late-night thanks to the flood-lighting fixture. And then right after, lounge under the cabana as dinner is cooked on the Teppanyaki grill.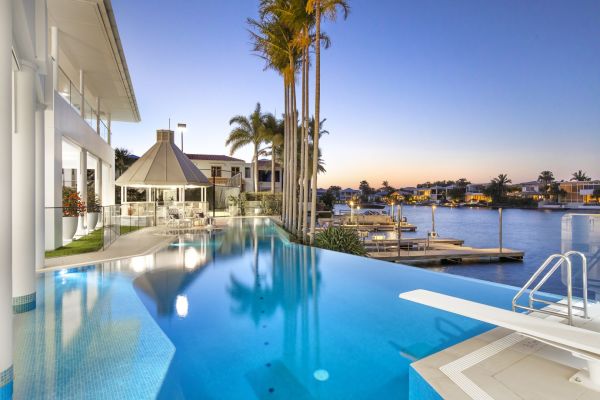 Onto the interior, and it's just as tasteful as you'd imagine from accommodations of this calibre. Calming washes of white, wide glass panes, a library to instil a bit of sophistication, a lift for those moments where stairs are too much, a wine cellar for those moments where reality is too much – plus a whole freakin' night club and media room to burn the night away.
As for recovery from a hard night, residents may choose to slink into the gym followed by a detox session in the steam room to regain a grip on their lives. Did we mention there are a commercial kitchen and laundry facility on deck?
The following information warrants its own paragraph. There is a whopping total of 13 bedrooms, 12 bathrooms, as well as 4 parking spaces. To quote the listing, "… flowing together seamlessly to create a coherent and spectacular space, 'Hayven' is just as comfortable for two guests as it is 200…".
Needless to say, 'Hayven' is well and truly removed from the proverbial chain. Hit up the link here for more information.
RELATED: On The Market This Week: Hamptons-Inspired Southern Highlands Manor.