The Godfather mansion featured in the iconic Francis Ford Coppola-directed gangster flick is back on the market. Having previously listed for an astronomical US$135 million (AU$177 million), in present-day, the asking price has been reduced to just US$89.75 million (AU$118 million) – that's an eye-watering discount of over US$100 million (AU$131 million).
Known as The Beverly House – and we'll give you three guesses as to where it's located – this sprawling 153,692-square foot estate was initially built in 1927 based on the design of famed architect Gordon B. Kaufmann; who's also responsible for the Hollywood Palladium, Hoover Dam, as well as Santa Anita Racetrack.
As you already know, a few short decades after, the epic Mediterranean-style abode would be immortalised in pop culture as the residency of Jack Woltz (portrayed by John Marley) – a successful movie producer who refuses to play ball a la casting Johnny Fontane (portrayed by Al Martino), blatantly disrespects the Corleone family during his meeting with Tom Hagen (portrayed by Rober Duvall), before eventually wakes up with the severed head of his prized racehorse in his bed.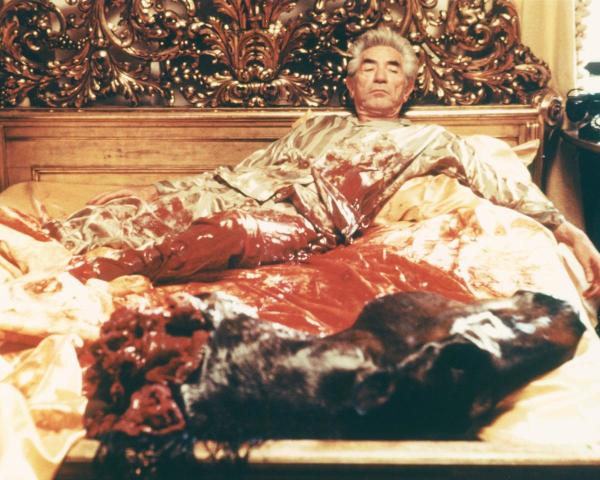 The property offers 19 bedrooms, 29 bathrooms, a two-storey library, two swimming pools, and a manicured gardens courtesy of landscape architect Paul Thiene. Many of the rooms' interiors showcase touches of gold, hand-carved panelling, and arched ceilings.
The living room, on the other hand, certainly stands outs with an even loftier 22-foot high arched ceiling (and is occasionally used as a ballroom). Other standout features include an in-home theatre with a drop-down projection screen, billiards room, and a majestic fireplace from Hearst Castle.
Check out The Godfather mansion / The Beverly House below.