The world's newest Waldorf Astoria in Miami has added an inescapable glow of supreme luxury to the city's skyline, soaring high with what is now officially, at 1,049 feet and 100-storeys, the tallest residential tower south of Manhattan.
With the rapid growth in demand in Miami's luxury condo market, having one of the most iconic luxury hotel brands in history add a significant boost to supply is going to be valuable for anyone wanting to invest in Magic City's growth. We already know that David Beckham couldn't resist buying into the market, given the lavish penthouse designed by Zaha Hadid, which he purchased last year for $25.96 million.
At a glance, it's easy to see just how Waldorf Astoria could take advantage of this boom in sales almost immediately. Even just looking at the high-concept building's architecture from afar could tell you all you need to know about the attention to detail found inside. The building itself resembles a series of angled glass cubes stacked on top of one another, as if it were a direct visual reference to something you'd find in Dubai above the clouds.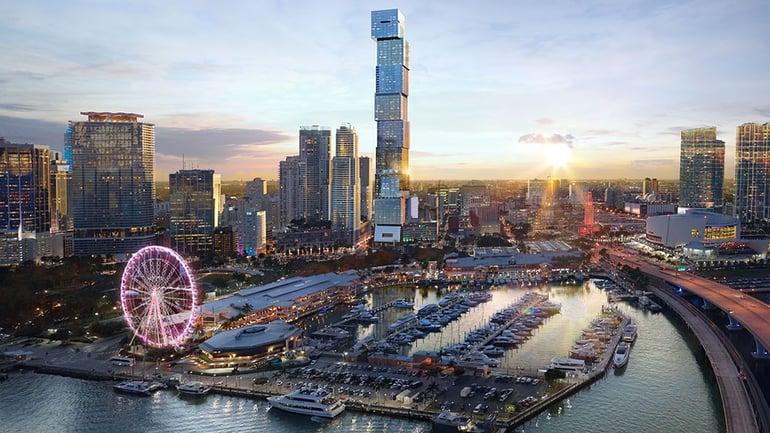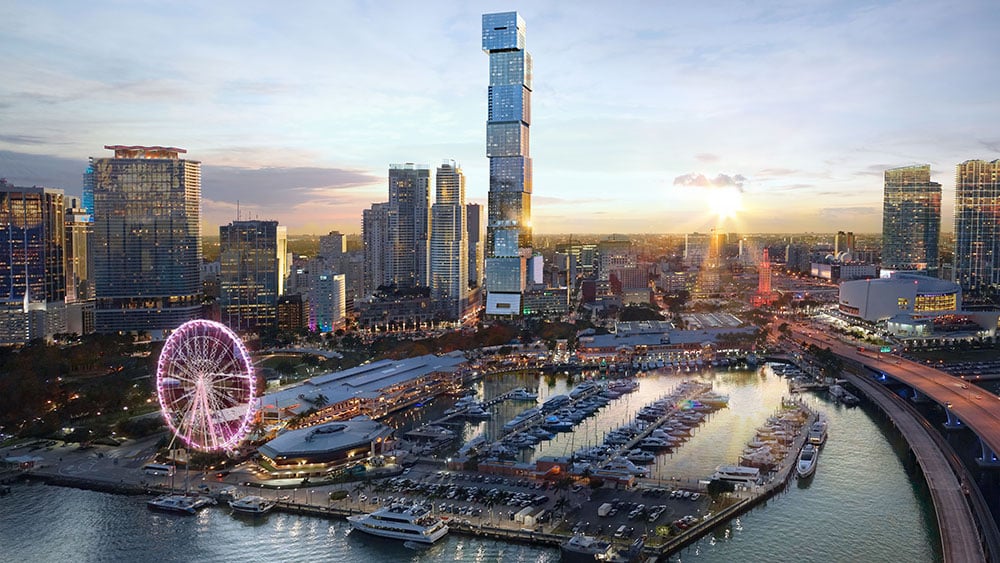 Carlos Ott, who is best known for building the Opera Bastille in Paris, is the mastermind behind the structurally ambitious building, while local architectural firm Sieger Suarez handled the execution. The building is on track to open next month, with expressions of interest now open for anyone looking to buy into the fascinating building.
California-based firm BAMO has finessed the interiors of both the hotel and residences, creating a number of amenities including a new iteration of renowned restaurant Peacock Alley, the same which can be found in the historic Waldorf Astoria New York. Also on the card is a resort-style pool deck with private cabanas, third-floor private residential lounge with a billiard room, various meeting and boardroom spaces, a spa and fitness centre, and another fifth-floor restaurant with a yet-to-be-named internationally recognised chef.
All condos will have their lavish interiors automated by smart-home technology, with services like dining reservations and dog walking services accessible with just a few taps of a button.
The first three cubes of the mammoth structure will be dedicated to hotel rooms, while everything above is reserved solely for residential use. That includes the very top, ninth cube, where the penthouse suites will be located.
Is Miami the new Dubai? The condos would have to be more expensive to justify that comparison, given they are surprisingly reasonable for a brand with such lustre.
Junior suites at the Waldorf Astoria Miami start from US$700,000 (~AU$920,507), single bedrooms start from US$1 million (~AU$1.3 million), and options reach all the way up to four bedroom condos, priced from US$4.9 million (~AU$6.4 million). Only 360 units will be up for sale.