From 1940 to 2020, a bespoke oak cask from iconic scotch whisky producer Gordon & MacPhail spent a great deal of time nurturing what is now claimed as the oldest single malt scotch ever bottled. Sitting at the Glenlivet Distillery for eight decades, Generations 80, from Cask 340, has been the biggest experiment to date from the independent producer, validating whisky pioneer George Urquart's idea that whisky should be left to mature until the cask and spirit had completely combined.
In partnership with acclaimed architect and designer Sir David Adjaye OBE, Generations 80 was bottled last year across 250 decanters, the first of which is now heading to auction. Sotheby's has revealed details about the first public sale of Cask 340 ahead of its scheduled hammering on October 7 in Hong Kong. The release has already been estimated between HK$800,000 (AU$138,355) and HK$1.5 million (AU$259,416), which won't make it the most expensive whisky ever sold, but certainly one of the most historically significant.
Gordon & MacPhail was founded in 1985 by Urquart and his father, John, who laid down the spirit in question at the Glenlivet Distillery, sealing it up on February 3, 1940, with the express intention that it be enjoyed by future generations. Almost exactly 80 years later, on February 5, 2020, the liquid was finally bottled by the whisky maker and the first decanter has understandably been given the royal treatment.
---
---
RELATED: Macallan Unveils 71-Year-Old Single Malt Masterpiece With $113,000 Price Tag
Adjaye was tapped to design both a unique decanter and a commemorative oak case for Generations 80, and from the photos released so far, it's looking like the visual element of the whisky will be as dramatic as the palate itself, which has been described as primarily floral with a back palate full of dark chocolate and walnut.
"Oak is a primary material, produced from the planet," said Adjaye.
"I appreciate its preciousness as an integral part of the whisky-making process [and] I wanted to create a design that pays tribute to the role oak plays in transformation liquid into an elixir with almost magical properties."
Adjaye has designed a cubed jewel-like decanter that contains various lenses to focus on the liquid's deep amber appearance. A generous amount of crystal has been used in the build, making it substantially heavier than your typical decanter, although each has been worked seamlessly into the design, which curves at the core thanks to individual hand-blown techniques by master craftsmen at Glencairn Crystal Studio. The decanter is topped by a piece of darkened oak and comes in a bespoke "pavilion" that opens up to reveal the bottle. This case was handcrafted from sustainably sourced oak grown nearby makers Wardour Workshops.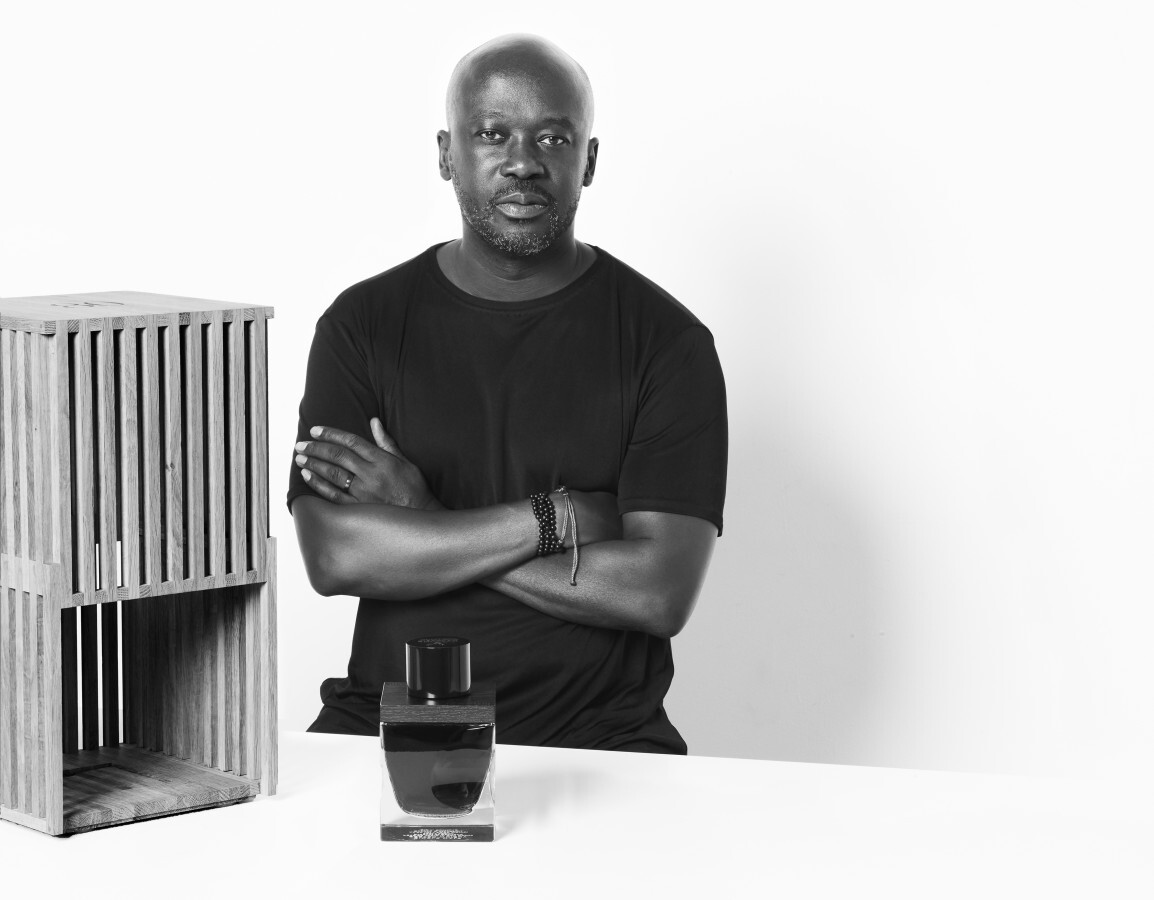 Adjaye describes the fascinating oak vessel as a unique experience for whisky lovers and an appropriate celebration of Generations 80. The vertical struts, which define the oak case, are reflective of trees in an oak forest, building up a design narrative that plays on the relationship between light and shadow as the casing is opened and closed. Light is refracted through the opened casing, shining on the bottle as if it was in the middle of a dense thicket of trees. When the vessel is closed, it looks as if the bottle is shrouded in the shadow of an oak forest. As Adjaye puts it: "the act of opening the pavilion becomes a ceremonial and sensorial process."
RELATED: 13 Best Australian Whiskies For Your Collection
---
---
The 80-year-old whisky will be offered by Sotheby's Hong Kong, where the winner will also receive the framed original cask head of Cask 340, a whisky tasting experience for four in London – with Adjaye – and a one-of-one signed lithograph of Adjaye's original sketches for the design. The package will be given its own special lot at the auction on October 7, with proceeds from the sale donated to a Scottish charity, Trees for Life to help rewild the Caledonian Forest.
Assumedly, 80 years was chosen because the milestone is typically symbolised by oak, in a similar way to how gold marks 50 years.
"That this whisky – the oldest single malt scotch ever bottled – remains to full of vibrant flavour with a strength of 44.9% ABV, is testimony to knowledge handed down over successive generations of my family," said Stephen Rankin, who is the Director of Prestige at Gordon & MacPhail Whiskies, and a member of the 4th generation of the family.
Generations 80 has been released as part of the 'Generations' range from Gordon & MacPhail, which celebrates some of the longest matured single malt scotch whisky ever bottled. Just a few years ago, this introduced a 75-year-old single malt that was released via the Mortlach distillery and, in 2016, fetched around US$28,000 (AU$37,664) at auction. At the time, the 75-year-old was considered the oldest scotch whisky ever bottled, but of course, that's now been trumped by a whole 5 years. It makes you wonder what else Gordon & MacPhail have sitting around Scotland.
A short, appropriately dramatic film about whisky has been released ahead of the Generations 80 whisky auction. You can watch the reveal below.