Championing both value and convenience, the cheap and humble wine cask, affectionally known as the goon bag, goon sack, silver pillow or silver bag, should be a format celebrated by wine enthusiasts.
Unfortunately, but understandably, goon's historically truthful and somewhat jovial reputation as 'cat's piss' has hindered the evolution of boxed wine. Consumers just can't take the goon bag seriously – until now.
With isolation alcoholism raging in homes around the world, BH reached out to Felix Gentle at Annandale Cellars to get the scoop on the modern day goon bag and find out which, if any, are respectable and delicious additions to your daily routine.
---
---
When I mention the words 'cask wine' to people, I usually get one of two reactions, says Alex. The first, and most common, is a wrinkled nose in disgust; a look as if to say, "Goon?" or "Cask wine? Do they still make that horrid stuff?"
The second reaction I get is the cheeky smile, a knowing glint in the eye, perhaps a look of fond nostalgia. Like me, he recalls the twirling Hills Hoist, sipping the Coola cordial and goon mix from a drink bottle in the 6pm uni class, pre gaming for the night ahead. Yes, we all remember those days of 4 litres of Stanley's finest dry white, for less than a tenner.
But what if I were to tell you that goon sack is no longer the realm of poor students, geriatrics or those just using it for their Bolognese? It's no longer the playground of the mass-produced, big-brand, soulless wineries pumping out cheap swill. There are some brilliant and talented natural winemakers out there choosing to pack their delicious wines into various sizes of bag-in-a-box.
What are the advantages of buying bagged over bottled wine?
Firstly, they're great value! The value comes from the fact that the cardboard box and plastic bladder are significantly cheaper than glass bottles to produce. The box is also much lighter when considering freight costs and carbon footprint in shipping. These reduced overheads allow winemakers to package and ship their wines at a much lower cost which means more savings for you. And who doesn't need a bargain right now?
A bag of wine should last longer than a bottle. This applies both volumetrically and over time once opened. As many of us are restricted to staying in at the moment, the fact that these wines will last a couple of weeks in the fridge (rather than the 3 or 4 days for a bottle), is a lifesaver. It means you can enjoy a glass or two each night, without having to keep heading to the shops or drinking a whole bottle, every, single, night. Given the current fluidity of the lockdown timeline, it makes sense to stock up on things that can last longer once opened.
Who is producing high quality wine in a bag?
---
---
To give you a snapshot of some of the wines being packaged in this way, we've focused on a few producers who are making some incredible bag-in-a-box wines.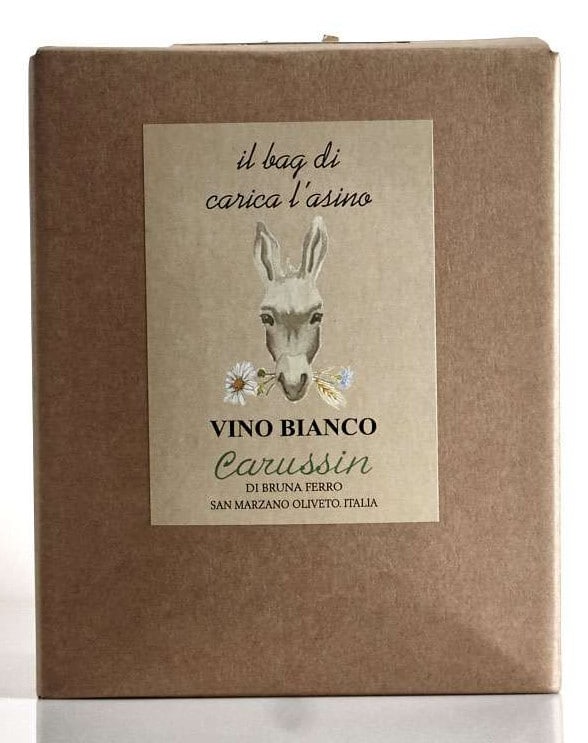 The first is Carussin from the Piemonte region in the north of Italy. Bruna Ferro and her sons Matteo and Luca farm organically and produce minimal intervention wines of character and vibrancy. Of particular note is their Bianco, made from an obscure indigenous variety called Carica l'Assino. The wine is lightly aromatic, with apple and stone fruit character, and a savoury, saline edge to it, underpinned by stony minerality. In short, it's a super-drinkable white that would pair well with antipasti or fresh seafood. It's $80 for 3 Litres.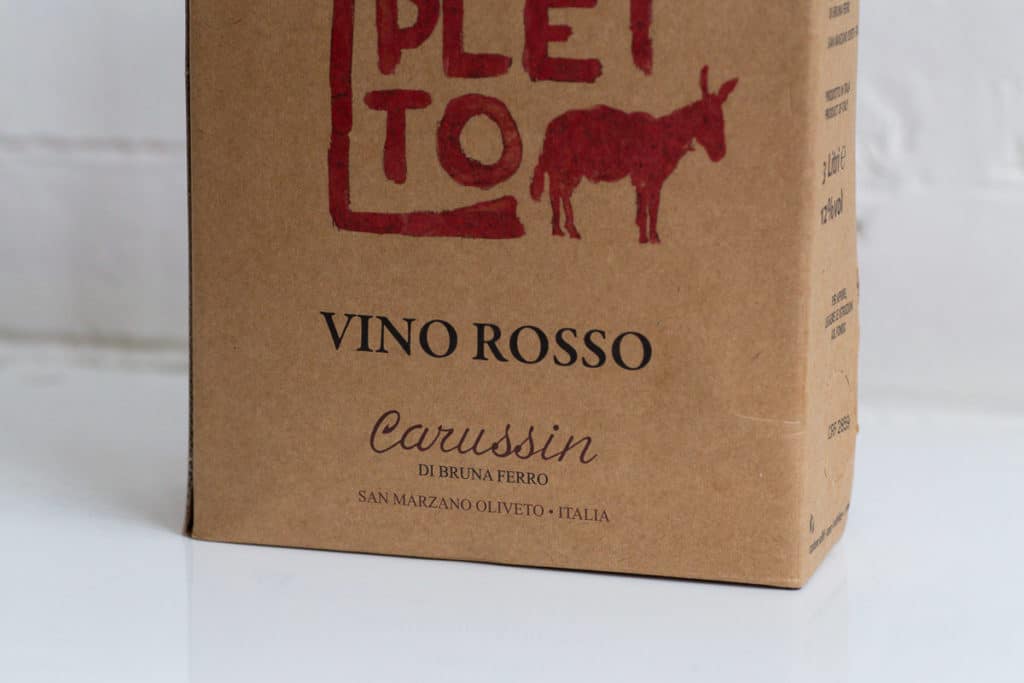 Carussin also produce a fantastic red-blend called Completo Rosso. It's an easy-going blend of the typical Piedmont varieties – Barbera, Freisa, Dolcetto and Grignolino. It's light to medium bodied, with bright red fruits and wonderful, floral aromatics. A great wine to have slightly chilled with a versatile range of meals. And only $73 for 3 Litres.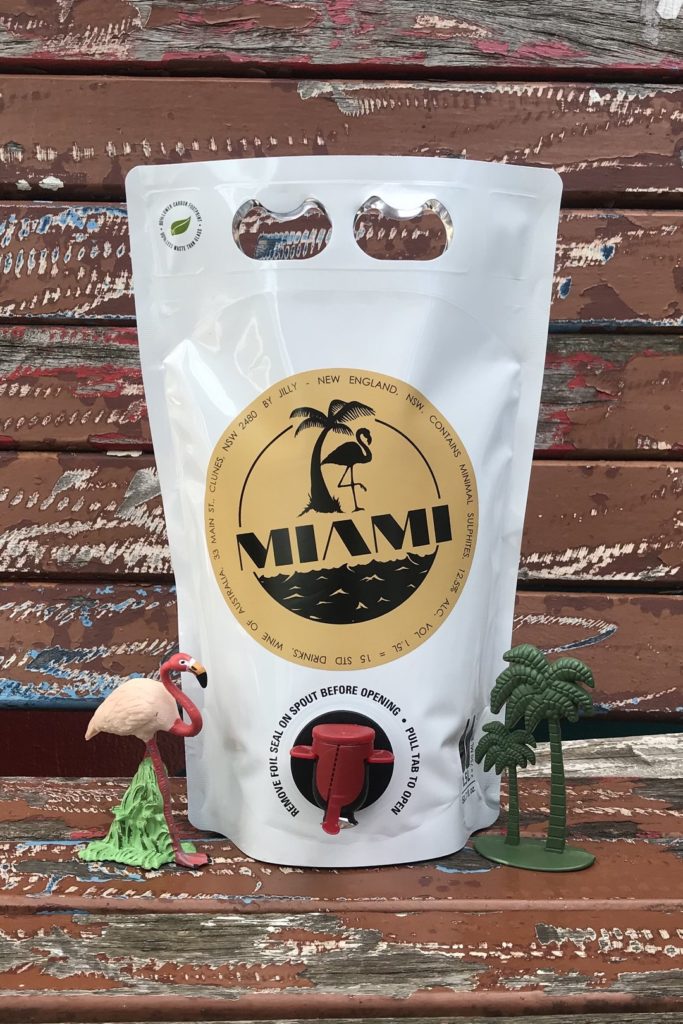 In Australia, Jared Dixon of Jilly Wines in the New England area, is making what he calls "Bagnums", 1.5 Litres of natural wine goodness. His 'Miami Bags' are a range of reds, whites and field blends and are all super-drinkable. The current white is a lightly skinsy Sauv Blanc – it's fresh, vibrant and great drinking juice, just $47 for 1.5 litres.
Finally, the "Happy Sack" is a 1.5-litre goon bag ($32) of palatable field blend rosé sourced from the Adelaide Hills in South Australia by Blackhearts & Sparrows co-founder Paul Ghaie and ex-employee Alex Barty.
Where can you find quality bagged or boxed wines?
If you want to drink interesting wine, regardless of whether it's in a bottle or a goon bag, you really need to seek out a specialty retailer like Annandale Cellars (Annandale), Black Hearts & Sparrows (ACT, VIC, TAS), Oak Barrel (Sydney CBD) or P&V Merchants (Newtown) among many others or direct with the winemakers.
Annandale Cellars has a range of boutique and artisan producers in bags, many of which are reshaping the reputation of boxed or bagged wine.
---
---