Bouncing around the globe from city to city drinking Grey Goose is the dream job. Period. If you think you're on a better wicket, by all means, let us know, but a chat with Global Grey Goose Ambassador Joe McCanta pretty much sold us on how we wouldn't mind spending the next decade ourselves.
Just shy of ten years in the job and Joe can speak to almost any cocktail in any city on Earth (because he's been to almost all of them) and about any topic the modern man says he knows something about – but Joe actually does. A professional musician turned bartender, Joe McCanta once came to a crossroads in life that took him towards a whirlwind decade of madness as the face of Grey Goose, the prestigious French vodka brand that has become a staple of the worldwide social scene.
It took all but a quick coffee with the man to source his wisdom and experience on what all of us should be drinking right now and where we should be drinking it. The London-based booze and travel expert can't even tell me how many flights he's taken this year, let alone how many cocktails he's shaken. If there's one man who can cover it all, you can believe it's Joe McCanta.
---
---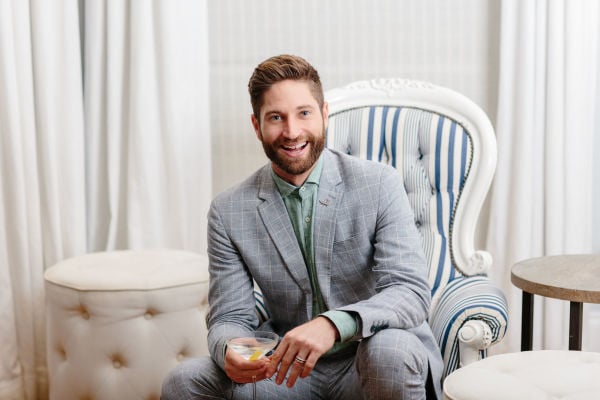 Best bar in your hometown?
London's bar scene has got to be the best in the world. 'Dandelyan', in fact, actually is the best bar in the world. The Savoy is classy though and has an impeccable standard of service and drinks.
Best upcoming party city in the world?
Beirut. It's a beautiful city and super safe contrary to how it's portrayed in the media or by whatever people presumptions may be. They love their outdoor spaces and have an epic music scene – what Berlin was back in the 80's is what Beirut is now. Lebanon also has some expansive, dramatic cliffs – kind of like Rio does in Brazil – Tel Aviv also has one of the best bar scenes outside of Europe and a nightlife to match it. Both are worth a visit sooner rather than later.
Your ultimate summer destination?
The South of France. Hands down. The food, the vibe, the way they do life, in general, is just spot on. The home of Grey Goose is also a beautiful part of the country. Known as Le Logis, the 17th-century manor in the French countryside is like a second home to me, there are few places I'd rather be.
Your ultimate winter destination?
The European Alps. Grey Goose host some awesome events in Switzerland's Verbier and I absolutely love Courchevel and around France's Chamonix region. You simply can't best their cheeses or wines – let alone the après ski scene. No one does it better. La Folie Douce? Can't be beaten.
What's the most insane party you've ever been to?
The Vanity Fair Oscars party. I've done the cocktails for Grey Goose for about five years now, but most recently I was out from behind the bar as a guest brushing shoulders with the likes of Jamie Foxx and George Clooney. You'll be in the bathroom and Justin Timberlake is just standing there washing his hands next to you. You can't even be star struck because everyone's a star, everyone is so famous that no one is taking photos, no one even has their phones out. I found everyone to be super relaxed. It's funny when at midnight they brought out trays of In-N-Out burgers and you've got these super famous people dressed in Balenciaga and Tom Ford chomping down these $5 burgers with not a care in the world. One guy accidentally left his Oscar on the table and walked off. It was so bizarre.
Best cocktail to impress at a dinner party?
Any martini-style drink should be your go-to here as most guests would appreciate a slightly stronger kick to break the ice at the beginning of a dinner party and get the conversation flowing. Martini's are classy and always a winner when well made. Every great classic film has a martini in it if you think about it.
---
---
Dean Martin actually created a classic in 1970 that's called the Flame of Love. It's basically Grey Goose stirred and poured into a glass rinsed with fino sherry from Spain instead of the usual Vermouth. Now for the party trick, take a lighter to an orange zest peal and watch it flame it up when you squeeze the citrus into the air.
Best cocktail to session on a summer's day?
Look no further than Le Grand Fizz on the rocks served in a wine glass. Essentially it's just Grey Goose, St- Germain Elderflower liquor with lime and soda. It's super easy, super refreshing, kind of like a spritz. You can even make it with flavoured vodka if you want to change it up – but I love Australia's summer scene and every time I return I find a new rooftop bar, beachside cocktail spot or day party out on the water.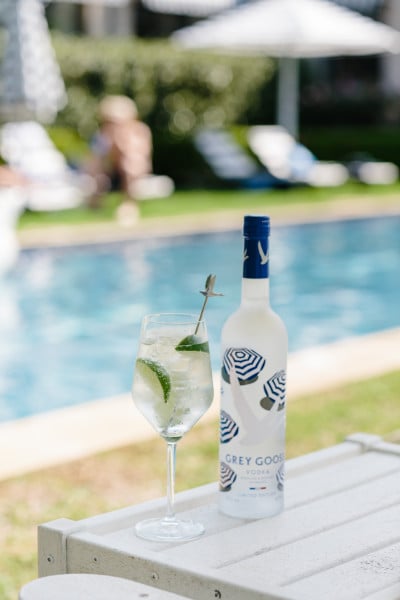 Best cocktail to seal the deal on a date?
Vodka on the rocks. Ha! I'm kidding. Something elegant using the best knowledge you have of what she likes and doesn't like. The best advice is to use garnishes that have a nod to romance. What might you take to a date? Roses and chocolate, perhaps? I once made a cocktail for a Valentine's Day date with the same theme. I took chocolate and infused it in Grey Goose, made a rose syrup using rose water and fresh lemon juice. It was basically a daiquiri that had chocolate and rose notes to it floated with a rose petal on top. Super easy to make, super romantic.
The million dollar question – what's the best way to avoid a hangover?
There are tricks to lessen the damage that's both short term and long term for someone in my line of work. There's an Australian vitamin table by Bioceuticals called Livprotect that uses milk thistle extract to protect your liver from harmful effects of alcohol. It's a must for anyone in this business and you can really feel the difference the next morning if you're not taking it. Lots of water is just as important though, so combine Livprotect with the old fashion H20 and you'll have some solid ground to stand on the morning after.
RELATED: This is the world's first craft beer airline
Presented in Partnership with Grey Goose