When discussing high-quality whisky, most people will advise you to check out distilleries from the United Kingdom or the States, but the association of pedigree and value is starting to shift to Japan.
One of the most popular alcoholic beverages in Japan, the country has forever been obsessed with the malt liquor whisky, and the world is beginning to take notice. There are hundreds of different options on offer from a plethora of Houses hailing from all across the country. The highly competitive market is infiltrating bars and pubs on a global scale, with even your local Dan Murphy's now stocking popular brands.
So there's no better time to jump on the bandwagon, but if you're unsure what sets Japanese whisky apart, you've come to the right place. Here are five important facts that will impress your friends and affirm your status as an above average punter.
---
---
Blended Whisky Is All The Rage
If you read international award lists you'll notice the best whisky winners each year are predominately single malt, but when it comes to the Japanese, they're all about blended whisky (a combination of single malts together). While blended whisky is naively and incorrectly branded as inferior and cheap, in the East it's seen as a way to create a balanced and quality whisky that goes down smoothly.
Suggestion: Suntory's Hibiki 17, made internationally famous by Bill Murray in Lost In Translation
The Japanese Love A Highball
This might be a dagger to the heart of whisky purists but the Japanese are fond of drinking their drams with soda water, a concoction dubbed the 'Highball'. Served in a tall glass, the addition of soda water gives the whisky a more palatable flavour, with the Japanese known to enjoy a smooth tasting Highball with dinner. Many modern whiskies are designed to be served with soda water or ice to accommodate the Highball-loving population.
Suggestion: Suntory Chita Single Grain
No Trading Of Barrels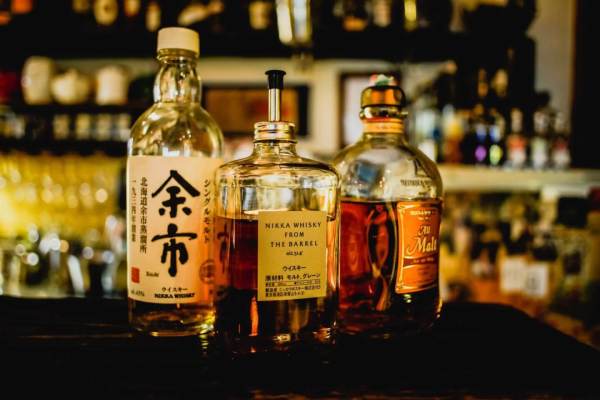 While happy to blend different varieties of whisky, the Japanese refuse to share their whisky stocks with other distilleries. Due to the competitive nature of the business, each brand has its own secret recipes and is hesitant to share this information. This means they'll often make whisky using different methods or multiple distilleries so they can create new flavours.
Suggestion: Komatagatake Double Cellars Single Malt
Bamboo Filtration & High Altitude Distillation
Japanese whisky has a distinct flavour many attribute to the methods used by Houses to create the perfect blend. Distilleries use bamboo filtration in addition to, or instead of, traditional charcoal filtration, giving the whisky a fruitier profile. Thanks to Japan's mountainous terrain, the majority of distilleries are located 700 and 800 metres above sea level, helping produce a lighter textured whisky with a strong aroma.
---
---
Suggestion: Suntory Hibiki 21, as suggested by our friends at The Versatile Gent
Your Japanese Whisky Might Not Be Japanese
It's hard to believe but many varieties of Japanese whisky don't actually contain all local ingredients. A lack of laws regarding the processes involved in creating whisky and the rise in popularity of the spirit has seen many brands use blends from other countries. It's a well-known phenomenon that the Ben Nevis distillery (owned by Nikka) sends whisky to Japan that's then used in Japanese blends. So if you're after a purely local drop be sure to do your research before buying.
Suggestion: Nikka Coffeey Grain for something part Japanese, part Scottish, Yamazaki 12 Year Old Whisky for something authentic.