Hands down the best value for money whisky on the market, the Johnnie Walker Green Label is aged for at least 15 years and comprises exclusively of single malts. Bringing with it the grace of a Speyside whisky and the punch of an Islay.
In an interesting marketing move, Johnnie Walker changed the wording for this green label from 'Blended Scotch Whisky' to 'Blended Malt Scotch Whisky'. The addition of the 'Malt' is an inference to it being completely made from single malts and not inferior grain whiskies. In reality, this is all smoke and mirrors. Some of the most awarded blended whiskies in the world have grain whiskies in them – the Hibiki range is a case in point.
What is true about the Green Label is it's blended from highly reputable distilleries such as Talisker, Coal Ila and Cragganmore. These distilleries also happen to be from varying regions of Scotland bringing with them unique characters that make this an absolute stand out.
---
---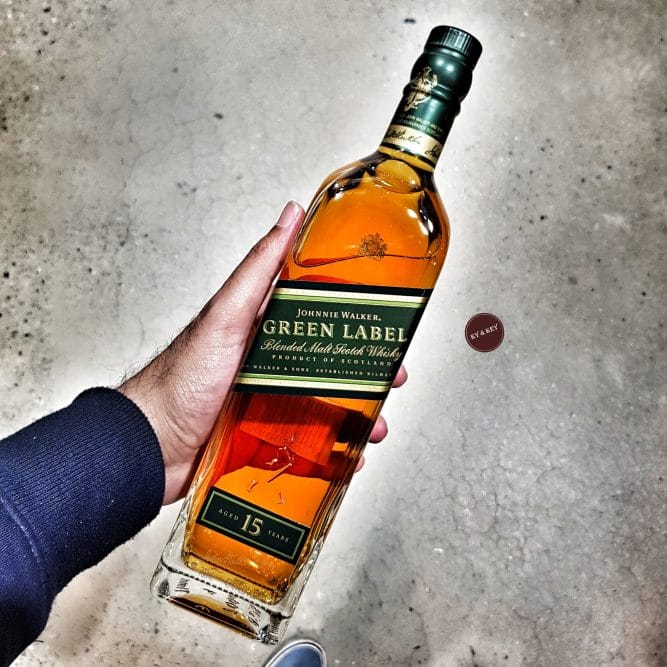 Nosing (Aroma)
On the nose there this immediate smoke which I liken to a Talisker with a touch of dark chocolate.
Palate (Taste)
The palate embodies fruity notes mingling with peppery spice with vanilla gliding in late and disappearing just as quickly, leaving you wanting more. Throughout there are hints of smoke without overpowering the essence of the dram. Many would pay overs to get such balance and complexity in a whisky.
Finish (After Taste)
The finish brings back the spice and introduces oaky notes which brings some bitterness preparing you for the next mouthful.
Overall, the Johnnie Walker Green Label provides bang for your buck at an affordable price. It is a perfect example of why single malts are not the be all end all of whiskies. If you have haven't already do give this a chance.
---
---
Buy Johnnie Walker Green Label at Dan Murphy's.
Notes on the Author – Pranil Chandra is the man behind the Instagram Whisky Blog kyandkey. Pranil holds regular corporate whisky tasting masterclass. Learn more at www.kyandkey.com.au
RELATED: Johnnie Walker Espresso Roast Whisky Is Now Available In Australia