Last year, Diageo announced the third and final whisky in the Johnnie Walker Masters series, following the release of Johnnie Walker Master's Ruby Reserve and The John Walker Masters' Edition – a 50-year-old blended Scotch Whisky – with the Johnnie Walker Masters of Flavour.
As one of the final releases before current Johnnie Walker Master Blender Jim Beveridge retires, the Scotch arrives with a considerable sense of scarcity and ceremony. Not to mention the price tag. If you want to get your hands on one of this blended bad boy, cobbled from whiskies that have been aged for at least 48 years, then you're looking at an Australian retail price of $35,500. Only 288 bottles of Jonnie Walker Master of Flavour 48-Year-Old have been made available worldwide, and just 15 of those have been sent to Australia this week for a national release.
The head-turning bottle looks like nothing you'd typically expect when you hear the name Johnnie Walker, featuring a gem-stone like emerald green body made from Baccarat crystal topped by a sparkling stopper that's thick and screams premium presence. The bottle even comes with its own bespoke oak cabinet. Needless to say, having one of these sitting on your shelf – which, if you can justify the price tag, probably includes other rarities like the Yamazaki 55 and the Glen Grant 60 – is a serious flex.
---
---
RELATED: Vintage Cellars Are Giving Away This $1 Million Bottle Of Yamazaki
To create the rare blend, Beveridge handpicked rare expressions from some of Johnnie Walker's ghost distilleries in Glyn Albyn, Brora, Port Dundas and Glenury Royal, as well as some of the good stuff from the better-known distilleries in Cameronbridge, Dalwhinnie and Blair Athol. The result is an apparently super smooth Scotch bottled at 41.8% ABV and paying tribute to each of the four main steps of the whisky-making process – malting, distilling, cask maturation and blending.
The name arose because during the process Jim bought together three masters of the whisky world with whom he has worked closely throughout his career. That'd be Malt Master Donna Anderson, Cask Master James Carson, and Distillation Master Douglas Murray. Together, the team created this series-capping whisky with designs of absolute excellence.
Did they achieve it? Well, we haven't tried it yet, but tasting notes from those who indicate something special from Johnnie Walker. We've included the tasting notes below.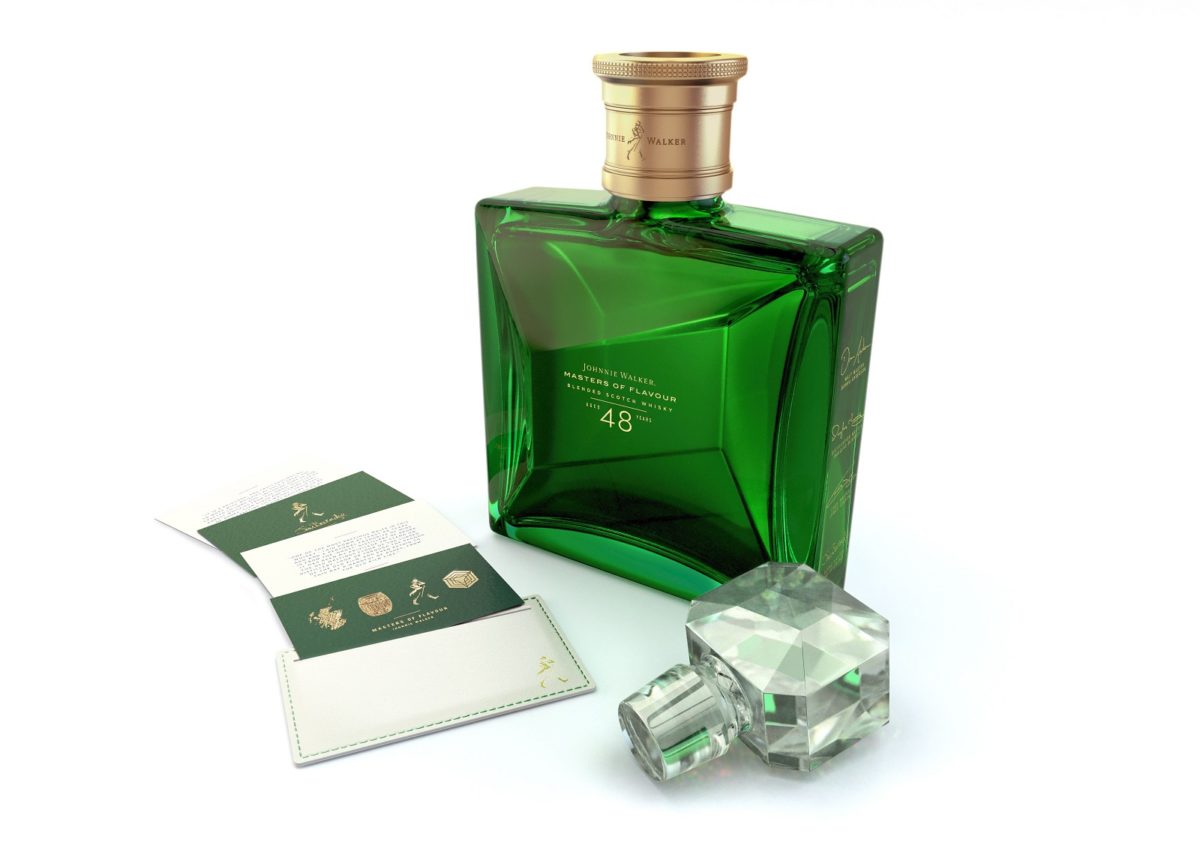 "It's a unique collaboration of craftmanship making exceptional Scotch; these are relationships that we have nurtured through 30 years of working in whisky," said Beveridge.
"It's an honour to pay tribute to those experts."
Nose: "Soft and gentle smoke, reminiscent of seaweed and salty air, which gives way to rich dried fruits, notes of molasses and smoke."
Palate: "Rich fruit flavours bursting with currants before a gentle spice starts to build [towards] cinnamon-infused apples, star anise, crushed peppercorn and warming oak embers enveloped in waves of baked caramel."
Finish: "gentle and warming smoke."
---
---
The Johnnie Walker Masters of Flavour 48-Year-Old Scotch Whisky retails in Australia for $35,500. It seems like no Aussie retailers have got their hands on a bottle yet, but with Dan Murphy's selling the other Masters series expressions, that'll be the best place to keep an eye on in the coming days.
Although if you want any specific stockist information, it's best to contact [email protected].