Your mates are over, the barbie's rearing to go, and you've already started on your third Kraken & Dry. The loosest unit of the group starts to pull out some store-bought snags and a few shrimps; he's old-school, don't blame him. He clearly doesn't realise that you're planning on dialing the classic Aussie BBQ up a notch this year. You'll take most of the credit for what's about the unfold, but at least some glory should be given to three of the country's leading butchers, who've teamed with The Kraken Black Spiced Rum to curate some truly legendary, ready-to-grill barbecue packs to give you an easy win as the group's anointed BBQ king.
RELATED: The Traeger Ironwood Series 885 Pellet Grill Is The Ultimate BBQ Setup
If you live in Sydney, that butcher is none other than Josh Niland – co-owner of Paddington seafood haven Saint Peter, fishmonger of The Fish Butchery, and awarded cookbook scribe. There are few hands as steady and authoritative as his when it comes to stoking a next-level BBQ, which is why The Kraken Black Spiced Rum tapped him to load a special BBQ pack with his inventive recipes. Specifically, that's Kraken rum-glazed Murray cod tacos, served alongside charcoal corn, jalapeno and avocado – a far cry from your mates shrivelled snags. The $55 packs come with all the ingredients you need for the meal, plus an easy-to-follow recipe card and a few useful cooking tips to keep in mind when you're prepping that cod.
---
---
On the first-round of release, Niland's packs were so popular that they were all gone in just a few days. Keep an eye out on The Fish Butchery for a forthcoming restock.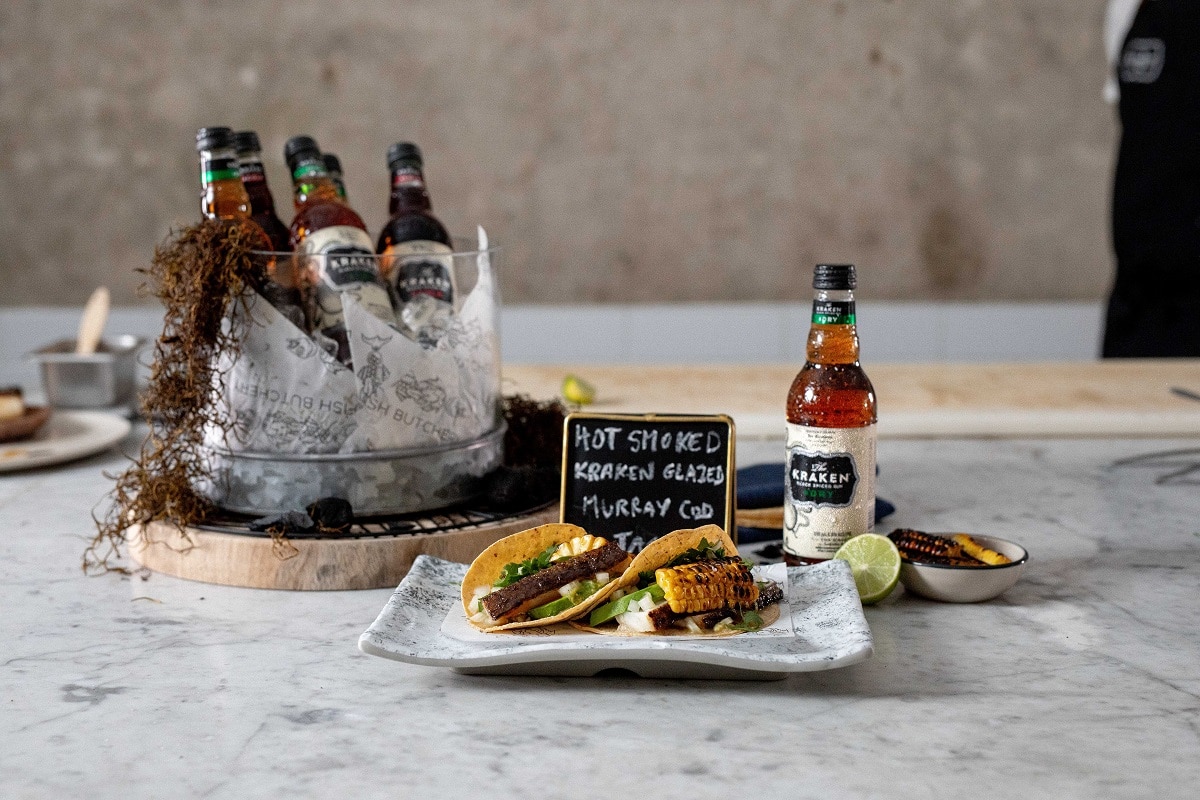 Melbourne's grill gods have Ash McBean of whole-beast butcher Gary's Quality Meats to thank for the inevitable back pats and good-on-yas. Sticking true to her paddock-to-plate approach, she's slinging Kraken x Ash McBean barbecue packs from her South Yarra shopfront for $72 each, offering everything you need to to cook up some top-quality dry-aged scotch fillets that have been infused with Kraken's signature Black Spiced Rum. Each pack will come with two of the Kraken-infused fillets and are available until stock runs out.
Kraken's tentacles have picked up Perth's Gavin Olsen, of the widely acclaimed Olsen Butchers, to take part in this BBQ cheat-sheet as well. For Western Australians, he has put together a DIY pack that includes your choice a tray of four jerk-style chicken kebabs, four pork sausages with roasted fennel seed and orange, or if you're mates need to keep their bread baskets happy, two brisket burgers spiced with paprika. Whatever the choice, you're looking at an easy $19.95 per pack; you just need to do the leg work and head to one of the Olsen Butchers storefronts in South Perth, Roleystone or Booragoon from Monday the 7th of December until stock runs out.
All three "BBQ With The Beast" packs have been designed to pair up with Kraken & Dry or Kraken & Cola, making pairing profiles an easy game if you want to play premix sommelier while the goods are on the grill.