Where were you the last time you were blown away by a wine tasting experience? Hunter Valley? The Barossa? Chances are, you can't remember. Because although the wines were no doubt excellent, and the stories full of passion and heart, wine tasting itself can be a little predictable. This new turbo-charged tour at Shaw Escape, however, is anything but usual.
Forget minibuses or rickety old bicycles – this NSW winery, just 30km north of Canberra, takes a more ambitious and luxurious approach to wine. Using a slick King Air 200 private jet, the tasting experience is designed to whisk you and your mates from Bankstown Airport to Canberra, where a seven-seater Airbus H130 helicopter continues the journey to Shaw Wines Estate in the Southern Tablelands. A jet, helicopter, and copious amounts of wine… what could go wrong?
You can drink in views of Lake Burley Griffin from above before peeping the haze of the Brindabella Mountain Rain, along with the snaking path of the Murrumbidgee River, which is a tributary of the mighty Murray. Then your drinking session gets a little bit more literal as you land on the 770-acre former merino farm in Murrumbateman.

This is the heart of the Canberra District wine region, where Shaw Wines has picked up a host of awards since launching in 2005. 'Best Cabernet Sauvignon' at London Wine Show in 2018, and 'Best Merlot' at Vienna International Wine Show in 2016 are just two of the notable trophies on their shelf. Their striking cellar door and restaurant was also recognised at the 2019 MBA NATIONAL Building Excellence Awards.
---
---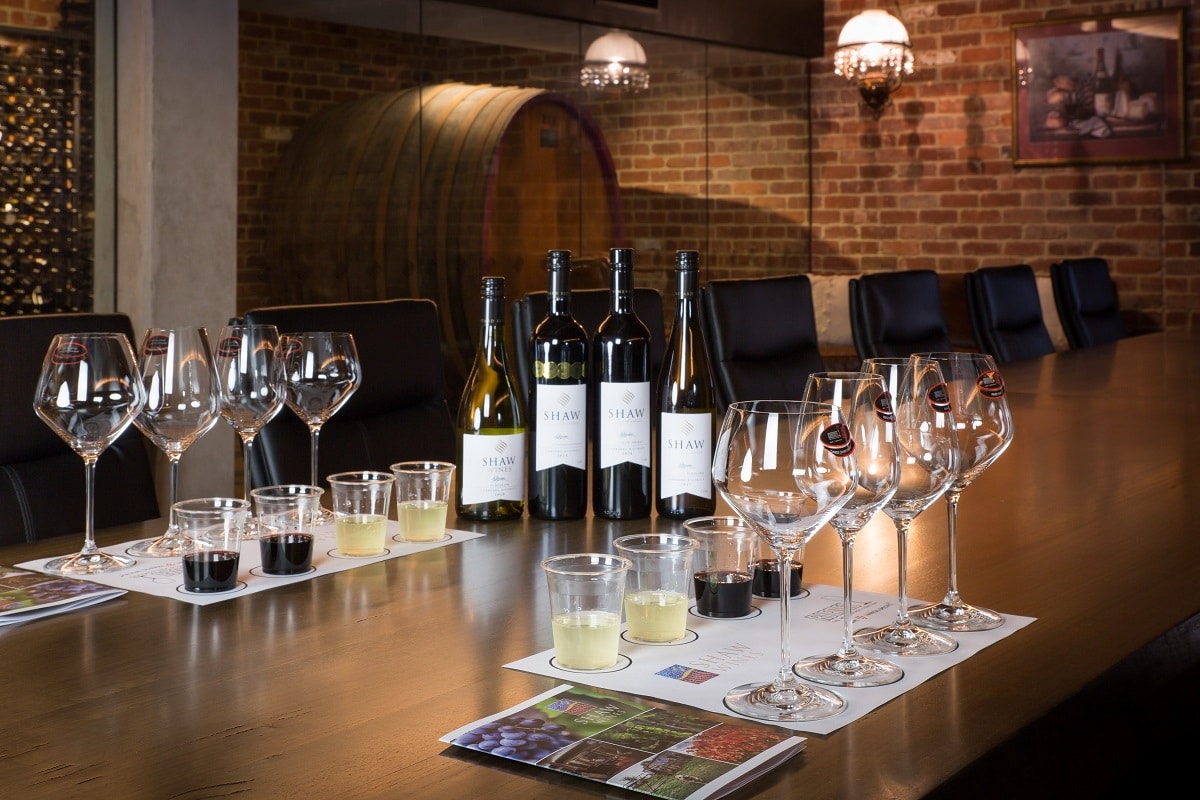 This global recognition is no accident either. It's the culmination of decades of growing experience (Shaw supplied fruit to acclaimed McLaren Vale wine label Hardy's for over 20 years) and a lot hard work, with a helping hand from the climate of the region itself.

Once you disembark the chopper, the indulgence only ramps up. A full tasting flight of the Shaw Wines range, a three-course feast with dry-aged ribs and lamb fillet prepared by the Olleyville at Shaw restaurant onsite, and your pick of the winery's exclusive Reserve Range to enjoy with your meal.

After that, the day is yours to relax in the private wine cellar, cha with the wine team, stroll around the vines, or tuck into some more of that fantastic wine, before hopping back onboard the waiting helicopter when you're ready.
The high-flying wine experience doesn't come cheap, setting you back a cool $2,750 per head with a six-person minimum, but you do get a lot of bang for that buck.

Graeme Shaw, owner and founder of Shaw Wines and Shaw Escape, says the new tour is about reigniting the spark for domestic travel post-COVID, and doing in a way that makes it accessible to time- poor travellers. And who doesn't love helicopters?

Shaw Escape is one of several bespoke tours like it that have popped up in the last 12 months, including the 'Lunch Club' from Crooked Compass by Air. Canberra District is considered one of Australia's top cool-climate wine regions, home to over 140 vineyards and 30 cellar doors (most of which are actually just outside the ACT).
RELATED: This Whisky Tasting Starts On A Private Jet & Ends With A Yacht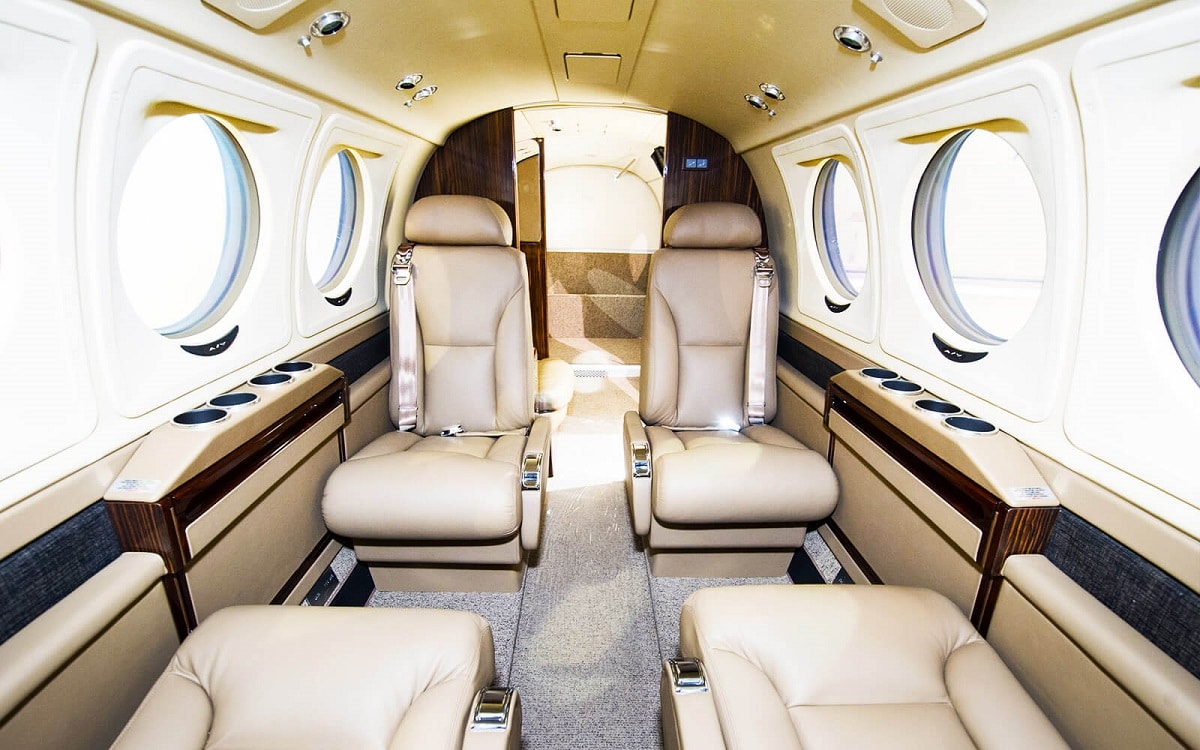 High temperature swings – warm days, cool nights – allow vines to rest and also prolong the ripening period, leading to a more complex flavour.

"The climate is big advantage for us," says Shaw.

"Take yesterday for example. It was about 37 degrees and we got an easterly wind that dropped it to about 26 degrees in less than half an hour. That allowed the vines to really cool off and settle after a hot day."

Cool climate reds tend to be more elegant and refined than the bolder wines produced in the Hunter or Barossa, with higher acidity, a spicier taste, and a lighter body. Merlot, pinot noir and shiraz are all particularly note-worthy. White varieties such as riesling, sauvignon blanc and chardonnay grow exceptionally well too.

Designed by Dean Kensit and Nick Pelle of Oztal Architects, the cellar door looks part modern art gallery, part Hollywood mansion. Towering concrete walls, exposed brickwork, and rich timber-panelled walls set the scene, while the Gatsby-inspired tasting room and wine cellar – your dining space for the tour – feel almost like an exclusive, member's only club.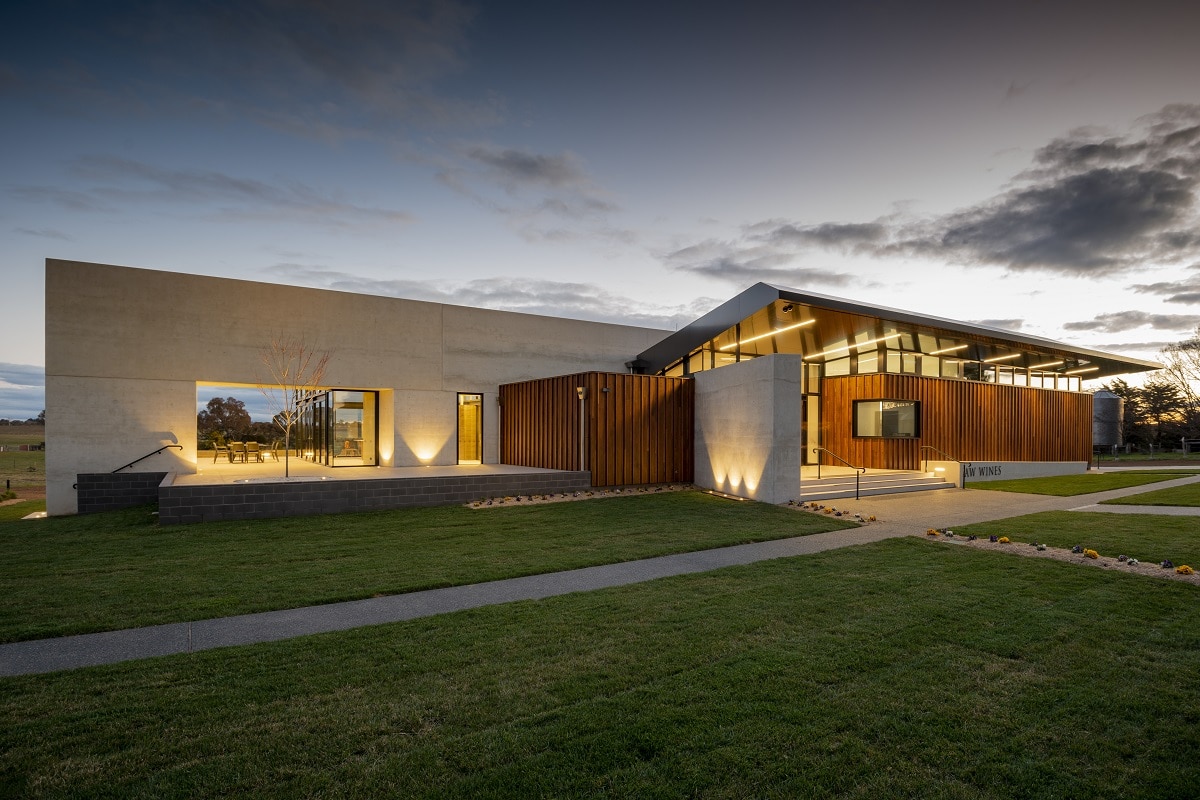 Graeme, his wife Anne, and the rest of the family are all heavily involved in the day-to-day running of the vineyard. Tanya, his daughter, runs the cellar door, while son-in-law Michael handles operations and logistics. Wines are all produced offsite in collaboration with a couple of wineries in Griffith, with Graeme and Tanya in charge of the blending.

"There's a team of three winemakers we work with there. Once we pick, we take it over to their winery in Griffith and stay there until everything's gone through fermentation. Having the advantage of not having to put the capital out on the winery, but having a winery that is very capable, with high technology and great winemakers, is great."

Touching back on Shaw Escape, Graeme says it's the just the first of several new experiences in the pipeline. Departures from other cities and states are being looked into, though he says it all depends on border closures. A sculpture exhibition featuring more than 40 artists will be opening at the winery in September, with other events yet to be announced.
You can book the newly introduced Shaw Escape private jet & chopper tastings in the link below.