The huge door to the penthouse suite of the boutique Sydney CBD hotel swung open and I walked in. I shook hands with the odd PR assistant or two only to be interrupted by an enthusiastic "Hey! Come on up man!"
Chris Evans, the Captain America star stood at the top of the stairs to my left, one shoulder leant against the wall and one leg crossed behind the other. With a coffee in hand and a wide smile on his face, he gestured to join him with a high arching swing of his free arm.
In the loft, we both sank into plush white armchairs and talked about the launch event that took place earlier that afternoon. A bottle of the new Chivas Regal Ultis stood in a case in front of us both, and the conversation lulled momentarily to observe it, cast by the bright light of the warm Sydney sun beaming through the huge floor to ceiling windows.
---
---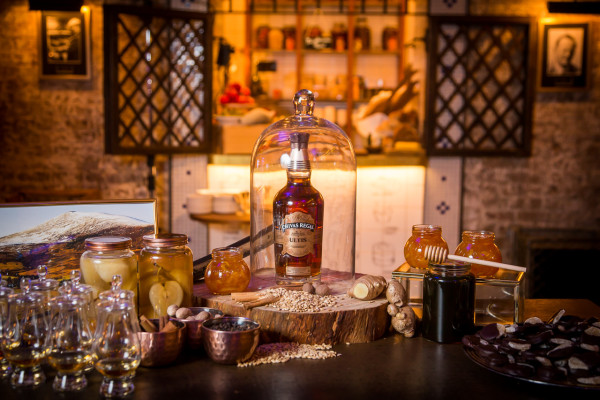 Evans has recently assumed the role of Asia-Pacific Ambassador for Chivas Regal, the globally renowned Scotch Whisky brand that began back in 1909 and has since become the icon of luxury and exclusivity among the business' elite. Previously, Chivas have prided themselves on distilling the most refined single malt scotch on the market, influenced by only five unique master blenders throughout their entire history.
The recent Chivas Regal Ultis, however, marks a new milestone for the name being the first and only blended whisky from the House of Chivas. Launched last month, this pinnacle of the Chivas line-up has been hand-selected as the top 1% from the casks at the Chivas inventory in Speyside, Scotland.
Alongside Australian Olympic swimming champion Michael Klim, Evans toasted to the arrival of the Ultis blend at the Sydney launch in the Palmer & Co., a 1920's themed bar on Wednesday afternoon. Evans drew on personal connections with their Win the Right Way campaign, which focuses on the positive influence of, and a likewise positive impact on, other people in one's path to success in life.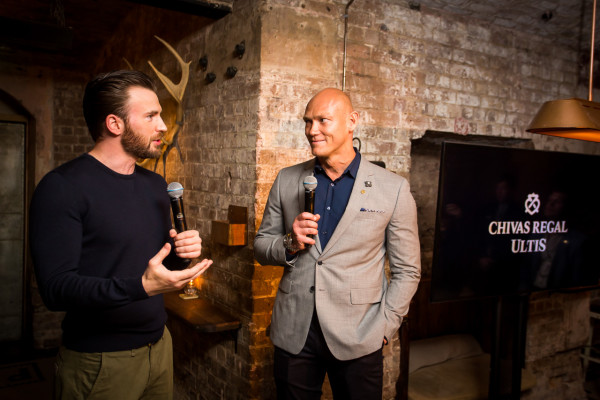 The cheerful, yet calm and collected man sat patiently across from me and I fired away with the first question.
Our demographic is predominantly male, on average between 18-35 years old. For a drink that might commonly be overlooked by the newer generations, why would you recommend Chivas Ultis to them?
"Wow, (he puts his feet up on the coffee table and slides down into his seat) wait, you think Chivas is overlooked? Is it?"
As a Scotch, with such pedigree and such a rich history, it's often associated with older generations, how and why would you convince those who hold that view otherwise?
---
---
God, that's a good question. Well it, I mean it was something my grandfather drank so I always looked at it as something that had some sort of cachet or class, you know what I mean? I think in a lot of ways the older generation has something that is classy to it, so I always kind of looked to what the people I respected before me did or drank and you know, looked to it with fondness. I don't know, I couldn't tell you with specificity what it offers I just know from my vantage point, Chivas was always something that was kind of, classy.
It's quite common for most men to follow in the footsteps of their fathers and grandfathers in the spirits that they drink, and so your preference was influenced by your grandfather?
Yeah well my Dad never drank too much, my Dad is a beer guy. So I grew up…you know, beer is still my first love. Whisky always came across as super fancy to me, I never really understood how people could just sip whisky it always felt like it was just too sophisticated for my palate. But over the past couple of years the more I've tried it the more you start to kind of find an ability to taste the flavours as opposed to just the alcohol. Knowing that my grandparents actually enjoyed this brand makes it kind of more sentimental to me.
Would you say that had a strong influence on you to be a part of this Chivas Regal Ultis brand and campaign?
Absolutely.
You mentioned at the launch earlier that you like your Chivas with a little bit of ice, or on the odd occasion, neat.
Well look, man, I mean, again If I'm going to try and go for it and throttle up on the night, you know….
What's it going to be tonight then? (at the GQ Man of the Year Awards)
---
---
No, well, tonight…the problem is, I've got a lot of these today, a lot of interviews, so I can't be swinging from the rafters tonight (He laughs and follows with a sigh)…and I gotta do this whole award thing too – there's a lot. Today's a full day of work, unfortunately.
It's been a while since you've been in Australia, ten years almost, that's a long time, a lot to catch up on.
Yeah isn't that crazy? Even more, I think it's like 2005, wow has it been that long? I know Aussies enjoy their booze though so I'm sure that hasn't changed.
The Win the Right Way campaign focuses on life success and the teamwork necessary to get there. Acting is naturally a tough business, you yourself I'm sure have faced adversity where the support from others has got you over the line to where you are now. What advice would you offer to our readers who may be currently in similar situations?
Hmm what would I say, what would be the advice…You know I think I would say, and it may not be the most goal-oriented advice because if people are looking for advice on how to succeed, that may not be what I could offer. I would say, if you're not okay without it, you'll never be okay with it. I think what I mean by that is, we're all hunting for a certain level of success to some degree [but] if you can't wake up every day and find a certain level of peace and happiness in your life without the textbook definition of success you're never going to be okay, even if you find it. You've gotta be able to be okay with your life without that kind of confirmation from someone else's point of view.
Quite often, success is defined by, or at the least measured by, quite materialistic indicators. So what would be that one thing, that one lesson that can't be quantified you wish someone had told you?
That's tough. (He thinks hard and mutters to himself) There's gotta be a way to do it. In my life, what I've learned is that no one can tell me what happiness means, you know a lot of times you base your level of success or happiness on truly what other people think of you, and how other people view your journey. But that's no one else's business. I guess for me it's been realising how little Hollywood truly matters, you know what I mean?
It's a retrospective thing, how comfortable you feel about yourself and your own position. And if you're happy then what else matters?
---
---
For sure, my level of happiness will never be dictated by my career, my career is very secondary to something deeper.
More recently you've taken up directing as a passion, let's jump forward 10 years. What's the next thing for Chris Evans?
Personally I'd love kids, I'd love…you know I'm going to get married. The older I get the more I'm very strict in terms of doing what I want to do. And I really understand now more than I did 10 years ago what I want in life. And I want normalcy, I want a regular life, I like being around my family I like being around my friends. I like being back in Massachusetts. Hollywood is fine because I love acting but it's not what I want from my life. So for me ten years from now hopefully I'm living a pretty normal life.
Well if you equate success with happiness and happiness is that, then you've succeeded.
Bingo, very well said.
How important do you think it is for young men to balance work with play?
Well I mean, this is the question, if work can be play then so be it. The truth is, if you can find a way to live your life earning money doing something that you are passionate about then, you know, you've won life, you've won the game. The big game too.
Amen.
That's not always going to be the way, you have to grind it out sometimes, do what you have to do to get there. But as long as you have a healthy grasp on what really matters to you. For me, it's family it's friends…whatever I have to do to spend more time with family and friends, I'll do it. If you can nail the two, then great, if not, good luck.
---
---
No truer words have been said. Lastly, how many Chivas is too many Chivas for Captain America?
(Laughs) I like that, I think right about the time you start slurring your words that's probably enough.
Chivas Regal Ultis is available now at an RRP of $220 AUD per 700ml bottle and at selected Duty-Free retailers in a traveller's exclusive 1 litre format for $265 AUD.