Sydney might not be the first city that comes to mind when you think of cool hidden speakeasies and impressive whisky bars – hell, it probably doesn't even make your top 10 – but that doesn't mean it's not packing some serious heat for whiskey enthusiasts whatever the preference, whether that's Scotch, Irish whiskey, Japanese whisky, American bourbon, or Australian whisky. Some of the best Sydney whisky bars and speakeasies are now firmly established for the city's most discerning drinkers, with a few newcomers popping up along the way… you just need to know where to look.
After reading this article on the best bars for whiskey in Sydney, you'll be inducted into the very same circle of knowledge you sought after for so long. So use this information wisely.
RELATED: The Best Whisky Subscription Services In Australia
---
---
Our Favourite Sydney Whisky Bars & Speakeasies
---
The Baxter Inn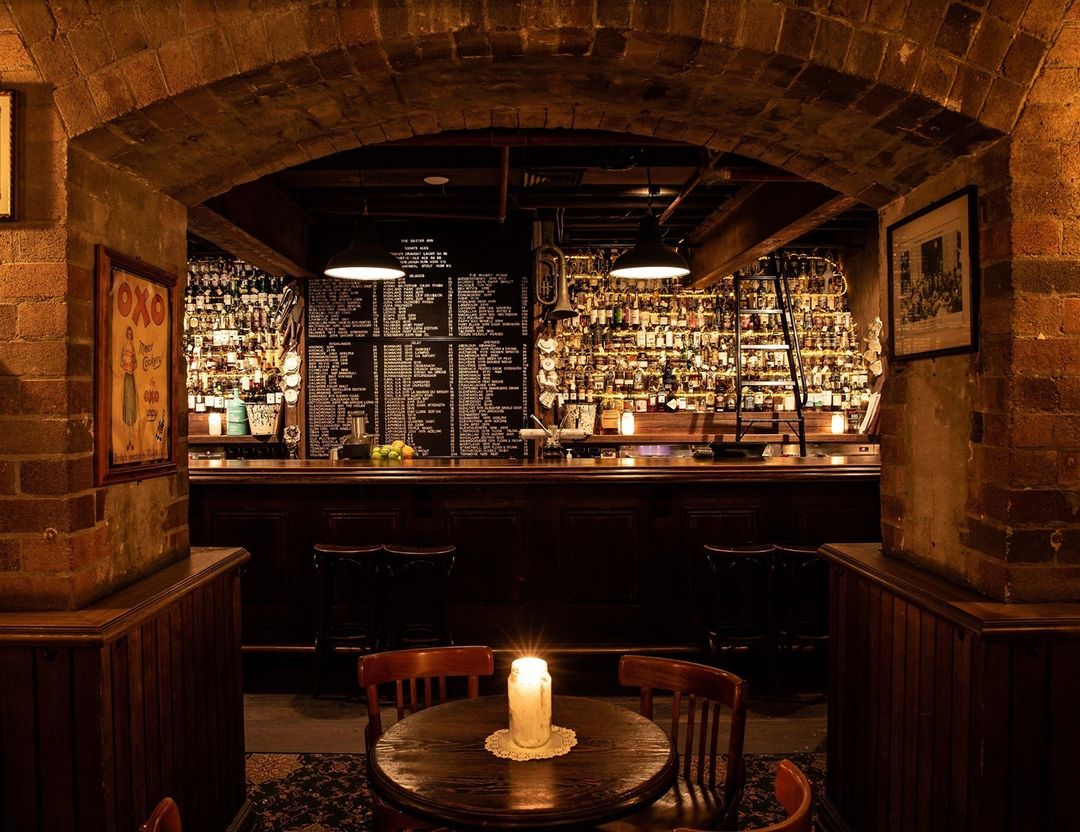 The Baxter Inn is a tribute to ye olde whiskey bars from a bygone era; a veritable library of spirits so vast that staff need a scrolling shelf-height ladder to keep track of it all. Their 800 plus selection of spirits is considerable, having been described as a "collection that would make a strong man weak at the knees." The physical environment is one that bleeds with nostalgia too, all flickering candles, emerald green booths and dark wooden fixtures with most of action saved for the seemingly endless wooden bar.
As one would expect, this impeccably classy establishment gets pretty busy, pretty often, and is still considered amongst the best cocktail bars not just in Australia, but the entire Southern Hemisphere.
Address: 152-156 Clarence Street, Sydney
Opening Hours: Monday – Sunday (4 PM – 3 PM)
---
Door Knock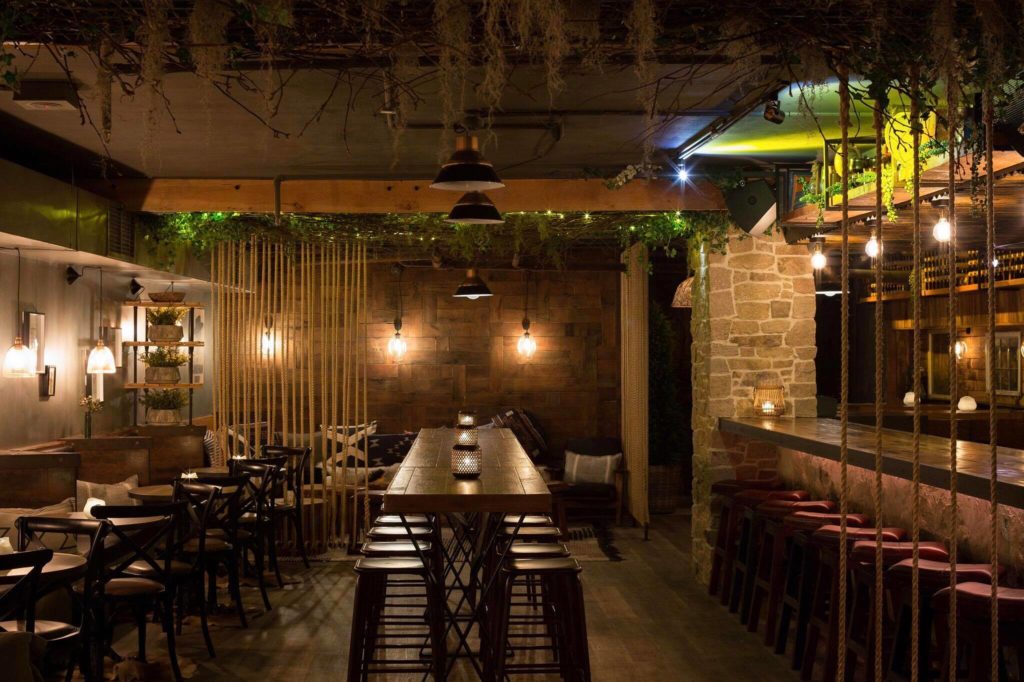 Down a very long corridor tucked behind corporate office blocks and two floors underground you'll find Door Knock, a sophisticated watering hole that requires a literal knock of the door to gain entry. Their strongest hand is the bar's meticulous cocktail selection, followed closely by biodynamic and natural wines, but you can pretty much order any dram here and be confident you're going to get the best on offer in the CBD. After all, some of the best bartenders in Sydney take up residence at Door Knock, not just for the great concept, but the fact that it's one of the few genuine speakeasies in Sydney that remains hard to find.
Japan's acclaimed Nikka whisky distillery has taken over this venue before, which should tell you all you need to know about how highly regarded this cocktail and wine bar has become since it first opened on Pitt Street in 2017.
Address: B2/70 Pitt Street, Sydney
Opening Hours: Monday (4 PM – 11 PM); Tuesday – Thursday, Saturday (4 PM – 12 AM); Friday (12 PM – 12 AM)
---
The Lobo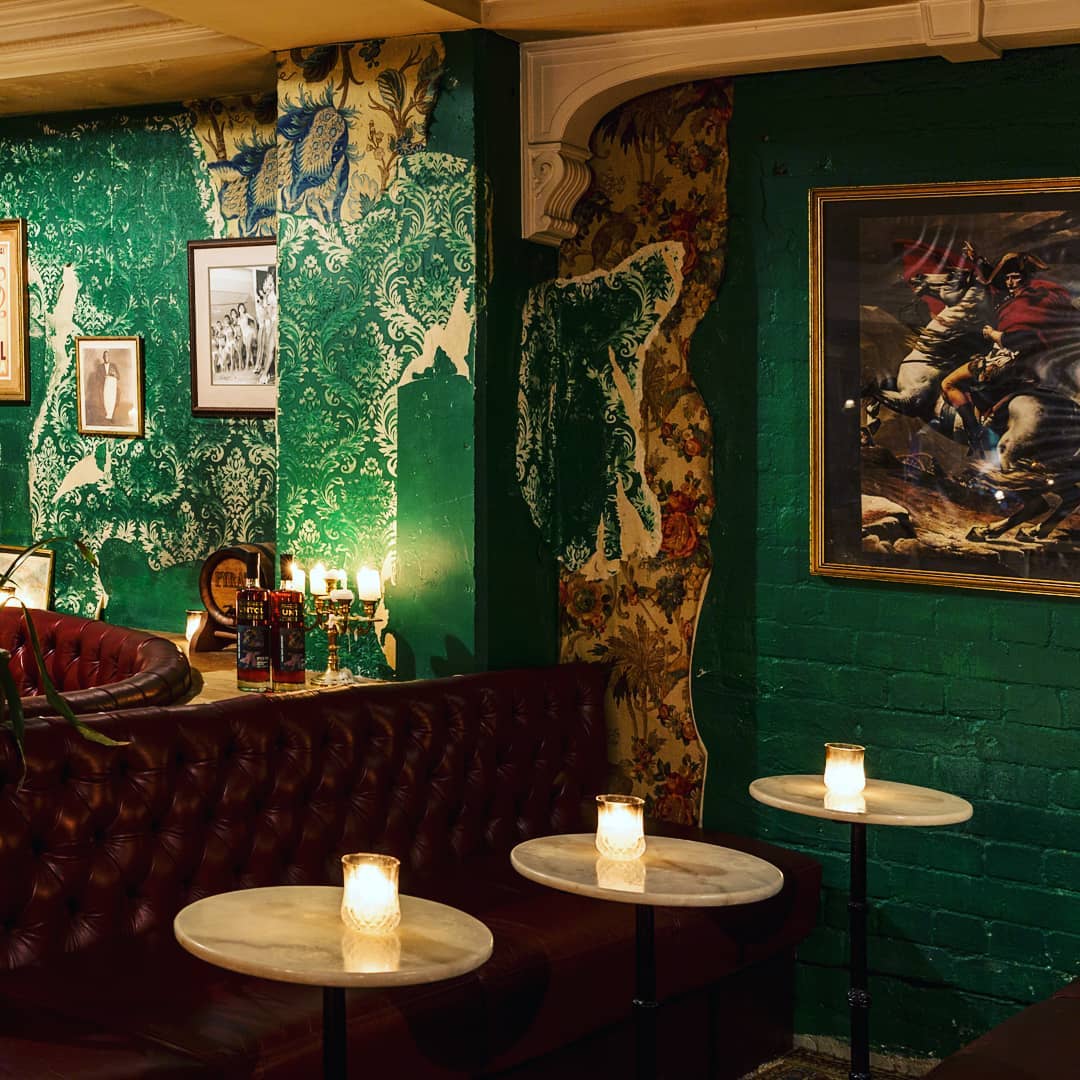 Formerly known as Lobo Plantation, now shortened to simply The Lobo, this underground bar is exactly where you want to be when the order is a strong drink in a moody subterranean space. Although the Caribbean-inspired bar is biased towards rum, the affable bar stocks more than enough whiskies for The Lobo to easily qualify as one of the best whiskey bars Sydney has to offer.
---
---
Address: basement lot 1/209 Clarence St, Sydney
Opening Hours: Tuesday – Thursday (5 PM – 1 AM); Friday – Saturday (5 PM – 2 AM)
---
Uncle Ming's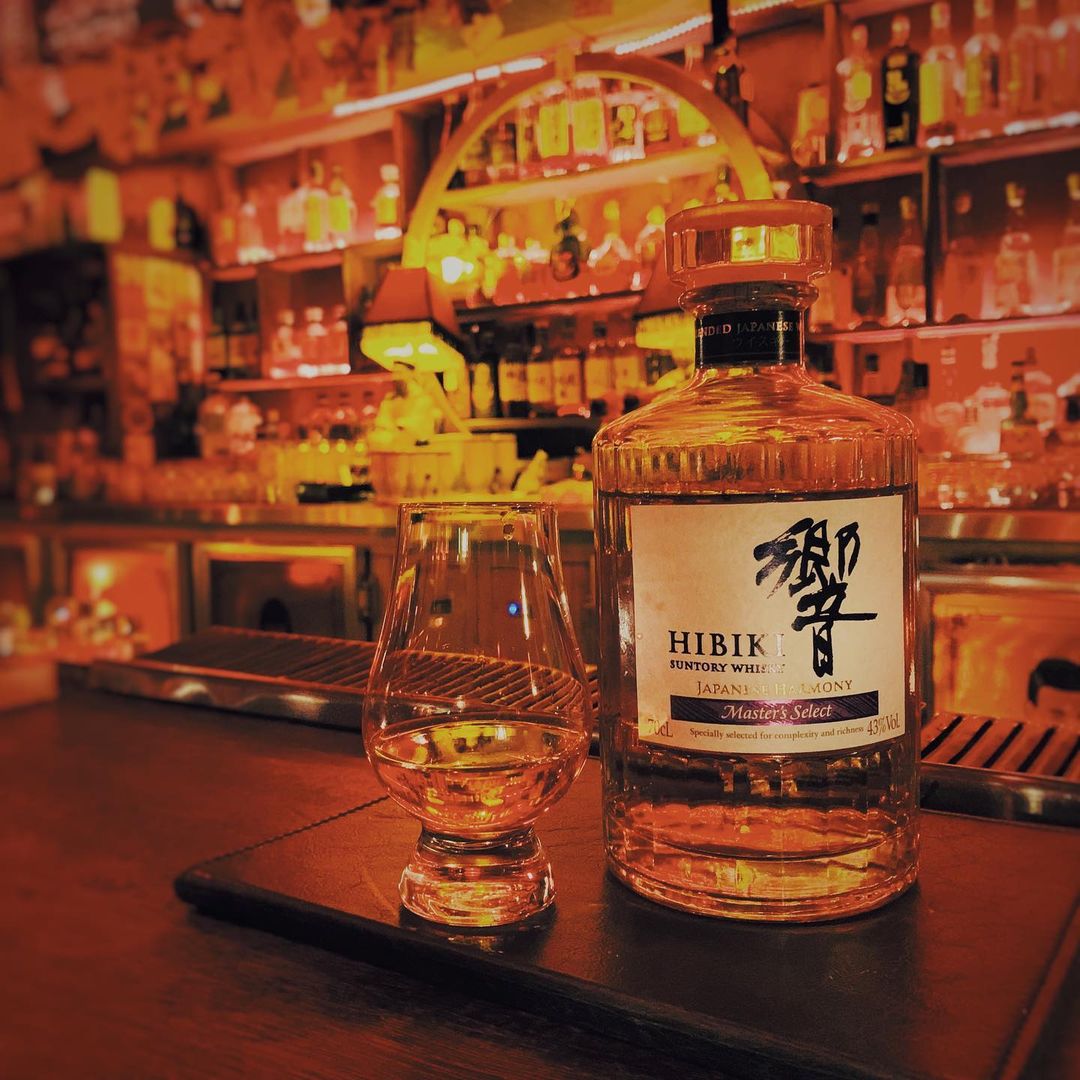 Uncle Ming's is buried so deep beneath a seemingly nondescript Sydney CBD building that you'd be forgiven for thinking you're headed into a suit shop. That is, until you duck down towards a red glowing door and take a step back in time into an opium den-inspired hangout.
Uncle Ming's is a dimly lit basement bar enclosed within walls plastered with 1920's posters and illuminated by tealight candles. Despite its obvious design cues from China, the underground bar boasts an assortment of drops – everything from East Asian beers to Japanese sake. It's also one of the best bars for Japanese whisky in Sydney, seeing as it stocks plenty of brands both established and rare. More than enough to make the average bloke's ears prick up. The kitchen also does bulk dumplings, which is never a bad thing.
Address: Basement/49 York St, Sydney
Opening Hours: Monday – Thursday (12 PM – 12 AM); Friday (12 PM – 1 AM); Saturday (4 PM – 1 AM)
---
Ramblin' Rascal Tavern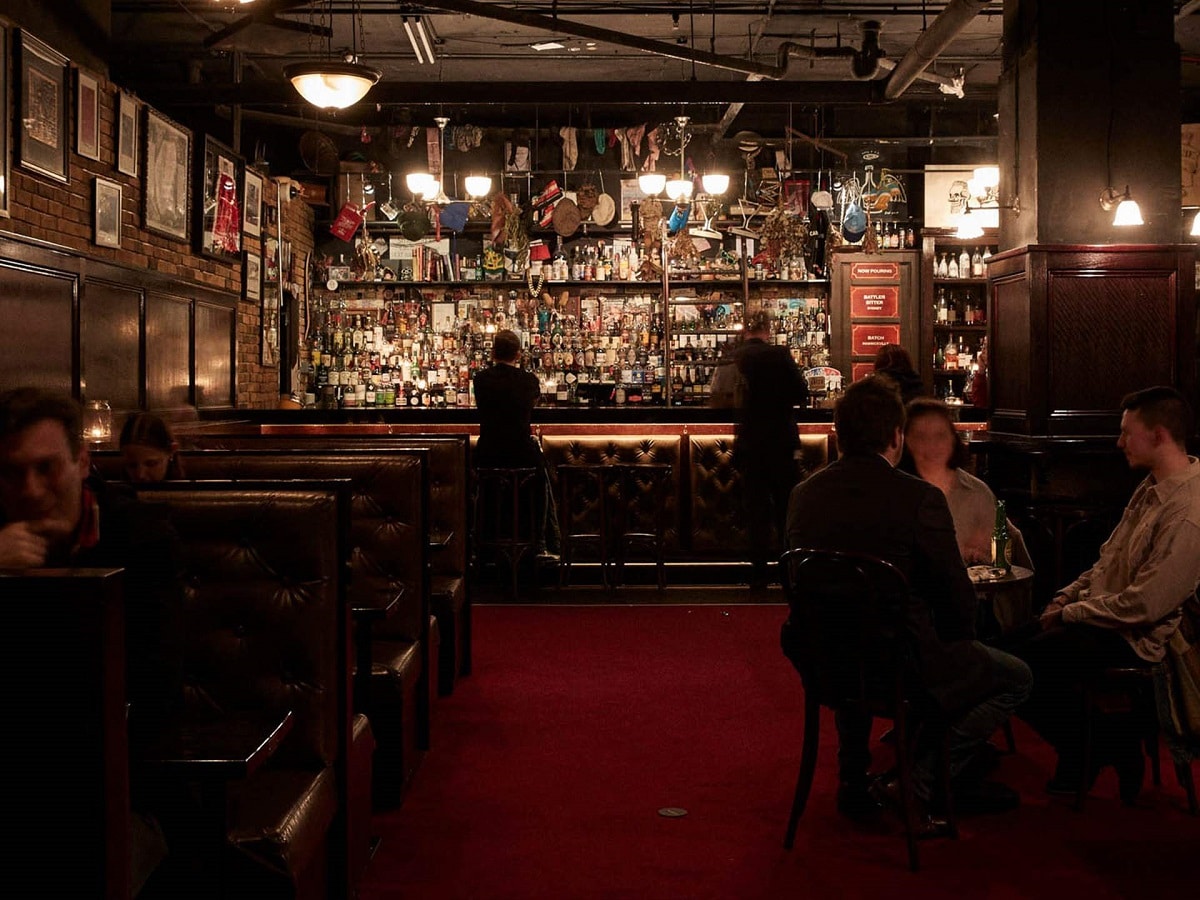 While it might be a basement bar more akin to a local tavern than one of Sydney's intimate whiskey bars, Ramblin' Rascal Tavern makes our list nonetheless due to its refreshingly relaxed, grungy vibe and mouth-watering tucker. So beloved is this no-fuss bar that takeovers from some of the best whisky brands in the world are regular. As of publishing, The Balvenie is presenting a special menu called "the story of the 5 star dive bar" with offerings from The Balvenie range as well as cocktails made with the Dufftown distillery's most popular expressions.
Address: Corner of Park & Elizabeth Street, Sydney
Opening Hours: Monday – Wednesday (4 PM – 12 PM); Thursday – Saturday (4 PM – 2 AM)
---
The Doss House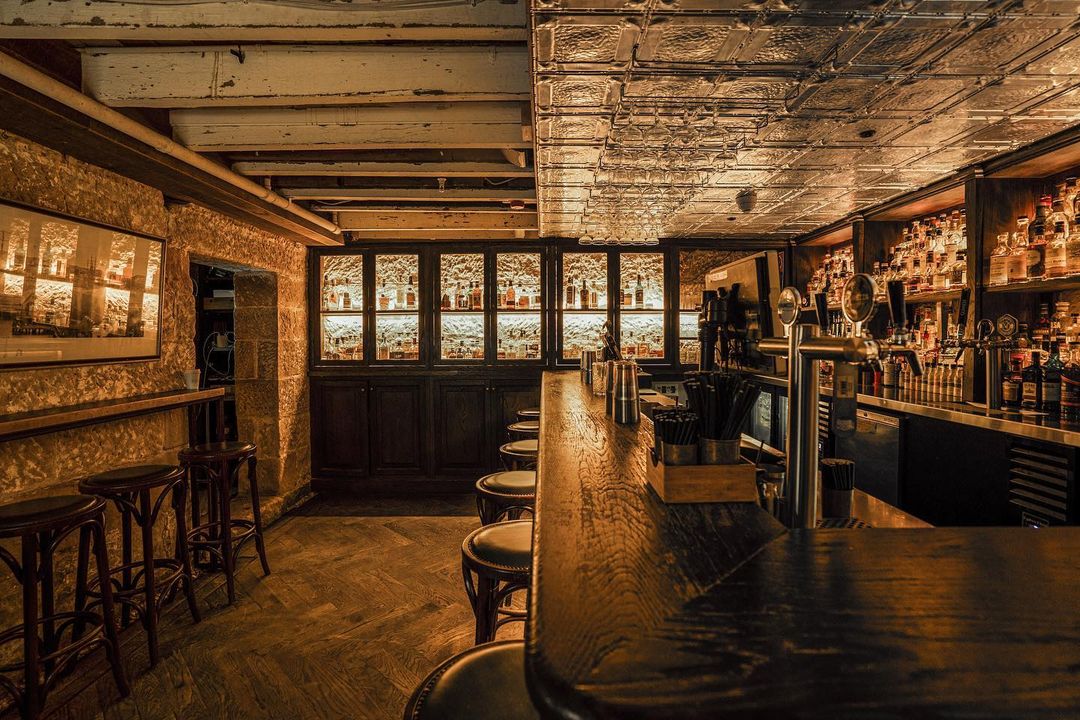 Sydney's oldest suburb, The Rocks, plays host to The Doss House. This decidedly sleek, dark, and regal establishment is a no-brainer for whiskey aficionados who love a bit of history. Once a bootmaker's shop, a pub and an opium den across its 170 years of history, the heritage-listed building was also a 'Doss House' – a place where sex workers could shelter for the night in exchange for a shilling. Today, it boasts roughly 150 whiskey options, a multitude of Australian wines, and of course, Guinness on tap. Plus, you can purchase a private whiskey locker if you plan on making visits to The Doss House a weekly (or nightly – no judgement) thing.
Address: 77-79 George Street, The Rocks
Contact: 0457 880 180
Opening Hours: Sunday – Thursday (4 PM – 12 AM); Friday – Saturday (4 PM – 1 AM)
---
---
---
J&M
Merivale get a lick in as they enter the whisky bar scene with J&M. Opened a few years ago above the historic Angel Bar, the space plays heavy on hidden nooks and a fashion-inspired atmosphere which nods to the hospitality group's humble beginnings as a fashion house. They take whisky incredibly serious here (as they should), which means plenty of beautifully built cocktails using whisky, whiskey, and bourbon to satisfy the city's most discerning dram drinkers.
Address: 1 Angel Place, Sydney
Contact: (02) 9114 7326
Opening Hours: Wednesday (5 PM – 10 PM); Thursday – Saturday (5 PM – 12 AM)
---
Bancho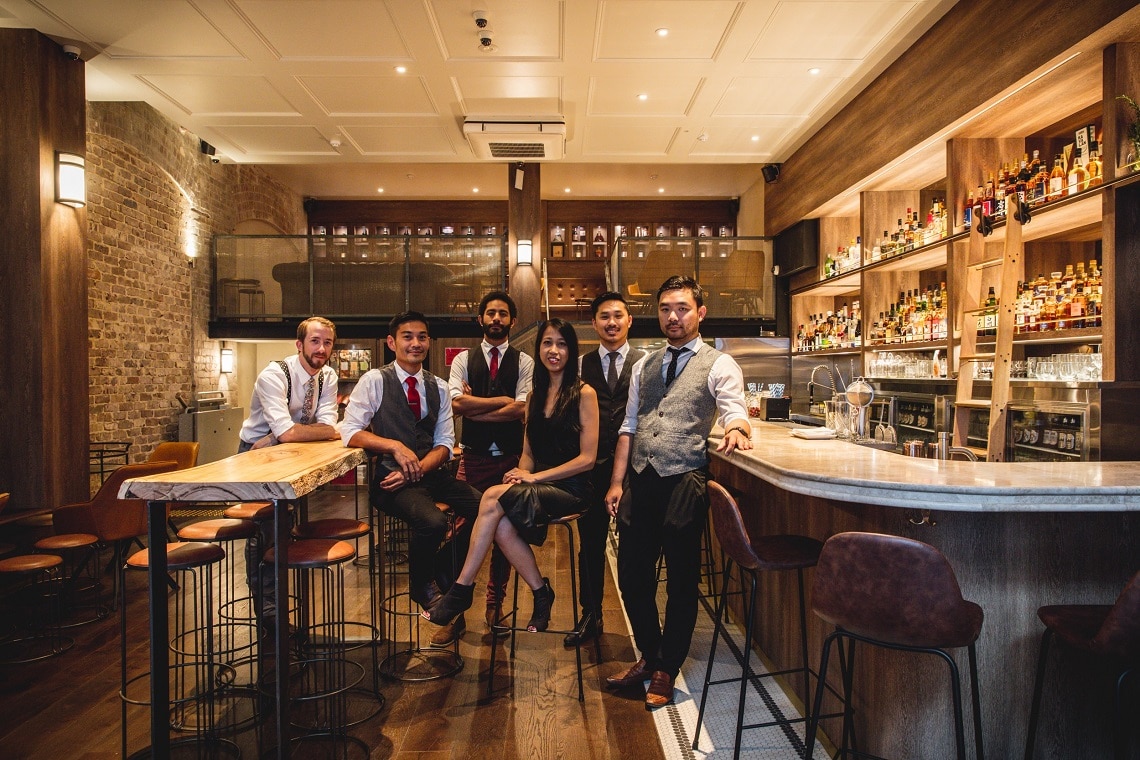 Coming from the same team behind Tokyo Bird, Bancho is the cocktail and whiskey bar that's always been sorely missed from Haymarket. Amongst the buzzy yum cha and seafood restaurants of Chinatown, this cosy establishment brings much of what makes Tokyo Bird so great a bit closer to the CBD, with a refreshing cocktail list of which the standout is the Murasaki, which builds with Toki Japanese whisky, coconut cream, ube, chestnut paste, and walnut bitters.
Address: 10 Thomas Ln, Haymarket
Contact: (02) 8097 9512
Opening Hours: Tuesday (4 PM – 11 PM); Wednesday – Thursday (4 PM – 12 AM); Friday – Saturday (4 PM – 1 AM)
---
Tokyo Bird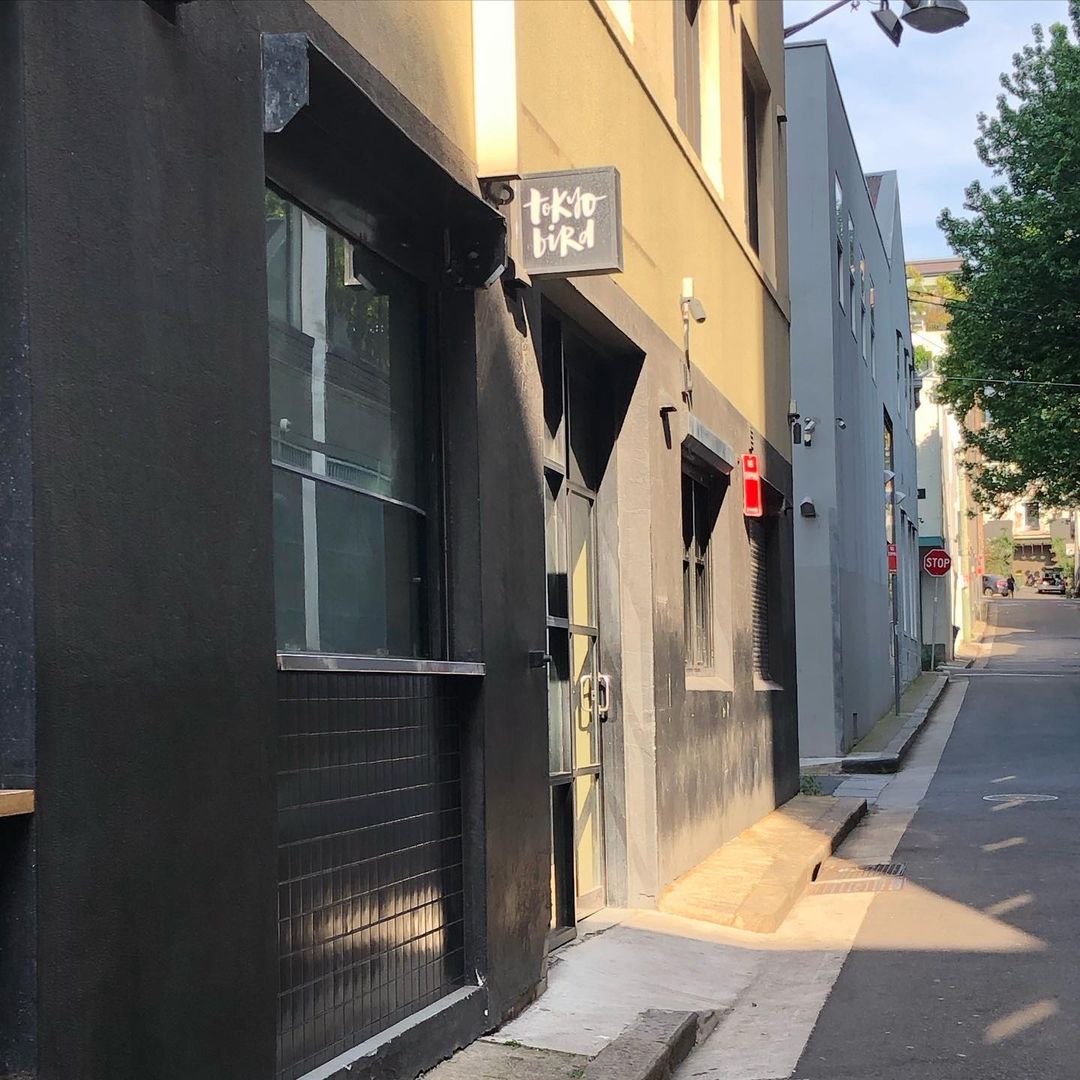 You knew this one was coming. Tokyo Bird has long been a favourite for Sydney's wisest whiskey lovers, stocking an incredible amount of Japanese whisky alongside other hard-to-find favourites from American whiskey through to Scotch. The cocktails at this Izakaya-style laneway bar are some of the best in Sydney, and the moody, dimly lit atmosphere continues that tradition of the best bars being those to blanket you in flickering golden lights and dark corners.
Address: Commonwealth St &, Belmore Ln, Surry Hills
Contact: (02) 8800 9971
Opening Hours: Monday – Wednesday (4 PM – 11 PM); Thursday (4 PM – 11:30 PM); Friday – Saturday (4 PM – 12 AM)
---
The Wild Rover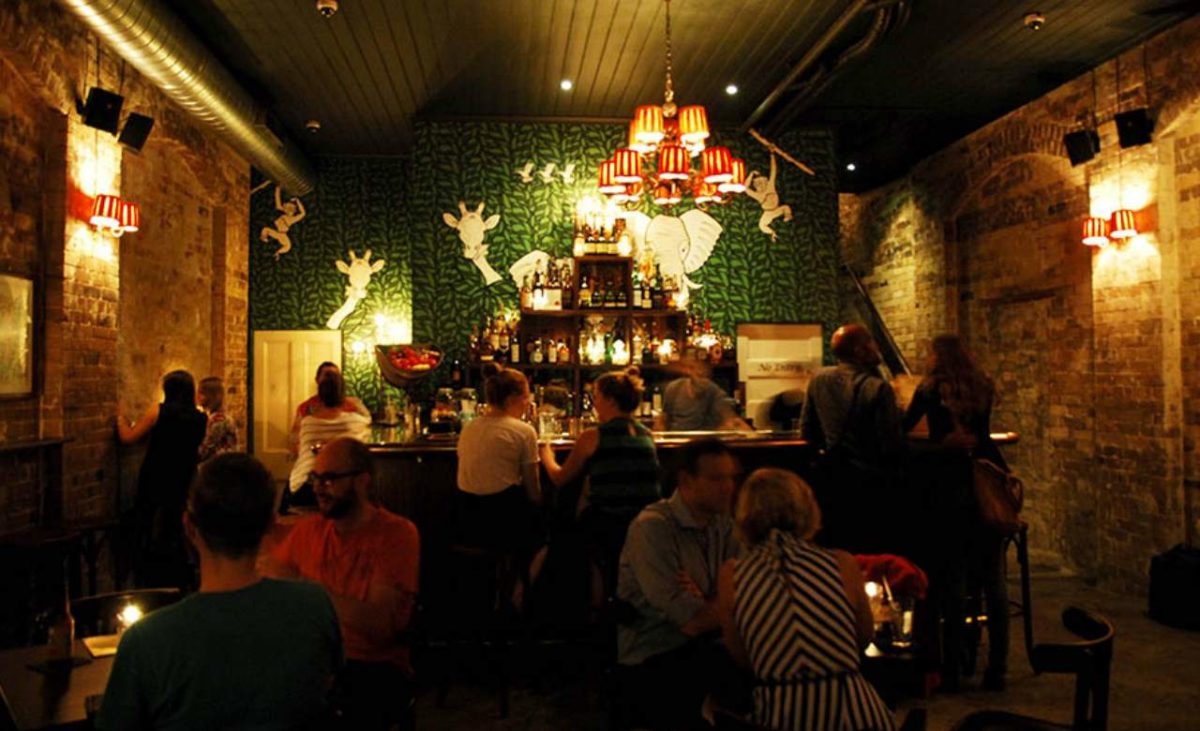 The Wild Rover is a favourite, not just for the city's most enthusiastic whiskey drinkers, but the hospitality industry at large. Head along to this Surry Hills gem on any night and you'll probably spot staff from other bars enjoying their day off by switching into customer mode. The Wild Rover was one of Sydney's very first small bars, and has stood the test of time based on their Irish-inspired atmosphere and solid dedication to sourcing to sourcing some of the best whiskies from around the world. Irish whiskey is of particular interest here so make sure you're paying attention to brands like Teeling and Bushmills on those stacked shelves.
The bar always has a rotating whiskey of the month which they use in classic cocktails like Old Fashioned and Whiskey Sour. So even if you only visit once per month, it's worth checking behind the bar to see what's highlighted on your visit so you get an idea of how different whiskies can bring a different dimension to the same cocktail.
---
---
Address: 75 Campbell St, Surry Hills
Contact: (02) 9280 2235
Opening Hours: Tuesday – Saturday (4 PM – 12 AM)
---
Grain Bar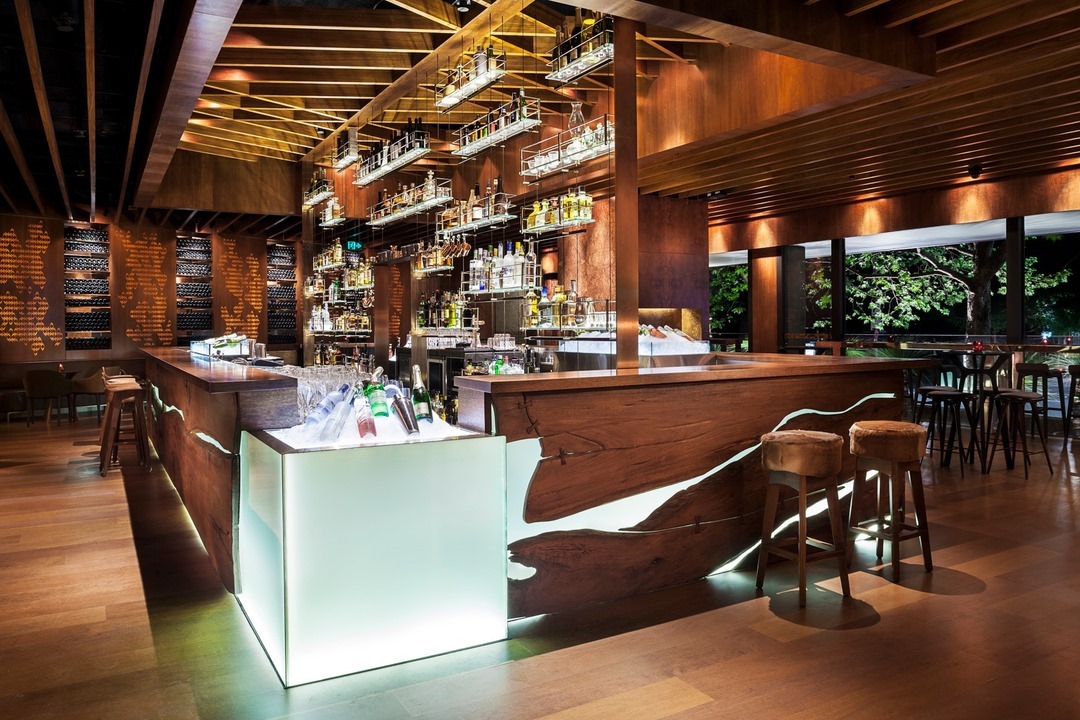 Attached to the Four Seasons Sydney Hotel, Grain Bar is a sure-shot favourite amongst Sydney's whiskey bars. The approach is simple here, good food, great beer, and even better whiskey. As you could tell by the name, they focus on grain whiskey here (as opposed to malt whiskey) so corn, wheat, and rye is a common sight on the ever-changing cocktail list.
Address: 199 George St, Sydney
Contact: (02) 9250 3118
Opening Hours: Tuesday – Thursday (4 PM – 11 PM); Friday – Saturday (4 PM – 12 AM)
---
The Roosevelt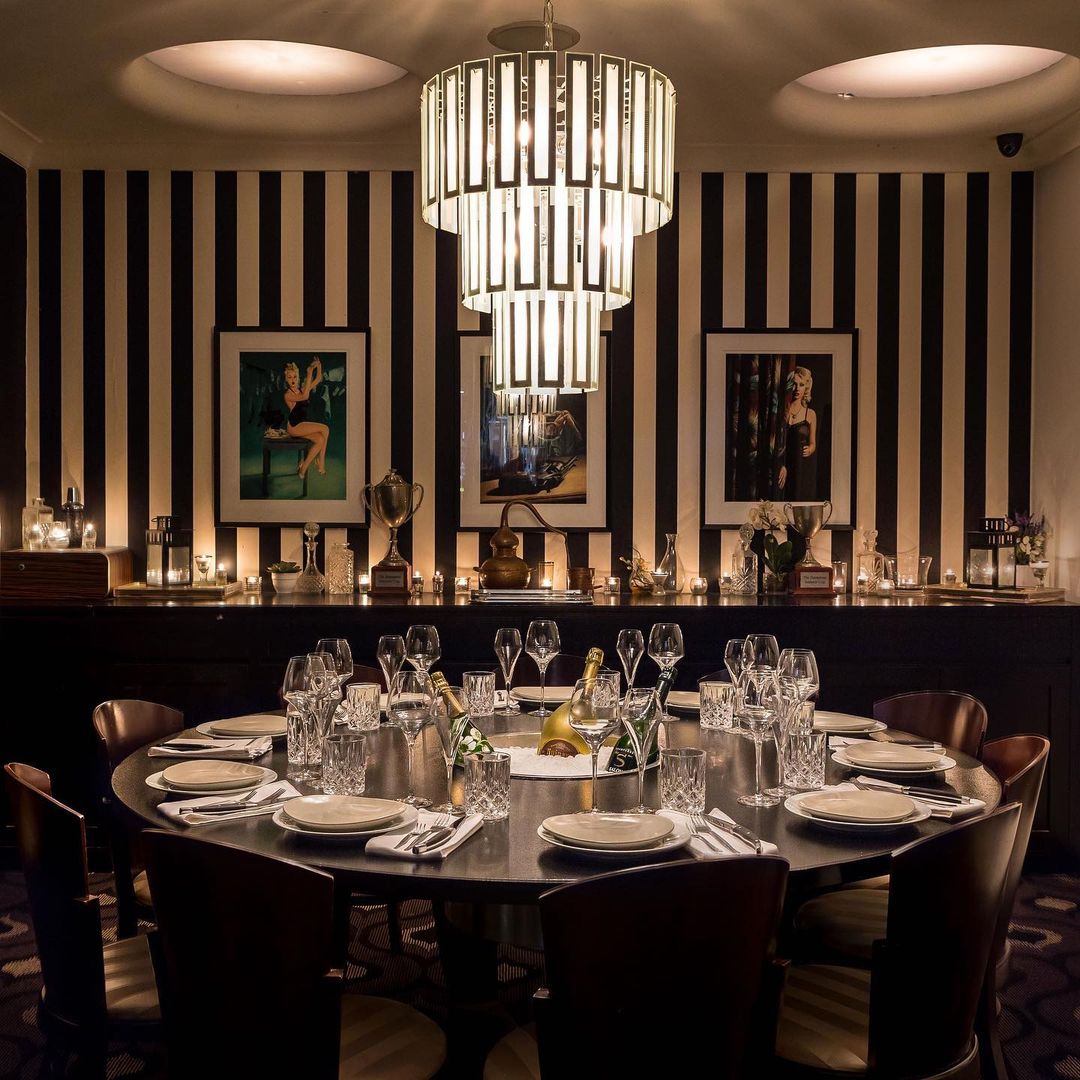 Prohibition relics drip all over The Roosevelt, which even has a secret back room with a poker table which they use for whiskey masterclasses. Primarily a cocktail bar, the long-standing Potts Point favourite has a seemingly endless stock of all types of spirits, and seeing as they lean heavily into an age when alcohol was a profitable trade for gangsters, whiskey is of course one of the key staples. You have the choice of fine wines, theatrical cocktails and lavish bar snacks, or a simple dram enjoyed in a secluded corner – the beauty of The Roosevelt is that the atmosphere is adaptable to all types of drinkers.
Address: Ground Floor/32 Orwell St, Potts Point
Contact: 0423 203 119
Opening Hours: Tuesday – Thursday (5 PM – 12 AM); Friday – Saturday (3 PM – 12 AM); Sunday (12 PM – 10 PM)
---
Eau Di Vie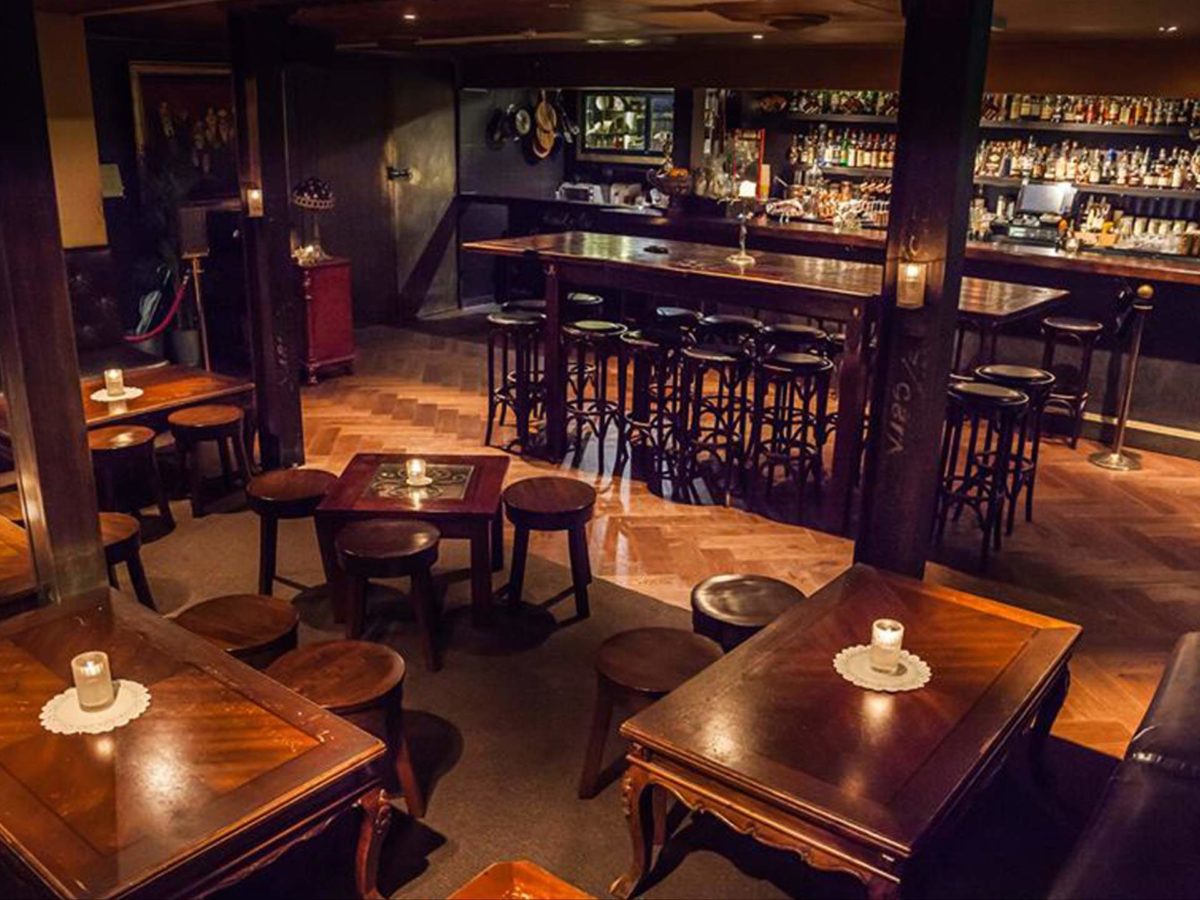 Consider this one a place holder. The multi-award-winning Eau De Vie had been standing at the back of Darlinghurst's Kirkton Hotel for years. But recently the cocktail and whiskey bar moved out and announced it wasn't renewing its list. With plans of relocating to a new venue sometime this year, we're anxiously waiting to see what this group has in store for Eau Die Vie Sydney 2.0.

We will of course update this listening once Eau de Vie opens their new Sydney bar.
---
Nodaya Dining Bar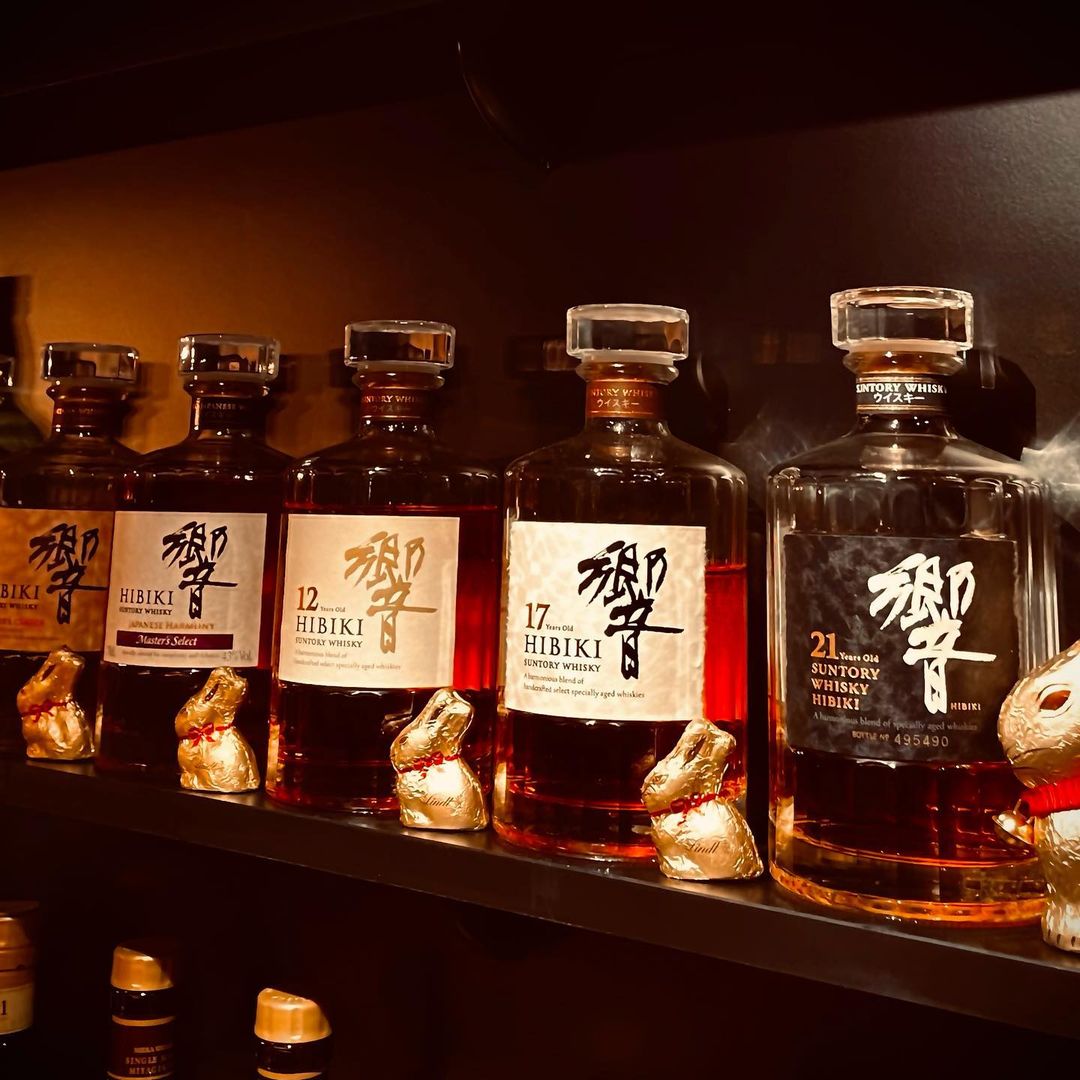 As the newest entrant on this list, Nodaya Dining Bar has brought the gift of Japanese Whisky to Pyrmont. It specialises in the highly sought category of whisky, with close to 60 carefully selected varieties from big names and lesser known labels. You can expect drams from Suntory, Nikka, Chichibu, Helios and more, served alongside food from renowned Japanese chef Raita Noda, who is cooking up the likes of Cajun-spiced soft shell crab tacos and crisped breads filled with wagyu curry.
Raita's older brother, Hiro, owns the bar and apparently spends much of his time on auction sites trying to score some rare Japanese whiskies. So it's always worth checking in regularly to see what he's scored.
---
---
Address: Shop 1/16-30 Bunn Street, Pyrmont
Opening Hours: Wednesday – Saturday (7 PM – 12 AM); Sunday (6 PM – 11 PM)
---
Shirt Bar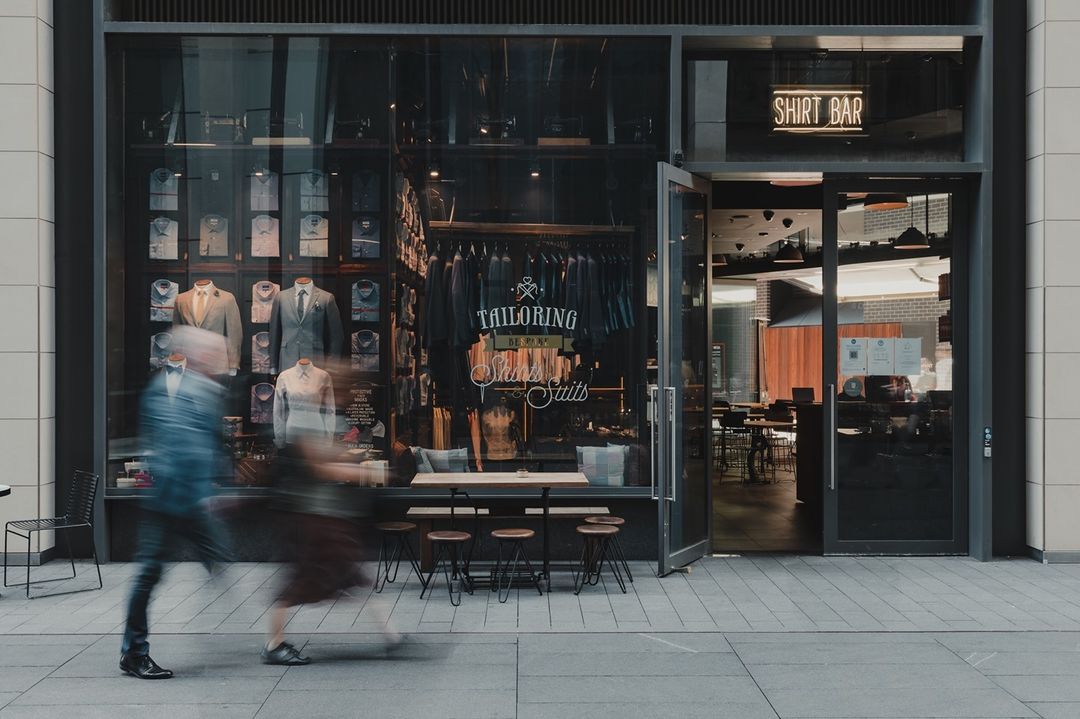 What do you call a cocktail and whiskey bar where you can also get some man-to-measure menswear? Heaven on earth, obviously. Or rather heaven amongst the corporate cave that is Barangaroo, with Shirt Bar doing its gentlemanly best to stand out amongst the precinct's many restaurants and the nearby Crown Sydney. Knock back a few drams with some mates and get a suit tailored before heading along to some of the best new restaurants in Sydney.
Address: shop 7b/100 Barangaroo Ave, Barangaroo
Contact: (02) 9299 5958
Opening Hours: Monday – Tuesday (8 AM – 4 PM); Wednesday – Thursday (8 AM – 10 PM); Friday (8 AM – 12 PM)
---
Think you've got a better whiskey collection at home? Make sure you're across the best whisky glasses on the market.
---
What is the best whisky bar in Sydney?

The Wild Rover, The Baxter Inn, and Tokyo Bird are considered the best whisky bars in Sydney.

What is the best bar for Japanese whisky in Sydney?

If Japanese whisky is what you're after, you're going to want to be checking out Tokyo Bird, Nodaya Dining Bar, and Bancho.

What is the best whisky bar in Sydney CBD?

The closest whisky bar to Sydney CBD would be The Baxter Inn.