Founded in 1765, and represented in more than 120 countries, Hennessy is the absolute leader in the cognac category; it is regarded as a luxury icon and synonymous with the French art de vivre lifestyle.
Last week we were lucky enough to be taken on a guided journey of the world's most famous Cognac Maison. Held at Sydney's Zeta Bar, the afternoon was hosted by special guest, Mr. Olivier Paultes – Director of the Distilleries at Maison Hennessy.
Olivier is a Hennessy thoroughbred. Born in Cognac, he was once the youngest Master Blender, like his grandfather and great-grandfather before him. The Hennessy making process is indeed very much a family affair, with its 250-year-history being a tale of just two families: the Hennessy family, who pass on their business spirit and vision, and the Fillioux family, who hand down their expertise in the creation of cognac – a partnership that has now transcended the centuries and which Hennessy claims ensures the consistency of its product.
---
---
Olivier is also a member of The Comité de Dégustation (Tasting Committee) of Hennessy. I am told that when you are from Cognac, your dream is to join this prestigious committee. Unique in the Cognac world, the tasting committee meet every day at 11am to evaluate 50 eaux de vie per day and then assemble them to create Hennessy cognacs. Each member also occupies a very specific role in the overall Hennessy creation chain, such as distillery (Olivier's niche), barrel making, ageing, blending and wine grower relationship management.
Now, while the history of the Hennessy brand is undeniably interesting, when the opportunity arose to sit down with Olivier at the Zeta Bar, I admittedly had another agenda: As many of you would know, as well as its relationship with French art de vivre lifestyle, Hennessy has also become synonymous with American hip-hop culture. Vinepair tells us that Hennessy or cognac is mentioned in over 1,000 songs by such famed artists as Notorious BIG, 2Pac, Kanye, Rick Ross, Nas, Dre Dre and 50 cent. In 1992 2Pac even had an entire song dedicated to, and entitled, "Hennessy". More recently, Drake referenced the beverage in his 2016 hit, "One Dance".
So when I got the chance to sit down with Olivier, a 7th generation distiller and a gentleman in every sense of the word, I couldn't help but ask if he was aware of Hennessy's significance in hip-hop culture:
"Yeh, yeh, yeh." Olivier says smiling, confirming that he is very much in the know. "I met a lot of them, a lot of musicians, a lot of rappers, for example Nas."
"You met Nas?!" I reply, half surprised, half jealous.
"Yes, I have a picture, do you want to see?" Olivier asks, pulling out his phone. He continues his story whilst searching for the picture. Olivier explains that he and Nas were tasting together when he asked Nas to try and make his own Hennessy blend. Nas agreed, but soon returned to ask Olivier for help.
"He said it is impossible for him, and that he thinks he will have to stick to music," Olivier laughs.
---
---
"Its very difficult," Olivier says in regards to the Hennessy making process.
"It's not good just because you have good ingredients. It's like when you cook, you have a very good oyster, and very good chocolate, you blend them together and it's not good. It's also similar to music in that way, you need to know what sounds go together. You need experience."
This experience, Olivier explains, is gained through an almost monastic commitment. Olivier tells me that two younger Hennessy workers joined the the tasting committee last year, however, these newcomers are not allowed speak for ten years, they may only listen to the people of the tasting committee.
"Found it," he says, before passing me his phone to show me the photo featured below. Sure enough, there is Olivier with the Illmatic rapper, who is holding his signature blend. It's a fascinating photo, and certainly not one I expected him to have in his camera roll. Olivier circles back to this meeting.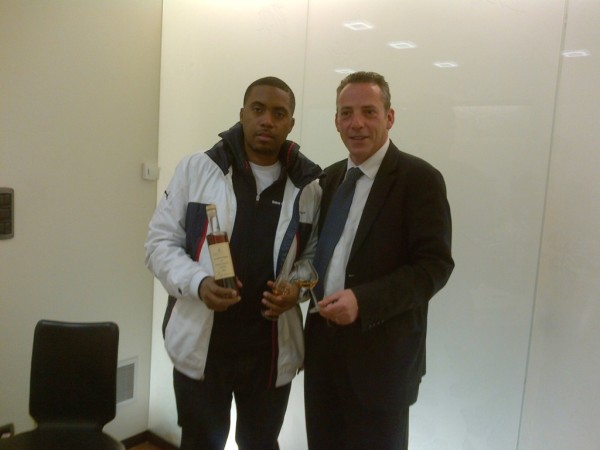 "It's funny, when you discuss with the rappers, on why they like Hennessy you want to understand. He (Nas) said that he drank Hennessy because his grandfather and father used to drink VS Hennessy."
"In a way I think they (rappers) also drink it for energy, it is suitable for music because it has a lot of energy."
I must agree with Olivier, it is funny to see two people from such contrasting worlds, bonding over the same passion. However, the two are similar in how their love for Hennessy has been passed down to them through the generations. This is a tradition that is set to continue as last year 7th generation Master Blender Yann Fillioux passed on the keys to the cellar to his nephew, Renaud Fillioux.
It would seem then that the Fillioux family will continue to make Hennessy for some time yet, meaning that the hip-hop culture may continue to enjoy it, and this unlikely bond between the two cultures will carry on.
---
---