We're big fans of a dram here at Boss Hunting, so when, in the lead up to World Whisky Day we were invited to a masterclass to try the Craigellachie 31 year old, a whisky recently awarded the 'Best Whisky in the World', it was a hard offer to turn down.
To give you some background on Craigellachie, the distillery has long had a reputation in Scotland as the 'bad boy' of Speyside since it was founded in 1891, producing full, belligerent, and sulphurous single malts that were used to add some punch to the blended whiskies around Scotland.
In 2015, Bacardi owned parent company Dewar's decided for the first time to release the first ever Craigellachie single malts as part of their last Great Malts of Scotland, and to say they've been a hit has been an understatement.
---
---
We were lucky enough to try the entire Craigellachie range at Dewar's Scotch Egg Club, starting with the 13 year old, moving our way through the 17 and 23 year olds, and finishing with the whisky that was recently awarded the best whisky in the world, the Craigellachie 31 year old – which retails at more than $3,000 a bottle (if you can find it).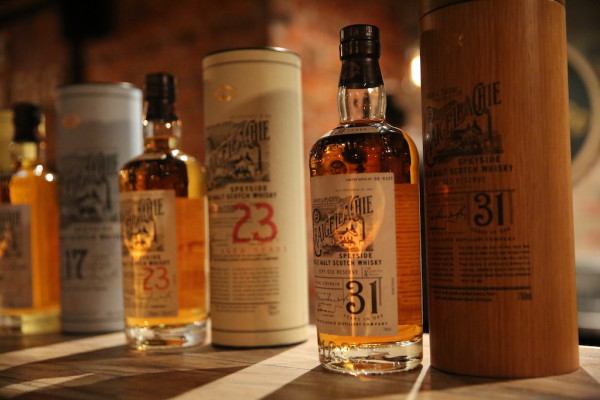 The 13 and 17 year olds retail for $99 and $175 respectively and are much lauded in their own right, although both were a little sulphurous for my palate they represent unique tasting notes and very much live up to the 'bad boy' moniker that Craigellachie has earned over the years – definitely worth a look if you are into your 'bigger' whiskies and enjoy a deep burn (particularly the 13).
The 23 year old was a lot different to the previous two and a big step up in price at $750 a bottle. Far more subtle on the nose with a strong orchard fruit presence but still oily and industrial, the real party comes on the palate with orchard fruits coming to the fore alongside honey, ash, and pepper which, combined with a wonderful texture, makes this my pick of the bunch.
On that note, I'm far too much of a whisky neophyte to appreciate the 31 year old and to be honest almost felt bad that I was given the opportunity to taste such a highly acclaimed dram. You're immediately aware that this a much more refined single malt than the previous three whiskies I'd tried, but the strongest flavours to come out were blackcurrant and cherry, followed by a pepper and plum after notes. Our host and some of the other guests (with far more refined palates than myself) were able to pick out dozens more flavours as well, and combined with the incredible texture I can begin to understand why this is a go to whisky for any aficionado.
After our tasting we were fed Scotch Eggs put together by ACME's Mitch Orr who designed the menu at Dewar's Scotch Egg Club which were a very apt way to wash down some fantastic whiskies.
Dewar's Scotch Egg Club is a pop up running through the end of May to help showcase the Dewar's stable of Scotch whiskies including everything I've just spoken about above. If you want to be amongst just a few people in the world to have tried the 31 year old, be prepared to shell out – a nip costs $310, but even if that's a little above your budget, it's a great way to try some very unique whisky's and we highly recommend heading down before the pop up ends.
Address: Laneway between 152 – 156 Clarence St, Sydney
Date: 3rd May – 27th May (open Wednesdays – Saturdays nights)
Cost: General admission is free with a complimentary sample of Dewar's 12-year-old on arrival. No bookings required
Whisky Masterclass: $30 pp (plus booking fee), tickets can be purchased here