There comes a time during every man's life – often in his mid-twenties – when he's more than happy to trade the weekend shot glass for whisky glasses (or 'whiskey' glasses depending on your dram); perhaps to accompany the appreciation of his growing record collection.
The desire to break into the high-brow world of whisky drinking is a great one, no question; but if you're serious about getting the most out of your proverbial single malt, then spending some time thinking about the appropriate drinking vessel is more or less non-negotiable.
Before long, you'll be pouring drams in the company of like-minded friends, sharing thoughts on the colour, aroma and maturity of the amber liquid with more and more insight after every sip. To do this, however, you'll need a selection of the best whisky glasses on the market. And while you're certainly free to drink whisky however the hell you please, we've made a few inclusions in our latest Buyer's Guide below that will really take your enjoyment to the next level.

Of course, you'll need to be across the best Australian whiskies available in the country before you even start to think about pouring that dram.
RELATED: An Easy Glossary Of Whisk(e)y Terms Every Man Should Know
---
Table of Contents
---
The 13 Best Scotch & Whisky Glasses On The Market Right Now
Glencairn Crystal Whisky Glass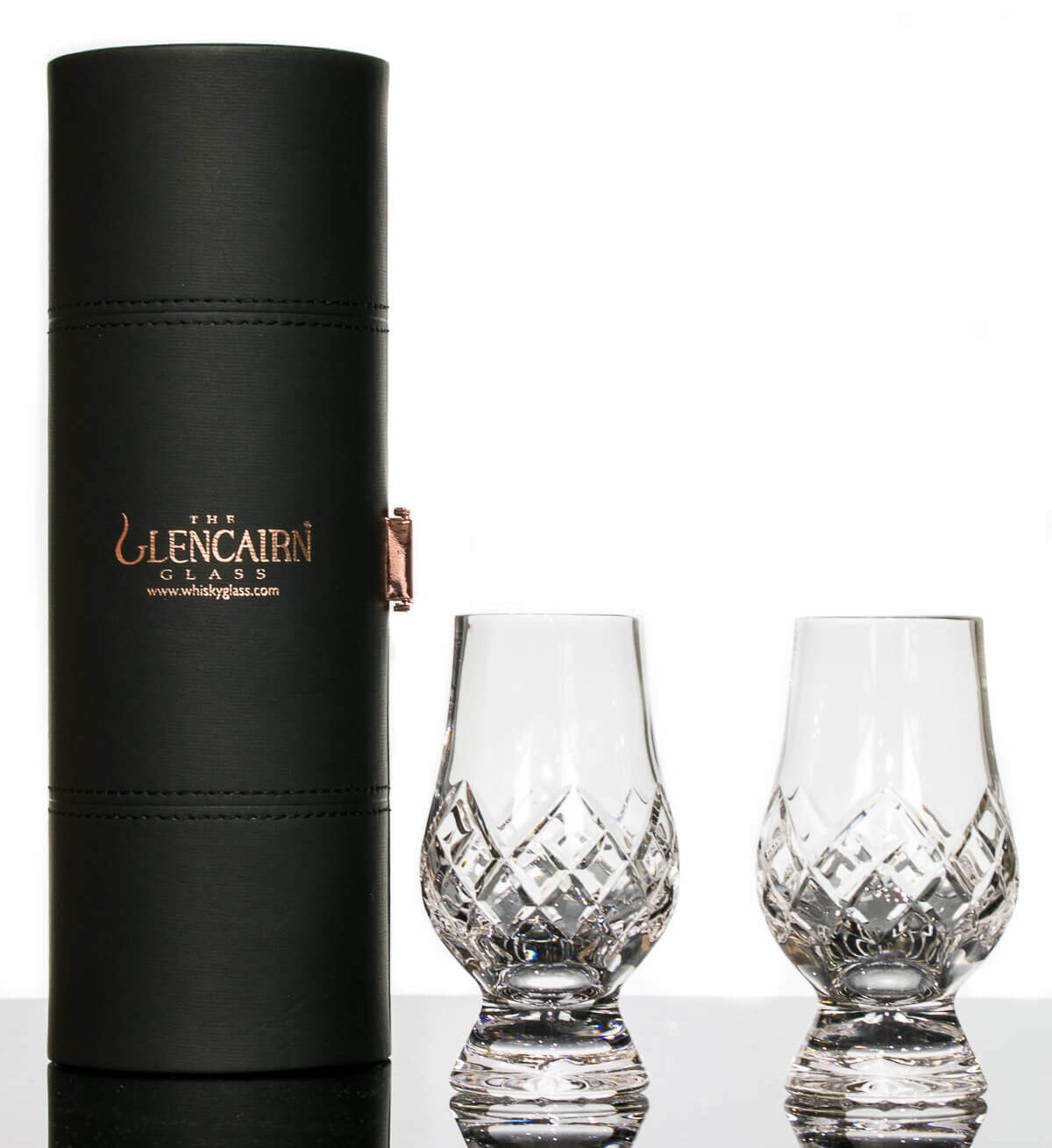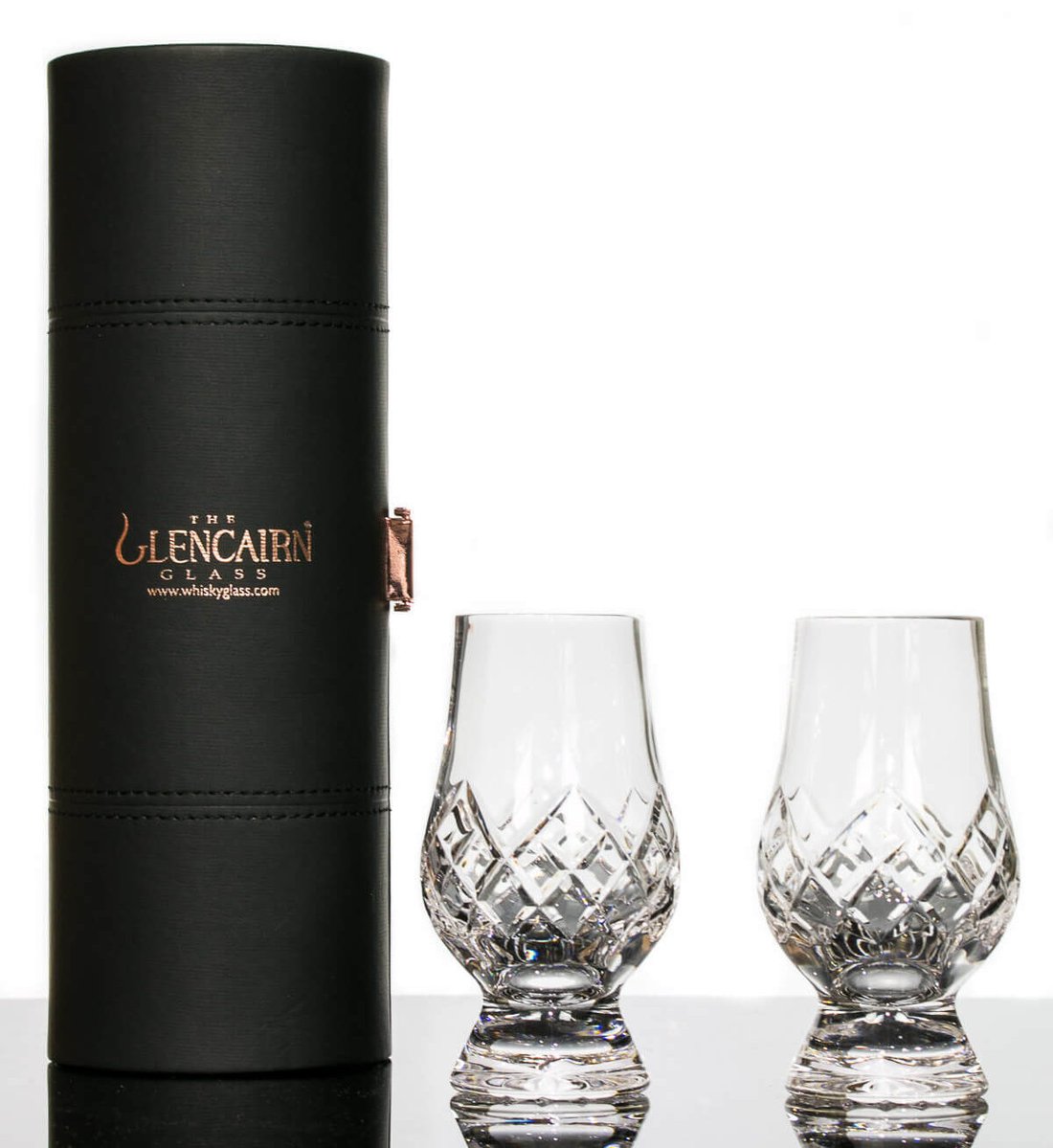 Glencairn set the standard for premium crystal glasses and now, the design is synonymous with its namesake and reigns true across multiple manufacturers. With a thick-cut "tartan" or "hatch" design and tapered mouth, they'll make those delicate nose elements easy to experience than a standard short glass.
Iconic design with classic hatch cut pattern
Thicker glass for a more substantial feel in the hand
Arrived in a set of two so you can enjoy a dram with company
Expensive, with other less ornate Glencairn-style glasses more affordable
---
Everest Whiskey Glass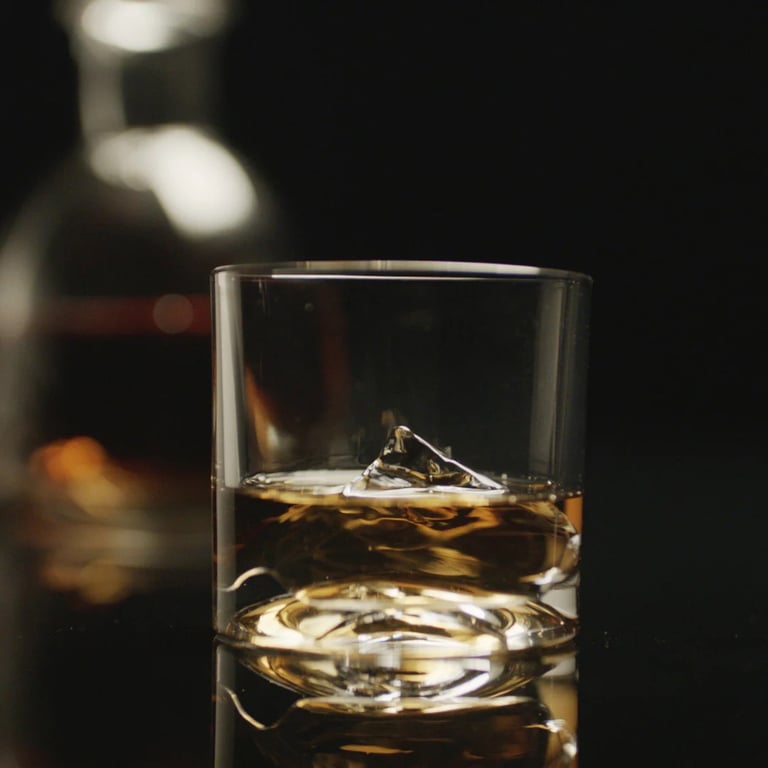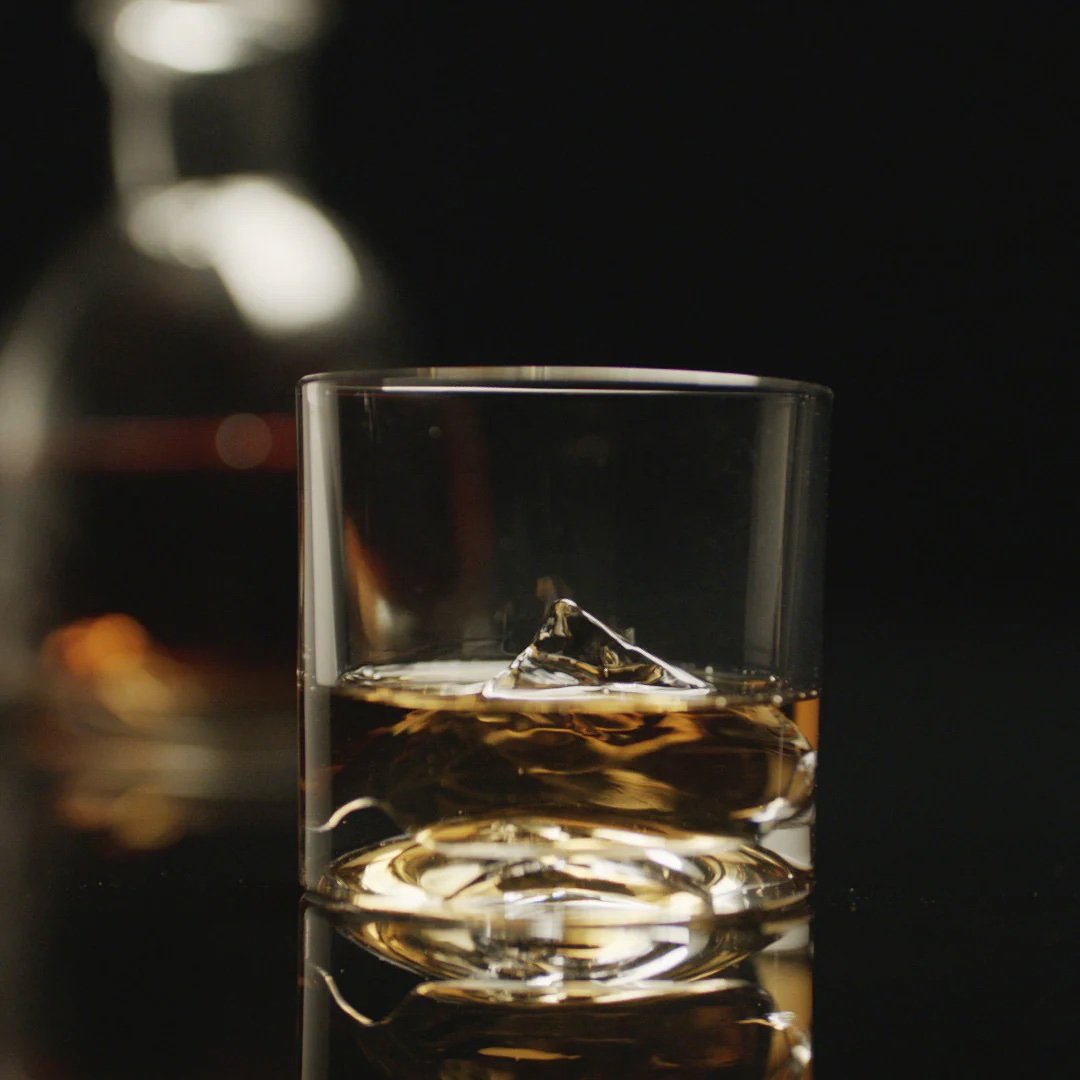 The Everest whiskey glass is no novelty — this meticulously crafted drinkware boasts a 3D scale replica of the highest peak in the world, Mount Everest. Make no mistake: this is a bold design detail that's sure to be a strong talking point at your next whisky-themed get-together.
Chill Charge Exchange System to cool your whiskey in 18 seconds
100% lead free crystalline glass
More durable than other crystal tumblers
Less traditional if you're a Scotch purist
---
Denver & Liely Whisky Glass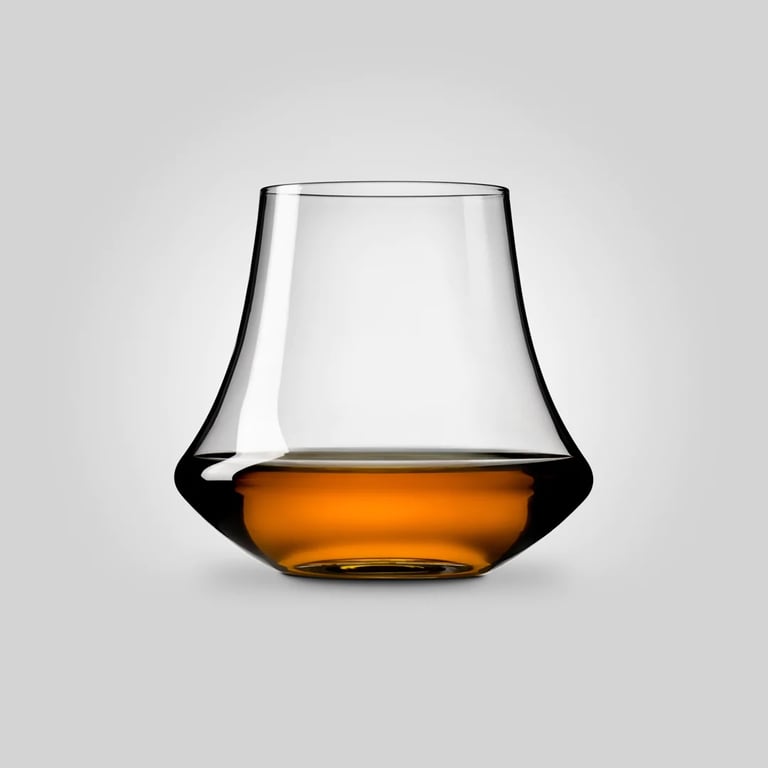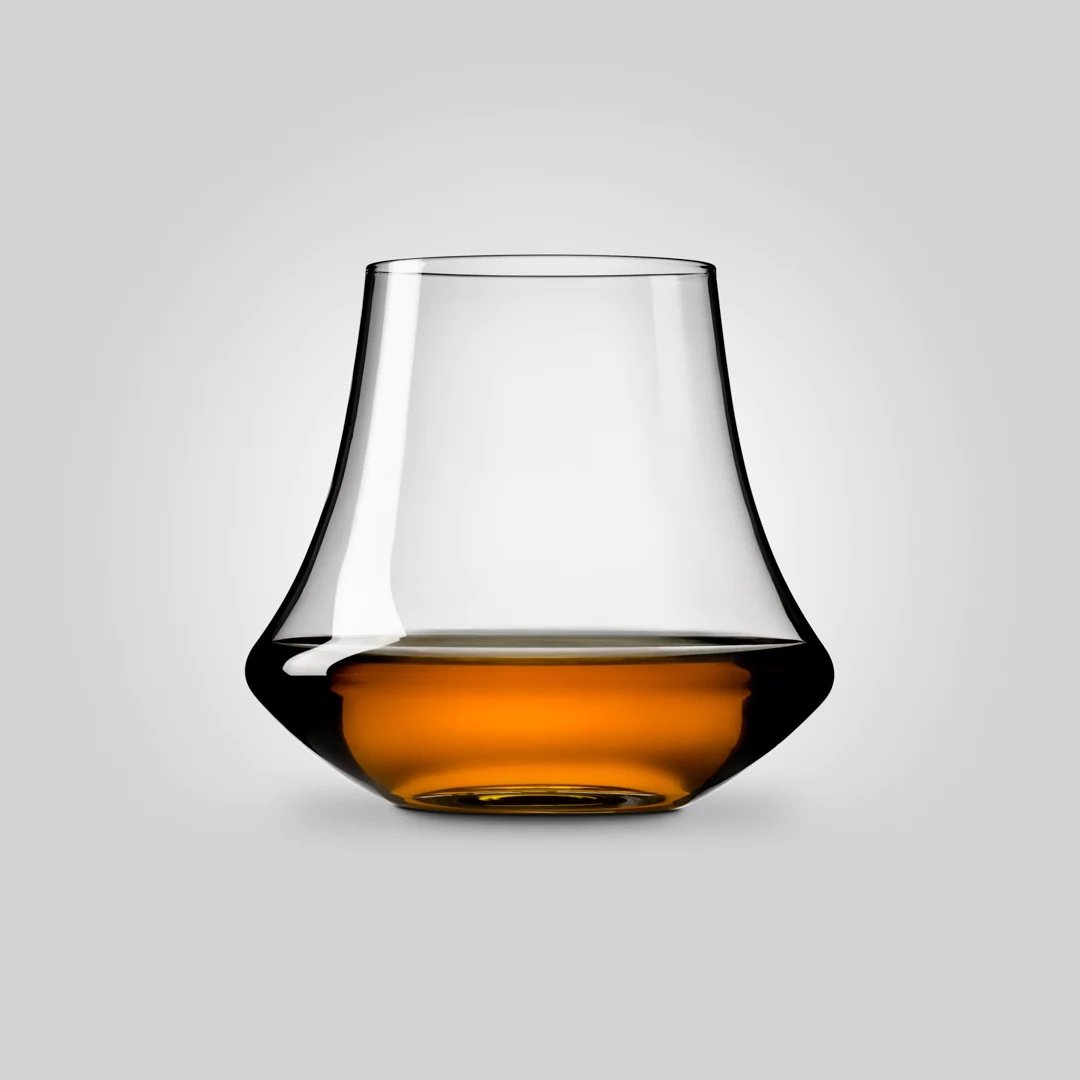 Rated the number one whisky glass by Forbes, the Denver & Liely vessel has been self-titled as "the best possible, highest performance whisky glass in the world." They also do a dedicated bourbon whiskey glass which shows the brand's dedication to delivering both a unique malt and corn experience. With top-notch customer service from an Australian brand, Denver & Liely are worth supporting.
Highly rated by critics everywhere
Australian made
Hand-blown, hand-cut and hand-polished lead-free crystal
A relatively high price to pay for a single glass
---
Norlan Whisky Glass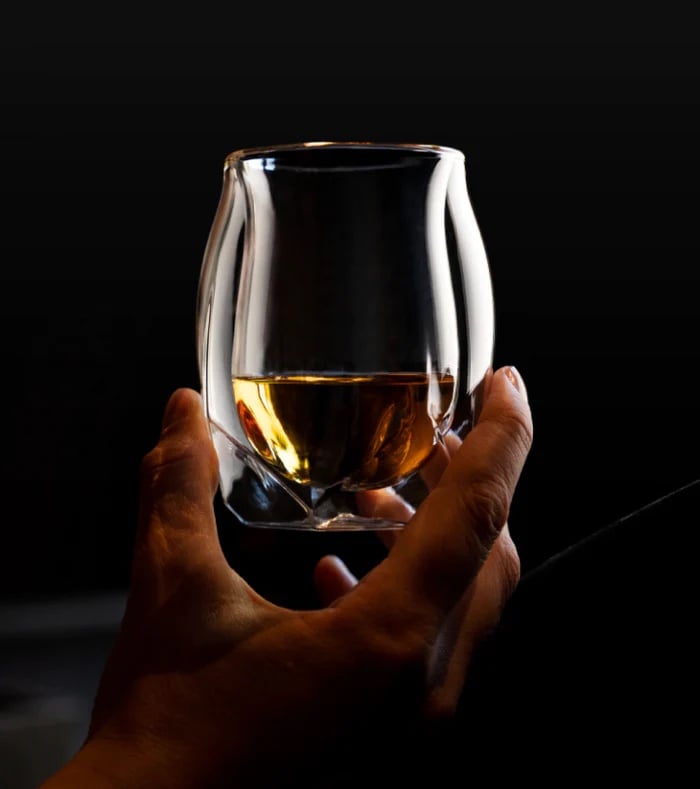 The Norlan whisky glass is one of the best in the business. Made using a hand-blown, double-walled borosilicate construction; the design is unapologetically modern.
The hand-blown double-walled borosilicate glass embraces a modern design and a concave outer rim fits the lower lip of the mouth perfectly. As a bonus: Cape Byron master distiller Jim McEwan consulted on the glass's shape and final design.
Double walled design to amplify complexity on the nose
Design input from legendary master distiller Jim McEwan
More than 500,000 sold since launch
Lightweight feeling in the hand if you're used to solid-bottom crystal
---
Malt + Brew Whisky Wave Glass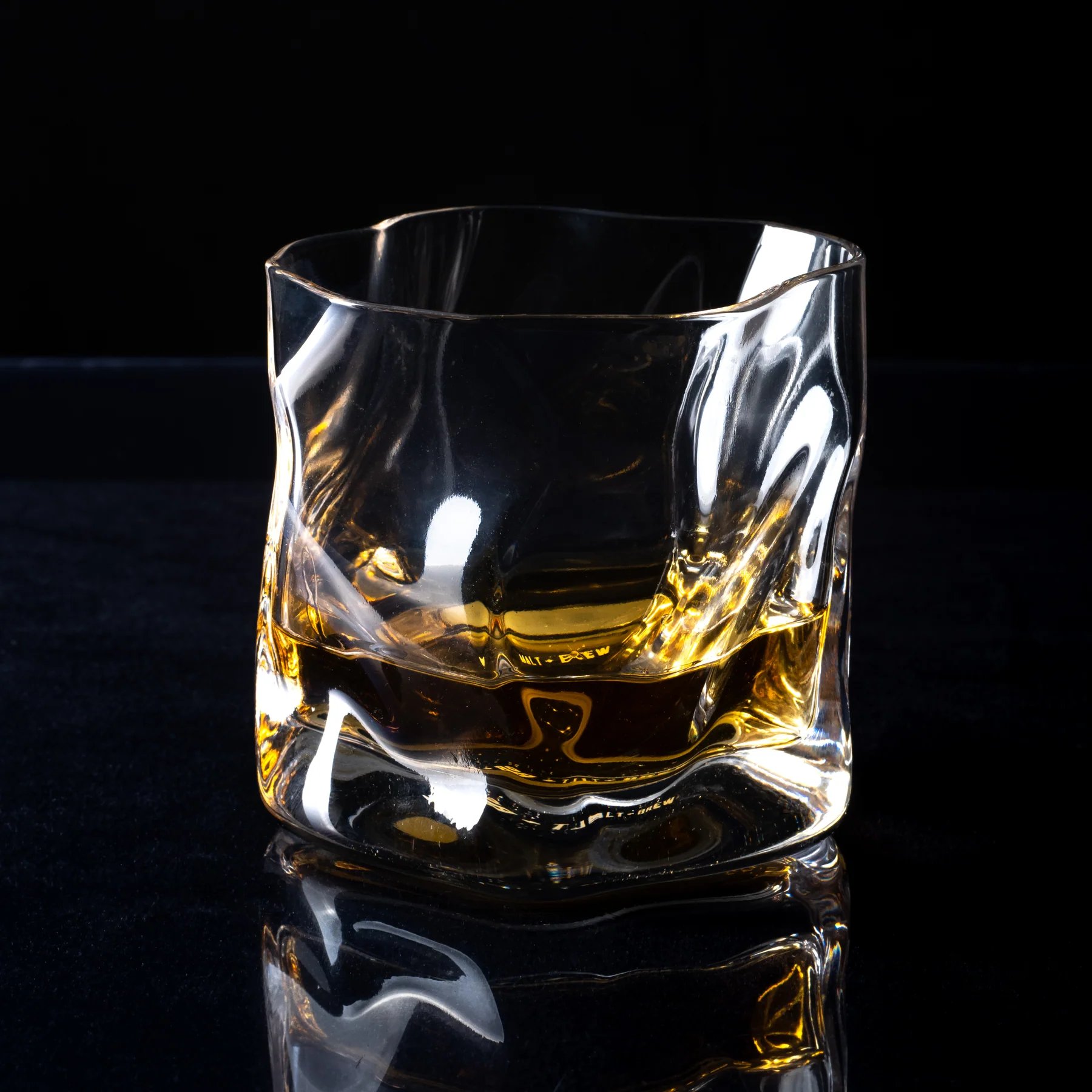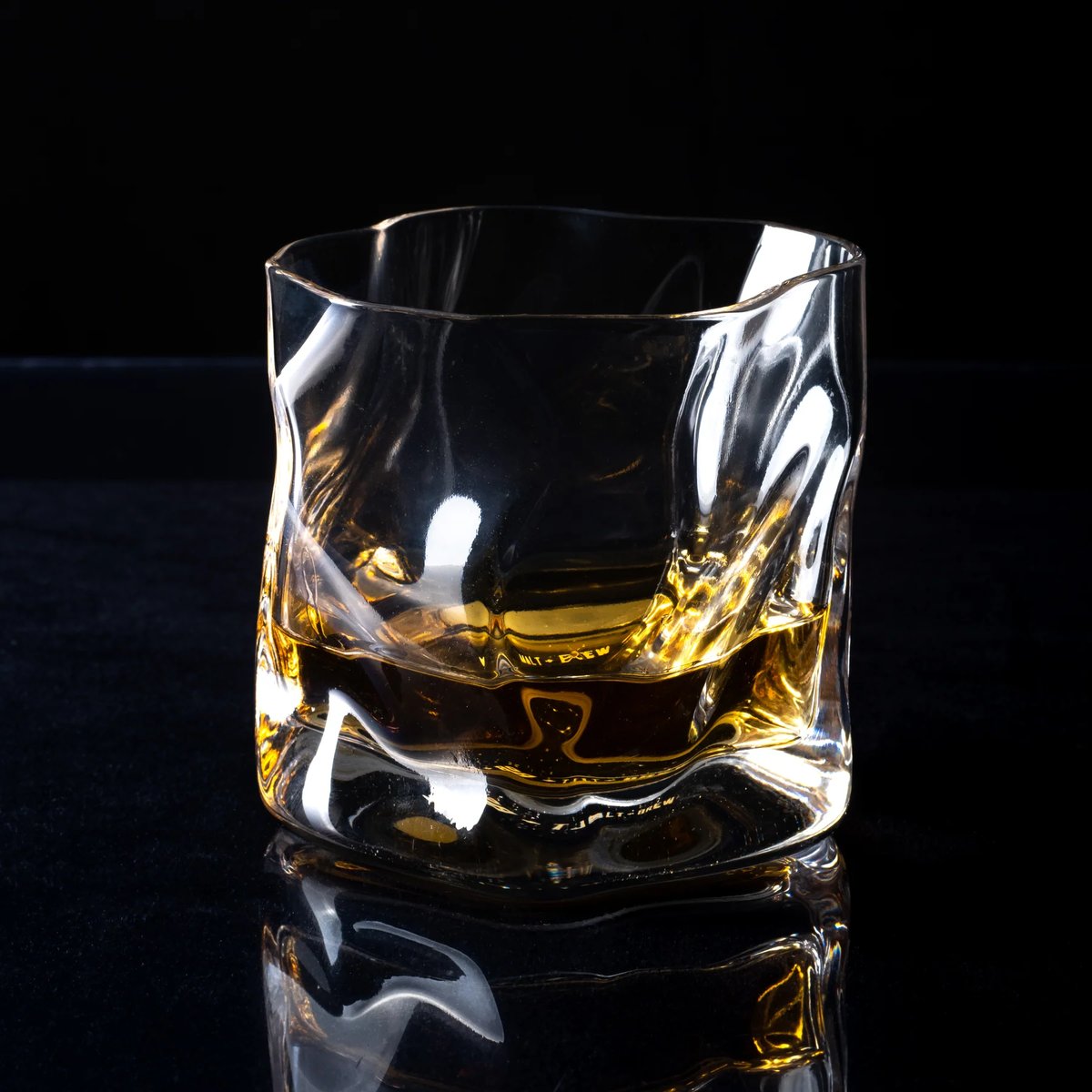 Malt + Brew is a family-owned business from Melbourne that is inspired by the world of Japanese aesthetics when it comes to its beautiful, sculptural whisky glasses. The range is wide and takes in many different styles, but these 'Wave' numbers are a particularly unique bestseller.
Melbourne designed
Hand blown
Ergonomically designed to fit into your hand
Natural imperfections from the hand blowing process might turn off perfectionists
---
Waterford Elegance Wine Story Single Malt Glass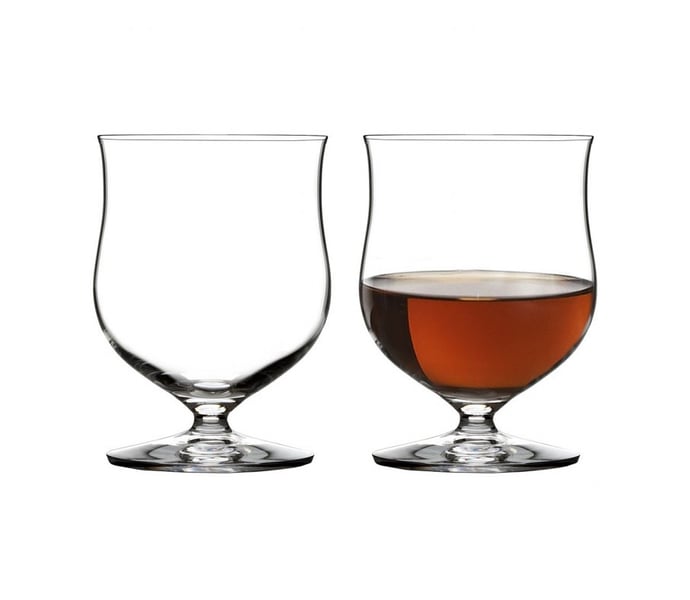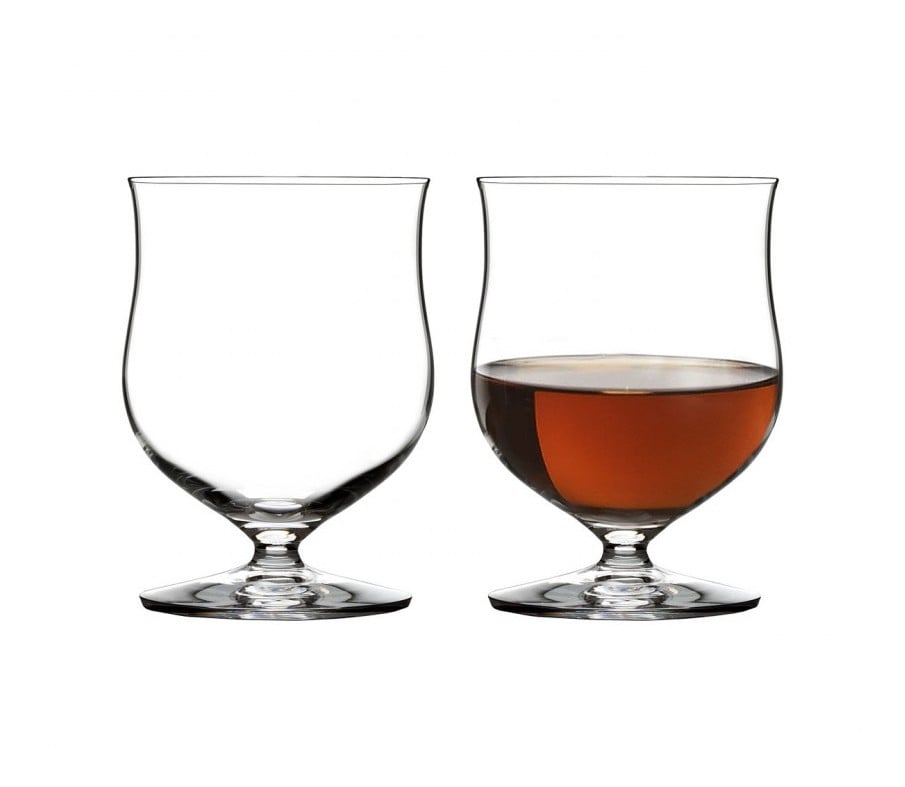 The Waterford Elegance collection's 'Wine Story' single malt glasses are just what the doctor ordered when you're pouring a rare dram from the top of your backbar.
These are uniquely designed to bring out the best of a finely distilled and full-flavoured whisky, with a slightly vinous aesthetic (reminiscent of a squashed-down port glass) thanks to the truncated stem.
Crisp rim to sip from
Lead free crystal
Renown Waterford quality
The short stem won't be to everyone's taste
---
Corkcicle Whiskey Wedge Glass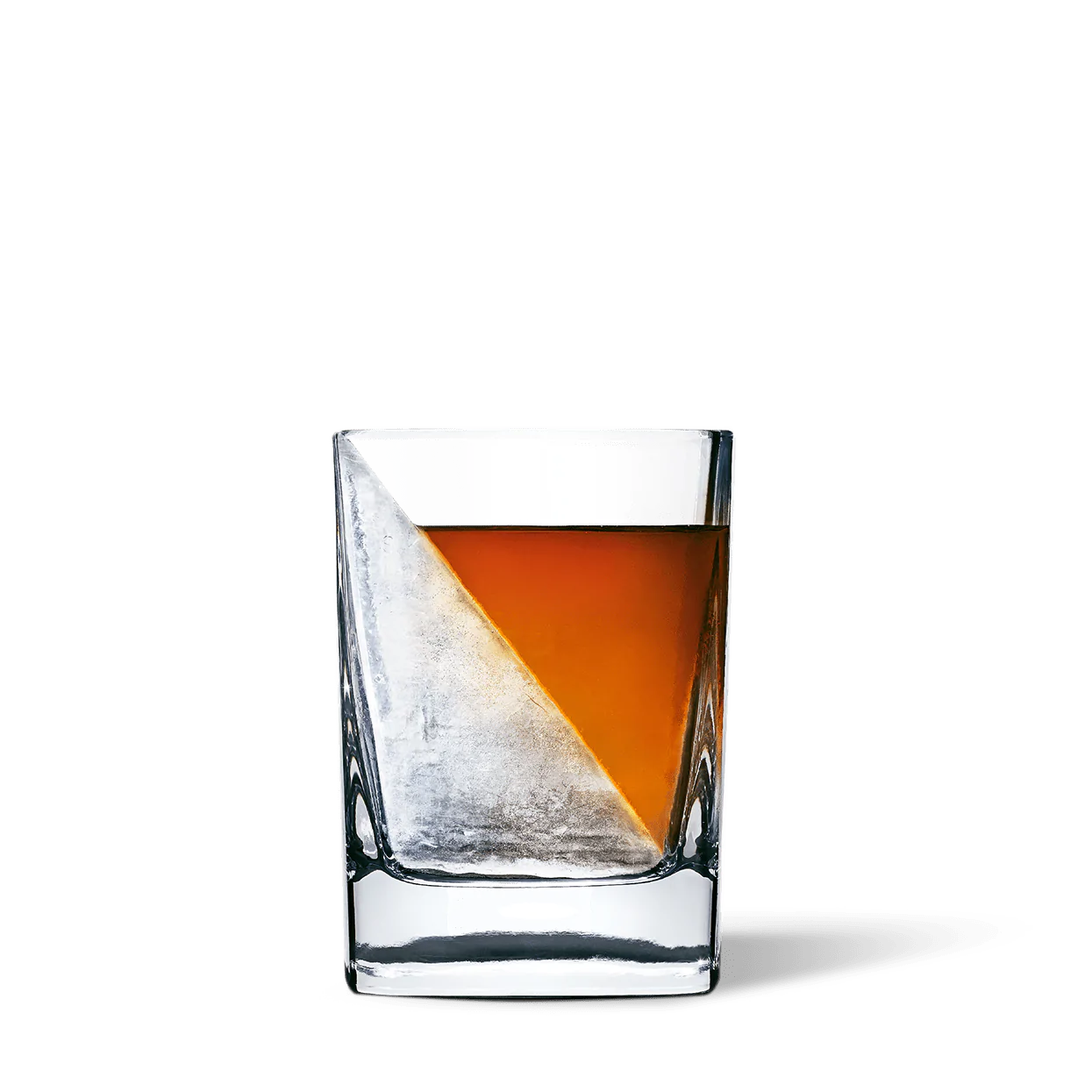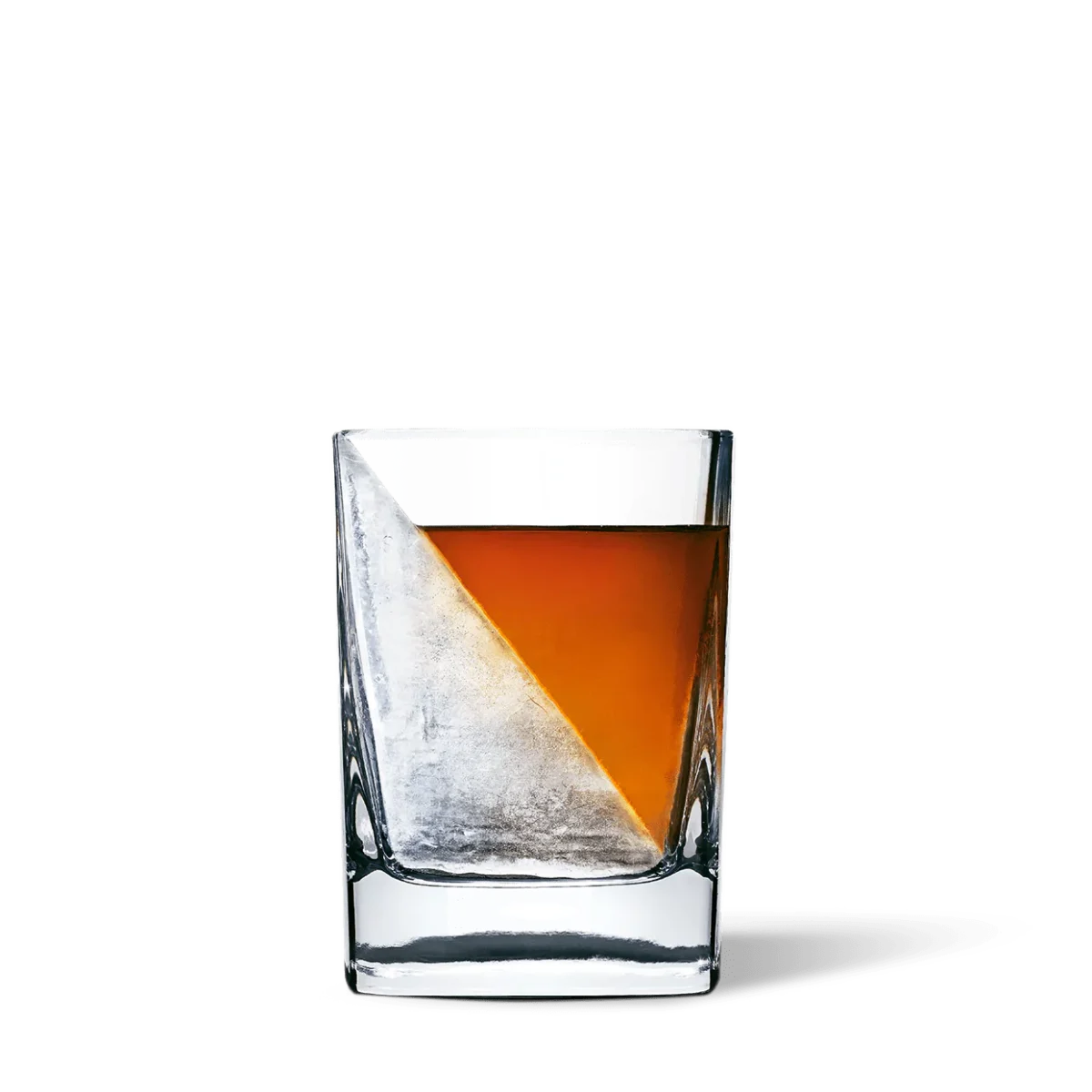 Say goodbye to overly watered-down whisky with this unique take on the whisky glass that captures the best of chilled scotch or bourbon with a strategically designed ice wedge. Lower ice surface area means slower melting, so you won't be drinking punch by the time you get to the bottom of your glass.
Thoughtful solution to a Scotch-lover's problem
Looks great in the hand
Dishwasher Safe
Requires the forethought of freezing the glass to create the ice
---
Norlan Rauk Heavy Tumbler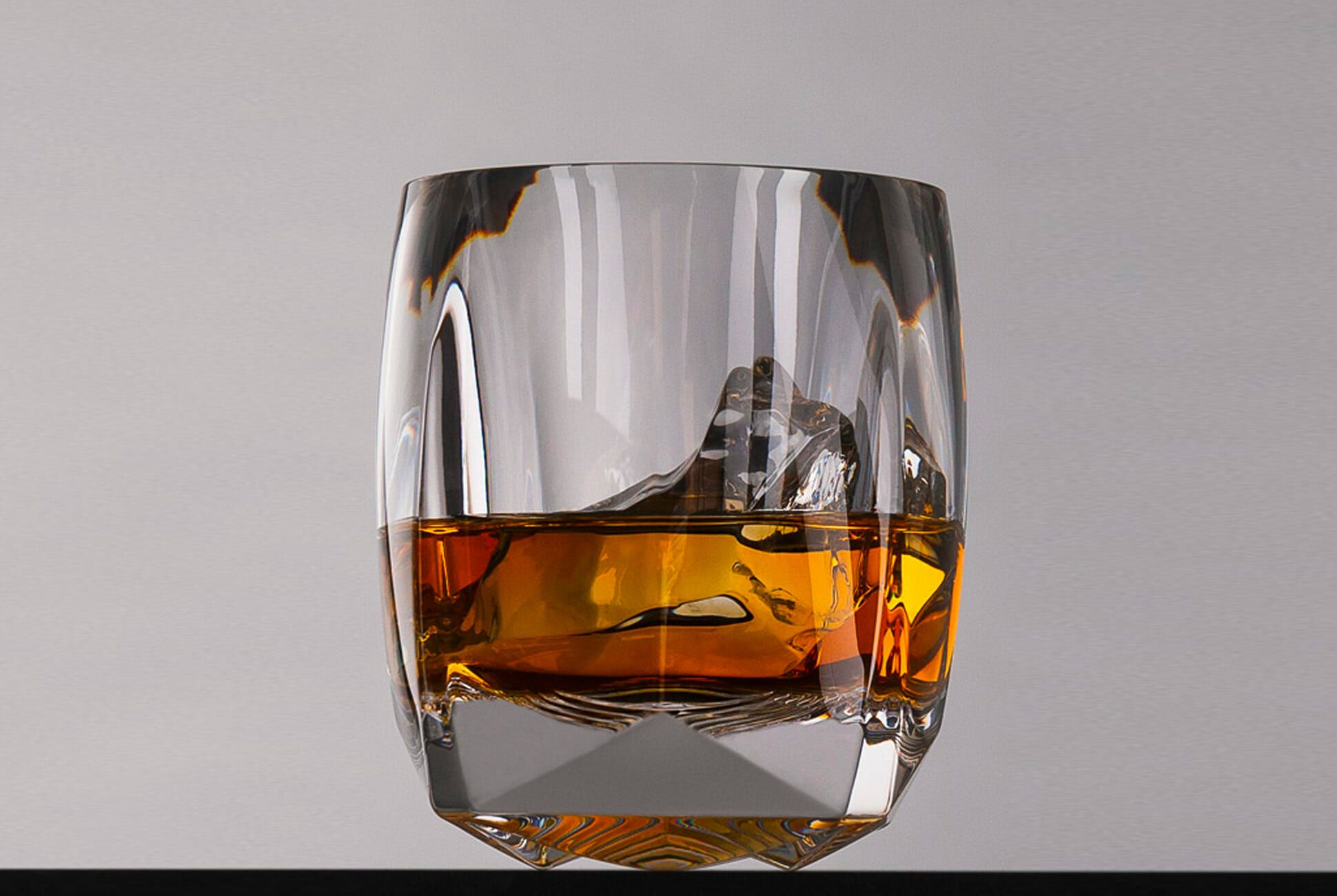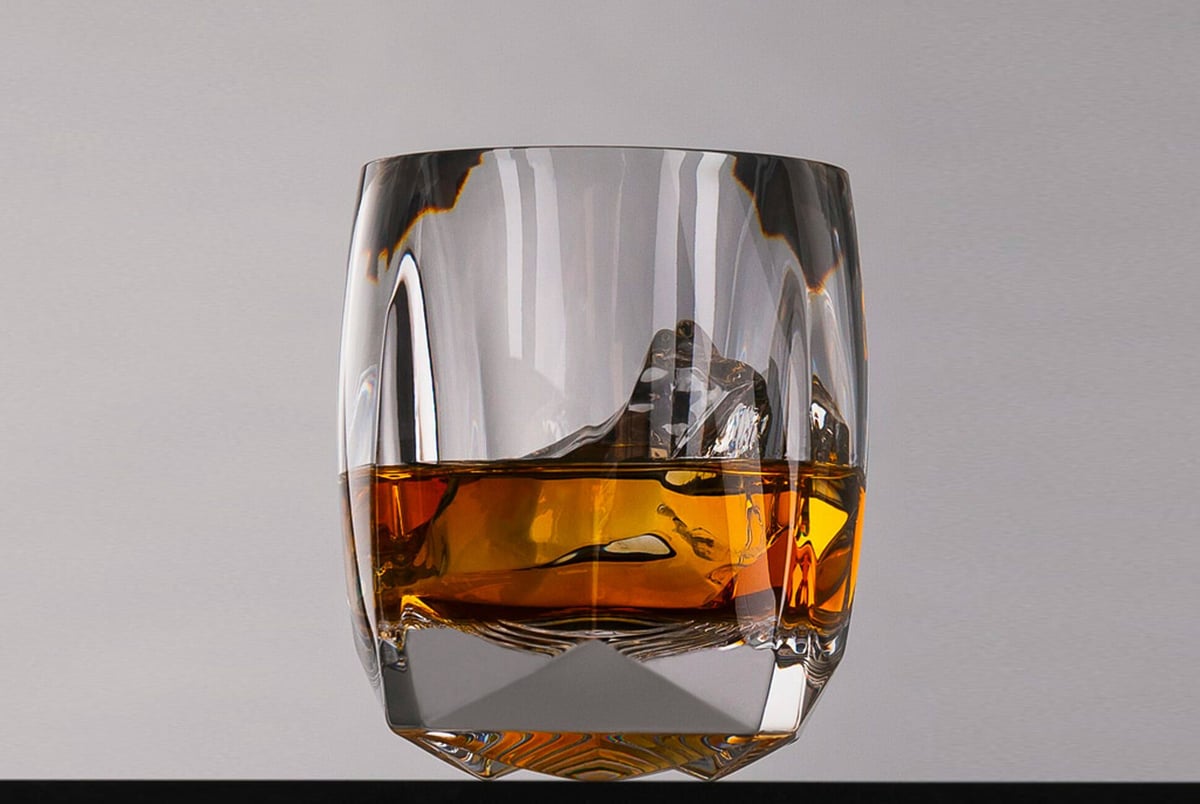 Norlan's Rauk heavy tumbler is seriously heavy in the hand and could stop a charging elephant if used as a projectile. Despite its heft, the design is balanced and articulate, sure to leave your mates asking what it's called and how they can get their own.
Lead free crystal from the Czech Republic
Interesting internal design
Serious presence in the hand at nearly 500g
Quite expensive for a single glass
---
Anchor Hocking Glencairn Crystal Canadian Whisky Glass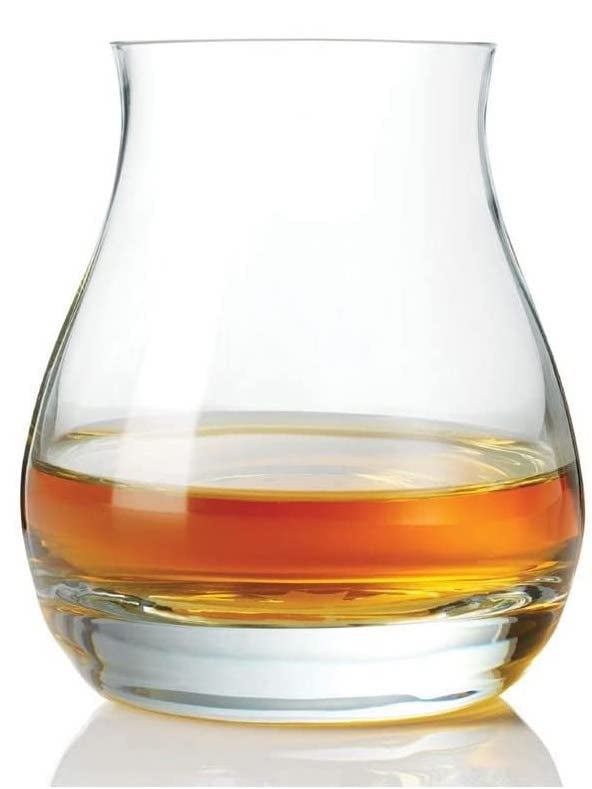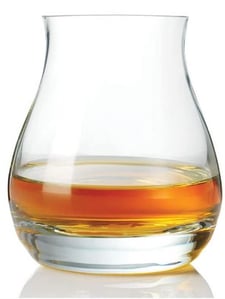 Designed to be enjoyed specifically with Canadian whisky, this hybrid between a neat glass and snifter allows for the fullest appreciation of colour, with a flat bottom providing reliable stability.
Wide design for the fullest appreciation of colo
Tapered opening to amplify scent complexities
Flat stable bottom
Quite expensive for a single glass
---
Viski Seneca Faceted Crystal Tumbler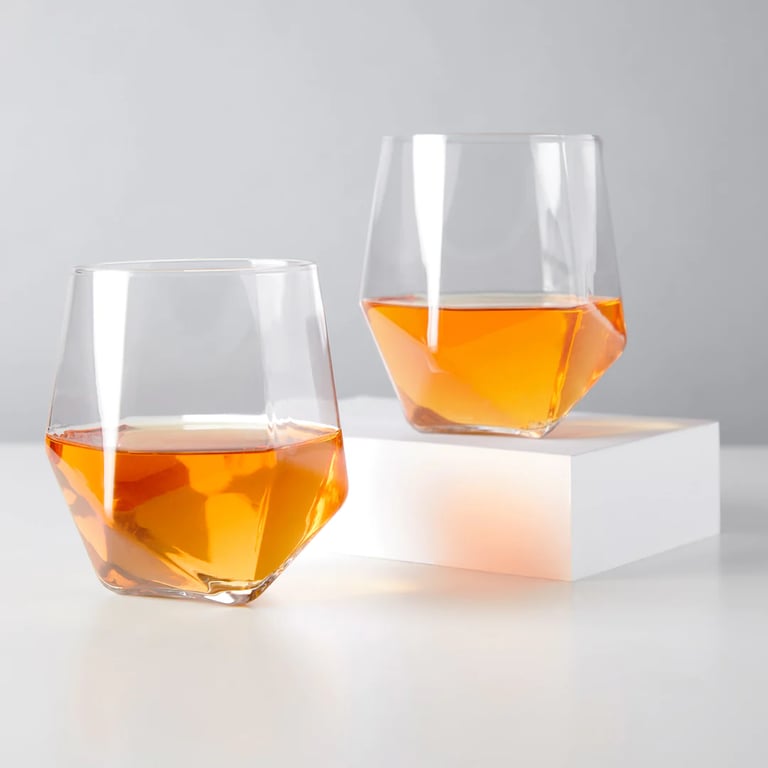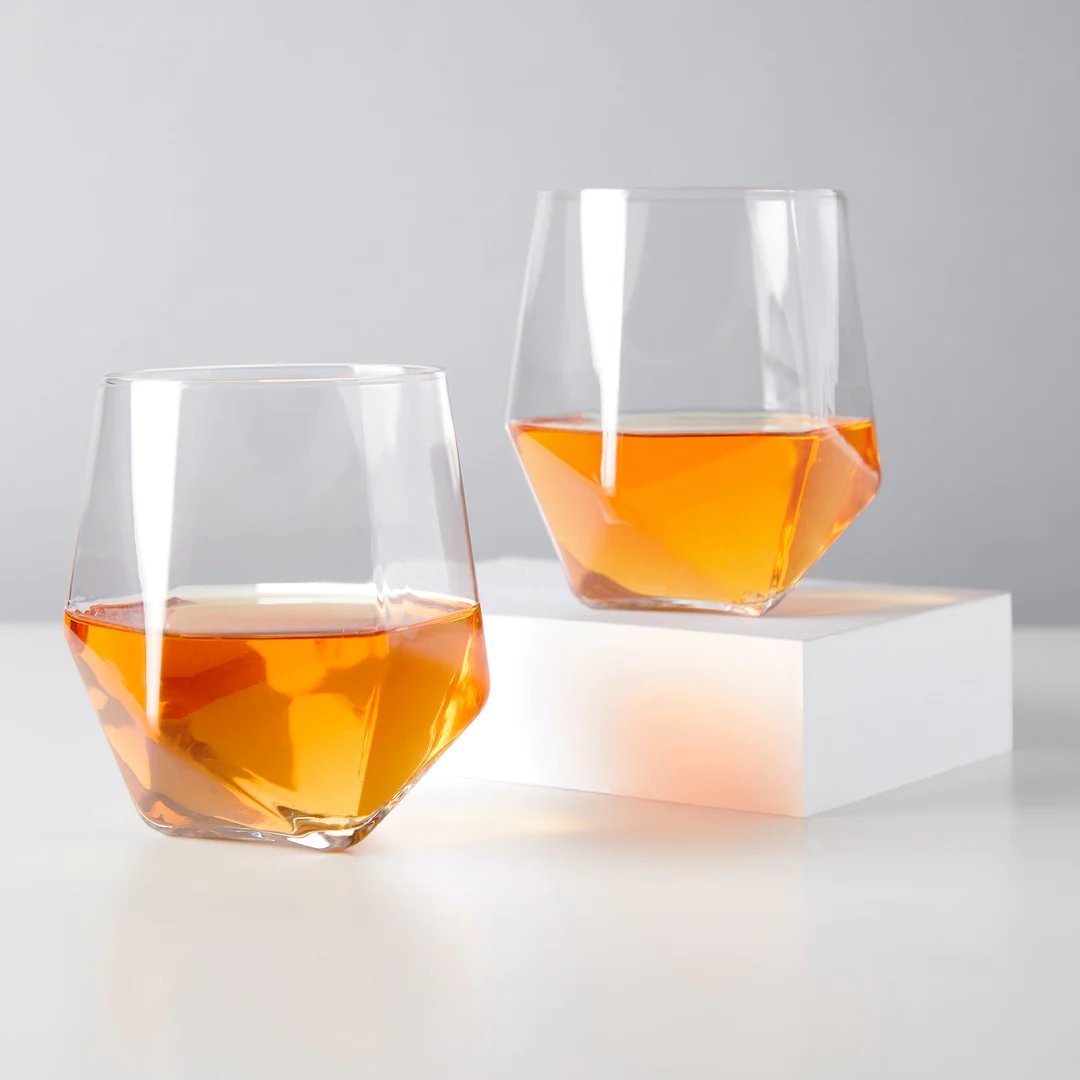 This angular, mid-century crystal design looks great on any bar cart and can be rested upright or even on an angle without fully capitulating.
Lead-free crystal
Interesting angular design
Relatively affordable for a pair
Recommended hand washing only
---
Royal Scot Crystal Scottish Thistle Tumbler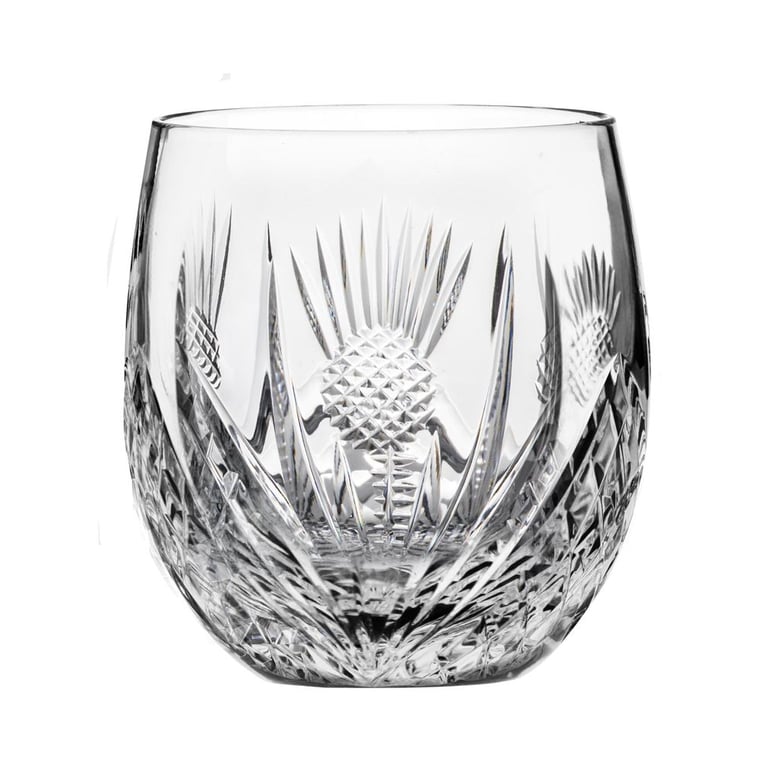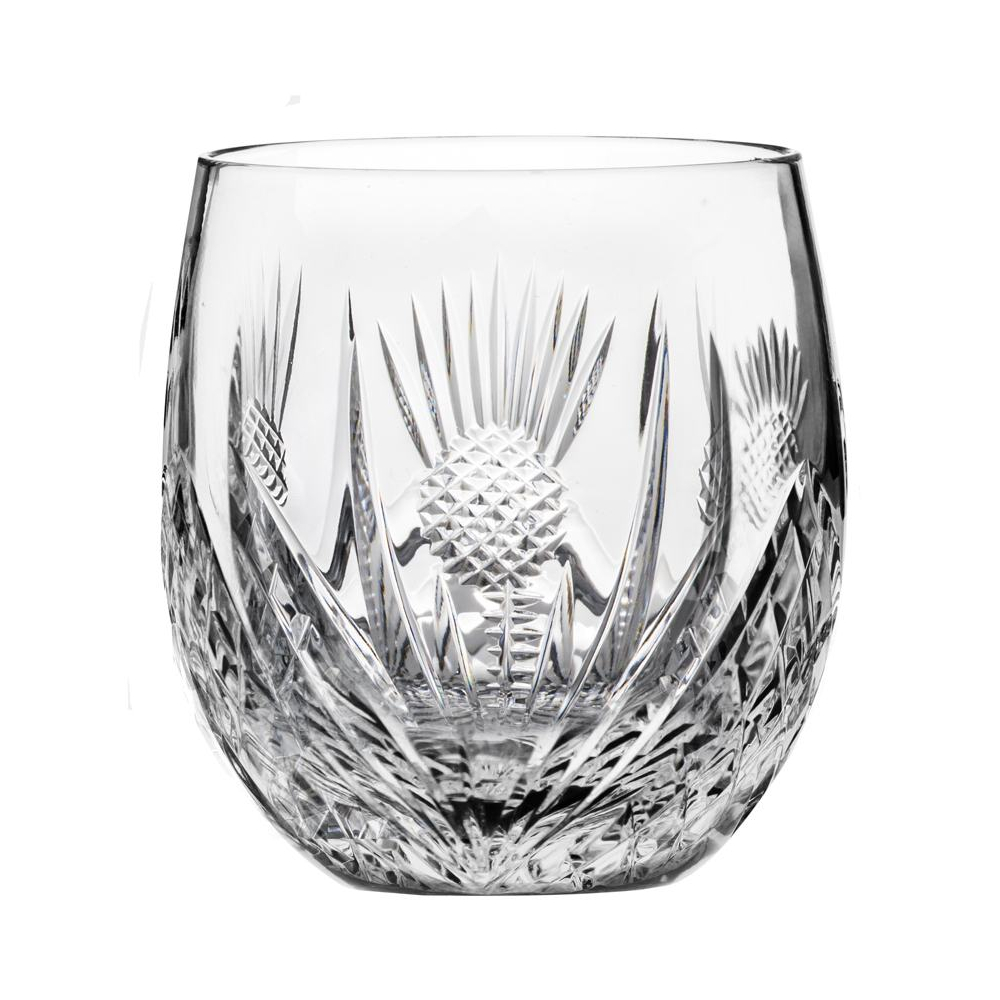 This crystal tumbler is a classically hand-cut whisky glass with a distinctive 'Scottish Thistle' diamond motif. The kind of glass you'd expect to see a certain secret agent being handed after a job well done — with a price to match the clandestine budget of British intelligence.
Extremely high quality crystal
Distinctive diamonds and Scottish Thistle design
Powerful weight in the hand
---
Riedel Shadows Tumbler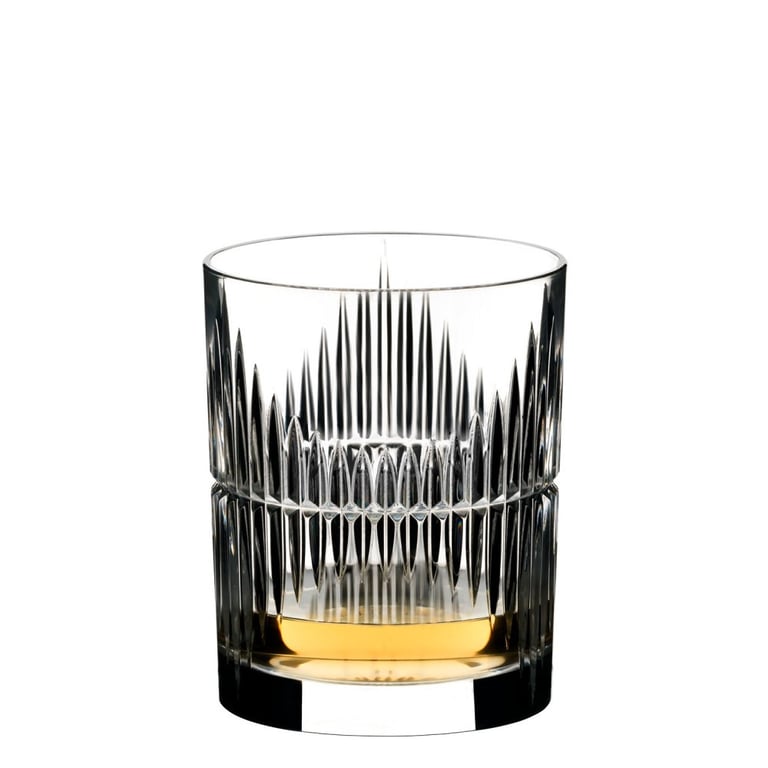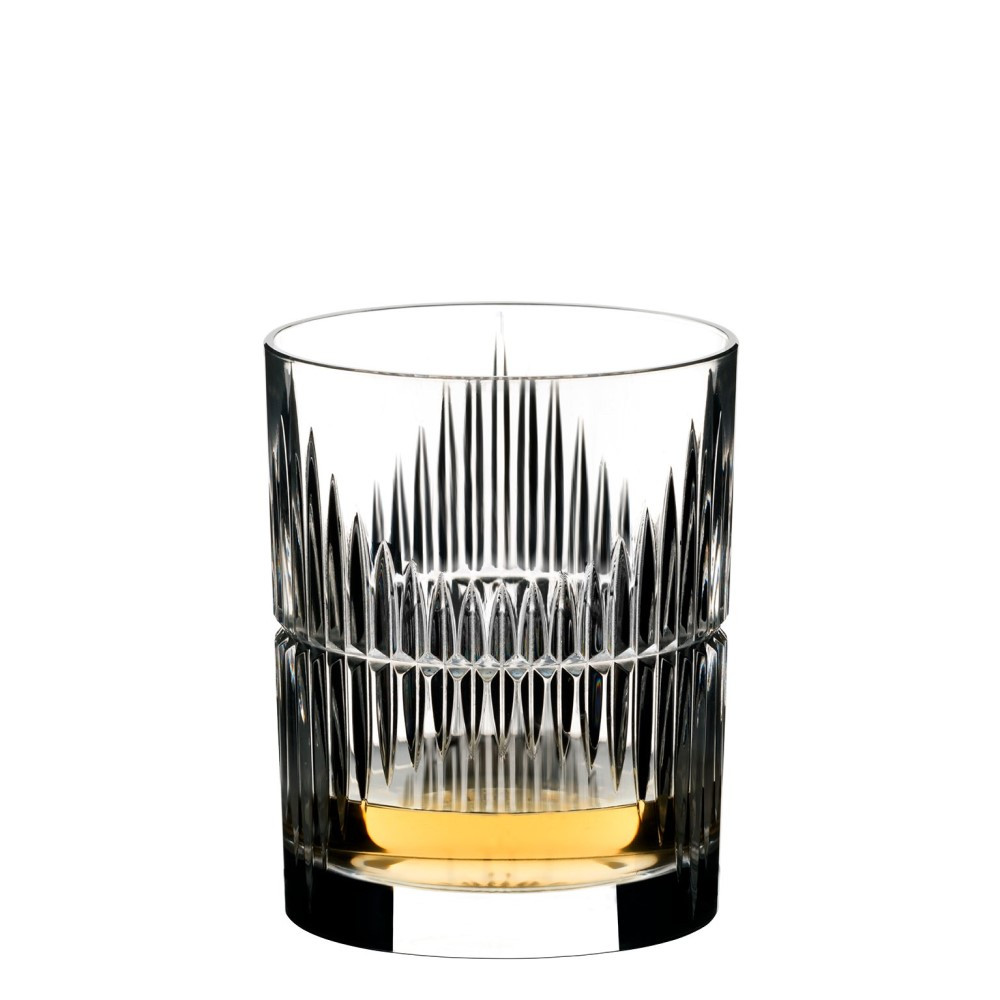 While Riedel is best known for its world-class stemware, the legendary Austrian purveyor of hand-blown crystal also knows its way around a Scotch glass — the Shadows Tumbler being a perfect example. With old-world art deco design cues and a charming in-hand weight, there's quite a bit to be enjoyed here.
Great art deco design
Affordable crystal tumblers
Dish-washer safe
Not as weighty as other crystal tumblers
---
Luigi Bormioli Bach Tumbler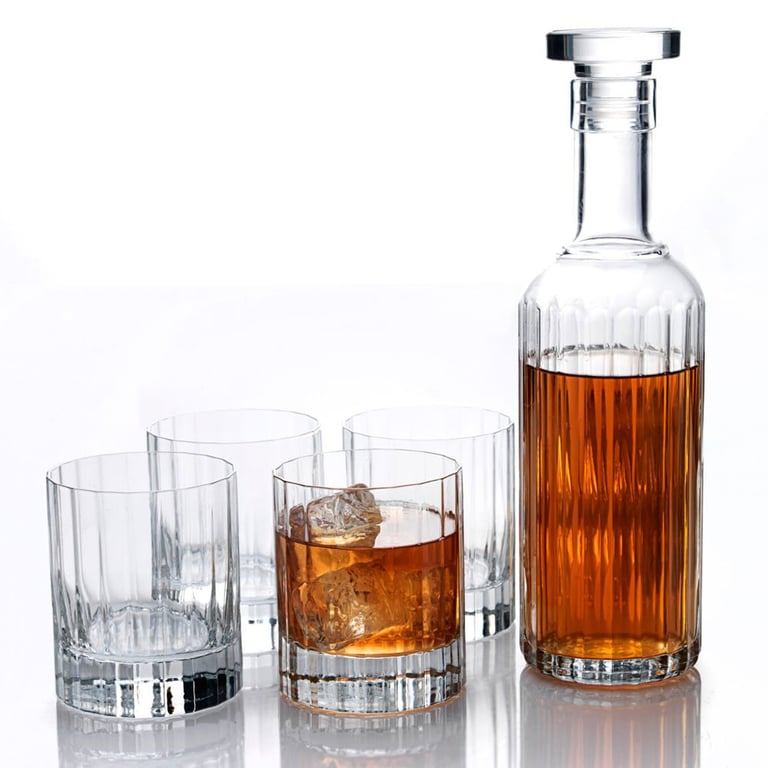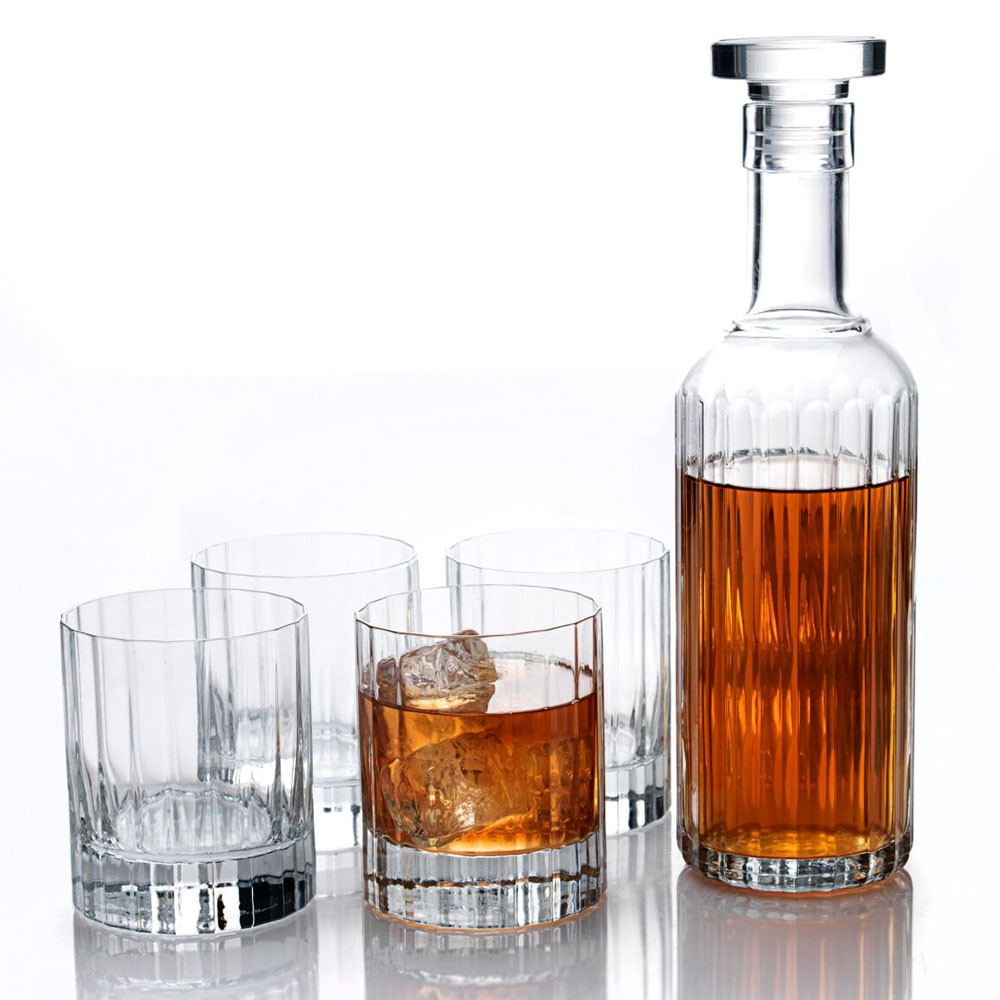 These Italian-made, smash-resistant glasses from Luigi Bormioli are available in a variety of sizes: perfect for covering all bases ranging from a neat drop of Scotch to sophisticated classic cocktails.
Note: the decanter pictured in the product listing is, unfortunately, not included.
Italian made
Affordably priced
Dish-washer safe break-resistant glass
---
How Do Whisky Glasses Make A Difference?
A good whisky glass matters more than most people seem to think. And there is no one-size-fits-all approach either. Similarly to wine, there are different glasses that are best used for different whiskies in order to maximise the nose and profile of each. That dram you're about to start sipping is incredibly complex, and just like you wouldn't want to drink wine from a cocktail glass, you'll need to think carefully about what you're using to deliver that sweet liquid straight to your palate.
Whisky glasses make a difference by allowing you to fully experience the many layers of a dream, from nosing it (smelling it), through to when it releases those finishing notes as it slides towards the back of your throat.
How To Choose The Best Scotch Whisky Or Whiskey Glasses For You
Choosing the right glass is mostly a matter of personal preference – think of it as an extension of your personality and your current whisky tastes. Your collection will likely evolve over time, but here are a few factors you need to consider before getting started. And don't worry about the whisky/whiskey back and forth – it's merely a reference to the country or origin or the dram mentioned in context (but more on that later).
---
What Glass Is Best For Whisky & Whiskey?
As mentioned above, there really is no one-size-fits-all solution to this, and the answer will largely depend on what type of whisk(e)y you're about to pour. There are, however, a few general rules to keep in mind when looking for the best glassware for the job. A few things you'll want to keep in mind are glass design & structure, as well as feel & aesthetic. Use the following guiding principles when it comes to pairing the right whisk(e)y with the right whisk(e)y glass and you'll get much more out of your dream than ever before.
Glass Design & Structure
Ideally, a whisky glass's design needs to be optimised for breathability. No one wins when the dram is suffocated, preventing the much-needed aeration of unwanted molecules. Likewise, it's best if the whisky isn't lost in the bottom of a deep glass, miles from your nose, either.
This is why professional whisky tastings are usually conducted with a Glencairn glass or snifter, as they appropriately funnel the whisky out of the glass and heighten the nose of the dram overall. They also perfectly connect with the lips by way of the glass' curled rim. We'll get to these types of glasses soon enough.
Glass Feel & Aesthetic
If you're paying good money for a whisky glass, you should rightly expect a premium touch, balanced weight, and one that comfortably fits your hand. If your hands run on the slightly larger side, perhaps consider a wider tumbler to enjoy nursing the drink. While money should buy you quality, it should also buy you a glass that's easy on the eye and fits well in a well-appointed apartment or office setting. Half of the battle is looking the part, right?
Types of Whisky Glasses
A Snifter is a short-stemmed glass vessel that has a wide bottom and a relatively narrow top. Think Mad Men or a member's club vibe.
A Glencairn glass, as we mentioned previously, is likely the most common whisky glass you'll come across during a tasting. They're slightly thicker and more suited to sociable drinking, and, due to their size and shape, are fantastic for learning how to swirl whisky.
A Tumbler glass – AKA the rocks glass, the old-fashioned glass, or the lowball – is the most common scotch glass or whiskey glass you'll come across when ordering a drop at the bar.
The Tulip glass is based on the 'copita' – the traditional Spanish drinkware used to sample sherry. Its slightly longer stem than the snifter prevents the oils from the hand from coming into contact with the rim of the glass and interfering with the nose.
Now the Neat glass might sound like an age-old staple of whisky drinking, but the relatively new invention was designed to expertly direct harsh vapours away from the nose. It actually stands for 'Naturally Engineered Aroma Technology', and it expels the ethanol molecules out of the opening, leaving behind the heavier, more enjoyable parts of the whisky within the glass.
Are You Still Asking Yourself, "What Is The Difference Between Whisky And Whiskey?"
Don't be shy, we've all asked the answer to this question at some point during our whisk(e)y drinking careers. Essentially, 'whisky' is typically the spelling of the spirit from Scotland, Canada & Japan. 'Whiskey' on the other hand is predominantly the American (bourbon) and Irish variant; though some American bourbons such as Maker's Mark use the Scottish spelling as a nod to their ancestral heritage.
For a crash course on easy whisky terms every drinker should know, we'd suggest checking out this article. If you're still wondering what the difference between cheap and expensive whisky might be, head here.
RELATED: The Best Whisky Subscription Services in Australia
RELATED: Best Wine Glasses For Oenophiles In 2023
RELATED: Best Beer Subscription Services In Australia
RELATED: The Winston Churchill Late Hour Cigar & Whisky Glass
---
Best Whisky Glasses – Frequently Asked Questions
What is a whiskey glass called?
When we're talking about typical whiskey glasses we're usually referring to an Old Fashioned glass, also known as a rocks glass or whiskey tumbler.
Why are whiskey glasses tilted?
Whiskey glasses are usually tilted to increase the amount of liquid that is exposed to air, helping release more of those complex aromas.
Are Scotch and whiskey glasses the same?
No. A Scotch glass would be smaller with a tulip shape – what you'd normally see on the table for a whisky tasting. These are known as a snifter or Glencairn, whereas a whiskey glass usually refers to an Old Fashioned glass.
Why do whiskey glasses have a thick bottom?
Whiskey glasses have a thick bottom mostly to prevent temperature change. This helps ice keep its shape for much longer.