It's been a little while since this joint first opened its doors, but as the weather becomes less and less ideal for post-work beers in the open, we thought it wouldn't hurt to remind you of its existence.
Beneath a seemingly nondescript Sydney CBD building, you'd be forgiven for thinking you're headed into a suit shop, until you duck down towards a red glowing door and take a step back in time into an opium den-inspired hangout.
Inside, it's as if someone's actually dug a tunnel to China (albeit a very Orientalist, culturally explicit version), gave up, and built a cocktail, whisky and dumpling bar instead called Uncle Ming's.
---
---
The dimly lit basement bar is enclosed within walls plastered with 1920's posters and illuminated by an array of tealight candles. Despite its Shanghai decor, the watering hole boasts an assortment of drops – everything from East Asian beers to Japanese whiskies and sake.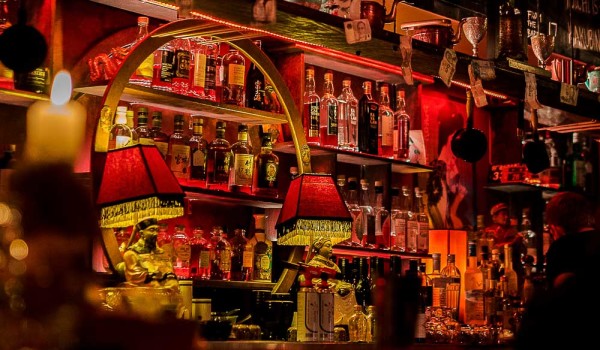 It's common knowledge for regulars that the dumplings on offer aren't up to scratch with the likes of Din Tai Fung, though they're about as good as you can expect for any chow that accompanies flamming cocktails in a dingy Chinese bar.
The establishment's namesake, as penned by the bar itself, is sourced from one of "Shanghai's most notorious figures – a sweet potato vendor who began a life of crime as a policeman collecting protection money from local opium traders. Having to leave China, Uncle Ming settled in Sydney in the 1920's and set up a place for the local community to meet and have a drink."
Its setting might be the most attractive feature at first glance, though its impressive collection of more than 90 different types of Asian whiskies – 60 of which are from Japan – are what will make the average bloke's ears prick up.
No bookings can be taken, but you'll find it at 55 York St in Sydney's CBD.