Over the past few years, the meditative practice of mindfulness has well and truly been front and centre when it comes to everyday fitness. To harness your mind with your bodily senses and encourage you to be more present, efficient, and calm in everything you do, various forms of the practice have popped up to further patch wellness into everyone's daily schedule. It was only a matter of time before luxury options started emerging in the space, attempting to use multisensory technology to provoke unique ways to practice mindfulness. The latest: the fascinating, ambitious Opus Soundbed, designed with a mix of targeted and full-body vibrations paired with spatial sound geared towards healing, focusing, and unwinding.
Swiss design firm Yves Behar put the futuristic looking daybed together in collaboration with emotional fitness platform Opus – once referred to as The Peloton of emotional fitness.' The technology behind it is driven by the idea of immersive "SoundHealing" – that is, using spatial audio technology to help people relax and alleviate physical tension.
The Opus Soundbed is basically connected to the long-running practice of sound bathing, but instead shaped into a more design-forward, high-end product that should sit nicely alongside your modern wellness technologies, like massage guns and Bluetooth-connected fitness machines. It's modular as well, so not only complements various design schemes, but also uses a series of triangular supports to fold inward and transform with a compact, hexagonal form that looks like an IKEA ottoman.
---
---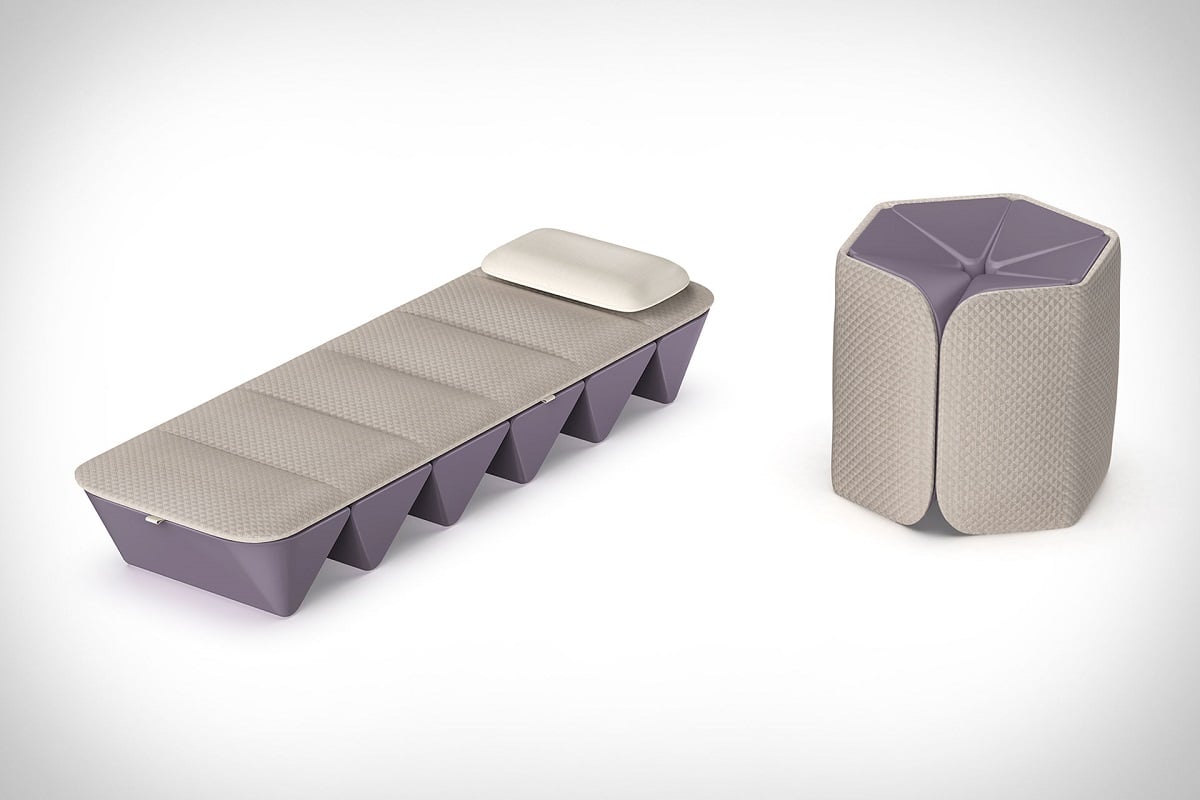 Opus' marketing for the soundbed positions the unique product as a "home gym for your heart" which is complemented by a companion app offering guided meditation workshops that can last anywhere from 7 to 60 minutes, each apparently designed to help relax and elevate mood based on a number of needs.
Given sound and touch are two senses entirely underrated when it comes to talking about our emotional well-being, the Opus Soundbed could easily be a game-changer in the emerging wellness-technology market. But only for those with enough cash to splash. Although reservations are now open via the Opus website, the Soundbed won't be delivered until early 2022 with a price tag of US$1,999 (~AU$2,600).
As with any new form of technology, some may find the Opus Soundbed a bit gimmicky. And that's totally understandable. But it genuinely does look like something which could make guided meditation and sound therapy more accessible (and, importantly, discussed) for those who don't mind investing a bit to build up a modern smart home. An airdresser here, a Soundbed there – you're high-tech home could use a little personal growth.