I've been to a lot of weddings over the past five years, and what has separated the good ones from the bad ones – aside from top-shelf booze – is the team effort required to make the day special for both parties, and their significant others.
As a heterosexual couple, assuming the woman will take the reins on every aspect of planning and executing your wedding day resurrects an archaic stereotype that not only needs to be put to rest, but starts your married life on uneven terms. As any couple, it displays a complete lack of care, both to your partner and your guests. Now, faced with planning my own wedding (and privy to numerous conversations about specific flower varieties) I, along with Moët & Chandon, thought it would be useful to tackle the aspects you can add value to, with minimal effort and maximum enthusiasm, making your day a memorable one, for the right reasons.
Dress Code
While it is wise to approach your desired appearance with a certain level of nonchalance, thus leaving your partner to soak up the process and remain centre of attention, it's important to steer them towards the dress code that will present you and your friends in the best light, and that you feel most comfortable wearing. Don't let your partner dress you up in a bright bow tie, suspenders, and funky socks because she saw it on Pinterest. If you feel like a twat on your wedding day, you're likely to wince at the resulting photos, every day, for the rest of your life.
---
---
Cocktail is confusing because firstly, it's not a dress code and secondly, you've got blokes turning up in anything from light blue work suits with an open collar to double-breasted ensembles in Prince of Wales check. My advice – go for Black Tie, it's timeless and maintains some semblance of sophisticated uniformity.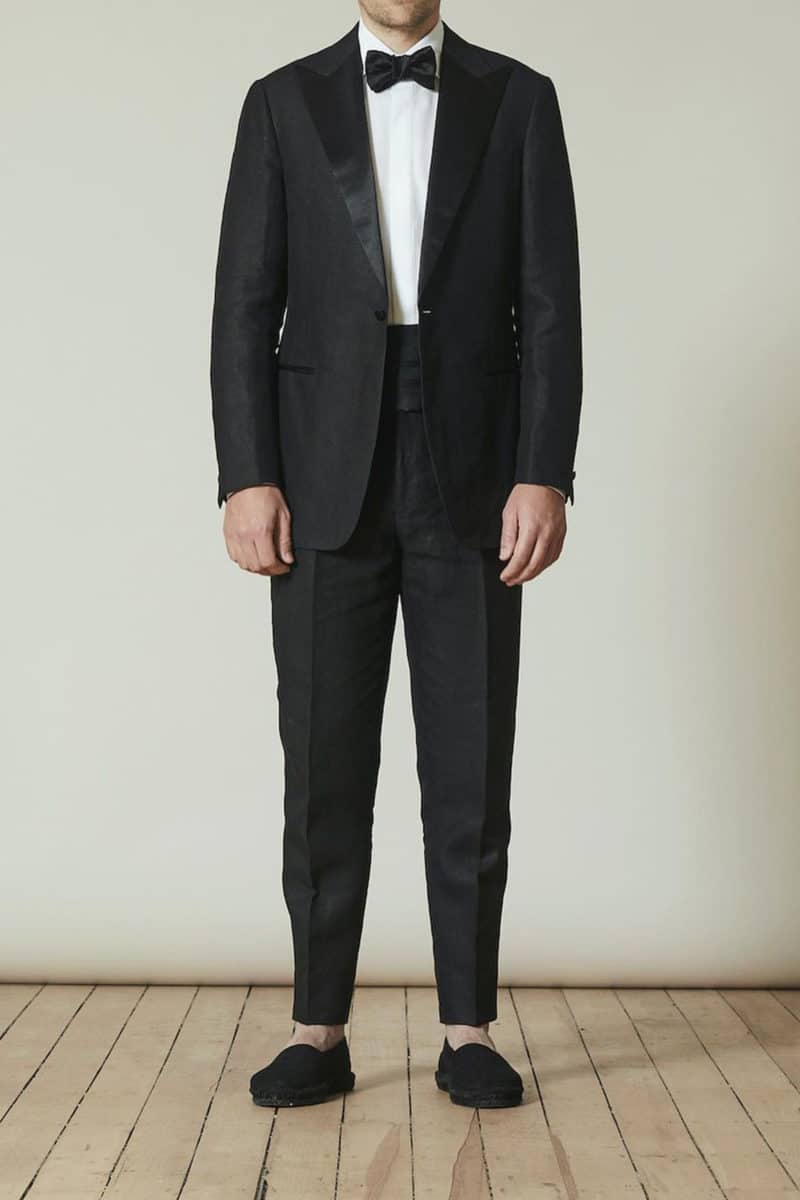 Invitations
Once you've settled on a dress code you can decide on invites. Remember this is the first impression your guests will have of your event, so make it count. In today's digital world, there's still something wonderful about receiving a physical invitation, so forget the Paperless Post.
Less is most definitely more, so lead her/him away from graphics of geometric greenery and focus on a font that speaks of your destination or you as a couple, and have it delivered on some quality, textured, paper. I've found the in-house stock offered by boutique letterpress printers to be a bit soft and whimsical, so we went straight to Ball & Doggett for the refined 'Rives Tradition'.
Booze
The make or break of a wedding. Settling for the single tap beer at the venue, or what the entry-level drinks package offers, ensures your guests will be as enthusiastic about your event as they are their work Christmas party. Make the newly wedded moment memorable with a toast of Champagne, because nothing less will do. If you want wow factor, look straight to the LVMH portfolio for the likes of Dom Perignon, Ruinart and of course, Moët & Chandon. While the aforementioned may be a stretch of the budget, and likely to be underappreciated regardless, Moët & Chandon has a suitable expression for a wedding of any size, in any season. With the brand's new 'Bridal Collection' offering, Moët & Chandon makes your wedding day celebrations seamless, offering Moët Impérial, Rosé Impérial, Ice Impérial and Ice Impérial Rosé in a selection of packages, best enjoyed from the accompanying Moët & Chandon goblets – each unique to the Champagne you choose.
For those looking to be a little extra, the 'Glamour' package includes a seven-tier, 140 glass Champagne pyramid, and 6 Magnums to fill it. Personally, I'll be pushing for the 'Grandeur' package – a 216 mini Moët vending machine, guaranteed to feature on every IG account in attendance. When it comes to wine, you can't go wrong with a dry Riesling or crowd-pleasing Cotes de Provence Rose. In the reds department, a Tasmanian Pinot Noir and an Australian powerhouse name like Bests, St Henri, Henschke, Lakes Folly or Moss Wood is sure to get the fellas excited.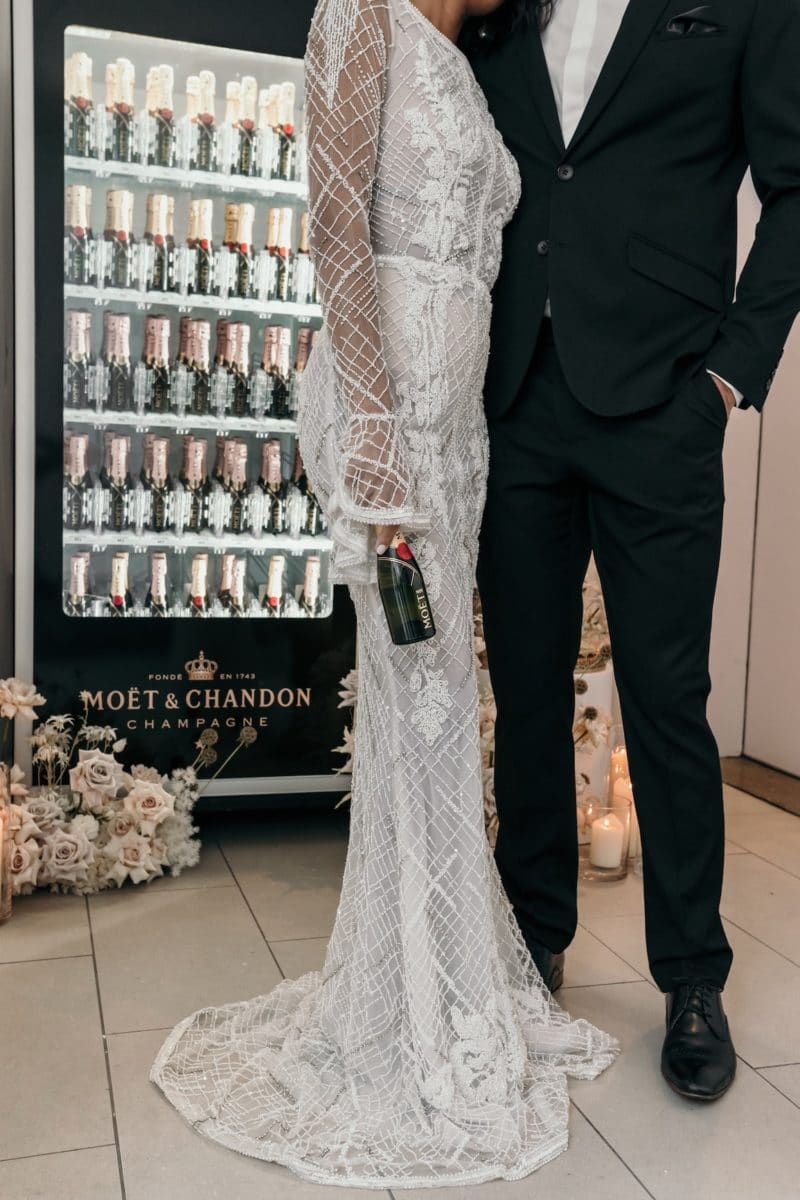 Food
With drinks flowing it's important (and responsible) to ensure food is in abundance. Stress to the venue that it starts immediately, as the majority of guests will have arrived without eating lunch and possibly with a few under the belt already. Freshly shucked oysters washed down with Moët & Chandon Rosé Impérial are excellent but they won't cut it alone – people need to line their stomachs for the big night ahead. Don't be afraid to pair your Champagne with something more substantial, such as a tartare, carpaccio or risotto.
Alternate drop isn't for me and I'm sure there's plenty of people that feel the same way. Share plates of proteins, vegetables, and salads allow for dietary requirements without having to address them beforehand, and allows guests to serve their desired amount of food. Something sweet is a bonus but avoid the formal sit down as people will want to get on the dancefloor. Follow the dancefloor with a late snack like a glazed ham leg with rolls and mustard – your guests will thank you tomorrow.
---
---
Music
Leaving music to chance is a recipe for disaster. A two- or three-piece ensemble to accompany drinks post-ceremony sets a suave tone to start with dinner to be followed by a band or a DJ. Remember you've got plenty of age groups to cater for, so it's important to ensure a tracklist that will entice all generations towards the dancefloor. If you're opting for a smaller affair, a curated playlist – out of reach of eager guest DJs – is a must.
When it comes to your wedding day, details really matter – the most important of which is the level of enthusiasm you attack the planning process with. Fortunately, Moët & Chandon has come to the party with an offering it's impossible not to be excited about.
At this stage, the Moët & Chandon Bespoke Bridal Collection can only be accessed via a preferred wedding planner (you can review a list of suggested wedding planners here). For any additional enquiries, including pricing, contact: [email protected]
Check out the newly launched Moët & Chandon Bridal Collection at the link below.