Apple has lifted the curtains on a new high-end entry into their personal audio range, stepping outside of their widely acclaimed earphones with the Airpods Max. The lavish – and expensive – pair of wireless over-ear headphones have been designed in complete service of exceptional acoustics, complemented by Apple's H1 chips (one for each earcup) and advanced software calibrated for advanced computational audio with adaptive EQ, active noise cancellation, transparency mode, and spatial audio.
RELATED: Apple Quietly Added A Secret Button To Your iPhone
The AirPods Max will be on sale from Tuesday 15th December, with pre-orders starting today for all five colourways: space grey, silver, sky blue, green, and pink. With the pair sporting an ambitious price tag of $899 – far more than high-end offers from the likes of Sony, Bose and Sennheiser – it's safe to expect a show of force from Apple's design team.
---
---
How Will They Feel?
As far as design goes, the Airpods Max use a breathable knit mesh canopy for the stainless steel headband, light and airy to distribute weight and reduce on-head pressure, making them ideal for longer listening sessions. Apple are saying that a wide variety of head shapes and sizes have been considered during the design process, with a secure, adjustable fit promised by acoustically engineered memory foam used for the ear cushions to create an effective seal and assist noise cancellation.
A "revolutionary mechanism" has been used to attach each ear cup seamlessly to the headband, balancing and distributing cup pressure while allowing them to independently pivot and rotate to dial in the exact fit for any user. In a nod to the Apple Watch, a "Digital Crown" has been included for on-board volume control and quick playback functions like play, pause, skip, answer/end phone calls, and activate Siri.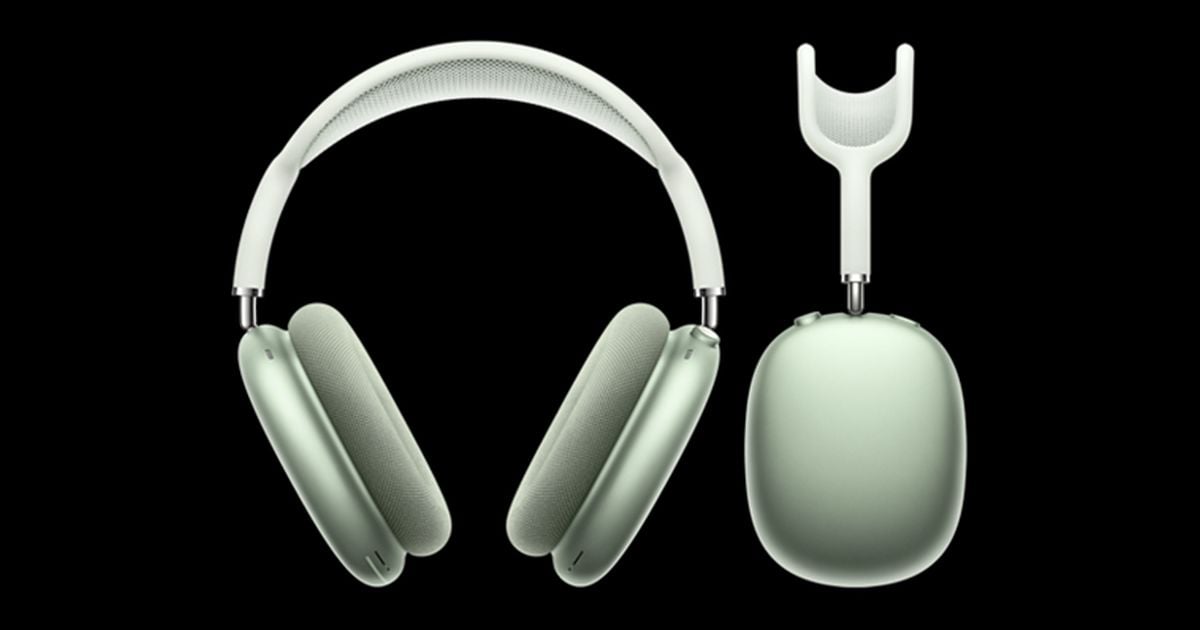 What Will They Sound Like?
It sounds like the audio experience will be second-to-none, with Apple's custom designed 40mm dynamic driver powering a signature of "rich, deep bass, accurate mid-ranges, and crisp, clean high-frequency extension so every note can be heard". Performance will get a boost from a unique dual neodymium ring magnet motor, which has been included to maintain total harmonic distortion of less than 1 per cent across the entire audible range, meaning the sound profile should stay perfectly balanced even at max volume.
RELATED: You Can Now Stream Spotify Directly From Your Apple Watch
The H1 Chip will constantly prime performance for high-fidelity audio and handle the various modes designed for a seamless listening experience. Like Apple's top-tier in-ear buds, users can easily toggle between active noise cancelling and transparency mode to block as little or as much external noise to maintain complete control over their private audio chamber. Each cup has three outward-facing beam-forming microphones designed to detect environmental noise, as well as one microphone inside the ear cup to monitor the sound reaching the listener's ear. Computational audio will continuously adapt noise cancellation as a function of a user's movement in real time.
Adaptive EQ means the AirPods Max is smart enough to optimise sound based on the fit and seal of the ear cushions, measuring the sound signal delivered to a user and adjusting low and mid-frequencies in real time for a richer experience. At the same time, Spatial Audio will make use of dynamic head tracking to place sounds anywhere in a space, constantly aiming for an immersive, theatre-like experience for content recorded in 5.1, 7.1 and Dolby Atmos. Basically, those Netflix streams will always sound.
Similar to other high-end headphones, proximity sensors will automatically detect when the AirPods Max is on a user's head, nuanced enough to pause music when the user simply lifts one ear cup.
---
---
What Else Can They Do?
Other features for the AirPods Max include the ability to move sound seamlessly between Apple devices, so theoretically you could be playing music on a Mac, but when a call comes through on the iPhone, the AirPods Max will automatically switch over. Tapping into Siri's full power should also be a seamless experience, with the microphones ensuring crisp, clear voice at all times should you want to command the voice assistant in loud environments.
Battery Life
As far as battery life goes, Apple is promising up to 20 hours of high-fidelity audio, talk time and move playback with active noise cancelling and spatial audio enabled. That's based on full power usage, so expect even more when the headphones are put through an average day's use. An accompanying "Smart Case" will safely store the headphones when not in use, putting them into an ultra-low power stage to help preserve battery.
To get your hands on a pair, head to the link below and get that pre-order in.