FaceTiming your mate from a big game to give him a sharp sting of shaming always seems like a good idea, until you realise that the bloke on the other end can't actually hear your vicious ribbing. All you're doing is flooding his loneliness with all the fierce sounds of a rowdy stadium match, and most likely validating his choice to ditch the boys for a night. A quick fix on your iPhone could change all that, rendering your voice inescapable by drowning out most environmental noise so those barbs are coming through thick, fast and clear. Yet not many people know about the feature, making the iPhone Voice Isolation function fall into that strange category of beneficial Apple hacks that are official yet oddly secretive.
We've already seen it with the iPhone Back Tap introduced with iOS 14. Apple loves including these useful features that you'd have to actually look for (or rely on tech journalists) to find, so it's little surprise that people are only now discovering a very useful feature for all Apple devices running iOS 15 or macOS Monterey.
As above, that's the Apple Voice Isolation mode, as well as something called Wide Spectrum mode which does the opposite and lets all the sounds around you come through clearer on FaceTime Audio – useful for when you're hoisting your iPhone at a concert in a desperate attempt to let your mate hear '3AM' at a Matchbox Twenty nostalgia tour.
---
---
If you want to really improve the audio quality in a FaceTime Audio call, especially when compared to a more conventional voice-only phone call, then take note. To activate Voice Isolation or Wide Spectrum you'll need to already be on a FaceTime call. You'd then perform the following easy gestures.
Swipe down from the upper-right corner to bring up the iPhone Control Centre. If on a Mac, click on the upper-right corner).
Tap on the button that says "Mic Mode." This should be set to "Standard" by default.
Choose which mode you'd like to engage.
Voice Isolation uses your device's in-built microphones and software to actively remove background noise around you and bring only your vocals forward in the mix.
Wide Spectrum Mode does the opposite, seemingly manipulating the microphones to process more background noise and filter it into something much more coherent and clearer for whoever is on the other end of your FaceTime Audio call.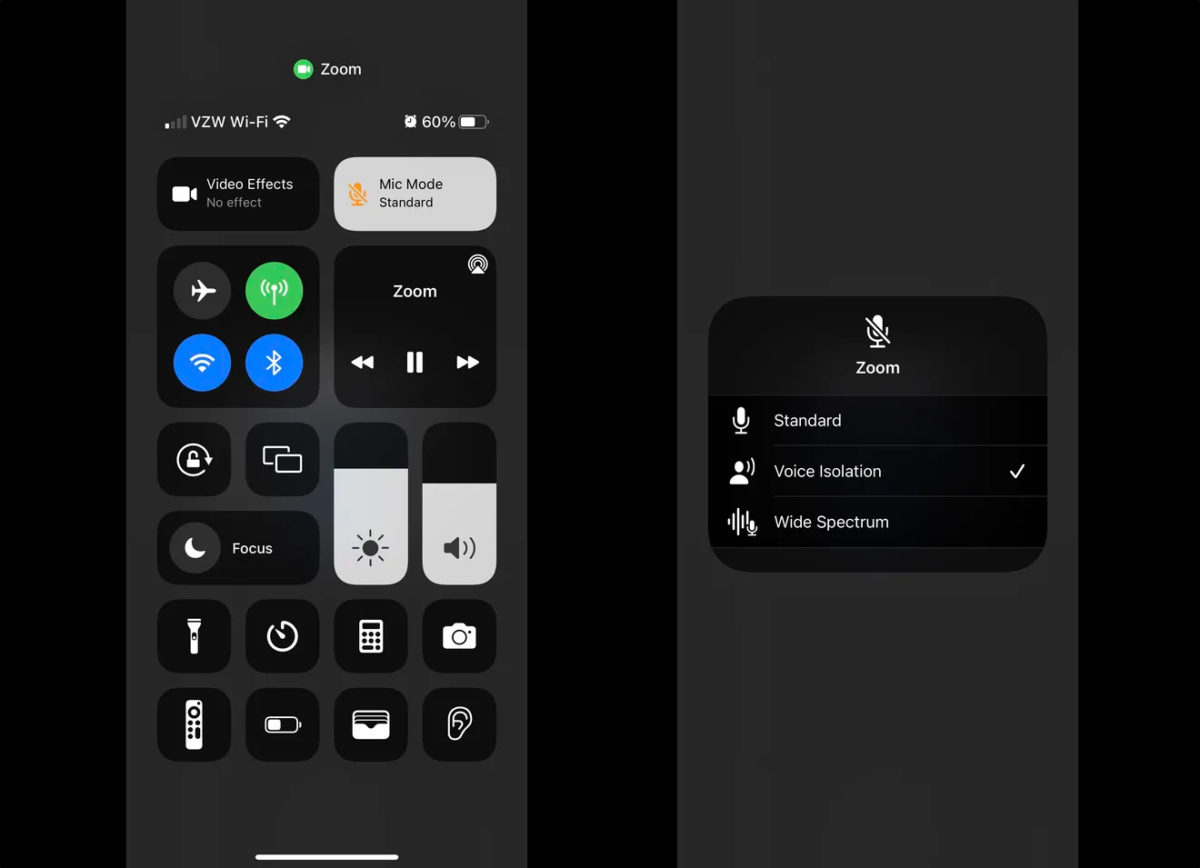 An eagle-eyed tech journo over at The Verge published the discovery this week, although Apple also has it listed on its website as one of the features of iOS 15. But as mentioned above, not all features are immediately obvious and Apple hasn't done much to communicate the function to users despite how helpful it is in these specific circumstances.
David Pierce from The Verge wrote that he tried the Voice Isolation setting on his iPhone 12 and almost immediately noticed a substantial improvement in audio quality for FaceTime Audio. The noise of his dog barking just six metres away completely disappeared and all surrounding traffic was drowned out as well. On his MacBook, the sounds of both his laptop's fan and the keyboard stopped coming through to whoever was on the other end of the call so his voice was loud and clear.
RELATED: Apple iPhone 14 Australia – Release Date, Price, Leaks, Rumours, Features & More
For anyone dialling it in on apps like Snapchat, WhatsApp, Signal, Slack and Instagram, Voice Isolation is an easy game-changer. Although not all apps work with the function. Reportedly, TikTok and Voice Isolation don't work so well together, and if you're using Zoom on Mac it won't work. On the other hand, it works fine on Zoom if you're using iOS. In-browser apps also don't work with Voice Isolation, so you won't be able to use it with Google Meet or Microsoft Teams.
Despite it not being a universal setting, Voice Isolation should easily change the way everyone uses FaceTime Audio. I tested it quickly with a colleague. While my voice apparently sounded noticeably more processed and unnatural, background noise was successfully deleted and the person on the other end could hear me much better. Even a song playing in the background was completely cancelled out so all my colleague could hear was my voice. Hearing noise cancellation in action is nothing short of magic.
One missed opportunity, however, is Apple didn't include these dedicated Mic Modes for actual voice calls. You can only use them on FaceTime Audio, which seems like a bit of an oversight given traditional voice calls are generally more common than FaceTime in the first place.
---
---