With CES 2023 done and dusted, we're starting to see new ways in which you can take your home cinema to the next level. LG swiftly stole the show early on with the reveal of their monstrous and "completely wireless" 97-inch M3 OLED. But a brand you may have never heard of, AWOL Vision, came up with an equally attention-grabbing new product called the Vanish – a 4K ultra-short-throw laser projector with a disappearing screen.
That is, the Laser TV brand has come up with a retractable panel packaged with the LTV-3500 ultra-short-throw laser projector. You've simply got the choice between either a 100-inch or 120-inch roll-up ambient light rejecting (ALR) screen, which comes with a smart cabinet and built-in 36-watt speakers.
It's rather straightforward from there. When you're ready to watch something, you turn on the projector and the screen zips out of the cabinet within seconds. Conversely, it "vanishes" just as fast when you're done streaming content.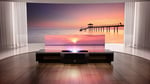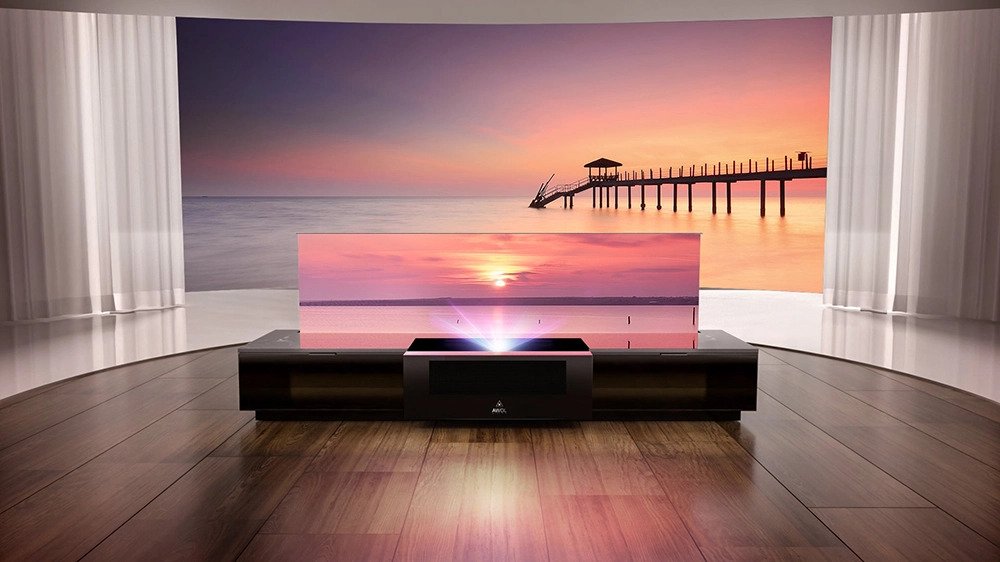 RELATED: The C Seed N1 Is A 165-Inch 4K TV That Folds Down Into A Minimalist Structure
The AWOL Vision Vanish is quite similar to the "rollable" $87,000 LG RX, which was showcased a few years ago at CES 2020. Except this is considerably cheaper, given you are mostly investing in the triple-laster projector.
Granted, you don't necessarily need a screen if you've already got a projector and enough (clean) wall space for the display. Yet, to get the most out of a device like this you'd typically need an ALR screen that's been specially designed to maximise the display and give you crystal-clear 4K vision.
As such, the AWOL Vision Vanish is three separate parts – the LTV-3500 ultra-short-throw laser projector; the roll-up screen; and the smart cabinet.
The projector itself is about as high-end as you can get right now. It's got 3,5000 NASI lumens and a spectrum of over 1 billion colours with wide compatibility spanning 4K video, HDR 10+ and active 3D.
The AWOL Vision Vanish is available for US$14,999 (~AU$21,693) with a 100-inch screen or US$15,999 (~AU$23,140) with a 120-inch screen.