It's now been a few years since high-end Danish maker Bang & Olufsen barrelled into the lucrative home cinema market with the Beovision Harmony entertainment system. Debuting in 2019 at Milan Design Week, the premium audio company revealed a head-turning aluminium and oak system centred around a 77-inch LG 4K OLED TV, looking all warm and luxurious with a gilded aesthetic that would easily transform any plain old lounge room into something a bit more regal. This month, Bang & Olufsen has gone ahead and upped the stakes even further for the company's TV series, revealing the supersized Beovision Harmony 83-inch OLED.
Considering this is Bang & Olufsen, audio performance is integral to the ergonomic TV. The handcrafted oak and aluminium front panels have been carefully adjusted to not only house a powerful sound centre, but hide the screen when not in use, acting as somewhat of an attractive cupboard that wraps up most of the home entertainment system so there's no massive screen awkwardly looming over your couch when not in use.
When the panel is ready for viewing, the LG OLED raises itself to the optimal viewing height while the very specific acoustic design of the front panels helps elevate the performance of the DSP-based sound centre. Considering TV manufacturers would sell their souls to be able to design great in-built speakers, so consumers won't need to fork out extra for a soundbar, the Beovision Harmony is a tempting piece of kit for anyone who has a particularly deep appreciation for both cinema and music.
---
---
Gamers should get a nice boost to their experience as well. The LG G-series TV features four HDMI 2.1 ports, making it a very attractive option for anyone who wants to dial in the highest resolutions for the current generation of consoles like the PS5 and Xbox Series X.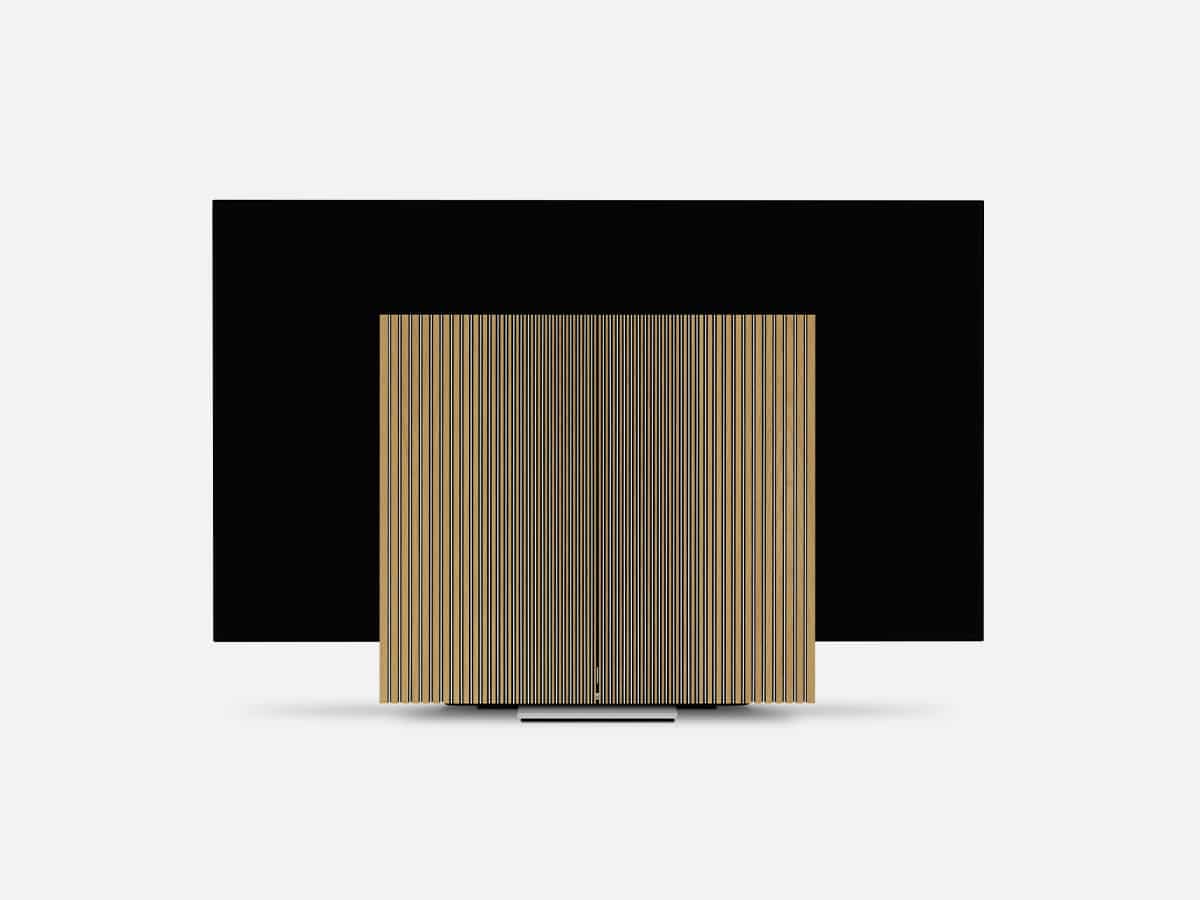 The LG TV has reportedly been slightly modified to fit the Beovision Harmony entertainment system, fusing it with B&O's motorised panels. Do note, however, that the 83-inch OLED isn't the largest LG panel that B&O has worked into the system. There's also the option for an 88-inch with an 8K LG ZX sitting atop those motorised panels, however, it doesn't seem like the largest option will be heading to the Australian market like the 83-inch is, at least anytime soon.
The 83-inch Beovision Harmony will be available sometime later this month for the very B&O-typical price of around $32,000 (based on the current American pricing of US$23,000. That's over double the price (~$13,000) of what an LG G2 series 83-inch 4K OLED TV would cost you without the B&O entertainment system.
And yet stripping away the Beovision Harmony would leave you without the built-in 7.1 surround decoder, which has enough capacity to connect with up to eight wired B&O Beolab speakers. B&O has also confirmed that smartphone streaming will be available with or without the added speakers via Apple Airplay 2, Bluetooth or the built-in Chromecast so you can easily beam music onto the system and enjoy direct access to streaming services like Netflix, Amazon and Binge.
The Beovision Harmony 83-inch also comes with 77-inch and 65-inch models.