As it stands, Sony currently reigns supreme when it comes to Bluetooth headphones powered by Active Noise Cancelling with the WH-1000XM4. That could change in a couple of weeks, as Bose has finally announced the next model in their universally adored QuietComfort line: the Bose QuietComfort 45 headphones. An interactive, modest change from the near-legendary, 4-year-old QuietComfort 35 II headphones, sure, but a meaningful attempt to further the award-winning series nonetheless.
It may not be surprising that Bose has decided to only switch things up slightly for their next QuietComforts. The design of these newly announced noise-cancelling headphones looks like they've taken the same understated, minimalist aesthetical cues from their predecessor, soft and smooth with minor tweaks to the sides and ear cushions. In a press release, Bose indicates the 'if it ain't broke' approach, but have removed some pleats and puckers from soft materials to help make for "smooth transitions" while keeping the device durable and very light on the head. They will still fold flat seamlessly to store in an included carry case.
On the right earcup, you'll get four physical buttons for playback control and easy Bluetooth 5.1 pairing, which can also be used to answer and end calls. Switch over to the left and you'd find a button to mute the mic during calls, as well as switch between two newly calibrated noise-cancelling modes – 'Quiet' and 'Aware.'
---
---
Thankfully, Bose has finally made the decision to move away from the finicky microUSB port used to charge the headphones, replacing it with a much more stable, universal, and reliable USB-C. Although the same can't be said for the audio jack, should you want to turn these into wired headphones – you'll have to make do with the tighter 2.5mm connector instead of the more universal 3.5mm jack (so don't lose the included 3.5mm to 2.5mm cable).
The noise-cancelling electronics have been refined to provide a better and more intuitive experience when it comes to drowning out or letting in external noises throughout the day. Quiet mode will obviously use the microphones in tandem with a proprietary digital chip to sense, measure, and respond to a larger range of unwanted mid-range frequency sounds to completely nix them from your audio chamber. Things like chatter on public transport and in busy offices, and the buzz of coffee machines in cafes. Aware, on the other hand, will automatically switch the headphones to full transparency without significantly interrupting your music, podcast, or call.
RELATED: 8 Best Wireless Earbuds Available In Australia [2021 Guide]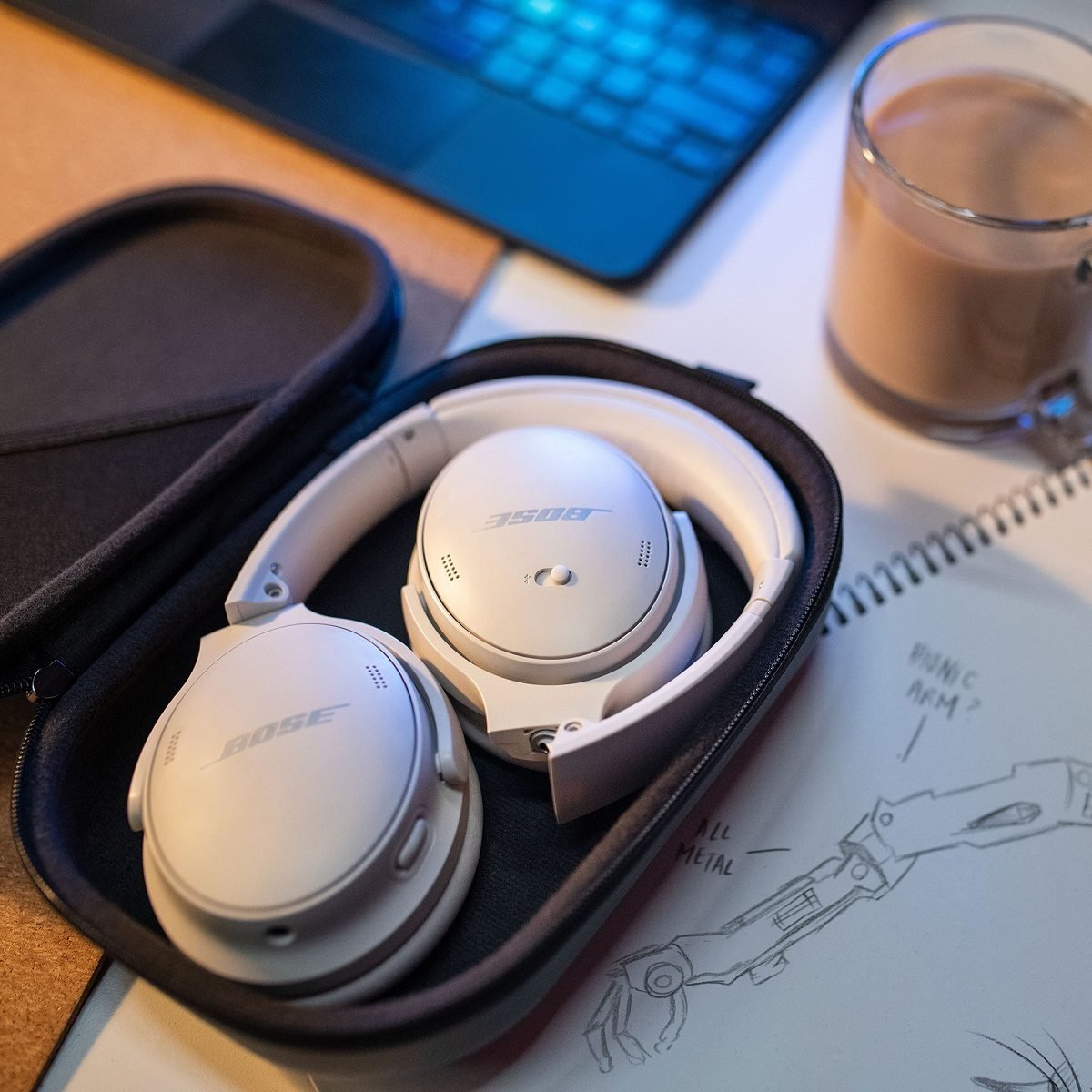 Speaking of calls, those too should be much clearer – an issue that has been plaguing headphone developers for a few years now. Voice isolation will be taken care of by a beam-form array that singles out the talking and dampens audible distractions from being picked up and transmitted to the receiver.
Bose is being a bit tight-lipped on sound quality. It doesn't appear they've done much to tweak the sound profile over that of the QC 35 II headphones, but seeing as they are still – all these years later – some of the best sounding headphones available, it's safe to expect something reliably balanced with solid bass response.
One of the more ambitious promises is 24-hour battery life, up from the almost-20-hour juice of the 35 II. We'll see if that sticks when we get our hands on a pair, but 24 hours is a good spot to be in for those who always forget to charge up overnight.
The Bose QuietComfort 45 headphones will be available in Triple Black or White Smoke from October 4th with an Australian RRP of $499. Pre-orders will open online from September 13th.
---
---