The market for a good portable Bluetooth speaker may have been eclipsed by the grossly oversaturated rat race to create the best Bluetooth earbuds in recent years. But make no mistake; there are still brands pumping out some great options for anyone seeking a mini Bluetooth speaker, ideal for taking with you while you travel, camp, hike or simply just to shift around the house while you listen to podcasts. Considering Bose has been responsible for some of the better options on the market to date, like the excellent Bose SoundLink Micro, this year's Bose SoundLink Flex arrives to a fairly high standard. Does it match up? Our Bose SoundLink Flex review will let you know if this Bose Bluetooth speaker is worth its $250 price tag or not.
Other Bose speakers like the aforementioned Bose SoundLink Micro and much larger Bose Home Speaker 300 have already reiterated Bose's penchant for great sound quality and seamless design. This has positioned the SoundLink series as a particularly worthwhile line for the brand, which is perhaps better known for personal audio devices like the Bose QuietComfort headphones, Bose QuietComfort earbuds and – my personal favourite – the Bose NC 700s (also a pair of over-ear Bose headphones).
Add to that the Bose Connect app is one of the easiest and most uncluttered in the game and it's not hard to see why Bose is still one of the more popular brands for audiophiles. And while Bose's headphones still seem to be the breadwinners for the US company, there's clearly much more worth looking at here than just some noise cancelling cans.
---
---
But the market for portable Bluetooth speakers is still quite competitive. Sony and Bang & Olufsen have some great ones, Sonos and JBL have some better ones, and then you've also got the wildly popular UE Boom line from Ultimate Ears. There are numerous choices here, so what's to stop you from going with something like a Sonos Roam or JBL Charge 5 over the Bose SoundLink Flex?
The answer is, not much. It all comes down to what design you like the best. For this, Bose has done a respectable job offering a Bluetooth speaker that's attractive to look at and could fit well with any design, as well as give off an impressive performance that's largely credited to sturdy materials – that powder coated steel grille feels super premium – and a newly calibrated software feature that Bose is calling Position IQ that works in a slightly similar way to Sonos' TruePlay.
RELATED: Bose QuietComfort 45 Headphones Aims To Retake Noise-Cancelling Throne
---
Bose SoundLink Flex Review – Table Of Contents
Design
Features
Sound
Verdict & Value
---
Design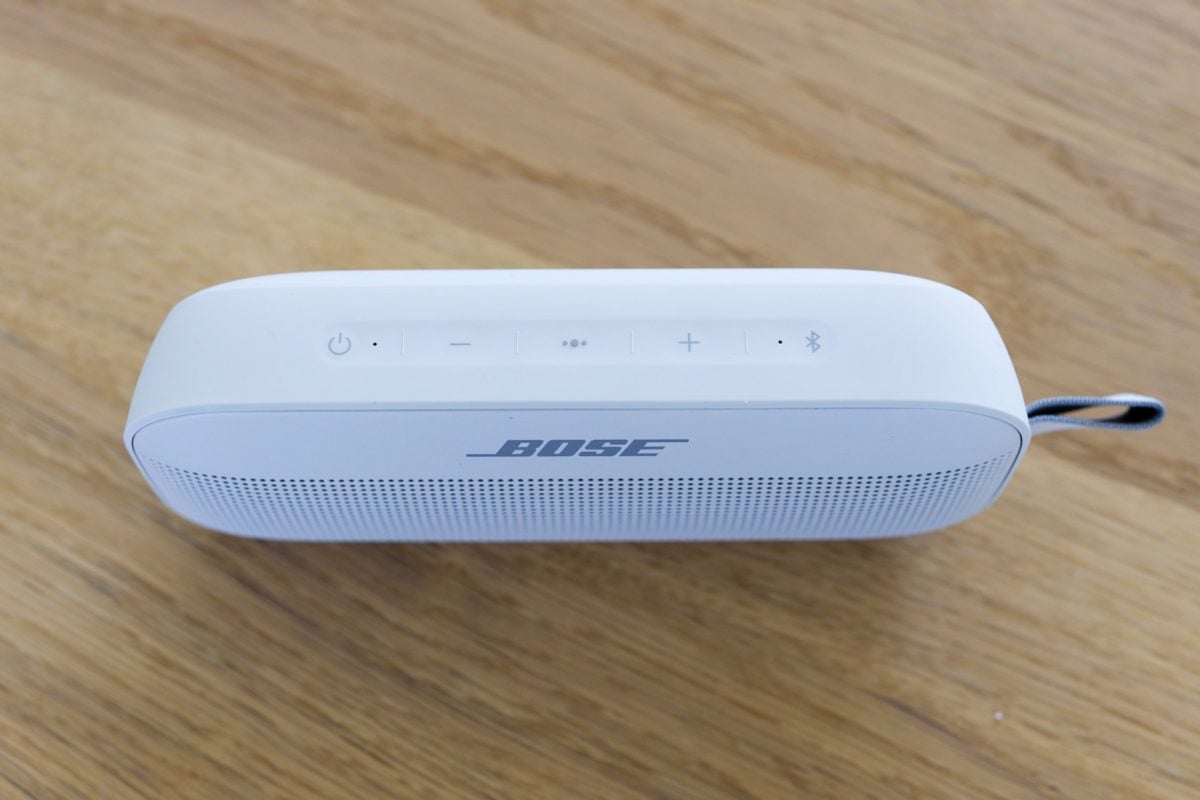 Bose's marketing efforts surrounding the Bose SoundLink Flex have been hinged on the idea that this particular speaker is not only impressively waterproofed (a solid IP67 rating protects well against moisture and dust) but it can also float. I wouldn't go leaving it soaking in a pool for too long, but the claim isn't far from the truth. This thing floats to the surface immediately when submerged in a pool. The weather hasn't been very nice in Sydney lately so I'd only tested the claim once, but it's rare to have a portable Bluetooth speaker that can actually float alongside. Consider that a big tick in Bose's favour. However, don't expect performance to remain clear in the deep-end.
But let's backtrack a bit here. The design is smooth and Bose deserves to take a bit of a bow here. The light stone blue, carmine red and black colourways are the most head-turning while the grey is a bit boring. That's the unit I have, and while it lacks personality there's no shortage of punch.
The size could be a bit too bulky for some. In the market of portable Bluetooth speakers, this would be considered one of the most sizable at 20.1 cm x 9 cm x 5.2 cm with a weight of 0.6 kg. You won't be able to walk around with this in a jacket pocket like you would the SoundLink Micro, but there should be no issues sliding this into a backpack or cabin bag without worrying it'd take up much room (or add much weight).
The overall build of the Bose SoundLink Flex is clearly geared to the outdoors, presenting a rather rugged and protective silicone rubber shell without feeling too harsh. The smooth, curved edges help the speaker feel premium and weighty in the hand, while that aforementioned powder coated steel grille helps greatly with drop protection. I haven't gone and smashed this thing on surfaces intentionally – I'm quite fond of it – but I have little concern about this picking up one big scratch if I knock it off a table.
---
---
Bose has made a hiker's speaker, essentially, right in line with Sonos Roam and the Bang & Olufsen Explore. It's around the same size as the Sonos Roam, just with a more likeable shape that's leaning towards the pill form that was popularised back when everyone had a Beats by Dre speaker sliding around in their backpack.
That being said, the body is quite a fingerprint magnet, and it really shows in the grey colourway. This makes black or red even more attractive options. You'll also want to avoid wedging this thing into the sand if you're taking it to the beach. The IP67 rating doesn't mean debris can't get stuck in the grille, which is a common issue for most portable speakers.
Before I get to the most bitterly disappointing thing about the Bose Soundlink Flex's design, the carrying strap attached to the right side of the speaker is nice and unobtrusive. Plus, it expands the use case if you've got a separate carabiner. In which case, you'd want a fairly tight carabiner if you're affixing the Bose SoundLink Flex to a backpack while you're hiking, for example. Otherwise, the shell can twist around, and since it's a forward-firing speaker the constant movement can ruin the listening experience when you're on the move.
And here's the most disappointing part. Bose has messed up when it comes to the physical button on the speaker. The five buttons – power, volume up and down, a multi function button and a Bluetooth button – work just fine, but the tactile experience just feels flat. Not only is it tough to press down on these buttons, but if you're fumbling around without looking at the speaker it's hard to distinguish the buttons from one another. There are no backlights either save for two very faint white LEDs behind the power and Bluetooth pairing mode buttons.
Other than that, you've got a USB-C port on the right side of the Bose speaker for charging, but no AUX port. A necessary sacrifice, of course, to help bump up that all-important IP rating and dial in a more rugged design for the portable speaker.
RELATED: Sennheiser Momentum True Wireless 3 Earbuds Review – Moving Up The Rankings
---
Features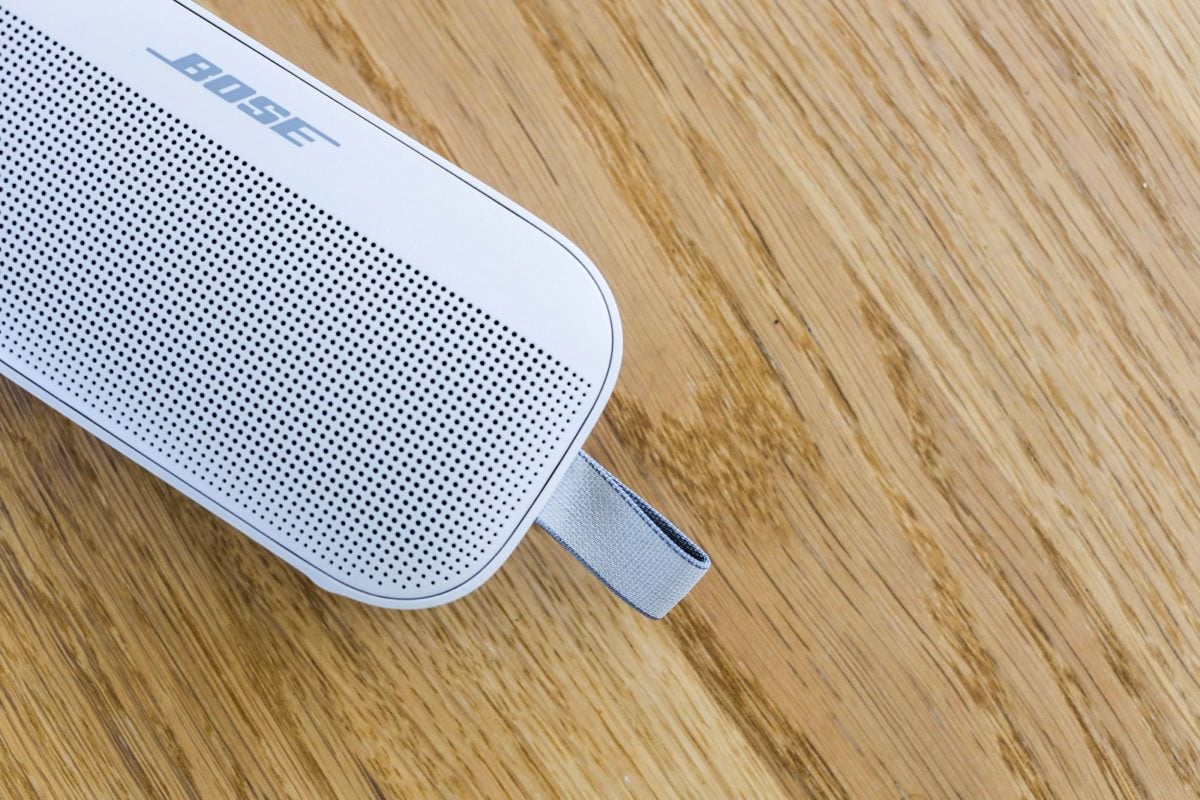 As you could tell from the name, the key feature of the Bose SoundLink Flex is that it can be used in tandem with other Bose SoundLink speakers. Given the reasonable price point, it's not absurd to fork out for two of these speakers and use the Bose Connect app to create a stereo pair. In stereo mode, the speakers should easily be able to fill a large room with a fairly dynamic soundstage, even if just one speaker can sound quite narrow (more on that below) and directional.
The beauty of having multiple devices is why these more affordable portable Bluetooth speakers are so attractive in the first place. JBL is still the leader in multi-speaker connectivity as far as I'm concerned, but the SoundLink line competes just fine even if you can only connect a very limited amount of speakers to each other when compared to JBL's 100-speaker capacity.
---
---
I would have liked some better battery life, but the marketed 12 hours from a single four-hour charge is spot-on. If you start your hike with a full charge then you'll get plenty of use out of the Bose SoundLink Flex before it needs some juicing. That being said, the charging process does take longer than I would have liked, especially when fast-charging is so common in technology nowadays.
There aren't too many features for the Bose SoundLink Flex other than offering a straightforward portable speaker with reasonably good sound quality and rugged design. You aren't getting any built-in voice assistant (although the speaker just makes use of your phone's voice assistant) and there's not even a customisable EQ to switch from the out-of-box sound signature (more on that below). That's disappointing, but I wouldn't really have expected much more from a portable speaker priced at a nice and tidy $250.
One feature that I like is, as mentioned above, Position IQ. While the Bose Connect app doesn't have a dedicated EQ that you can use to manually customise the sound, the speaker will effectively change the sound mix depending on how you've oriented the shell, auto-adjusting to maximise sound quality depending on whether you're standing the speaker upright or dangling it via the loop.
I would have liked the built in microphone to be a bit better at noise isolation, though. Call quality is fine when you're listening to something else, but I've had reports of my voice sounding distant and slightly glitchy, with background noise always washing through.
In terms of codecs and latency issues, Android seems to fare much better than iOS when it comes to listening to streaming shows over the speaker. I'd much prefer this to using a phone's speaker as voices sound richer and more detailed, but the narrow soundstage also cuts how rich and full this would otherwise sound when using in tandem with a streaming service like Netflix or Amazon Prime Video.
---
Sound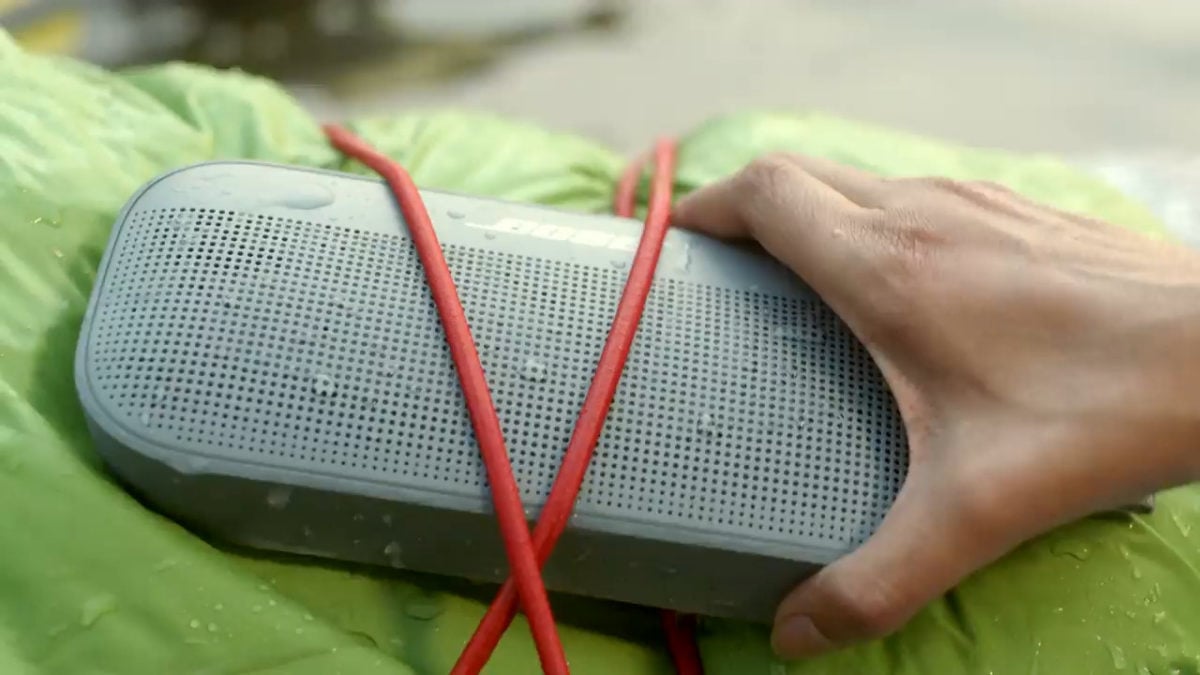 I've always been a fan of Bose speakers. The Bose SoundLink Micro is perhaps my most used portable Bluetooth speaker given it sounds impressively rich considering how tiny it is. Plus, it's cheap enough to justify buying two and having them play on each side of a hotel bed.
Sound is similarly impressive for the Bose SoundLink Flex but the directivity makes the soundstage come across as quite narrow. The audio is very obviously downmixed to mono when you're using just one of the Bose SoundLink Flex units, which is fine but cuts out the immersion quite a lot.
In terms of sound signature, I wouldn't go expecting anything but a very natural, clean-sounding profile with just a bit of lift in the low end. The speaker doesn't really handle dense bass patterns well, so something like OutKast's 'B.O.B' would sound messy and overstrung, but something calmer like Funkadelic's "Maggot Brain" would reiterate how clear and well-balanced the mids and highs are. You're missing out on a low of detail, but instrument separation is fine.
---
---
However, bass sounds fine if the low-end is spread out. Pusha T's 'Coke Diet' sounds great, as does Clipse's 'Grindin'. At low volumes, bass is incredibly expressive and has a textural element if you're gripping the speaker.
I wouldn't really want to be pumping EDM on this, given denser bass lines don't sound as good as they should on this speaker. If bass means a lot to you, then Sony, Samsung or JBL are better options. The Bose SoundLink Flex is, instead, better if you need some well-balanced sound for softer music like rock, soul or folk. Jazz can be hit or miss here; I tried to play through some Kamasi Washington songs but the dense soundscapes would come across as too muddy. Something cleaner and more minimal like a John Coltrane track, however, would sound just fine.
With volume, you've obviously got some compression at max so I'd prefer to keep this around 70%, which is loud enough to fill a hotel room quite nicely.
To sum up, the Bose SoundLink Flex sounds good, but the soundstage is narrow if you're using just one speaker and the signature is rather thin when it comes to the low-end. And that's surprising, seeing as most speaker manufacturers nowadays stuff more detail into the bass to lend to more contemporary styles like hip hop and EDM.
---
Verdict & Value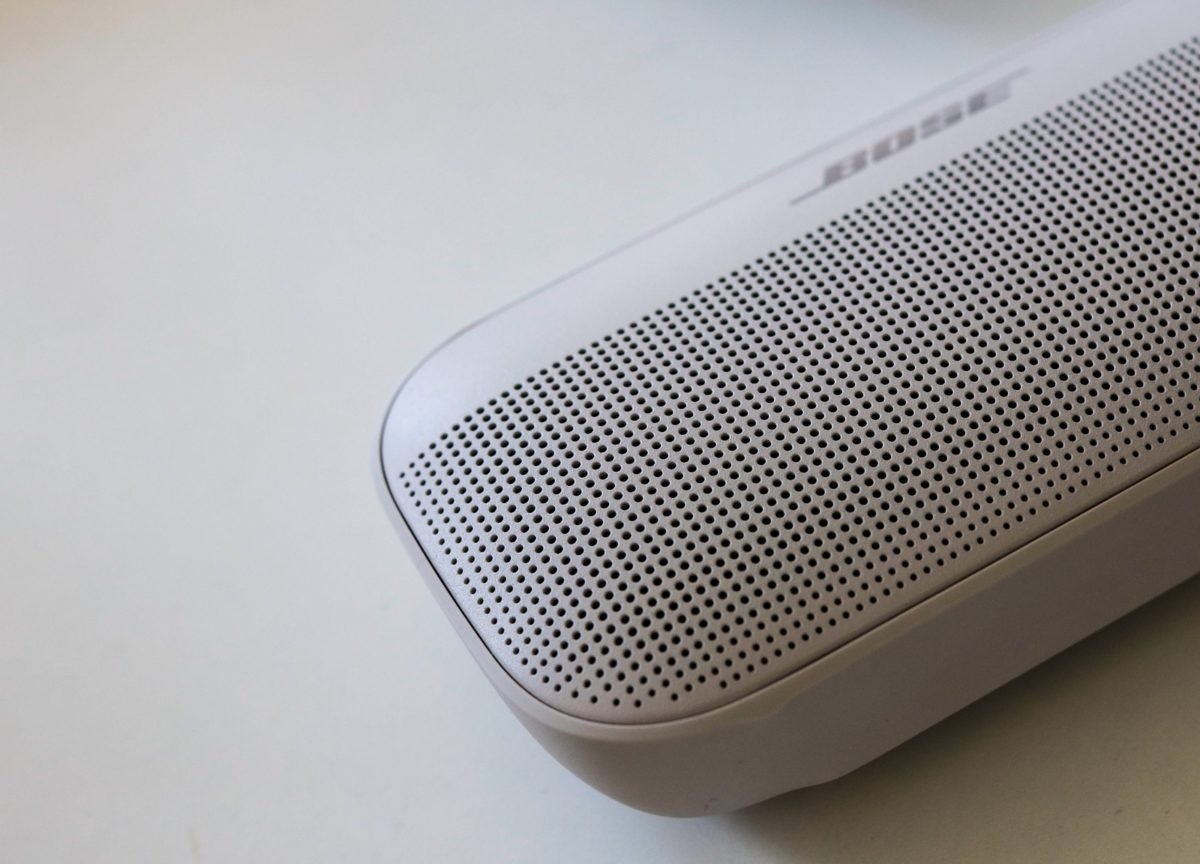 Hopefully this Bose SoundLink Flex review has given you a better idea of whether or not this $250 portable Bluetooth speaker is the right one for you.
Bose's shade of grey has always been quite boring, but if you're going for the black, blue or red then you've got a well-designed, rugged and outdoorsy speaker that can seamlessly slide into backpacks, hang off hooks and pump fairly decent sound quality. If that's all you need, then this ain't a bad flex at all. In an ideal world, I'd be pricing this around the $200 mark, but the sturdy built and solid materials used to help make this speaker a bit more water and fall-proof should justify that bit extra.
However, if you want something that can also go a step further with call clarity, offer some EQ to play around with and more of a stereo experience without you having to buy an extra speaker, you may want to approach another brand – you already know there are plenty of choices out there when it comes to Bluetooth speakers.
---
Bose SoundLink Flex Review – Frequently Asked Questions
How much does the Bose SoundLink Flex cost in Australia?
In Australia, the Bose SoundLink Flex is available for an RRP of $249.95
---
---
Is the Bose SoundLink Flex worth it?
The Bose SoundLink flex is very portable and sports a sturdy design that should protect it from scratches and scuffs on your next hiking trick. It's an outdoors speaker that sounds reasonably good, with a lot of crisp mids and highs until you reach max volume. The lack of features chips away at the value here, but $250 is a fairly reasonable price to pay for a such a well-built speaker.
What app do you use with the Bose SoundLink Flex?
Like all Bose products, the Bose SoundLink Flex uses the Bose Connect app for both Android and iOS.