Audio startup Syng, led by a veteran Apple designer who worked on the HomePod, is betting heavily on spatial audio and beamforming with the new Cell Alpha speaker. Billed as the "world's first Triphonic speaker," the device – which looks like a Death Star ripped from Star Wars – is geared entirely towards emerging technologies in surround sound music, featuring a sonic architecture that's been specifically constructed to highlight how revolutionary object-based audio and beamforming – which allows you to essentially 'aim' soundwaves in precise directions to adjust the sound field accordingly – can be to personal home audio.
According to the Syng website, "triphonic audio turns listening into feeling." This references the Cell Alpha speaker's ability to place and localise sound so users can completely manipulate the resulting sound field and adjust it according to taste.
"You can put sound wherever you want, shrink it, move it, magnify it, and layer it. Or let the Cell handle everything."
---
---
Creating immersive sound is exactly what Christopher Stringer, the ex-Apple designer, set out to do. In the process, he has moved away from replicating Dolby Atmos and Sony's 360 Reality Audio, the two other biggest spatial audio formats on the market right now, and has forged his own path. Whether or not that's worth the US$1,800 (AU$2,316) price tag attached to just one of these speakers remains to be heard.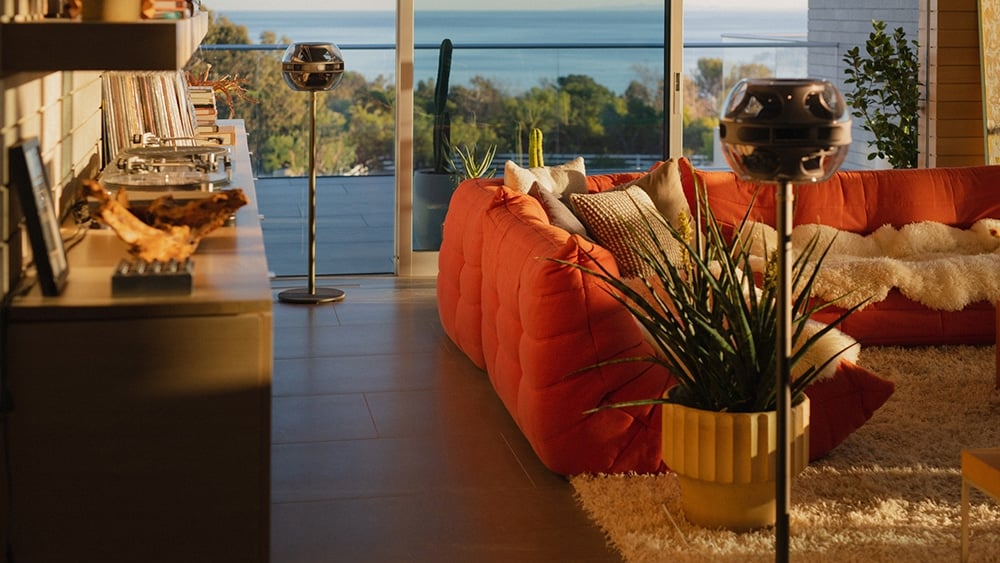 If you wanted to maximise performance, Syng actually suggests you buy three of these Cell Alpha speakers. They call this the "fullest expression" of the system, necessary to create the completely immersive sound field the company is aiming for. Although just one should be enough to create realistic, room-filling stereo sound.
The Cell Alpha's obtrusive, rounded Death Star design allows enough space for specific placing of each driver. Woofers are present at both the top and bottom, complemented by three mid-range drivers distributed around the speaker's equator. The three driver configuration is what Syng means when it says "triphonic," claiming that this configuration is able to project sound with "pinpoint accuracy" around a room.
In addition to the drivers, there are three microphones built into the speaker's stand, working actively to measure the geometry of the speaker's environment so that just a single speaker can recreate the impression of surround sound. This is nothing new. The Apple's discontinued HomePod featured a similar array, and the same approach has been taken from the likes of Sonos and Sony for some of their latest speakers.
Consider this a substantial update to what Apple were trying to do with the HomePod. Although it's nowhere near as restrictive as the notoriously tight iOS ecosystem. For input, the Cell Alpha uses both Apple AirPlay 2 and Spotify Connect support for wireless. You can also use the speaker with a WiFi connection, or make use of the two USB-C port. HDMI eARC connection for compatible TVs will also be made available through a separately sold Syng Link cable. An iOS app is currently available for the speaker and its control, with an Android app reportedly coming soon.
---