It's been a few years since story-based social media service Snapchat started to mess around with smart glasses, dubbed the Snapchat Spectacles. Now it seems Facebook has taken it upon themselves to finesse the category, collaborating with Ray-Ban for a pair of content-recording sunglasses: the Ray-Ban Stories.
Designed to capture photos and 30-second videos, as well as take calls and listen to music, the Ray-Ban Stories smart glasses feature dual integrated cameras and capture content that you can instantly share to social media.
Of course, this raises some understandable concerns around the use of discreet video cameras in public, and it seems Facebook's way of addressing this to simply include hard-wired captured LED lights that light up when video is being recorded or when a photo is captured. There's also a physical power switch to disable the cameras and microphone audio array, in case anyone thinks Zuck is trying to see through their eyes.
---
---
RELATED: 20 Best Sunglasses Brands For Men [2021 Guide]
The Ray-Ban Stories glasses – which are available in Australia from today – have been launched to align with the new Facebook View app; basically an attempt to better distinguish the social media giant's story function and continue to one-up similar video-based platforms like the aforementioned Snapchat and TikTok. Facebook View is now a separate app on iOS and Android, and content captured using the Ray-Ban Stories pairs with it to share your POV with followers. Although content also saves on your phone in general, so you can edit and share via the other standard engines like Facebook, Instagram, WhatsApp, Messenger, Twitter, TikTok, and Snapchat.
Regardless of whether you think it's overly gimmicky or not, the Ray-Ban Stories glasses represent a substantial step forward in the growth of social media. They also validate the waning smart glasses sector, which has been shaky at best ever since Google Glass was introduced to the public in 2014. Although, they could just as easily fall flat. Snapchat Spectacles, which are now in their third generation, has always been a hard sell for the company, and despite iterative improvements, supply has always outstripped demand. In fact, the company reportedly took a US$40 million (AU$54.3 million) write-down on unsold inventory when the first generation was released in 2017.
RELATED: TCL'S NXTWEAR G Glasses Give You A Personal 140-Inch TV Whenever You Want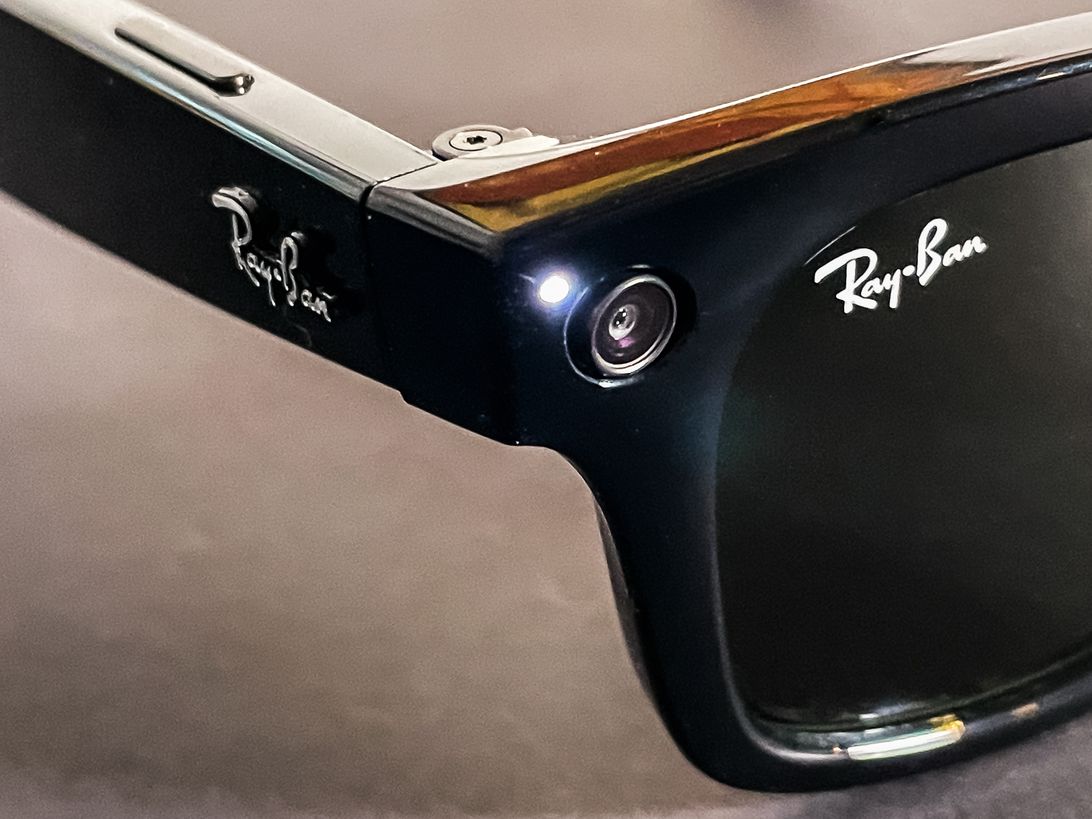 Facebook seems to be banking heavily on the fact that these glasses are coming from Ray-Ban, which is still considered one of the most fashionable brands of sunglasses in the world. The smart specs are being sold directly by Ray-Ban in 20 different variations, taking on the form of emblematic styles like the Wayfarer, Round, and Meteor. Five colourways are available for each style, with a range of non-prescription and prescription lenses.
Facebook has managed to work impressively well with the frames, which are just a few millimetres thick and only five grams heavier than a standard pair. Aside from one camera on each wing, which together capture five megapixel still images, there are also open-ear speakers so you can listen to music, along with a three-microphone array to help isolate noise for clear voice and sound transmission during video recording, phone calls, and voice commands. There's also an optimised Snapdragon processor to help the functions run smoothly without necessitating a thicker frame, like the music-only Bose Frames.
There's a small physical button on the glasses which you can press to start a 30-second video recording, which will stay on the glasses until the Facebook View app is opened, after which it is immediately downloaded to your phone. You'll also be able to Facebook's voice assistant to record hands-free.
---
---
Facebook's sunglasses are now available online via Ray-Ban for $499, but in a few days, they'll also be stocked at select OPSM and Sunglass Hut stores across Australia.