Once again, IKEA has proven not only is it the king of outsourcing assembly of its furniture, but also that isn't domestically focused designs are some of the best in the game. The latest IKEA winner is the Vappeby lamp that doubles as a Bluetooth speaker, combining the two critical elements of an ambient room: good music and nice light.
The Vappeby is the sequel to the enormously popular Symfonisk, which was both a table lamp and a wifi speaker. The Symfonisk had a design that saw the speaker integrated into the stand of the lamp, with the bulbous lamp shade sitting atop the speaker itself, however, the Vappeby is a slightly more functional interpretation of the creative combination of luminosity and sound.
Taking on an almost mushroom shape, the Vappeby has a carry handle at its top that makes it easy to use both indoors and out, as well as somewhat protecting it from any bad weather you might get caught in. The lamp element features a built-in LED bulb that offers two different light modes, while the speaker projects what IKEA describes as "360 sound."
---
---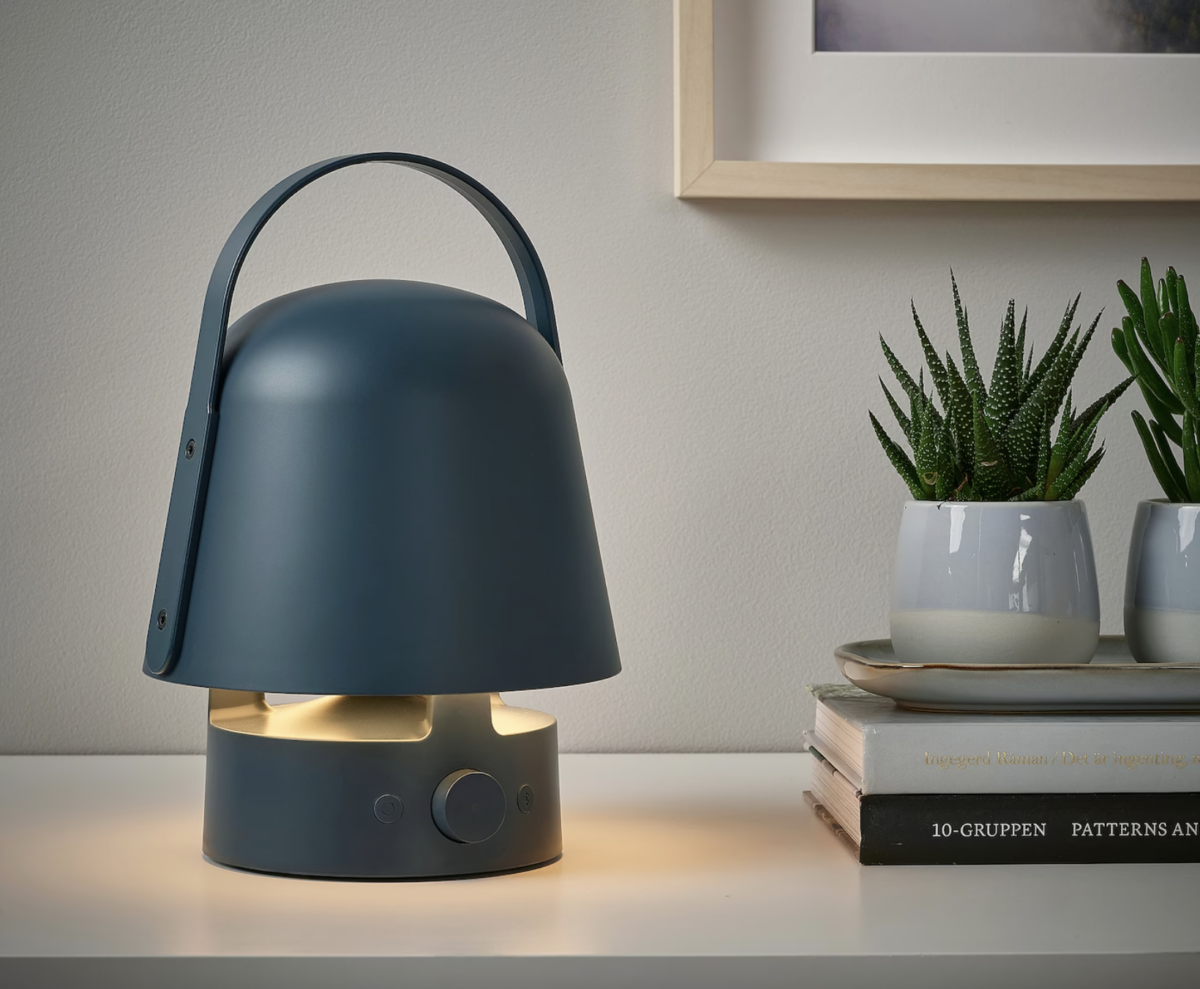 RELATED: Reimagining The Iconic Bankers Lamp With &Tradition
As well as the bulb and speaker, the Vappeby also has a function called Spotify Tap which basically means the power button also activates Spotify on your connected device, resuming whatever was playing most recently on the audio app. Finally, with charging via a USB-C cable, the Vappeby delivers around 12 hours of battery life between charges, which is more than enough for a night of alfresco dining.
"We see VAPPEBY as an essential companion for the balcony, in the garden, or wherever it is needed. Sound and light go hand in hand when creating magical everyday moments with friends and family. Two different light modes, long battery life, and good durability will help set a proper mode," says Stjepan Begic, Product Developer at IKEA in Sweden.
The IKEA Vappeby lamp with Bluetooth speaker was launched earlier this year with an RRP of US$65 (AU$95) – available in either blue or grey.