It seems like Apple are on the cusp of revealing the iPhone 13. As always, rumours have been coming thick and fast for the new smartphone, building up a promising stack of prospective specs for the new flagship, a follow up to last year's iPhone 12 which was officially released on October 23, 2020. From all the rumours so far, it's looking like the Apple iPhone 13 follow a similar pattern to its predecessor, in that there will be four different sizes (presumably the iPhone 13, iPhone 13 Pro, iPhone Pro Max, and iPhone 13 Mini), various meaningful camera improvements, as well as an assortment of other notable upgrades.

Here's everything we know about the iPhone 13 so far, including the possible iPhone 13 release date.
---
When Will The iPhone 13 Be Announced & Released?
Last year, the iPhone 12 launch was delayed due to the ongoing COVID-19 pandemic. With vaccination rates picking up, any similar delay for the iPhone 13 isn't expected, so more likely than not we'll see the company return to their usual September reveal. Some reports are predicting an official reveal around September 7 to 14, with the iPhone 13 release date later that month.
As for an exact iPhone 13 release date, the iPhone 12 was October 23, 2020, and the iPhone 12 announcement was October 14, 2020. If the iPhone 13 is officially announced on September 7, that means we could possibly see the iPhone 13 release date confirmed for as early as September 16.
---
---
The launch will be slightly different this year with Apple expecting the iPhone 13 to outsell its predecessor. There are a number of reasons for this, with the two main ones being that COVID-19 vaccination programs are picking up around the world, and this will be the second iPhone update with support for 5G networks. Aside from the people who are, for some stupid reason, convinced that 5G has something to do with the global pandemic, it's likely more people will be looking to upgrade to the new standard now that it's becoming more widespread.
According to a report by Bloomberg, Apple has boosted production of the iPhone 13 models by 20%. This means there will be 90 million iPhone 13 units produced between launch and the end of the year, which is substantially more than the 75 million units that were available during the iPhone 12 launch period.
[UPDATE: 30/08/2021]: According to MacRumours, the official release date for all four Apple 13 models will be September 17. An image of an e-commerce app by Chinese website IT Home is apparently responsible for the leak, which was discovered early this week. The image also indicates that the new third-generation Apple Airpods are locked in for a release date of September 30.
---
How Much Will The iPhone 13 Cost?
Rumours suggest that we can expect no significant bump up in terms of price for any of the iPhone 13 models, compared to the iPhone 12 prices. As such, expect the iPhone 13 mini equivalent to start off the range at $1,199, while the iPhone 13 Pro Max equivalent should be around $1,849.

The sizes are all expected to be the same too, so the iPhone 13 mini equivalent will have a 5.4-inch screen, climbing up to 6.1-inch for both the iPhone 13 proper and iPhone 13 Pro, and 6.7-inch for the iPhone 13 Pro Max.
---
Will There Be Design Changes?
According to a Japanese website called Mac Otakara, all new iPhones will, as stated above, be the same size as the iPhone 12 line up for the most part. Thickness will be slightly different, with an incremental increase of approximately 0.26mm. Larger batteries will also mean slightly more pounds.
There will be no substantial differences to the design in the leap between iPhone 12 and iPhone 13 models because, according to Bloomberg, Apple engineers are already positioning the new batch of smartphones as "S" models. In the past, Apple has always used the "S" to signify iPhones models that only feature minor updates. This is most likely because the iPhone 12 models already represented such a big overhaul both in terms of design and technology.
One of the more meaningful changes might be the camera setup on the rear. Rumours suggest that the two least expensive models (iPhone 13 mini and iPhone 13) will have a diagonal lens set-up, as opposed to the vertical design we typically see on iPhones. More on the camera upgrades below.
---
---
Another is that the models may be characterised by a smaller notch, leaving more room for the edge-to-edge display. Mac Otakara reports that the TrueDepth camera on each phone will be shallower with a repositioning of the receiver at the top of the display, which will now be on the edge of the case. Because of this, Apple engineers would have more space for a notch that's thinner.
Although other websites, such as DigiTimes, believe that the notch will shrink in terms of height, instead of width. This will be due to a redesigned camera module, smaller VSCEL chips and a more tightly integrated version of the current light system used for Face ID.
An alleged photo of front glass panels made for iPhone 13 models shows the smaller notch but implies that it's because of the earpiece speaker being moved into the top bezel.
Will Apple's long-term goal of producing a phone with no external ports or buttons finally be realised in 2021? Probably not. Although the company has long wanted such a streamlined device, it's looking like Apple will be continuing to use a Lightning connector for charging and transferring data. Apple analyst Ming-Chi Kuo has confirmed this, and he is hardly ever wrong.
According to Kuo, Apple is waiting until the market for MagSafe accessories has fully matured before diving balls deep into a portless iPhone design, which would be based on Qi wireless charging and MagSafe accessories.
Other design rumours swirl around biometrics for the iPhone 13. While nothing is clear, Bloomberg suggests that Apple is implementing an in-screen Touch ID fingerprint reader. The technology that will run on will either be optical technology or ultrasonic technology (which uses sound waves to map the fingerprint and is more secure), but that depends on where you're looking online. There's also the strong possibility of Apple using a hybrid of the two technologies to improve both efficiency and security.
Face ID doesn't seem to be going anyway though. So it looks like Apple will be making use of both, so you have a variety of ways to unlock your phone. A fingerprint sensor will certainly help if your face is obscured by a mask.
---
iPhone 13 Might Have A 120Hz Refresh Rate
Strong rumours suggest that Apple may look to Samsung for their LPTO OLED displays, which will allow Apple to implement the high-end 120Hz refresh rate. According to MacRumours, Samsung began producing LTPO OLED displays for Apple back in May of this year.
---
---
LTPO (low-temperature polycrystalline oxide) means a more power-efficient backplane technology used for the displays, being able to turn individual pixels on and off on the display to allow for something like a 120Hz refresh rate without seriously eating into battery life. It's rumoured that only the two more expensive iPhone 13 models will be using LTPO displays and 120Hz ProMotion technology.
---
What Processor Will Apple Use For The iPhone 13?
Apple will be using a 5nm+ A15 SoC for the 2021 iPhones, again sourced from manufacturer TSMC. Apple always has deep-pockets when it comes to working with TSMC so they can be the first to make use of their newest manufacturing techniques, but reportedly this won't be enough to push TSMC to hurry up on their long-awaited 3nm chips until perhaps next year when Apple will likely introduce the A16 SoC.
5nm is generally 15% faster with 30% less power than 7nm, which is the manufacturing process used for the Apple A14 SoC.
If that's too much tech talk for you just know that this will mean faster performance, better graphics, and all the usual general performance enhancements that come with new multi-core system-on-chips.
What Will 5G Look Like On The iPhone 13 Models?
The 2021 iPhones will use Qualcomm's Snapdragon X60, which can aggregate 5G data more efficiently for better speeds and coverage. This is likely where a lot of the production cost will go, which is why Apple will continue to cut iPhone costs in other areas to better accommodate 5G chip technology.
Barclays seem to think iPhone 13 models will support Wi-Fi 6E, which offers the same features as Wi-Fi 6, just extended into the 6GHz band. This means higher performance, lower latency, and faster data rates, as well as increased bandwidth across existing 2.4 and 5GHz Wi-Fi bands, leading to more consistency in performance in denser environments. Gamers should also froth on the lower latency, meaning their inputs will be faster and more responsive.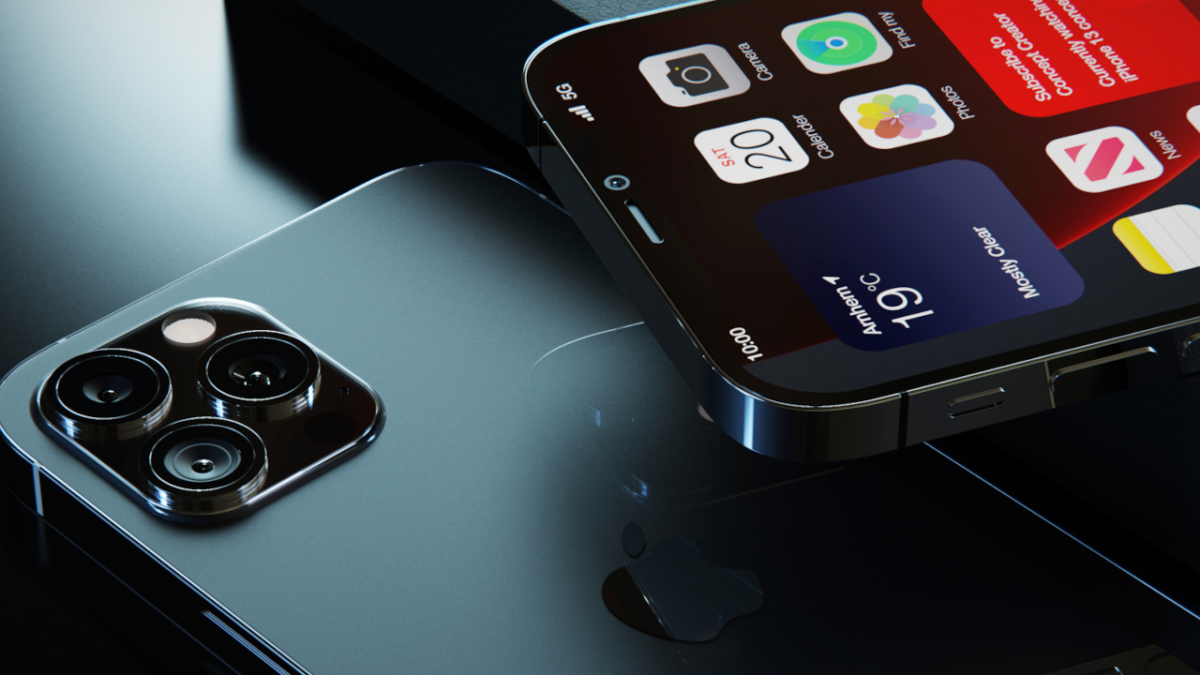 ---
How Long Will The Battery Last?
The pain point of just about every smartphone manufacturer out there, and pretty much the number one reason for most complaints – The battery. iPhone 13 rumours suggest good news in this area.
According to rumours on the 2021 iPhones, all models will be using larger batteries thanks to a number of space-saving design choices, like integrating the SIM slot with the mainboard. The highest-end model, the iPhone 13 Pro Max, will apparently have a whopping 4,352mAh battery, compared to the 3,687mAh battery found in the iPhone 12 Pro Max. The iPhone 13 and iPhone 13 Pro will both drop that down to 3,095mAh, and while the iPhone 13 mini is expected to have a 2,406mAh battery.
---
---
Exact battery and charging times are hard to speculate on because it isn't just to do with how big the battery is. The A15 chip and its power efficiency features will also come into play. And features like the aforementioned 120Hz refresh rate will largely determine battery life. In general, it's expected that the new SoC will feature 15-20% lower power consumption to try and balance that high-end refresh rate with the need for all-day battery life.
As for charging. Expect support for 25W power adapters. This is up from the iPhone 12 models, which offer fast charging but max out with 20W chargers. There is no hint as to whether or not the iPhone 13 models will actually ship with a 25W power adapter.

Reportedly, the iPhone 13 models will have bigger wireless charging coils which will better improve heat management and wattage when it comes to wireless charging. This improved efficiency could mean reverse wireless charging, possibly for all 4 models, which would mean the iPhone's could be used to charge other devices like a pair of AirPods.

---
Are We Really Getting 1TB Of Storage Space?
Earlier this year, strong rumours started to circulate which suggested the iPhone 13 models will feature up to 1TB of storage space. This is double the iPhone 12 max of 512GB. These very much remain light rumours, and no reliable source has yet come out to confirm either way.
---
iPhone 13 Camera Improvements
As with most modern smartphones, some of the more obvious changes will be in how the phone captures photos and videos. The high-end models will have an updated Ultra Wide camera with an f/1.8 aperture to account for better low-light capture. This camera should also come with better autofocus and focal length.
Sources are split on whether or not all 4 iPhone 13 models will be getting this new and improved Ultra Wide camera. Last year, you'd only find such a telephoto lens on the iPhone 12 Pro Max, so it stands to reason that Apple will be more generous with the highly regarded lens for 2021.
It's expected that slight design changes will mean that all 4 models will have lenses that don't protrude as much, making for a camera bump to sit closer to flush when the iPhone is placed display-side up.
The following seem to be the most concrete intel we have so far thanks to supposed iPhone 13 leaks that have surfaced in the past few days:
Other rumours include astrophotography camera capabilities, game-changing Portrait Mode videos using a new image stabilization correct mode and a LiDAR scanner, and improved noise cancellation using beamforming technology. This was however all reported by a source that is more often than not incorrect.
---
---
The ability to capture videos that focus on a person and blur out the background could add a new dimension to content creation not seen before on smartphones, and it could be one of the bigger plays for Apple when it comes to giving the iPhone 13 some identity. Reportedly, Apple will be calling this feature "Cinematic Video".
Some of the biggest news is that the LiDAR Scanner used on the iPhone 12 Pro and iPhone 12 Pro Max will now be found in all 4 2021 iPhones. This scanner measures light distance and pixel depth of objects in a scene to map out the area more accurately up to 5 metres, resulting in better AR experiences and improved autofocus in low-light.
---
iPhone 13 Rumour Review: How's Things Looking Ahead Of September?
It's looking like all iPhone 13 models will be more or less the same as the iPhone 12 range, just with incremental improvements when it comes to power efficiency, battery, and refresh rate. The most exciting rumours are that uniform 120Hz refresh rate, which will be a game-changer as long as it doesn't eat into the battery too much, as well as a more generous approach to the camera system.
Regardless of how many lenses the iPhone 13 ends up having, it does seem that the less expensive models will benefit by Apple bringing some of their more high-end features down to the lower end of the spectrum.
I guess we'll see if there's any truth the all these iPhone 13 rumours when the iPhone 13 official announcement is released in September.
---
iPhone 13 Rumour Review: Should I Wait For the iPhone 13?
If you've already got an iPhone 12, particularly one of the two higher-end models, then there wouldn't be much of a point upgrading straight away. At least not until a few months down the track when reviewers have been given proper hands-on time with the devices. Although if Portrait Video is particularly exciting for you – and for content creators, it would be – then it's reasonable to barrel straight into Apple's new 2021 phones. If you've got an older iPhone model, I'd say the iPhone 13 is well worth the investment, assuming that there's no substantial price hike, and the rumours of less expensive models getting high-end features turn out to be true.