Bugatti may have established its reputation as luxury automaker first, but as we've learned time and time again, the French brand's opulent touch extends beyond the road. The latest example: a Bugatti carbon-fibre pool table designed to remain perfectly level during your boating shenanigans thanks to gyroscopic technology… with a retail price of US$300,000 (AU$386,000).
Engineered in collaboration with Spanish operation IXO, the table has been built with a machined aluminium + titanium frame and carbon-fibre body to the exact standards and specifications of professional tournament tables. The ball pockets, on the other hand, comprise of leather-lined stainless steel, while the sides of the drawers is made from machine anodized aluminium with titanium nuts and screws. There's even a few Bugatti badges slapped onto the main table.
The major draw, however, and the reason why we're here today is the optional levelling system. In the event the Bugatti Pool Table is installed aboard a yacht or the like, each leg will be fitted with Siemens servo drivers to compensate for the vessel's movement against the waves – capable of reacting within 5 milliseconds in total silence – maintaining a completely level playing surface and removing any of the usual issues associated with billiards on a boat.
---
---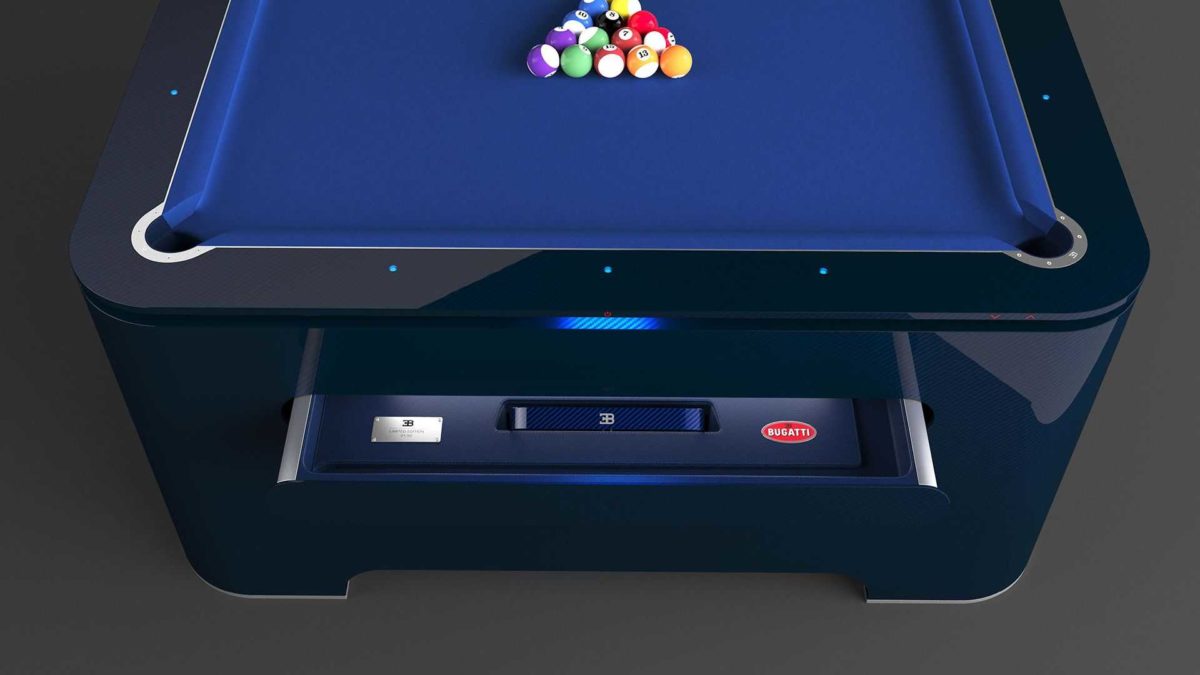 RELATED: PongConnect Might Be The Greatest Beer Pong Table We've Ever Seen
"When we started developing the Bugatti pool table project, I knew we had to be different and excel in all areas, in order to become something out of the ordinary," says Pedro Sánchez, General Manager of IXO.
"It is our pleasure to be working with a manufacturing partner that mirrors the qualities of Bugatti," says Stephan Winkelmann, President of Bugatti.

"Through our shared values, we can be sure that the Bugatti pool table will be made with extremely high-quality materials, that the standard of the limited production will be very high, and that the technology used to make the product is advanced."
Accompanying accessories include the following:
1 x wall-mounted cue rack made from matching carbon w/ 13-inch touchscreen to track scores
2 x carbon-fibre cues w/ aluminium ends (matching the Chiron's interior buttons)
1 x dimmable ceiling light made from carbon
1 x leather suitcase to transport balls
1 x anodized aluminium chalk box + cleaning brush
1x CNC-machined aluminium case w/ USB drive containing media depicting the construction process
The Bugatti Pool Table will be limited to just 30 examples – check it out below.